News
USA Wrestling
College
USAW
Appalachian State takes down No. 21 North Carolina in Top-30 showdown, 19-16
by Bret Strelow, Appalachian State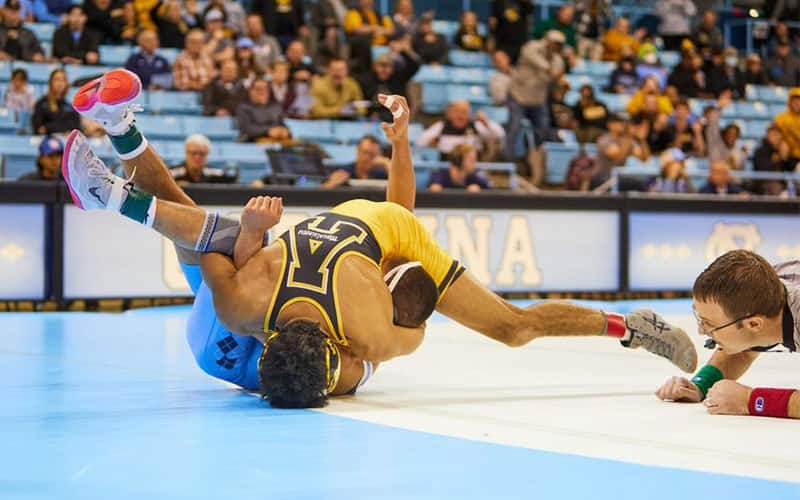 Caleb Smith (Appalachian State) secures a fall against North Carolina. Photo by Andy McLean, courtesy of Appalachian State Athletics
CHAPEL HILL, N.C. — The first period of the first match wasn't even complete before a pin-clinching whistle confirmed App State Wrestling's intentions Thursday night.
The Mountaineers traveled to Chapel Hill ready to put up a tough, wire-to-wire fight against a ranked North Carolina team from the ACC.
In a top-30 showdown, with UNC ranking No. 21 in the NWCA Coaches Poll and as high as No. 17 among the other national polls, App State posted a 19-16 victory in Carmichael Arena to beat the Tar Heels for the second time in the last seven seasons.
Caleb Smith's first-period pin in a matchup of ranked 125-pound wrestlers gave App State (1-1) six big points right off the bat, and a trio of wins from NCAA-experienced veterans in Sean Carter, Jon Jon Millner and Will Formato pushed the lead to 16-7 with four matches remaining.
The next three matches pitted three ranked wrestlers from UNC against three App State underclassmen, but Will Miller capped just his second career dual appearance by winning a 7-5 decision against returning All-American and eighth-ranked Clay Lautt at 174 pounds. Miller delivered a tiebreaking takedown with 36 seconds left and finished on top to give the Mountaineers a 19-7 advantage.
Close decisions in UNC's favor at the final three weights resulted in the final nine points for the Tar Heels (1-3), but App State exited Carmichael with its fifth all-time win in the series and the second victory in the modern era, joining the 18-16 home win against a 25th-ranked UNC team in Boone during the 2016-17 season.
The other wins in the series occurred in 1965-66, 1960-61 and 1959-60.
The Tar Heels entered Thursday with a pair of losses to top-five Big Ten teams, plus a win against Campbell. For App State head coach JohnMark Bentley, whose team is unofficially 28th in this week's NWCA Coaches Poll, it was his ninth victory against a Power Five conference program.
Twenty seconds remained in the first period when Smith followed a takedown with a cradle to earn three key bonus points via a pin of 33rd-ranked Jack Wagner at 125 pounds.
Up next at 133, Carter got a takedown early in the second period and stayed on top for the remainder of the period to lead 5-4 entering the third against No. 29 Joey Melendez. Carter then closed out an 8-4 decision thanks to another takedown.
The Tar Heels cut into a 9-0 deficit with a major decision at 141 pounds, but Millner needed only five seconds to get his first takedown of Danny Nini in an 11-2 major decision that produced four more points for a 13-4 advantage in the team race.
Making his first dual appearance, Tommy Askey hung tough in a 9-4 loss to Austin O'Connor, a 2021 national champion and 2022 All-American making his season debut at 157 pounds.
App State answered back with a 10-6 decision from Will Formato, whose aggressive attempts to push the margin into bonus-point territory at 165 pounds turned into some late scoring from Joey Mazzara.
Lautt led 4-2 after one period against Miller, who got in on some early shots but wasn't able to turn them into takedowns. A second-period takedown enabled Miller to trim his deficit to 5-4 entering the third, which he opened with a quick escape.
Seventeenth-ranked Gavin Kane won an 8-6 decision against Luke Uliano at 184 pounds, but Uliano nearly overcame an 8-4 deficit (with four UNC takedowns) after one period. Uliano rode out the entire second period (after UNC chose down) and also stayed on top for the entire third period (after App State chose the top position) in his second career dual appearance.
True freshman Carson Floyd fell behind 4-1 in the early going against No. 31 Max Shaw at 197 pounds in his first career dual appearance and found his footing before dropping a 6-2 decision. UNC needed a pin in the final match to even the team score and have tiebreakers determine the dual, but Mason Fiscella was focused on trying to win in his first dual appearance as a heavyweight.
He nearly came up with a late takedown to beat veteran Brandon Whitman, but Whitman held on for a 3-2 victory.
The end of the dual didn't result in any big celebrations from the Mountaineers, who split 10 matches with UNC last year and won four of 10 matches to open this season against No. 7 NC State.
The 2022-23 season is presented by Hungry Howies and Penn Station.
Season tickets for the 11 regular-season competitions (with two doubleheaders) on App State Wrestling's home schedule remain available for $55 (adults) and $25 (youth) by clicking HERE for an online purchase, contacting the ticket office at 828-262-7733 or going to the App State Athletics ticket office located at the Holmes Center.
App State's first home dual, a doubleheader, is scheduled for Tuesday night against Bellarmine and Queens. Tickets for that event can be purchased by clicking HERE.
No. 28 App State 19, No. 21 UNC 16
125: #23 Caleb Smith (APP) def. #33 Jack Wagner (UNC), fall (2:40)
133: #22 Sean Carter (APP) def. #29 Joey Melendez (UNC), 8-4 dec.
141: #25 Lachlan McNeil (UNC) def. Heath Gonyer (APP), 14-5 maj. dec.
149: #7 Jon Jon Millner (APP) def. Danny Nini (UNC), 11-2 maj. dec.
157: #6 Austin O'Connor (UNC) def. Tommy Askey (APP), 9-4 dec.
165: #26 Will Formato (APP) def. Joey Mazzara (UNC), 10-6 dec.
174: Will Miller (APP) def. #8 Clay Lautt (UNC), 7-5 dec.
184: #17 Gavin Kane (UNC) def. Luke Uliano (APP), 8-6 dec.
197: #31 Max Shaw (UNC) def. Carson Floyd (APP), 6-2
Hwt: Brandon Whitman def. Mason Fiscella, 3-2