News
USA Wrestling
International
USAW
World Cup men's freestyle third-place match: All-World Team dominates Georgia, 8-2
by Gary Abbott, USA Wrestling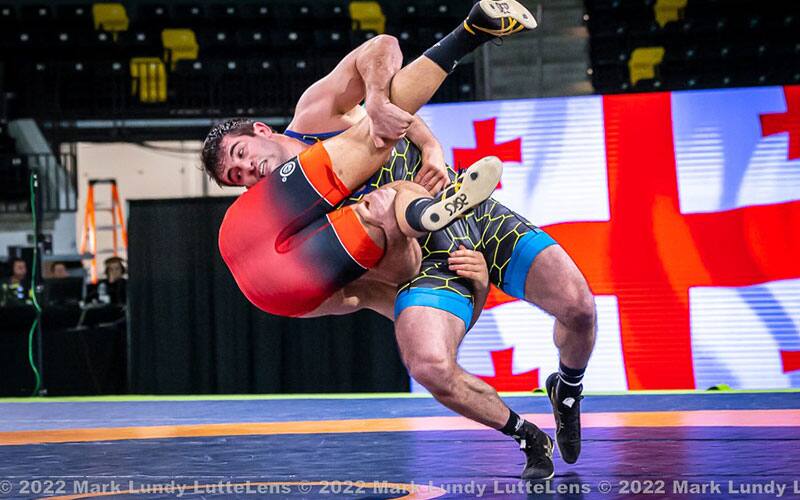 Batyrbek Tsakulov of All World Team scores a throw over Givi Matcharashvili of Georgia at 97 kg. Photo by Mark Lundy, LutteLens

CORALVILLE, Iowa – The All-World Team in men's freestyle featured athletes from seven different nations. This group will head their different homes as a third-place team at the 2022 World Cup. This is the first year that an All-World Team has been included in the World Cup competition, and together they defeated Georgia, 8-2 in the third-place match.
2022 World champion Zelimkhan Abakarov of Albania got the All-World Team started with a 4-1 win over Beka Bujiashvili at 57 kg. The All-World Team added another win at 61 kg, when Georgi Vangelov received a forfeit.
Zhumashbek Uulu Taiyrbek of Kyrgyzstan, a late replacement on the All-World Team, dominated the second period on the way to a 14-4 technical fall over 2016 World silver medalist Beka Lomtadze at 65 kg. The momentum continued at 70 kg, as two-time World medalist Ernazar Akmataliev of Kyrgyzstan edged Giorgi Ekbakidze, 4-3.
Two-time World silver medalist Taimuraz Salkazanov of Slovakia was dominant in this 10-0 technical fall over 2022 U23 World champion Giorgi Sulava at 74 kg for a fifth straight win.
Georgia broke through at 79 kg in a big way, as 2022 U23 World champion Vladimeri Gamkrelidze manhandled 2022 World bronze medalist Arsalan Budazhapov of Kyrgyzstan, 12-0.
The All-World Team bounced back with a 4-1 win by 2022 World bronze medalist Azamat Dauletbekov of Kazakhstan over Sandro Aminashvili at 86 kg. Add in another win at 92 kg, as a pair of past World bronze medalist met, with Osman Nurmagomedov of Azerbaijan shutting out Miriani Maisuradze, 3-0.
Perhaps the most entertaining bout came a 97 kg, as 2022 World silver medalist Batyrbek Tsakulov of Slovakia won a 7-7 criteria decision over 2022 World bronze medalist Givi Matcharashvili. The final scoring action was initially given to Matcharashvili, but after a challenge, the points went Tsakulov's way. The final match was a forfeit win for Georgia.
World Cup Men's Freestyle Bronze Team bout

All World Team 8, Georgia 2
57 kg –Zelimkhan Abakarov (All World/Albania) dec. Beka Bujiashvili (Georgia), 4-1
61 kg –Georgi Vangelov (All World/Bulgaria) won by forfeit
65 kg –Zhumashbek Uulu Taiyrbek (All World/Kyrgyzstan) tech. fall Beka Lomtadze (Georgia)
70 kg –Ernazar Akmataliev (All World/Kyrgyzstan) dec. Giorgi Ekbakidze (Georgia), 4-3
74 kg –Tajmuraz Salkazanov (All World/Slovakia) tech. fall Giorgi Sulava (Georgia), 10-0
79 kg –Vladimeri Gamkrelidze (Georgia) tech. fall Arsalan Budazhapov (All World/Kyrgyzstan), 12-0
86 kg –Azamat Dauletbekov (All World/Kazakhstan) dec. Sandro Aminashvili (Georgia), 4-1
92 kg –Osman Nurmagomedov (All World/Azerbaijan) dec. Miriani Maisuradze (Georgia, 3-0
97 kg – Batyrbek Tsakulov (All World/Slovakia) dec. Givi Matcharashvili (Georgia), 7-7
125 kg –Soloman Manashvili (Georgia) inj. dft. Oleksandr Khotsianivskyi (All World/Ukraine), 0:00