News
USA Wrestling
International
Women
USAW
Ukraine women claim 2022 World Cup team title, with inspiring win over China, 6-4
by Gabrielle Lord Klein, Special to TheMat.com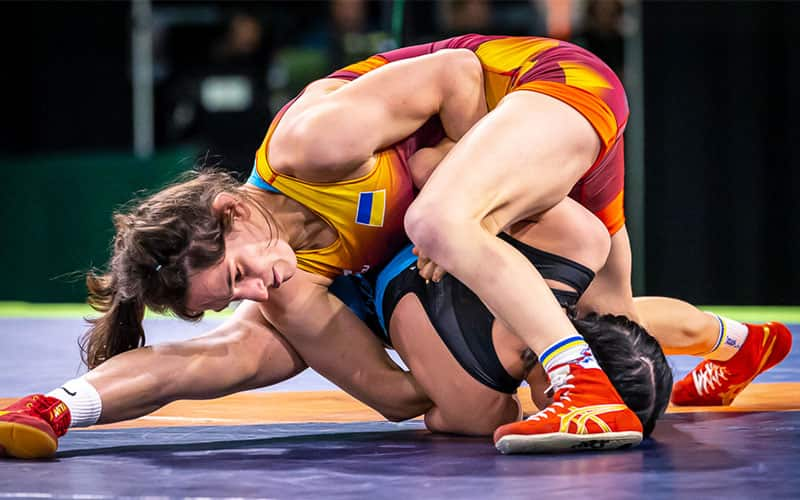 Yulia Tkach of Ukraine runs a bar arm for a pin in the World Cup finals. Photo by Mark Lundy
CORALVILLE, Iowa – The Xtream Arena echoed with cheers as Ukraine downed China in the women's freestyle finals of the 2022 UWW World Cup, 6-4. It was a historic first-time win for Ukraine at the Women's World Cup, and first time they made the podium at this annual international dual meet championships.
Ukraine advanced from Group A with wins over Mongolia and Japan. China, coming from Group B, defeated Team USA and the All-World Team. Ukraine and China both advanced to the finals on criteria wins—needing a high number of classification points over their respective opponents.
The first-place match was tightly contested with both teams boasting numerous World and Olympic medalists. With six wins total, Ukraine's lightweights did their part to set up success. They won three of the opening four matches before going back and forth with China throughout the conclusion of the dual.
Oksana Livach's comeback victory at 50 kg over Jiang Zhu of China was a critical win. Zhu led 4-0 with two takedowns, but in the final 30-seconds of the match, Livach hit a 4-point throw and pulled off the win on criteria.
Adding pressure, Alina Hrushyna Akobiia stopped China's Olympic silver medalist Qianyu Pang at 55 kg. Pang led 1-0 at the break, but Akobiaa collected two passivity points and then sealed the victory with another takedown.
At 57 kg, past World champion Yuliia Tkach Ostapchuk picked up a pin, with important bonus points over Yongxin Feng of China. Ostapchuk used an arm bar to secure the fall.
Iryna Koliadenko used a cradle to finish a quick pin against China's Xinyuan Sun at 62 kg, and Tetiana Sova Rizhko came from behind to defeat China's Yue Han at 68 kg in a close 5-4 battle.
At 76 kg, Anastasiia Osniach Shustova of Ukraine locked up a 9-5 win over China's Juan Wang. Osniach Shustova had a nice 4-point throw in the opening of the match and controlled the wrestled from there.
China had four victories in the finals.
Li Deng collected a win at 53 kg over Albine Rillia, 2-1. At 59 kg, Zhang Qi hit a big five-point throw and a couple of slick takedowns in the match against Iryna Bondar
World silver medalist Jia Long, who wrestled up at 65 kg in the final dual, kept China's hopes of winning the dual within reach. Kateryna Zelenykh led most of the match, hitting two four-point throws, but Long steadily worked her way back to a 12-12 score, then secured a clutch pin.
China's final win came at 72 kg, as Qiandegenchagan defeated Alla Belinska of Ukraine, 9-1.
The Ukrainian team is spending a considerable amount of time in the United States. They trained at the U.S. Olympic and Paralympic Training Center in Colorado Springs for over a week leading up to the event, and will remain in Iowa to train for several days before competing in the Beat the Streets LA event in Los Angeles next Sunday.
WORLD CUP WOMEN'S GOLD MEDAL MATCH

Ukraine 6, China 4
50 kg - Oksana Livach (Ukraine) dec. Jiang Zhu (China), 4-4
53 kg - Li Deng (China) dec. Albina Rillia (Ukraine), 2-1
55 kg - Alina Hrushyna Akobiia (Ukraine) dec. Qianyu Pang (China), 4-1
57 kg - Yuliia Tkach Ostapchuk (Ukraine) pin Yongxin Feng (China), 1:30
59 kg - Zhang Qi (China) dec. Iryna Bondar (Ukraine), 7-2
62 kg - Iryna Koliadenko (Ukraine) pin Xinyuan Sun (China), 2:16
65 kg - Jia Long (China) pin Kateryna Zelenykh (Ukraine), 5:58
68 kg - Tetiana Sova Rizhko (Ukraine) dec. Yue Han (China), 5-4
72 kg - Qiandegenchagan (China) dec. Alla Belinska (Ukraine), 9-1
76 kg - Anastasiia Osniach Shustova (Ukraine) dec. Juan Wang (China), 9-5
Team Records: Ukraine 3-0, China 2-1