News
USA Wrestling
College
USAW
No. 17 Rutgers beats Princeton, 17-16 on criteria of most total match points to win rivalry battle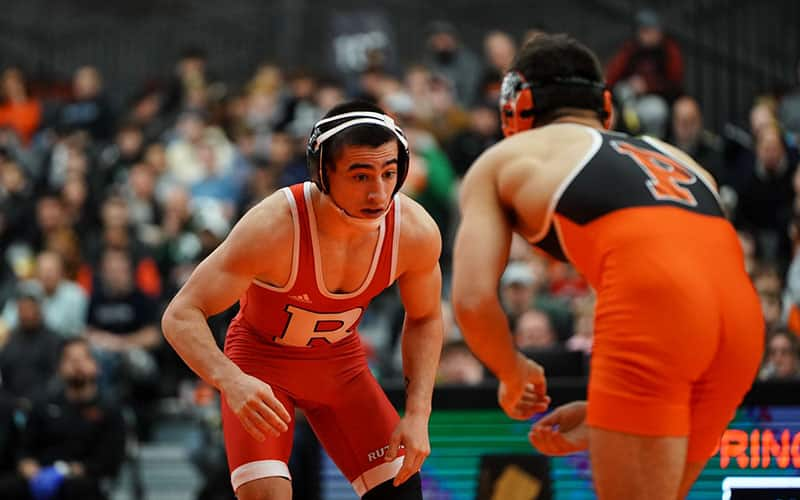 Image courtesy of Rutgers Athletics
PRINCETON, N.J. – In a dual that came down to criteria, No. 17 Rutgers wrestling (6-1, 0-0) defeated Princeton (0-4, 0-0), 17-16, on Sunday afternoon inside Jadwin Gymnasium. Down seven after six bouts, the Scarlet Knights delivered wins in three of their final four matchups to finish the dual tied 16-16. Thanks to a 47-43 advantage in total match points, RU captured the dual and held on to the B1G-IVY Trophy.
No. 14 Brian Soldano (184) earned a clutch major decision over Nate Dugan to move the dual to criteria, while No. 23 Boone McDermott (HWT) solidified the result with his 5-3 decision over Travis Stefanik. The win by criteria was the program's first since it defeated No. 10 Wisconsin, 17-16, on Jan. 11, 2019 in Piscataway.
"This one meant a lot to our program," said head coach Scott Goodale. "When they have their full lineup, we're very evenly matched teams. Our guys delivered at the end, and we were able to walk out of there with the win."
HOW IT HAPPENED
The dual opened at 125, as Dean Peterson faced No. 2 Pat Glory. Peterson wrestled hard against the national finalist and held Glory to a 4-1 decision.
No. 11 Joe Heilmann (133) followed with a strong performance against Sean Pierson, using two takedowns in the second period en route to a 9-3 final to tie the dual at 3-3.
No. 8 Sammy Alvarez (141) suffered his first loss of the season, but No. 32 Tony White (149) followed with a tough 4-1 win over Rocco Camillaci to tie the dual once again.
A major decision from No. 1 Quincy Monday over Andrew Clark gave Princeton a 10-6 lead at intermission. The Tigers then used a decision over Connor O'Neill (165) out of the break to secure their largest lead of the afternoon at 13-6.
RU began to muscle itself back into the dual thanks to No. 30 Jackson Turley (174). Tied 4-4 after the first period, Turley delivered an escape and takedown in the second period and added the riding time point for the 8-5 decision.
Soldano was up next against Dugan, and Soldano took control of the match thanks to a four-point move in the second period. Soldano would add a takedown in the third for the 10-1 final, which tied the dual at 13-13 with two bouts to go.
Billy Janzer (197) held No. 16 Luke Stout to just a 1-0 decision, as Princeton held a 16-13 lead with heavyweight to follow. However, with RU up 42-40 in total match points, all McDermott needed was to win his match for the dual win.
McDermott did that and more thanks to two takedowns of Stefanik en route to a 5-3 decision.
UP NEXT• Rutgers gets a few weeks off before it competes in the 2022 Ken Kraft Midlands Championships from Dec. 29-30 in Hoffman Estates, Illinois.
No. 17 Rutgers 17, Princeton 16
125: 2/2 Patrick Glory (PU) over Dean Peterson (RU) by dec., 4-1; Princeton leads, 3-0
133: 11/15 Joe Heilmann (RU) over Sean Pierson (PU) by dec., 9-3; match tied, 3-3
141: Danny Coles (PU) over 8/24 Sammy Alvarez (RU) by dec., 4-3; Princeton leads, 6-3
149: 32/HM Tony White (RU) over Rocco Camillaci (PU) by dec., 4-1; match tied, 6-6
157: 1/1 Quincy Monday (PU) over Andrew Clark (RU) by MD, 13-3; Princeton leads, 10-6
165: Blaine Bergey (PU) over Connor O'Neill (RU) by dec., 8-4; Princeton leads, 13-6
174: 30/HM Jackson Turley (RU) over Kole Mulhauser (PU) by dec., 8-5; Princeton leads, 13-9
184: 14/15 Brian Soldano (RU) over Nate Dugan (PU) by MD, 10-1; match tied, 13-13
197: 16/20 Luke Stout (PU) over Billy Janzer (RU) by dec., 1-0; Princeton leads, 16-13
HWT: 23/24 Boone McDermott (RU) over Travis Stefanik (PU) by dec., 5-3; RU wins by criteria, 17-16