News
USA Wrestling
College
USAW
Iowa stops Iowa State in Cy-Hawk dual; Minnesota moves into NWCA Coaches Poll Top 10 after win at Oklahoma State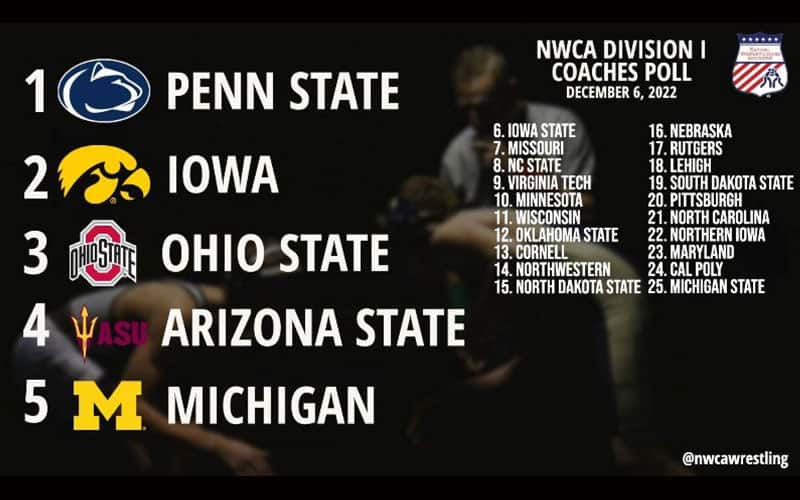 Manheim, Pennsylvania – One of the most spirited rivalries in college wrestling didn't disappoint as a sold-out Carver-Hawkeye Arena saw second-ranked Iowa top then-No. 7 Iowa State 18-15 in the annual Cy-Hawk dual on Sunday.
Iowa remained second in the most recent NWCA Division I Coaches Poll released on Tuesday. The 14,905 was another sellout crowd for the host Hawkeyes and the dual was tied for 20th all-time in dual meet attendance. Historically, the Hawkeyes and Cyclones have drawn well. Of the 102 all-time dual meets to draw over 10,000 fans, Iowa-Iowa State duals account for 41 of them. On the mat, Iowa was buoyed by the return of three-time national champion Spencer Lee to the lineup at 125 pounds and the home debut of All-American transfer Real Woods at 141 pounds.
Top-ranked Penn State (3-0) stayed atop the poll after weekend wins at Rider (37-3) and Lehigh (24-12). The wins may have been bittersweet for the Nittany Lion faithful as returning NCAA champion Max Dean dropped both his weekend bouts – first to Rider's Ethan Laird in sudden victory and then to former teammate and Penn State transfer Michael Beard.
Minnesota was the weekend's top mover as the Golden Gophers moved into the Top 10 after an 18-12 win over then-No. 9 Oklahoma State in front of 4,000+ fans in Stillwater. Coach Brandon Eggum's shuffling of the upper weights offset upset losses to push the Gophers to their first win over the Cowboys since 2014. The Gophers started the weekend with a win over then-No. 25 South Dakota State 19-16 in Brookings, South Dakota.
Missouri opened up its Big 12 schedule with a 38-3 win at home over West Virginia. Most of the nation's top-ranked programs were competing at the Cliff Keen Las Vegas Invitational, which was won by Nebraska for the third straight year.
No. 11 Wisconsin swept two bouts at the second annual Garden State Grapple at the Prudential Center in Newark, New Jersey. The Badgers (5-1) beat then-No. 21 Penn 27-9 and Princeton 34-3. Rutgers also went 2-0 at the event, helping the Big Ten go 8-0 against EIWA foes on the day. The Scarlet Knights (5-1) topped Penn 19-12 and Drexel 26-13.
Michigan State moved into the Top 25 after a pair of wins in New Jersey. The Spartans topped Binghamton 39-6 and Princeton 21-15 with the top individual victory coming a 197 pounds as Cam Caffey topped Binghamton All-American Lou DePrez in the tiebreakers.
The only other ranked team in dual meet action was Pittsburgh, which topped Illinois 30-6.
This Week: On Friday, No. 10 Minnesota will head to Fargo to face No. 15 North Dakota State while Pittsburgh will head to Rhode Island to face Brown. On Saturday, second-ranked Iowa will head to Chattanooga to face the Mocs, while Michigan State will take their turn against Brown.
Sunday's slate is a tad more robust as top-ranked Penn State will host Oregon State, second-ranked Iowa is at Chattanooga and third-ranked Ohio State will host Kent State. In what's turned into an annual top-10 scrap, seventh-ranked Missouri will face ninth-ranked Virginia Tech in Blacksburg. Minnesota will head west for a Top 25 matchup with host Cal Poly in a tri-meet that also will include Lindenwood.
Other ranked teams set to compete on Sunday: Pittsburgh is at Columbia, North Dakota State hosts Buffalo, and Oklahoma State will head to Norman for Bedlam against the rival Sooners. Rutgers head down the road to take on local rival Princeton, while it'll be another in-state battle as Maryland heads to Annapolis to face Navy. Wisconsin will stick with an EIWA opponent as Drexel will visit Madison.
Methodology: The NWCA Division I Wrestling Coaches Poll is voted on by two coaches from each Division I wrestling conference. Each first-place vote is worth 25 points, 24 points for a second-place vote, 23 for a third-place vote and so on through to one point for a 25th-place vote. The poll is based on dual meet results.
NWCA Division I Wrestling Coaches Poll

December 6, 2022


Rank/School (First)/Record/Points/Conference/Previous
1 Penn State (12) (3-0) 348 Big Ten 1
2 Iowa (2) (6-0) 338 Big Ten 2
3 Ohio State (3-0) 314 Big Ten 3
4 Arizona State (2-0) 302 Pac-12 4
5 Michigan (3-0) 286 Big Ten 5
6 Iowa State (5-1) 277 Big 12 7
7 Missouri (2-1) 266 Big 12 6
8 NC State (5-0) 260 ACC 8
9 Virginia Tech (0-1) 221 ACC 10
10 Minnesota (4-0) 218 Big Ten 13
11 Wisconsin (5-1) 209 Big Ten 11
12 Oklahoma State (3-1) 194 Big 12 9
13 Cornell (0-1) 170 EIWA 12
14 Northwestern (1-0) 145 Big Ten 14
15 North Dakota State (2-0) 143 Big 12 15
16 Nebraska (1-2) 137 Big Ten 16
17 Rutgers (5-1) 107 Big Ten 19
18 Lehigh (3-3) 99 EIWA 18
19 South Dakota State (1-1) 95 Big 12 25
20 Pittsburgh (3-1) 91 ACC 17
21 North Carolina (1-2) 67 ACC 20
22 Northern Iowa (0-0) 57 Big 12 22
23 Maryland (4-0) 39 Big Ten 24
24 Cal Poly (1-0) 34 Pac-12 23
25 Michigan State (5-0) 30 Big Ten NR
Dropped Out:
No. 21 Penn (0-3).
Others Receiving Votes:
Oregon State 26, Oklahoma 18, Penn 14, Stanford 13, Appalachian State 12, Indiana 7, West Virginia 4, Purdue 3, Central Michigan 2, Northern Colorado 2, Princeton 2.