News
USA Wrestling
International
USAW
USA Wrestling names Herb House as an Assistant National Greco-Roman Coach
by Gary Abbott, USA Wrestling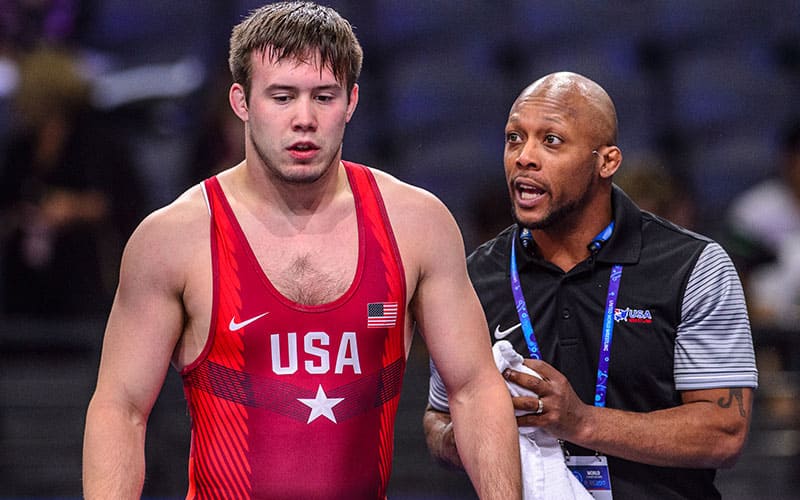 Herb House coaches Mason Manville in 2017. Photo by Tony Rotundo, Wrestlers Are WarriorsHerb House
of Castle Rock, Colo., a long-time Greco-Roman coach within USA Wrestling at numerous age levels, has joined the national staff in the position of Assistant National Greco-Roman Coach.
House will assist in the coaching of the Senior-level wrestling program and will work with Greco-Roman athletes who train at the U.S. Olympic & Paralympic Training Center.
USA Wrestling has been conducting a national search to fill positions on the National Greco-Roman coaching staff and will announce more details on the Greco-Roman program structure as the hiring process is concluded. At this time, the organization is not seeking a General Manager, Greco-Roman Programs, nor a National Greco-Roman Head Coach.
"I am involved to help better the program and take it to the next level. I have been a volunteer for 10 years and coached with the World and Olympic teams. I have been inside of the program and seen what can be changed and improved. The opportunity came where I can now create change and help get it to that next level. I look at it this way. When I was a kid, coaches put so much time and energy into me. Without that USA Wrestling background, I would never have been able to become successful. I want athletes to have the same opportunity I had to be successful in their lives," said House.
House has coached numerous U.S. international teams over the last decade. He served as an official 2017 U.S. World Team Coach, helping lead the U.S. team at the 2017 World Championships in Paris, France. He was a coach for the 2019 Pan American Games team. He has also served on the staff for Greco-Roman Team USA at numerous other major events, including World Championships in 2015, 2016, 2018, 2019, 2021 and 2022, plus the 2016 and 2020 Olympic Games. House was named 2018 USA Wrestling Greco-Roman Coach of the Year.
He has been a volunteer coach on a regular basis at the U.S. Olympic Training Center, working with the USOTC resident Greco-Roman athletes, and helping at the many camps held there. He also serves as a coach for the New York Athletic Club, which has won numerous national Greco-Roman team titles and placed many wrestlers on Olympic, World and Greco-Roman National Team.
House has served as a volunteer leader within USA Wrestling's governance. He was the First Vice President of the organization for much of 2022. He has served on the Board of Directors and has been the Chairperson of the Greco-Roman Sport Committee since 2018. House has also been a member of the Ethics and Membership Committee since 2017.
As an athlete, House was a successful Greco-Roman wrestler. In 1992, he won a Junior World bronze medal. On the Senior level, he won a bronze at the 1993 Pan American Championships. In 1997, he took fourth at the CISM Military World Championships. For a portion of his Senior-level caree, he competed for the U.S. Army WCAP program.
On the domestic level, House won four University National titles, two Armed Forces titles and secured six top-five finishes at the U.S. Open. He is originally from Illinois, where he was successful in Greco-Roman in USA Wrestling's age-group programs.
Professionally, House is the Chief Executive Officer of Global Screening Solutions, a Denver-based security screening company which services numerous national-level companies around the nation. He has worked in the screening industry since 2007.