News
USA Wrestling
College
USAW
Led by champions Hardy, Robb and Labriola, Nebraska wins Cliff Keen Las Vegas Invitational team title
by Gary Abbott, USA Wrestling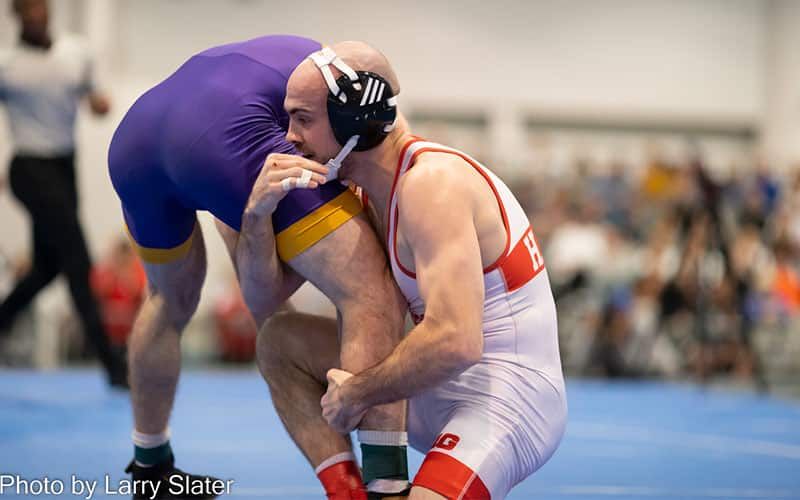 Brock Hardy (Nebraska) gets a leg attack on Cael Happel of UNI. Photo by Larry Slater
LAS VEGAS, Nev. - Led by three individual champions and four other place winners, Nebraska won the team title at the Cliff Keen Las Vegas Invitational on Saturday afternoon.
Nebraska
scored 137.5 points, with
NC State
in second with 127.5 points. Rounding out the top five teams were third place
South Dakota State
, fourth place
Michigan
and fifth place
Northern Iowa
.
The most unexpected final came at 141 pounds, with No. 8 seed
Brock Hardy
of Nebraska facing No. 11 seed Cael Happel of Northern Iowa. Hardy scored takedowns in the first and second period and added riding time for a 6-1 victory.
No 2 seed
Peyton Robb
of Nebraska battled to a 7-3 victory over No. 4 Kendall Coleman of Purdue at 157 pounds. Robb jumped to a 5-0 lead midway through the match with a pair of takedowns. Coleman closed the lead to 5-3 with an escape and takedown in the second period, but Rob Robb rode out the third period to close out the win.
The battle at 174 pounds went to sudden victory, as No. 2 seed and returning CKLV Invitational champion
Mikey Labriola
of Nebraska upset top seed and past NCAA champion Mekhi Lewis of Virginia Tech, 3-1. There was no first period takedown, and both athletes scored escapes from the bottom to make it 1-1 in regulation. Labriola secured a sudden victory counter takedown to win the match.
NC State had a pair of individual champions and four other place winners.
In a battle of All-Americans, No. 2 seed
Trent Hidlay
of NC State defeated top-seed Parker Keckeisen of UNI, 8-2. Early in the first period, Hidlay whipped Keckeisen to his back for a takedown and four back points to lead 6-0. Keckeisen scored an escape to make it 6-1 after one period. Each wrestler scored escapes from the bottom position, and Hidlay secured riding time to close out the scoring.
In an active match with a ton of great scrambles, No. 2 seed
Isaac Trumble
of NC State edged No. 5 Tanner Harvey, Oregon State, 6-4. Harvey scored the first takedown, but after an escape, Trumble earned a counter takedown for a 3-2 lead. Harvey was penalized for pulling on the headgear to make it 4-2. A Harvey reversal knotted it at 4-4. Two more Trumble escapes secured the win.
Freshman
Richard Figueroa
of Arizona State scored the only takedown of the match, leading to a 3-2 win over Matt Ramos of Purdue to claim the 125-pound title. All of the other points scored were escapes. Figueroa came in as No. 5 seed, while Ramos was at No. 2
In a battle of two-time All-Americans, top seed
Vito Arujau
of Cornell defeated No. 2 seed Michael McGee of Arizona State, 6-1 at 133 pounds. Arujau scored takedowns in the first and third period, and secured a riding time point.
Top seed
Sammy Sasso
of Ohio State claimed the 149-pound title with a 6-2 win over No. 3 seed Kyle Parco of Arizona State. Sasso finished a takedown at the end of the first period to lead 2-0. Sasso rode Parco out the entire second period. Sasso added a third-period reversal, followed by a Parco reversal. Parco cut Sasso but could not score. Sasso added riding time.
In the most explosive performance of the finals round, No. 2 seed
Julian Ramirez
of Cornell scored a first-period 17-1 technical fall over No. 9 Tanner Cook of South Dakota State at 165 pounds. Ramirez scored a big takedown and multiple turns for a 10-0 lead, before a Cook escape. Ramirez got another takedown with turns to end the match in 2:18.
In the final bout of the finals, in a Big Ten battle, No. 2 seed
Mason Parris
of Michigan beat No. 4 Lucas Davison of Northwestern, 6-4. The bout was tied at 3-3 after two periods. Paris got an escape and a takedown to lead 6-3. Davison got an escape, but could not score again as the bout ended.
CLIFF KEEN LAS VEGAS INVITATIONAL
At Las Vegas, Nev., December 2-3
125 LBS
1st Richard Figueroa (Arizona State) dec. Matt Ramos (Purdue), 3-2
3rd Liam Cronin (Nebraska) dec. Brandon Kaylor (Oregon State), 4-2
5th Malik Heinselman (Ohio State) dec. Tanner Jordan (South Dakota State), 11-5
7th Brett Ungar (Cornell) med. forfeit Kurt McHenry (Michigan)
133 LBS
1st Vitali Arujau (Cornell) dec. Michael McGee (Arizona State), 6-1
3rd Kyle Biscoglia (Northern Iowa) med forfeit Jason Shaner (Oregon State)
5th Dylan Ragusin (Michigan) dec. Sam Latona (Virginia Tech), 3-1
7th Chance Rich (Cal State Bakersfield) inj. dft. Christopher Cannon (Northwestern), 1:55
141 LBS
1st Brock Hardy (Nebraska) dec. Cael Happel (Northern Iowa), 6-1
3rd. Ryan Jack (NC State) pin Joshua Koderhandt (Navy), 5:16
5th Tom Crook (Virginia Tech) med. forfeit Clay Carlson (South Dakota State)
7th Parker Filius (Purdue) dec. Dylan D`emilio (Ohio State), 12-6
149 LBS
1st Sammy Sasso (Ohio State) dec. Kyle Parco (Arizona State), 6-2
3rd Yahya Thomas (Northwestern) dec. Jonathan Millner (Appalachian State), 2-1
5th Jackson Arrington (NC State) dec Alec Hagan (Ohio), 5-2
7th Chance Lamer (Michigan) tech. fall Colin Realbuto (Northern Iowa), 18-2 3:32
157 LBS
1st Peyton Robb (Nebraska) dec. Kendall Coleman (Purdue), 7-3
3rd Ed Scott (NC State) inj dft. Will Lewan (Michigan), 2:04
5th Trevor Chumbley (Northwestern) dec. Cael Swensen (South Dakota State), 6-2
7th Cesar Alvan (Columbia) pin Tommy Askey (Appalachian State), 4:02
165 LBS
1st Julian Ramirez (Cornell) tech. fall Tanner Cook (South Dakota State), 17-1, 2:18
3rd Matthew Olguin (Oregon State) pin Bubba Wilson (Nebraska), 7:41
5th Josh Ogunsanya (Columbia) med forfeit Austin Yant (Northern Iowa)
7th William Formato (Appalachian State) med forfeit Carson Kharchla (Ohio State)
174 LBS
1st Mikey Labriola (Nebraska) dec. Mekhi Lewis (Virginia Tech), 3-1 SV
3rd Christopher Foca (Cornell) dec. Cade Devos (South Dakota State), 6-4
5th Troy Fisher (Northwestern) forfeit Demetrius Romero (Utah Valley)
7th Aaron Olmos (Oregon State) dec. Alexander Faison (NC State), 3-1 SV
184 LBS
1st Trent Hidlay (NC State) dec. Parker Keckeisen (Northern Iowa), 8-2
3rd Hunter Bolen Virginia Tech) dec. Kaleb Romero (Ohio State), 3-1 sv
5th Cade King (South Dakota State) pin Lenny Pinto (Nebraska), 1:17
7th Matthew Finesilver (Michigan) med. forfeit Trey Munoz (Oregon State)
197 LBS
1st Isaac Trumble (NC State) dec. Tanner Harvey (Oregon State), 6-4
3rd Tanner Sloan (South Dakota State) dec. Evan Bockman (Utah Valley), 4-3
5th Silas Allred (Nebraska) med forfeit Andy Smith (Virginia Tech)
7th Jacob Koser (Navy) med forfeit Kordell Norfleet. (Arizona State), 0-0 0:00
285 LBS
1st Mason Parris (Michigan) dec. Lucas Davison (Northwestern), 6-4
3rd Yaraslau Slavikouski (Harvard) med forfeit Wyatt Hendrickson (Air Force)
5th Tyrell Gordon (Northern Iowa) dec. AJ Nevills (South Dakota State), 3-1 SV
7th Owen Trephan (NC State) med forfeit Cohlton Schultz (Arizona State)
Team Standings
1 Nebraska 137.5
2 NC State 127.5
3 South Dakota State 123 -
4 Michigan 96.5
5 Northern Iowa 96
6 Arizona State 89
7 Cornell 83.5
8 Ohio State 82.5
8 Oregon State 82.5
10 Northwestern 81.5
11 Virginia Tech 76
12 Purdue 45.5
13 Columbia 44.5
14 Navy 41.5
15 Utah Valley 36.5
16 Air Force 34
17 Appalachian State 33.5 -
18 Harvard 22.5 -
19 Bucknell 20.5
20 Ohio 20