News
USA Wrestling
International
Beach
High School & Youth
College
Women
USAW
USA Wrestling Masters Nationals added to Beach Nationals, Southeast Regionals and Spartan Nationals in Florida, May 20-23
by Gary Abbott, USA Wrestling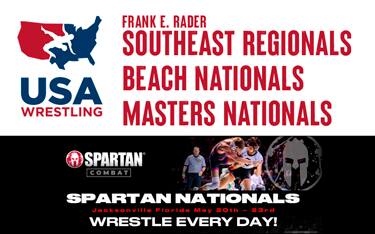 Another major USA Wrestling event has been added to an exciting variety of high-level competition set for Jacksonville, Fla., May 20-23.
The USA Wrestling Masters Nationals, which features men's freestyle and Greco-Roman competition in six divisions for athletes 25-years older and above, is set for the Prime F. Osborn III Convention Center in Jacksonville, May 21-22. Greco-Roman competition is set for Friday, May 21, with freestyle competition on Saturday, May 22.
The three other events being hosted side-by-side in Jacksonville over four days of actions are:
• USA Wrestling Beach Nationals, Thursday, May 20
• Frank E. Rader Southeast Regionals, Friday, May 21 and Saturday, May 22
• Spartan Nationals, Saturday, May 22 and Sunday, May 23
Masters who seek additional competition in another style can also enter the Beach Nationals on Thursday, which will include a Masters division. The Beach Nationals has age-groups from youth levels to the Senior level, as well as the Masters division.
The age-divisions for the Masters competitions include:
Masters (Beach, FS & GR Only)
Masters Division A: (Born 1987-1996)
Masters Division B: (Born 1979-1986)
Masters Division C: (Born 1971-1978)
Masters Division D: (Born 1963-1970)
Masters Division E: (Born 1955-1962)
Masters Division F: (Born 1946-1954)
Register for the Masters Nationals and the other three events
The Beach Nationals is the annual national championships in Beach wrestling in the USA, with competition for both males and females in multiple age-levels. The tournament will be held at the One Ocean Resort & Spa in Jacksonville.
The Frank E. Rader Southeast Regionals provides freestyle and Greco-Roman competition for boys and girls in the following age divisions (8U, 10U, 12U, 14U, 16U, Junior). Athletes from all states are invited and welcome to compete in the Frank E. Rader Southeast Regionals.
The Spartan Nationals is a new competition created by Spartan Combat. On Saturday, May 22, the Spartan Nationals will feature an individual folkstyle competition in all ages. On Sunday, May 22 23, the Spartan Nationals Dual Team Championships will be held.
The Prime F. Osborne III Convention Center in Jacksonville will host the Masters Nationals, Frank E. Rader Southeast Regionals and the Spartan Nationals.
Complete schedule for all four events in Jacksonville
More information on each of these competitions will be highlighted separately.
Website to book hotels
Wrestlers and their families are encouraged to make plans to join USA Wrestling and Spartan Combat for a great four days of wrestling, May 20-23.
Website for all four events in Jacksonville