News
USA Wrestling
International
High School & Youth
USAW
Black to wrestle in Sunday's repechage at U20 World Championships
by Taylor Gregorio, USA Wrestling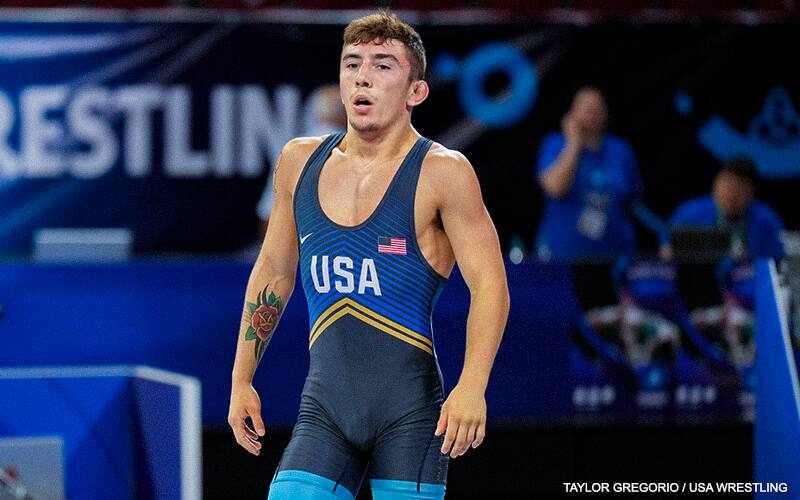 Photo of Max Black by Taylor Gregorio/USA Wrestling.
SOFIA, Bulgaria – Max Black will continue his bid for a medal at the U20 World Championships in Sofia, Bulgaria, after getting pulled into repechage on Saturday night.
At 60 kg, Max Black was pulled into repechage after 2019 U17 World champion and 2021 U20 World silver medalist Saeid Esmaeili Leivesi of Iran, who defeated Black in the first round, pulled off a 1-1 win in the semifinals. In his first repechage match, Black will face Koto Gomi of Japan. Should he win that match, Black will need to defeat 2019 U17 World bronze medalist Voldymyr Voitovych from Ukraine to advance to the bronze match, where 2019 U17 World champion and 2021 U20 World bronze medalist Nihat Mammadli of Azerbaijan will be waiting.
Robert Perez III, who advanced to the quarterfinals earlier in the day, was eliminated from the tournament after U17 World bronze medalist Din Koshkar of Kazakhstan lost in the semifinals. Perez went 2-1, collecting two shut-out tech falls.
Competing at 97 kg, Christian Carroll wrapped up his tournament when Nurmanbet Raimaly Uulu of Kyrgyzstan, who defeated Carroll in the morning session, failed to advance to the finals, losing in the semifinals.
The tournament wraps up Sunday with repechage beginning at 4 p.m. local time (9 a.m. ET) followed by medal matches at 6 p.m. (11 a.m. ET). Fans can watch all the action live on FloWrestling and get live updates on Twitter @USAWrestling.
U20 WORLD CHAMPIONSHIPS
Aug. 15-21, 2022 | Sofia, Bulgaria
U.S. Greco-Roman results
60 kg – Max Black (Castle Rock, Colo./NMU-NTC) – REPECHAGE

LOSS Saeid Esmaeili Leivesi (Iran), 9-0

vs. Koto Gomi (Japan)
67 kg – Robert Perez (Long Beach, Calif./Sunkist Kids/USOPTC) – eliminated

WIN Shon Nadorgin (Israel), 8-0

WIN Zsolt Takacs (Hungary), 8-0

LOSS Din Koshkar (Kazakhstan), 3-3
72 kg – Richard Fedalen (Laurel, Md./Warhawks WC) – eliminated

WIN Matthias Hauthaler (Austria), fall

LOSS Georgios Barbanos (Sweden), 13-4
77 kg – Payton Jacobson (Elkhorn, Wisc./Sunkist Kids/NMU-NTC) – eliminated

LOSS Yuksel Saricicek (Turkey), 9-1

WIN Diego Macias Torres (Mexico), 8-0

LOSS Khasay Hasanli (Azerbaijan), 3-1
82 kg - Adrian Artsisheuskiy (Brooklyn, N.Y./Elite Wrestling Academy) – eliminated

WIN Odysseas Roungeris (Greece), fall 3:36

LOSS Leon Rivalta (Italy), fall
97 kg – Christian Carroll (Elkhart, Ind./Midwest RTC) – eliminated

LOSS Nurmanbet Raimaly Uulu (Kyrgyzstan), 9-7