News
USA Wrestling
International
High School & Youth
USAW
Attao achieves bronze in dominant fashion at U20 World Championships
by Taylor Gregorio, USA Wrestling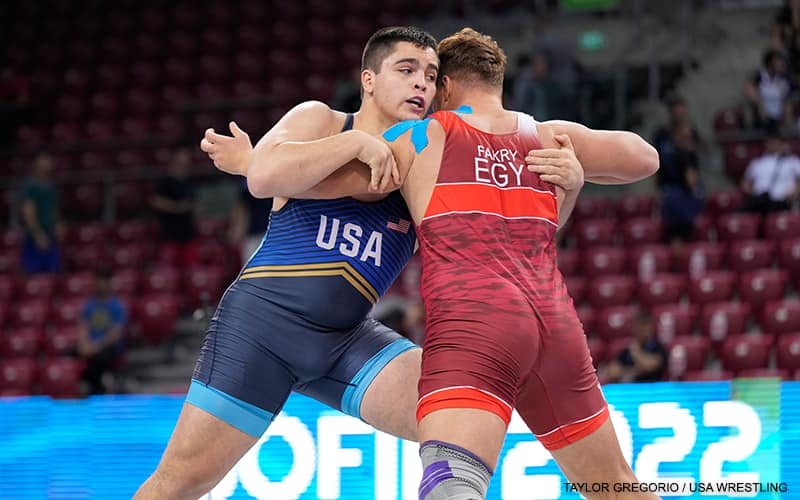 Photo of Aden Attao by Taylor Gregorio/USA Wrestling.
SOFIA, Bulgaria – U.S. Greco-Roman heavyweight Aden Attao dominated his way onto the podium, winning bronze at the U20 World Championships in Sofia, Bulgaria, on Saturday evening.
In his first World tournament, Attao, only 17 years old, cruised past two-time age-group African champion Fekry Eissa of Egypt in his medal bout. Attao put eight points on the board in the first period with a massive head pinch and a head lock to take an 8-2 lead into the break. After the two exchanged step-out points, Attao countered an arm spin from Eissa to ice the match, 11-3.
USA's newest U20 World bronze medalist, Aden Attao! #WrestleSofia pic.twitter.com/A96g6isMAY


— USA Wrestling (@USAWrestling) August 20, 2022
Team USA has one more wrestler chasing a medal in Max Black at 60 kg. He will need to win two matches in repechage to advance to the bronze-medal bout.
The tournament wraps up Sunday with repechage beginning at 4 p.m. local time (9 a.m. ET) followed by medal matches at 6 p.m. (11 a.m. ET). Fans can watch all the action live on FloWrestling and get live updates on Twitter @USAWrestling.
Find all of this week's coverage in the USA Wrestling Special Section.
U20 WORLD CHAMPIONSHIPS

Aug. 15-21, 2022 | Sofia, Bulgaria
U.S. Greco-Roman results
55 kg – Jonathan Gurule (Peralta, N.M./NMU-NTC) – 12TH

LOSS Nuristan Suiorkulov (Kyrgyzstan), 7-2
63 kg – Haiden Drury (Yakima, Wash./Brunson UVRTC) – 15TH

LOSS Ziya Babashov (Azerbaijan), 8-0
77 kg – Payton Jacobson (Elkhorn, Wisc./Sunkist Kids/NMU-NTC) – EIGHTH

LOSS Yuksel Saricicek (Turkey), 9-1

WIN Diego Macias Torres (Mexico), 8-0

LOSS Khasay Hasanli (Azerbaijan), 3-1
87 kg – Kodiak Stephens (Arnold, Calif./Beaver Dam RTC) – 10TH

WIN Surjeet Singh (India), 8-0

LOSS Robin Uspenski (Estonia), 2-1
130 kg – Aden Attao (Boise, Idaho/Suples WC) – BRONZE

WIN Parvesh Parvesh (India), 12-4

WIN Adolf Bazso (Hungary), fall 3:00

LOSS Mykhailo Vyshnyvetskyi (Ukraine), 10-0

WIN Fekry Eissa (Egypt), 11-3
Medal match results
55 kg

GOLD – Nihad GULUZADE (AZE)

SILVER – Denis MIHAI (ROU)

BRONZE – Taiga ONISHI (JPN)

BRONZE – Nuristan SUIORKULOV (KGZ)
63 kg

GOLD – Iman MOHAMMADI (IRI)

SILVER – Baiaman KARIMOV (KGZ)

BRONZE – Chiezo MARUYAMA (JPN)

BRONZE – Oleh KHALILOV (UKR)
77 kg

GOLD – Deni NAKAEV (GER)

SILVER – Yuksel SARICICEK (TUR)

BRONZE – Alexandrin GUTU (MDA)

BRONZE – Samandar BOBONAZAROV (UZB)
87 kg

GOLD – Vigen NAZARYAN (ARM)

SILVER – Abolfazl CHOUBANI (IRI)

BRONZE – Maksat SAILAU (KAZ)

BRONZE – Lachin VALIYEV (AZE)
130 kg

GOLD – Mykhailo VYSHNYVETSKYI (UKR)

SILVER – Fardin HEDAYATI (IRI)

BRONZE – Aden ATTAO (USA)

BRONZE – Temurbek NASIMOV (UZB)
Schedule (local time 7 hours ahead of U.S. ET)
Sunday, Aug. 21
4 p.m. – Repechage (GR 60, 67, 72, 82, 97 kg)

6 p.m. – Medal matches (GR 60, 67, 72, 82, 97 kg)