News
USA Wrestling
International
High School & Youth
USAW
Two-time World medalist Facundo leads strong men's freestyle team into U20 Worlds, Aug. 15-21
by Taylor Gregorio, USA Wrestling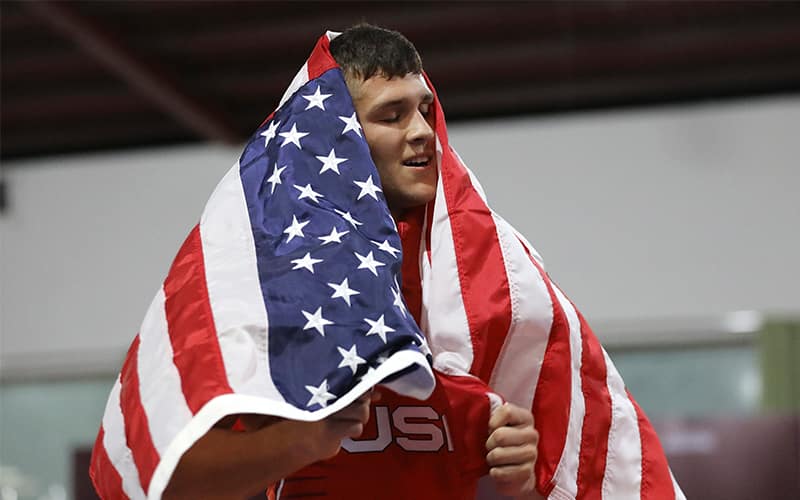 Photo of Alex Facundo by Osvaldo Aguilar/UWW.
Team USA is sending a promising men's freestyle roster to the U20 World Championships in Sofia, Bulgaria. The tournament kicks off with men's freestyle competition, Aug. 15-17. Fans can watch all the action live on FloWrestling.
To make the team, all 10 athletes won the U20 World Team Trials in Geneva, Ohio, in early June.
Leading the squad is Alex Facundo, a 2018 and 2019 U17 World bronze medalist, who will be competing at 74 kg. This will be his third age-group World Championships. Facundo, a redshirt freshman at Penn State, also has a U20 Pan American gold medal on his resume from earlier this year. Domestically, he has been a threat for several years, winning back-to-back folkstyle national championships in 2018 and 2019 and winning the U20 Nationals at the 2022 U.S. Open.
Another World Championships veteran joining Facundo is Nic Bouzakis, who wrestled Greco-Roman at last year's U20 Worlds, where he finished eighth. He will be representing the U.S. in freestyle at 61 kg in Sofia. An incoming freshman at Ohio State, Bouzakis is also a 2022 Pan Am champion and U20 Nationals champion.
Five other U20 Pan American gold medalists fill out the roster, including Vince Cornella (65 kg), Mitchell Mesenbrink (70 kg), Jaxon Smith (92 kg), Ben Kueter (97 kg) and Nicholas Feldman (125 kg). All five athletes bring impressive domestic credentials, winning their brackets at the 2022 U.S. Open.
Committed to wrestle at California Baptist, Mesenbrink owns three other major national titles, including 2021 National High School Recruiting Showcase champion, 2019 Preseason Nationals champion and 2019 16U Folkstyle Nationals champion. He was also a 16U freestyle All-American at Fargo in 2019.
Kueter, who has committed to the University of Iowa for wrestling and football, was a 2021 Folkstyle Nationals champion and notched a runner-up finish at the USMC Junior Freestyle Nationals later that year. He also had top-four performances at the 2019 UWW U17 Freestyle Nationals and 2019 UWW U15 Freestyle Nationals.
Ohio State wrestler Feldman earned the 16U Greco-Roman Fargo title in 2019 and placed third in freestyle at that same tournament.
Cornella, an incoming freshman at Cornell, was fourth at the Bill Farrell Memorial in April, and Smith, a redshirt freshman at the University of Maryland, earned All-American status at the 2018 16U Fargo national tournament.
Rounding out the lineup is Jore Volk at 57 kg, Brayden Thompson at 79 kg and Bennett Berge at 86 kg.
University of Wyoming wrestler Volk is a four-time 16U Fargo All-American, turning in championship performances in freestyle and Greco-Roman in 2019. Additionally, he placed top-eight in the Junior freestyle division at that same tournament.
Thompson, an Oklahoma State commit, holds two Preseason Nationals titles from 2019 and 2020 as well as runner-up performances at 2021 USMC Junior Nationals and the 2021 National High School Recruiting Showcase.
Slated to wrestle at South Dakota State, Berge was a 2019 USMC 16U Freestyle Nationals champion and a 2021 Junior Freestyle Nationals All-American.
The team will be led by a group of talented coaches, including U.S. Men's Freestyle Development Coach James Green and assigned coaches Kerry McCoy and Logan Stieber as well as several personal coaches.
Opening the tournament is Volk, Cornella, Mesenbrink, Thompson and Kueter on Aug. 15 with Bouzakis, Facundo, Berge, Smith and Feldman beginning their competition on Aug. 16.
Fans can watch all the action live on FloWrestling and keep up with live updates on Twitter @USAWrestling.
U.S. men's freestyle roster
57 kg – Jore Volk (Lakeville, Minn./Pinnacle WC)

61 kg – Nic Bouzakis (Shavertown, Pa./Ohio RTC)

65 kg – Vince Cornella (Lafayette, Colo./Spartan Combat RTC)

70 kg – Mitchell Mesenbrink (Hartland, Wisc./Askren Wrestling Academy)

74 kg – Alex Facundo (Essexville, Mich./Nittany Lion WC)

79 kg – Brayden Thompson (Lockport, Ill./Izzy Style WC)

86 kg – Bennett Berge (Mantorville, Minn./Pinnacle WC)

92 kg – Jaxon Smith (Acworth, Ga./DMV RTC)

97 kg – Ben Kueter (Iowa City, Iowa/Sebolt Wrestling Academy)

125 kg – Nicholas Feldman (Quarryville, Pa./Ohio RTC)
U.S. Men's Freestyle Development Coach – James Green

Assigned Coach – Kerry McCoy

Assigned Coach – Logan Stieber
Personal coach – Brady Berge

Personal coach – Alex Clemsen

Personal coach – Casey Cunningham

Personal coach – Adam Fellers

Personal coach – Jon Henslee

Personal coach – Jeffrey Jaggers

Personal coach – John Mesenbrink

Personal coach – Brandon Paulson

Personal coach – Kellen Russell
Medical – Steve Poon

Medical – Bruce Ferratt
Official – Danny Blackshear

Official – Josh Grube

Official – Na Humma

Official – Leslie Tamayo
Communications – Taylor Gregorio
Schedule (local time 7 hours ahead of U.S. ET)
Monday, Aug. 15
11 a.m. – Qualification rounds (MFS 57, 65, 70, 79, 97 kg)

6 p.m. – Semifinals (MFS 57, 65, 70, 79, 97 kg)
Tuesday, Aug. 16
11 a.m. – Qualification rounds (MFS 61, 74, 86, 92, 125 kg)

11 a.m. – Repechage (MFS 57, 65, 70, 79, 97 kg)

4 p.m. – Opening ceremony

4:45 p.m. – Semifinals (MFS 61, 74, 86, 92, 125 kg)

6 p.m. – Medal matches (MFS 57, 65, 70, 79, 97 kg)
Wednesday, Aug. 17
11 a.m. – Qualification rounds (WFS 50, 55, 59, 68, 76 kg)

11 a.m. – Repechage (MFS 61, 74, 86, 92, 125 kg)

4:45 p.m. – Semifinals (WFS 50, 55, 59, 68, 76 kg)

6 p.m. – Medal matches (MFS 61, 74, 86, 92, 125 kg)
Thursday, Aug. 18
11 a.m. – Qualification rounds (WFS 53, 57, 62, 65, 72 kg)

11 a.m. – Repechage (WFS 50, 55, 59, 68, 76 kg)

4:45 p.m. – Semifinals (WFS 53, 57, 62, 65, 72 kg)

6 p.m. – Medal matches (WFS 50, 55, 59, 68, 76 kg)
Friday, Aug. 19
11 a.m. – Qualification rounds (GR 55, 63, 77, 87, 130 kg)

11 a.m. – Repechage (WFS 53, 57, 62, 65, 72 kg)

4:45 p.m. – Semifinals (GR 55, 63, 77, 87, 130 kg)

6 p.m. – Medal matches (WFS 53, 57, 62, 65, 72 kg)
Saturday, Aug. 20
11 a.m. – Qualification rounds (GR 60, 67, 72, 82, 97 kg)

11 a.m. – Repechage (GR 55, 63, 77, 87, 130 kg)

4:45 p.m. – Semifinals (GR 60, 67, 72, 82, 97 kg)

6 p.m. – Medal matches (GR 55, 63, 77, 87, 130 kg)
Sunday, Aug. 21
4 p.m. – Repechage (GR 60, 67, 72, 82, 97 kg)

6 p.m. – Medal matches (GR 60, 67, 72, 82, 97 kg)