News
USA Wrestling
High School & Youth
Women
USAW
U.S. Marine Corps supports USA Wrestling as presenting sponsor of record-setting 2022 USMC Junior & 16U Nationals
by USA Wrestling and United States Marine Corps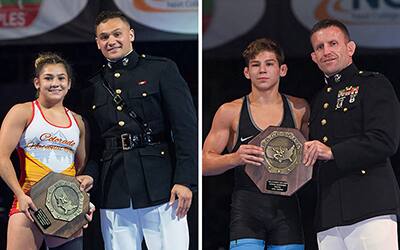 Championship award presentations at the USMC Junior & 16U Nationals in Fargo, N.D. Photos by Austin Bernard.
The United States Marine Corps supports the USA Wrestling community and extends its local resources to our wrestling coaches nationwide.
As presenting sponsors of this year's Junior & 16U National Championships in Fargo, North Dakota, the Marine Corps presented awards to each of this year's national champions in men's freestyle, Greco-Roman, and women's freestyle.
"The United States Marine Corps is honored to be able to attend the 2022 Junior & 16U National Championships," said
Lt. Col. Rob Dolan, the Marine Corps Recruiting Command National Director of Marketing, Advertising, Communication Strategy
. "We witnessed amazing displays of the fighting spirit and recognize the hard work and commitment it takes to compete at this level. We extend our congratulations to each wrestler and every coach that stepped on the mat this year. We look forward to continuing to form invaluable relationships with the USA Wrestling community."
The 2022 USMC Junior & 16U Nationals was the world's largest wrestling tournament, with a record 6,643 entries this year.
The United States Marine Corps recognizes the role of coaches, educators, mentors, and parents who inspire that fighting spirit. Whether your interest lies in helping us identify high-achieving students or inviting us to help you motivate students and steer them toward success, we would like to get to know you.
The Marines invite wrestling coaches to learn more about the local Marines who are available to help their teams win battles by inspiring the fighting spirit in their athletes. Please visit
RMI.Marines.com/Influencer
or email community@marines.mcrc.mil.
About the United States Marine Corps Influencer Program
Become a Marine Corps Influencer
.
As an educator, guidance counselor, mentor or individual concerned with the advancement of today's youth, you understand the importance of providing our young men and women with the knowledge they need to succeed, the discipline to apply what they have learned and the desire to achieve more.
Just as you make every effort to help the youth of our nation succeed, the Marine Corps strives to help every Marine reach his or her potential.We will work together to ensure the success of our youth and ensure the security of our nation.