News
USA Wrestling
International
USAW
Clark, Chaid, Horton among champions showcasing Greco-Roman at the Masters Nationals on Friday
by Gary Abbott, USA Wrestling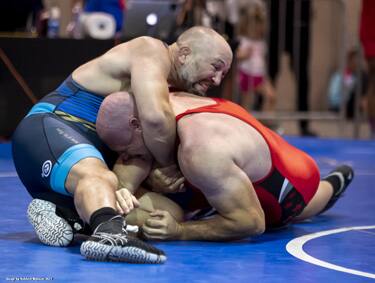 Jake Clark secures a head pinch during the Masters Greco-Roman Nationals at 100 kg in Div. B. Photo by Robbert Wijtman.
JACKSONVILLE, Fla. – It was Greco-Roman day at the wrestling events in Jacksonville today, with the Veterans Nationals, Southeast Regionals and Spartan Nationals all hosting divisions in the Classic style.
One of the most recognized of the Masters champions on Friday was Jake Clark of Wrestle Jitsu, who won all three of his bouts in a four-athlete round robin at 100 kg in Div. B.
Clark, who was a member of two U.S. Senior World Teams, won the title at is still competing at the Senior level, most recently wrestling in the Last Chance Olympic Trials Qualifier in Fort Worth, Texas.
Unlike many athletes who are wrestling in the Beach and freestyle divisions this weekend, Clark is only competing in Greco-Roman at Veterans Nationals this year, dropping in for one day to wrestle his specialty style.
Other prominent champions are wrestling many styles. Daniel Chaid of the California RTC won the Div. A title at 100 kg, defeating Karl Oeser of 505 WC in two straight matches, both by technical fall, 9-1 and 14-6. Chaid won the U.S. Senior Beach Championships title yesterday in the Over 90kg weight class.
Many other Masters wrestlers going Greco-Roman also competed in the Beach Nationals on Thursday, and in some cases, competed in both the Senior division and the Masters division.
Steve Horton, the Div. D Masters National Greco-Roman champion at 70 kg, won a best-of-three series over Doug Baum of the Chicago WC. Horton won the Masters title at the Beach event in the Masters division.
The Greco-Roman championship finals in Div. C at 130 kg featured a pair of experienced Masters wrestlers, as Brett Clark of Team Fluffy scored first on a step out and controlled the action to defeat Gabe Beauperthuy, 4-1. Clark, who was not able to compete in this event for a few years, beat Beauperthuy, who has competed in numerous combat styles in recent years including freestyle and folkstyle wrestling, Grappling, Beach Wrestling and Belt Wrestling.
Rudy James, a multiple Veterans World medalist, won a tough three-athlete round robin at 88 kg in Div. D. James won a rugged 7-4 battle against Alvin Riggs of Lowell Wrestling in his final match to secure the win.
The Masters Greco Cup, recognizing the club champion this year, went to the Chicago Wrestling Club.
We will see the Masters competing again on Saturday, when the men's freestyle divisions of the Masters Nationals will be held.
MASTERS NATIONALS
At Jacksonville, Fla.

Greco-Roman results

Div. A
58 kg
1st - Taylor Ticknor (Stars Wrestling Club)
2nd - Jurane Culbreath (Chicago Wrestling Club)
78 kg
1st - Dimitri Willis (Chicago Wrestling Club) tech. fall Trace Thome (Florida), 9-0 3:50
3rd - Rashaad Saunders (Brave Tough Wrestling Club) tech. fall Jacob English (Pennsylvania), 8-0 3:21
88 kg
1st - Khalil Abdushshakur (Morris Fitness)
2nd - Ryan Whittle (Pennsylvania)
3rd - Nick Hooper (Florida)
4th - Anthony Brown-Garcia (New Mexico)
100 kg
1st - Daniel Chaid (California Regional Training Center (CA RTC))
2nd - Karl Oeser (505 Wrestling Club)
130 kg
1st - Sage Hecox (Hecox Team Benaiah)
2nd - Jayson Conger (All American Wrestling Club)
3rd - Ryan Bascue (Spartan Mat Club)
Div. B
70 kg
1st - Richard Bloom (Massachusetts)
2nd - Jordin Humphrey (TMWC)
3rd - Seonghun Chung (Oregon)
78 kg
1st - Andrei Stashonak (New York)
2nd - Nazariy Volyanskyy (Chicago Wrestling Club)
3rd - James Ferguson (Nebraska)
4th - Timothy Ironman (Tennessee)
88 kg
1st - Nathaniel Augustson (505 Wrestling Club)
2nd - Russell Brunson (Idaho)
3rd - Ivan Kanzaki (California)
100 kg
1st - Jacob Clark (Wrestle-Jitsu)
2nd - James Medeiros (California)
3rd - Josh Montesinos (706 Wrestling)
4th - James Verderico (Nevada)
130 kg
1st - Ruslan Mukhamadiyarov (Chicago Wrestling Club)
2nd - Mac Slauson (Florida)
Div. C
58 kg
1st - Carson Gainey (Ohio)
2nd - Roger Stewart-Frederick (New York Athletic Club)
3rd - Jeffrey Mallett (Maryland)
62 kg
1st - David Yi (Mad Dawg Wrestling Club)
2nd - Jason Goldman (New York)
3rd - Gary Cook (Cnypin2win)
70 kg
1st - Furkat Isaev (Florida)
2nd - Shawn Noppert (Nj Scorpions Wrestling School ,llc)
3rd - Corey Taylor (Ohio)
4th - Antonino Calandra (Florida)
78 kg
1st - Matthew Shirk (Pennsylvania)
2nd - Eric Goodman (Wisconsin)
3rd - Shawn Weltzin (Warrior Wrestling
88 kg
1st - Rudy James (Gopher Wrestling Club - RTC)
2nd - Alvin Riggs (Lowell Wrestling)
3rd - Dink Wilcox (North Carolina)
100 kg
1st - Stanislav Shamota (New Jersey)
2nd - Octavius Bellamy (Chicago Wrestling Club)
3rd - Dave Hart (Colorado)
4th - Royce Teague (Minnesota)
130 kg
1st - Brett Clark (Team Fluffy) dec, Gabe Beauperthuy (Colorado), 4-1
3rd - Jason Prenevost (Oregon) tech. fall Joseph t Bellavia (Mira Mesa High School Wrestling), 8-0 1:03
Division D
62 kg
1st - Joe Raia (Chicago Wrestling Club)
2nd - Matthew Robertson (Washington)
3rd - Patsy Anthony (Pennsylvania)
70 kg
1st - Steve Horton (NB Elite)
2nd - Doug Baum (Chicago Wrestling Club)
62 kg
1st - Joe Raia (Chicago Wrestling Club)
2nd - Matthew Robertson (Washington)
3rd - Patsy Anthony (Pennsylvania)
78 kg
1st - Jon Banko (All-American Wrestling Club)
2nd - Ernesto Alarcon (Paradigm Wrestling)
3rd - Bruce Moe (Bison Wrestling Club)
88 kg
1st - Morgan Robertson (MWC Wrestling Academy)
2nd - Kevin Kares (Las Vegas Wrestling Club)
3rd - Jeff Williams (Warrior Wrestling Club)
4th - Ronald Ayers (Arizona)
100 kg
1st - Gelu Bors (Nevada)
2nd - Robert Mancha (Arizona)
3rd - Christopher Skrzypek (Florida)
130 kg
1st - Petrica Constandache (Battle Born Wrestling Academy)
2nd - Brian Jones (Santa Monica Bay Wrestling Club)
Div. E
58 kg
1st - Jeffrey Mallett (Maryland)
70 kg
1st - David Manville (Pennsylvania)
2nd - Steve Ferguson (Nebraska)
3rd - Peter Wirs (The Pennsylvania Wrestling Club, Inc.)
78 kg
1st - Bruce Moe (Bison Wrestling Club)
88 kg
1st - Kevin Kares (Las Vegas Wrestling Club)
100 kg
1st - Dave Ullom (Iowa)
2nd - Joseph Cattan (Derby City Legends, LLC)
3rd - Frank Galvan (Rochester Wrestling Club)
4th - William Gunter (Nevada)
Div. F
70 kg
1st - Steve Ferguson (Nebraska)
88 kg
1st - Peter Haag (Chicago Wrestling Club)
130 kg
1st - Dave Ullom (Iowa)