News
USA Wrestling
International
College
High School & Youth
Beach
Women
USAW
U.S. Beach Nationals in Jacksonville, Fla., May 20, is a qualifier for UWW Beach World Series and Pan American events
by Rusty Davidson, Special to TheMat.com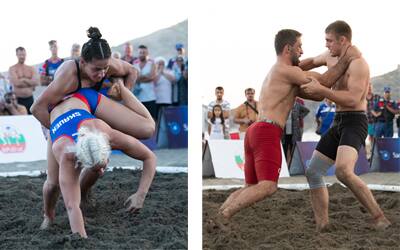 The 2021 USA Wrestling Beach Wrestling National Championship takes place Thursday, May 20th, in Jacksonville, Fla.
In addition to earning National Champion and All-American distinction, athletes entered in the U.S. Beach Nationals in the UWW Cadet, UWW Junior, and Senior categories may qualify to represent Team USA in international competition.
The 2021 Pan-American Beach Championship is scheduled for November 4-7, in Bridgetown, Barbados. Each nation is allowed up to three entries per weight class. Male and female Senior athletes may qualify for one of FOUR weight classes. Athletes recognized in the international Cadet and Junior groups may qualify for weight classes, to be determined by the host nation.
In addition to the Pan-American Championship, athletes may qualify for 2021 World-level events.
United World Wrestling has just released its 2021 international Beach Wrestling schedule, which includes:
• July 16-17 – Beach World Series in Saint Laurent-du-Var, France
• September 3-4 – Beach World Series in Rome, Italy
• September 10-11 – Beach World Series in Katerini-Pierria, Greece
• September 23-24 – Beach World Championships in Constanta, Romania
• September 25-26 – Beach World Series Final in Constanta, Romania
More detailed information on each Beach World Series event is not currently available, but are currently listed as Senior-level events. The Beach Wrestling World Championships in Constanta, Romania, September 23-24 will have Senior, UWW Junior and UWW Cadet age divisions.
Beach World Series Rules
With over 150 entries, to date, the U.S. Beach Nationals remains open, as additional competition surfaces may be added. Competition takes place at One Ocean Resort and Spa in Jacksonville.
Beach Nationals kicks off a "Rock Concert" weekend of wrestling, in Jacksonville. Southeast Regional competition, in Greco-Roman, Freestyle, and Women's styles take place Friday and Saturday, at the nearby Prime F. Osborn Convention Center. USA Wrestling's Masters National championships in freestyle and Greco-Roman for athletes 25-years-old and above, is staged alongside the age group events.
If that's not enough, the Spartan Nationals, including a Triple Crown in Folkstyle, Freestyle and Greco-Roman, continues individual and team competition, through Sunday.
Schedule for all four major events in Jacksonville
There are currently more than 1,100 entries for these four events, with many more wrestlers expected to sign up in the upcoming days.
Register for Beach Nationals, Masters Nationals, Frank E. Rader Southeast Regionals & Spartan Nationals
Special thanks are due the USA Wrestling state organizations, in North Carolina and Florida, along with Spartan Combat. Enthusiastic cooperation, between these wrestling leaders promises a memorable experience for athletes and families, at a time when we all need it.
For information and to enter the U.S. Beach Nationals and the other events, visit:
Official website for wrestling events in Jacksonville