News
USA Wrestling
International
USAW
World Olympic Qualifier: Oliver is fifth as men's freestyle is completed; women's freestyle finals set and Olympians determined
by Gary Abbott, USA Wrestling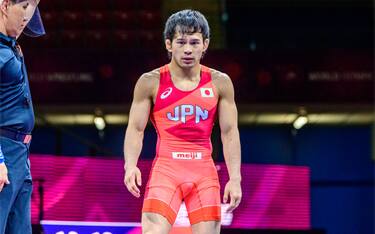 Yuki Takahashi of Japan, 57 kg champion in men's freestyle at World Olympic Games Qualifier. Photo by Tony Rotundo, UWW
SOFIA, Bulgaria – The men's freestyle competition at the World Olympic Games Qualifier was completed on Friday with the medal matches, and the women's freestyle tournament advanced through the semifinals, which has determined the nations which have qualified for the Olympic Games in that style.
The top two finishers in each weight class qualify their nation for the Tokyo Games. The men's freestyle qualifiers were determined on Thursday based upon the semifinal results.
The U.S. entry in men's freestyle, Jordan Oliver (Chapel Hill, N.C./Sunkist Kids/Tarheel RTC) finished fifth at 65 kg. He did not compete in his bronze medal match, due to an injury default. A majority of the matches in the medal match round were not contested.
Three athletes who compete for other nations but wrestled on the college level in the United States placed in the top five. Mitchell Finesilver of Israel, a wrestler for Duke, finished third at 74 kg, after beating Aimar Andruise of Estonia, 4-2 in the bronze bout.
Placing fifth in their weight classes were David Habat of Slovenia (65 kg), who was an NCAA finalist for Edinboro, and Ville Heino of Finland (86 kg), who competed for Campbell.
The finalists in the six women's freestyle weight classes were held, determining the nations that earned Olympic qualification in those styles. Russia picked up three more weight classes for the Olympic Games by pushing Olga Khoroshavtseva (53 kg), Veronika Chumikova (57 kg) and Liubov Ovcharova (62 kg) into the finals. Nations getting one additional qualified weight class were India, Ecuador, Romania, France, Mongolia, Azerbaijan, Bulgaria, Turkey and Ukraine.
Two more U.S. athletes, Greco-Roman wrestlers Jesse Porter (77 kg) and Adam Coon (130 kg), will compete on Saturday seeking to qualify for the Olympic Games in their weight class. The qualification rounds begin at 3 a.m. Eastern time, and will be broadcast live on FloWrestling.
WORLD OLYMPIC GAMES QUALIFIER
At Sofia, Bulgaria

Men's freestyle
57 kg
1 JPN Yuki TAKAHASHI
2 MGL Bekhbayar ERDENEBAT
3 UKR Taras MARKOVYCH
4 ITA Givi DAVIDOVI
5 TJK Muhamad IKROMOV
Gold –Takahashi inj. dft. Erdenbat, 3:00
Bronze –Markovych forfeit Eisherashvili (AZE)
Bronze – Kovacs forfeit Andreu (CUB)
65 kg
1 POL Magomedmurad GADZHIEV
2 GRE Georgios PILIDIS
3 BLR Niurgun SKRIABIN
3 COL Wber Euclides CUERO MUNOZ
5 SLO David HABAT
5 USA Jordan Michael OLIVER
Gold – Gadzhiev inj. dft Pilidis
Bronze –Skriabin inj. dft Oliver
Bronze – Cuero inj. dft. Habat
74 kg
1 BLR Magomedkhabib KADIMAGOMEDOV
2 UKR Vasyl MYKHAILOV
3 ISR Mitchell Louis FINESILVER
3 SVK Taimuraz SALKAZANOV
5 EST Aimar ANDRUSE
5 KGZ Arsalan BUDAZHAPOV
Gold – Kadimagomedov dec. Mykhailov, 6-2
Bronze – Salkazanov dec. Budazhapov, 5-2
Bronze – Finesilver dec. Andruse, 4-2
86 kg
1 JPN Sohsuke TAKATANI
2 SVK Boris MAKOEV
3 POL Zbigniew BARANOWSKI
3 AZE Abubakr ABAKAROV
5 ESP Taimuraz FRIEV NASKIDAEVA
5 FIN Ville Tapani HEINO
Gold – Takatani inj. dft Makoev
Bronze –Abakarov dec. Heino, 8-3
Bronze – Baranoski dec. Friev, 5-1
97 kg
1 ITA Abraham de Jesus CONYEDO RUANO
2 ROU Albert SARITOV
3 GER Erik Sven THIELE
3 POL Radoslaw BARAN
5 BUL Ahmed Sultanovich BATAEV
5 UKR Valerii ANDRIITSEV
Gold – Ruano inj. dft. Saritov
Bronze – Baran dec. Andriitsev, 5-3
Bronze – Thiele inj. dft. Bataev
125 kg
1 RUS Sergei KOZYREV
2 IND Sumit SUMIT
3 POL Robert BARAN
3 KGZ Aiaal LAZAREV
5 HUN Daniel LIGETI
5 VEN Jose Daniel DIAZ ROBERTTI
Gold – Kozyrev inj. dft Sumit
Bronze – Baran dec. Ligeti, 4-0
Bronze – Lazarev dec. Robertti, 7-5
U.S. men's freestyle entry
65 kg - Jordan Oliver, Chapel Hill, .N.C (Sunkist Kids/Tarheel RTC)
WIN Ruhan Rasim (Bulgaria), 6-2
WIN Junsik Yun (Korea), 5-4
WIN Hor Ohannesian (Ukraine), 3-3
LOSS Magomedmurad Gadzhiev (Poland), 3-2
LOSS Niurgun Skriabin (Belarus), injury default 0:00
Women's freestyle finalists
50 kg – Seema Seema (India) vs. Lucia Yepez Guzman (Ecuador)
53 kg – Andreea Ana (Romania) vs. Olga Khoroshavtseva (Russia)
57 kg – Mmathilde Riviere (France) vs. Veronika Chumikova (Russia)
62 kg – Bolortuya Khurelkhuu (Mongolia) vs. Liubov Ovcharova (Russia)
68 kg – Elis Manolova (Azerbaijan) vs. Mimi Hristova (Bulgaria)
76 kg – Yasemin Adar (Turkey) vs. Alla Belinska (Ukraine)
U.S. Greco-Roman pairings on Saturday
77 kg Jesse Porter (Ballston Lake, N.Y./New York AC/Northern Michigan OTS)
Vs. Marciano George ALI (PUR) – 3rd in 2020 Pan Am Championships
130 kg Adam Coon (Ann Arbor, Mich./New York AC/Cliff Keen WC)
Vs. Winner of Murat RAMONOV (KGZ) vs. Adam VARGA (HUN)
Murat RAMONOV (KGZ) - Third in 2021 Asian Championships, 7th at 2019 Senior Worlds
Adam VARGA (HUN) – Third in European Olympic Qualifier
Greco-Roman schedule
(local time in Sofia is seven hours ahead of U.S. Eastern time zone)
Saturday, May 8
Qualification rounds (10 am local time/3 am U.S. Eastern Time)
Semifinals (7 pm local/12:00 noon U.S. Eastern Time)
Sunday, May 9
Repechage (4 pm local time/9 am U.S. Eastern Time)
Medal matches (6 pm local/11 am U.S. Eastern Time)