News
USA Wrestling
International
College
USAW
Gwiazdowski named Outstanding Wrestler, Green and Schafer win Senior National titles again in men's freestyle
by Gary Abbott, USA Wrestling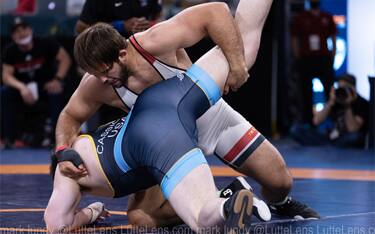 Nick Gwiazdowski takes down Tony Cassioppi in the men's freestyle heavyweight finals at the Senior Nationals. Photo by Mark Lundy.
CORALVILLE, Iowa – Two-time World bronze medalist Nick Gwiazdowski of the Titan Mercury WC/Wolfpack RTC won the 125 kg title without giving up a point and was named Outstanding Wrestler in men's freestyle at the Senior Nationals at the Xtream Arena on Saturday.
Gwiazdowski won his second career Senior Nationals title, defeating college star Tony Cassioppi of the Titan Mercury WC/Hawkeye WC in the finals by technical fall, 12-0 in 1:48. Gwiazdowski had defeated Cassioppi 10-0 6in the Hawkeye WC Showdown in the same building in November. He announced earlier this week that he would compete here, only a few weeks after placing second at the U.S. Olympic Team Trials.
Gwiazdowski was joined by just two other athletes who had previously won a Senior Nationals title, James Green of Titan Mercury WC/SERTC at 70 kg and Austin Schafer of the New York AC at 97 kg.
Green, a past World silver medalist and World bronze medalist, won his second Senior Nationals title with a 7-2 decision over Alec Pantaleo of Titan Mercury WC/CKWC. Green competed at the Olympic Trials at 65 kg and has moved up to his normal weight class for this event.
Schafer also became a two-time Senior Nationals champion, winning his previous title in 2018. A high school wrestling coach in New Jersey, Schafer scored a 10-0 technical fall over Nathan Rotert of the Jackrabbit Wrestling Club in the finals.
The other seven individual champions won their first national title.
The four Senior Nationals champions The four U.S. Open champions, at the non-Olympic/World weights (61kg, 70kg, 79kg, and 92kg), will qualify to compete in the 2021 UWW Senior Men's Freestyle Pan-American Championships in May. Joining Green as qualifiers for the Pan American Championships were individual champions Shelton Mack of Titan Mercury WC/NYCRTC at 61 kg, Taylor Lujan of Panther WC RTC at 79 kg and Nathan Jackson of the New York AC at 92 kg.
Mack scored a takedown in the closing seconds to edge Josh Kramer of the Sunkist Kids in the finals, 3-2.
Lujan, who dropped down from 86 kg to compete in a new weight class, won his finals bout by injury default when two-time Senior Nationals champion Isaiah Martinez of Titan Mercury WC/Beaver Dam RTC, who was not able to compete tonight.
Jackson, who moved up from 86 kg, stopped two-time Senior Nationals champion Kyven Gadson of the Sunkist Kids in the finals, 6-1. Gadson had dropped down from his normal 97 kg for the tournament.
The Titan Mercury WC/Wolfpack WC group, which trains as an RTC, had three individual champions, Gwiazdowski, plus NC State wrestlers Jakob Camacho at 57 kg and Hayden Hidlay at 74 kg.
Camacho won an active finals over Ethan Rotondo of the Wisconsin RTC in the finals, 8-6. Hidlay won a tight 2-1 decision over Joey Lavallee of Titan Mercury WC/LVWC in his finals. Hidlay was a Senior Nationals runner-up earlier in his career. The club also put Trent Hidlay into the finals at 86 kg.
Winning his first Senior Nationals title was two-time Junior World champion Mark Hall of Titan Mercury WC/Pennsylvania RTC, who beat Trent Hidlay 5-4 in the finals. Hall grinded out the win with a strong second period.
Local fans enjoyed seeing Iowa star Jaydin Eierman of the Titan Mercury WC/Hawkeye WC win the 65 kg title, with an 8-4 victory of Oklahoma star Domonick Demas of the Oklahoma RTC, 8-4. Eierman was able to keep up the pace and score key points throughout the match.
The Titan Mercury WC won the team title, and also added the Bill Farrell Award, given to the national club that won the combined national title in all three styles (men's freestyle, women's freestyle, Greco-Roman).
The competition concludes on Sunday with the finals and placement matches for the UWW Junior Nationals in men's freestyle, broadcast live by FloWrestling.
USA WRESTLING SENIOR NATIONALS
At Coralville, Iowa, May 1

Men's freestyle results

57 kg
1st -. Jakob Camacho (TMWC/Wolfpack Wrestling Club) dec. Ethan Rotondo (Wisconsin Regional Training Center), 8-6
3rd Brady Kyner (Burg Training Center) dec. Austin Macias (Illinois), 20-17
5th Dane Durlacher (Illinois Regional Training Center/Illini WC) dec. Francisco Barrera(Southern Oregon Regional Training Center), 8-8
7th Gabriel Gray (Texas Panhandle Wrestling Club) forfeitTroy Dolan (Pennsylvania)
61 kg
1st - Shelton Mack (TMWC/ New York City RTC) dec. Josh Kramer (Sunkist Kids Wrestling Club), 3-2
3rd Daniel Deshazer (Gopher Wrestling Club - RTC) pin Ethan Lizak (New York Athletic Club), 2:47
5th Sean Fausz (TMWC/ SoCal RTC) forfeit Nahshon Garrett TN (TMWC/ SERTC),
7th Wyatt Henson (BullTrained Wrestling) tech fall Jack Wagner (Panther Wrestling Club RTC), 10-0 3:20
65 kg
1st - Jaydin Eierman (TMWC/ Hawkeye Wrestling Club) dec Domonick Demas (Oklahoma Regional Training Center), 8-4
3rd Patricio Lugo (TMWC/ Hawkeye Wrestling Club) dec. Luke Pletcher PA (TMWC/ Pittsburgh Wrestling Club), 3-1
5th Henry Pohlmeyer (Wisconsin Regional Training Center) dec. Jakob Bergeland (Gopher Wrestling Club - RTC), 8-7
7th Parker Filius (Boilermaker RTC) tech fall Dylan Droegemueller (Bison Wrestling Club), 21-11 3:53
70 kg
1st - James Green (TMWC/ SERTC) dec. Alec Pantaleo (TMWC/ CKWC), 7-2
3rd Brayton Lee (Gopher Wrestling Club - RTC) inj dft. Tyler Berger (Sunkist Kids Wrestling Club)
5th Elroy Perkin (Gopher Wrestling Club - RTC) dec. Yahya Thomas (TMWC/ Wildcat Wrestling Club), 10-3
7th Michael Blockhus (Gopher Wrestling Club - RTC) dec. Jake Keating (Cavalier Wrestling Club), 9-5
74 kg
1st - Hayden Hidlay (TMWC/ Wolfpack Wrestling Club) dec. Joey Lavallee (TMWC/ LVWC), 2-1
3rd Philip Conigliaro (New England Regional Training Center) tech fall Branson Ashworth (Wyoming Wrestling Reg Training Ctr), 13-2 3:15
5th Joshua Shields (Sunkist Kids Wrestling Club) forfeit Jacori Teemer (Sunkist Kids Wrestling Club)
7th Justin Mccoy (Cavalier Wrestling Club) dec. Luke Zilverberg (Jackrabbit Wrestling Club), 8-5
79 kg
1st - Taylor Lujan (Panther Wrestling Club RTC) inj. dft. over Isaiah Martinez (TMWC/ Beaver Dam RTC)
3rd Devin Skatzka(Gopher Wrestling Club - RTC) tech fall Michael O'Malley (Pennsylvania RTC), 10-0 4:03
5th Muhamed Mcbryde (New York Athletic Club) forfeit David McFadden (TMWC/ PENN RTC)
7th Christian Minto (Florida) dec. Joshua Kim (New England Regional Training Center), 8-5
86 kg
1st - Mark Hall (TMWC/ Pennsylvania RTC) dec. Trent Hidlay (TMWC/ Wolfpack Wrestling Club), 5-4
3rd Drew Foster (Panther Wrestling Club RTC) tech fall Michael Battista (Cavalier Wrestling Club), 10-0 1:00
5th Jack Jessen (Wildcat Wrestling Club) tech. fall Nick Reenan (Wolfpack Wrestling Club), 10-0 1:05
7th Andrew Morgan (Wrestling Prep) tech. fall Donovan Mcmahill (Western Colorado Wrestling Club), 14-4 4:29
92 kg
1st - Nathan Jackson (New York Athletic Club) dec. Kyven Gadson (Sunkist Kids Wrestling Club), 6-1
3rd Timothy Dudley (Sunkist Kids Wrestling Club) dec. Scottie Boykin (TMWC/ Spartan Combat RTC), 8-2
5th Willie Miklus (Michigan Wrestling CLub) tech fall Cameron Caffey (Michigan Wrestling CLub), 15-4 5:18
7th Beau Yineman (Wisconsin) tech fall David Willoughby (Texas Pride Wrestling Club), 10-0 0:53
97 kg
1st - Austin Schafer (New York Athletic Club) tech. fall Nathan Rotert (Jackrabbit Wrestling Club), 10-0, 1:39
3rd Christopher Smith (Southeast Regional Training Center, Inc) dec. Jacob Boyd (Oklahoma Regional Training Center), 5-3
5th Isaac Trumble (TMWC/ Wolfpack Wrestling Club) pin Samuel Mitchell (Bulls Wrestling Club), 1:23
7th Morgan Smith (TMWC/ Ohio Regional Training Center) tech. fall Austin Stith (Patriot Elite Wrestling Club), 11-0 1:54
125 kg
1st - Nick Gwiazdowski (TMWC/ Wolfpack Wrestling Club) tech. fall Anthony Cassioppi (TMWC/ Hawkeye Wrestling Club), 12-0, 1:48
3rd Dominique Bradley (Sunkist Kids Wrestling Club) dec. Ty Walz (TMWC/ SERTC), 2-1
5th Christian Lance (Nebraska Wrestling Training Center) dec. Matt Stencel (Central Michigan Wrestling Club), 3-1
7th Lucas Davison (TMWC/ Wildcat Wrestling Club) tech. fall Shawn Streck (TMWC/ Cowboy RTC), 10-0 0:45
Team champions – Titan Mercury WC
Bill Farrell Award (winner in all three styles) – Titan Mercury WC