News
USA Wrestling
International
College
Women
USAW
#OlympiansMadeHere: U.S. Olympic Team Trials –Wrestling entries, by college program
by Gary Abbott, USA Wrestling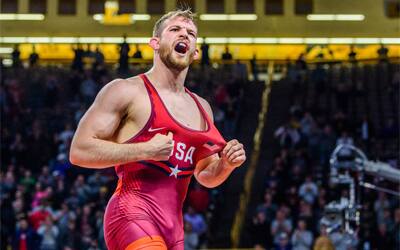 Photo of Penn State alum David Taylor by Tony Rotundo, Wrestlers Are Warriors
As part of USA Wrestling's celebration of the legacy of college wrestling in the Olympic movement, we are partnering with the U.S. Olympic & Paralympic Committee, the NCAA, and individual conferences and institutions in the #OlympiansMadeHere program.
College wrestling has made a lasting impact on the U.S. Olympic movement and continues to do so today. In that vein, we run a list of athletes who will compete at the U.S. Olympic Team Trials – Wrestling in Fort Worth, Texas, April 2-3, broken down by the college that they attended.
The university with the most past or current wrestlers in the Trials is Northern Michigan, which has 24 students who have participated in their National Training Site for Greco-Roman and women's wrestling in the past. These athletes were college student-athletes, but not in the NCAA or another national college organization. (However, starting next year, Northern Michigan will have a varsity women's wrestling team).
The varsity men's team with the most entries in the competition is Penn State, with 12 athletes, all who are competing in men's freestyle, including some past athletes and some of their current student athletes.
Two NCAA-affiliated programs have the most women athletes who are in the U.S. Olympic Team Trials, McKendree University and King University with nine.
In all, USA Wrestling has tracked 76 different institutions with at least one current or former student-athlete in the field.
OLYMPIC TRIALS ENTRIES BY COLLEGE ATTENDED
as of March 31, 2021

Northern Michigan (24)
Jenna Burkert (U.S. Army WCAP), Women's freestyle 57 kg
West Cathcart (New York AC), Greco-Roman 130 kg
Ellis Coleman (U.S. Army WCAP), Greco-Roman 67 kg
Whitney Conder (U.S. Army WCAP), Women's freestyle 50 kg
Toby Erickson (Army WCAP), Greco-Roman 130 kg
Jake Fisher (Curby 3 Style WC), Greco-Roman 77 kg
Leslie Fuenffinger (Army WCAP), Greco-Roman 60 kg
Calvin Germinaro (Minnesota Storm), Greco-Roman 67 kg
Corey Hope (New York AC), Greco-Roman 77 kg
Khymba Johnson (New York AC), Greco-Roman 97 kg
Sam Jones (New York AC/NMU-OTS), Greco-Roman 60 kg
Alyssa Lampe (Sunkist Kids), Women's freestyle 50 kg
Randon Miranda (NYAC), Greco-Roman 60 kg
Austin Morrow (NYAC), Greco-Roman 77 kg
Max Nowry (U.S. Army WCAP), Greco-Roman 60 kg
Alston Nutter (Sunkist Kids/NMU-OTS), Greco-Roman 67 kg
Benji Peak (Sunkist Kids), Greco-Roman 67 kg
Jesse Porter (NYAC), Greco-Roman 77 kg
Ben Provisor (New York AC), Greco-Roman 77 kg
Travis Rice (NYAC/Illinois RTC), Greco-Roman, 60 kg
Dalton Roberts (Army WCAP), Greco-Roman 60 kg
Alejandro Sancho (U.S. Army WCAP), Greco-Roman 67 kg
Barrett Stanghill (Minnesota Storm), Greco-Roman 87 kg
Spencer Woods (New York AC/NMU-OTS), Greco-Roman 77 kg
Penn State (12)
Aaron Brooks (Titan Mercury WC/Nittany Lion WC), men's freestyle 86 kg
Nick Lee (TMWC/Nittany Lion WC), Men's freestyle 65 kg
Vincenzo Joseph (TMWC/Nittany Lion WC)
Daniel Kerkvliet (Titan Mercury WC/Nittany Lion WC), Men's freestyle 125 kg
Mason Manville (Nittany Lion WC), Greco-Roman 77 kg
Frank Molinaro (Titan Mercury WC/Sunkist Kids), Men's freestyle 65 kg
Bo Nickal (TMWC/ Nittany Lion WC), Men's freestyle 86 or 97 kg
Jason Nolf (TMWC/Nittany Lion WC), Men's freestyle 74 kg
Zain Retherford (TMWC/Nittany Lion WC), Men's freestyle 65 kg
Carter Starocci (Titan Mercury WC/Nittany Lion WC), men's freestyle 86 kg
Nick Suriano (Sunkist Kids), Men's freestyle 57 kg
David Taylor (Nittany Lion WC), Men's freestyle 86 kg
King (9)
Sarah Hildebrandt (New York AC/USOPTC), Women's freestyle 53 kg
Alleah Gould (Tornado WC), women's freestyle 50 kg
Ana Luciano (Tornado WC), women's freestyle 62 kg
Melanie Mendoza (Tornado WC), women's freestyle 53 kg
Forrest Molinari (Sunkist Kids), Women's freestyle 68 kg
Alli Ragan (Sunkist Kids/Hawkeye WC), Women's 57 or 62 kg
Julia Salata (New York AC), Women's freestyle 62 kg
Cheyenne Sisenstein (Tornado WC), women's freestyle, 57 kg
Ashlynn Ortega (New York AC), Women's freestyle 68 kg
McKendree (9)
Alara Boyd (McKendree Bearcat WC), women's freestyle 68 kg
Emma Bruntil (McKendree Bearcat WC), Women's freestyle 62 kg
Alexandria Glaude (Titan Mercury WC), Women's freestyle 68 kg
Cameron Guerin (Titan Mercury WC), women's freestyle 57 kg
Sydnee Kimber (McKendree Bearcat WC), women's freestyle 76 kg
Joye Levendusky (McKendree Bearcat WC), women's freestyle 76 kg
Nahiela Magee (Army WCAP), Women's freestyle 68 kg
Brenda Reyna (McKendree Bearcat WC), women's freestyle 57 kg
Felicity Taylor (McKendree Bearcat WC), women's freestyle 53 kg
Minnesota (8)
Jacob Clark (Minnesota Storm), Greco-Roman 97 kg
Mitch McKee (Gopher WC RTC), Men's freestyle 65 kg
Anthony Nelson (Gopher WC-RTC), Men's freestyle 125 kg
Brett Pfarr (Gopher WC-RTC), Men's freestyle 86 kg
Sean Russell (Gopher WC RTC), Men's freestyle 57 kg
Zach Sanders (Gopher WC-RTC), Men's freestyle 57 kg
Pat Smith (Minnesota Storm), Greco-Roman 77 kg
Gable Steveson (Minnesota Storm), Men's freestyle 125 kg
Ohio State (7)
Nick Boykin (Sunkist Kids), Greco-Roman 97 kg
Greg Kerkvliet (Titan Mercury WC/Nittany Lion WC), Men's freestyle 125 kg
Myles Martin (Titan Mercury WC/Ohio RTC), Men's freestyle 86 kg
Joey McKenna (Titan Mercury WC/Pennsylvania RTC), Men's freestyle 65 kg
Kollin Moore (Ohio RTC), Men's freestyle 97 kg
Kyle Snyder (Titan Mercury WC/Nittany Lion WC), Men's freestyle 97 kg
Nathan Tomasello (Titan Mercury WC), Men's freestyle 57 kg
Campbellsville (6)
Alexandra Castillo (Campbellsville), Women's freestyle 76 kg
Diante Cooper (505 WC), Greco-Roman 97 kg
Charlotte Fowler (River Valley WC), women's freestyle 50 kg
Mariah Harris (Campbellsville), Women's freestyle 76 kg
Kayla Miracle (Sunkist Kids), Women's freestyle 62 kg
Abigail Nette (Sunkist Kids), Women's freestyle 57 kg
Cornell (6)
Vitali Arujau (Titan MercuryWC/Finger Lakes RTC), Men's freestyle 57 kg
Ben Honis (Titan Mercuy WC/Pennsylvania RTC), men's freestyle 97 kg
Kyle Dake (Titan Mercury WC/Spartan Combat RTC), Men's freestyle 74 kg
Gabe Dean (Titan Mercury WC/Spartan Combat RTC)
Yianni Diakomihalis (Titan Mercury WC/Spartan Combat RTC), Men's freestyle 65 kg
Nahshon Garrett (Sunkist Kids), Men's freestyle 57 or 65 kg
Simon Fraser (5)
Victoria Anthony (Sunkist Kids), Women's freestyle 50 kg
Alexandra Hedrick (Titan Mercury WC), Women's freestyle 57 kg
Helen Maroulis (Sunkist Kids), Women's freestyle 57 kg
Dominique Parrish (Sunkist Kids), Women's freestyle 53 kg
Mallory Velte (Titan Mercury WC), Women's freestyle 62 kg
Augsburg (4)
Marlynne Deede (Twin Cities WC), women's freestyle 76 kg
Leslie Fuenffinger (Army WCAP), Greco-Roman 60 kg
Donny Longendyke (Minnesota Storm), Greco-Roman 130 kg
Emily Shilson (Titan Mercury WC), Women's freestyle 50 kg
Iowa (4)
Sam Brooks (New York AC/Hawkeye WC), Men's freestyle 86 kg
Pat Downey (Titan Mercury WC/NJRTC), Men's freestyle 86 kg
Thomas Gilman (Titan Mercury WC/Hawkeye WC), Men's freestyle 57 kg
Seth Gross (Sunkist Kids/Wisconsin RTC), Men's freestyle 57 kg
Menlo College (4)
Precious Bell (Titan Mercury WC), Women's freestyle 76 kg
Tiana Jackson (Menlo WC), Women's freestyle 57 kg
Alleida Martinez (Titan Mercury WC), Women's freestyle 50 kg
Katherine Shai (Titan Mercury WC), Women's freestyle 50 kg

Oklahoma State (4)
AJ Ferrari (Titan Mercury WC/Cowboy RTC), men's freestyle 97 kg
Daton Fix (Titan Mercury WC/Cowboy RTC), Men's freestyle 57 kg
Chance Marsteller (TMWC), men's freestyle 74 kg
Jordan Oliver (Sunkist Kids/Tarheel RTC), Men's freestyle 65 kg
Nebraska (4)
Jordan Burroughs (Sunkist Kids/Nebraska WTC), Men's freestyle 74 kg
Travis Farmer (NYAC), Greco-Roman 130 kg – played football
Donny Longendyke (Minnesota Storm), Greco-Roman 130 kg
James Green (Sunkist Kids/Nebraska WTC), Men's freestyle 65 kg
Wayland Baptist (4)
Nina Pham (Wayland Baptist), women's freestyle 50 kg
Nahiela Magee (Army WCAP), Women's freestyle 68 kg
Tamyra Mensah-Stock (Titan Mercury WC/USOPTC), Women's freestyle 68 kg
Desiree Zavala (Wayland Baptist), women's freestyle 62 kg
Arizona State (3)
Tanner Hall (Sunkist Kids) men's freestyle 125 kg
Cohlton Schultz (Sunkist Kids), Greco-Roman 130 kg
Zahid Valencia (Sunkist Kids), Men's freestyle 86 kg

Colorado-Colorado Springs (3)
Jenna Burkert (U.S. Army WCAP), Women's freestyle 57 kg
Erin Golston (New York AC/USOPTC), Women's freestyle 50 kg
Adeline Gray (New York AC), Women's freestyle 76 kg

Emmanuel (3)
Felicity Bryant (Emmanuel), women's freestyle 68 kg
Angelina Gomez (Emmanuel), women's freestyle 50 kg
Abigail Nette (Sunkist Kids), Women's freestyle 57 kg
Iowa State (3)
David Carr (Cyclone RTC), Men's freestyle 74 kg
Pat Downey (Titan Mercury WC/NJRTC), Men's freestyle 86 kg
Kyven Gadson (Sunkist Kids), Men's freestyle 97 kg
Michigan (3)
Adam Coon (New York AC/Cliff Keen WC), Greco-Roman 130 kg
Logan Massa (New York AC/Cliff Keen WC), Men's freestyle 74 kg
Mason Parris (Cliff Keen WC), Men's freestyle 125 kg
Missouri Baptist (3)
Dymond Guilford (Titan Mercury WC), Women's freestyle 76 kg
Helen Maroulis (Sunkist Kids), Women's freestyle 57 kg
Forrest Molinari (Sunkist Kids), Women's freestyle 68 kg
North Carolina State (3)
Thomas Gantt (Titan Mercury WC/Wolfpack WC), Men's freestyle 74 kg
Nick Gwiazdowski (Titan Mercury WC/Wolfpack WC), Men's freestyle 125 kg
Mike Macchiavello (Titan Mercury WC/Wolfpack WC), Men's freestyle 97 kg
Oklahoma City (3)
Nkechinyere Nwankwo (Oklahoma City), women's freestyle 76 kg
Jennifer Page (Titan Mercury WC), Women's freestyle 62 kg
Rachel Watters (Oklahoma City), Women's freestyle 68 kg
U.S. Naval Academy (3)
Daniel Miller (Marines), Greco-Roman 97 kg
Colton Rasche (Marines), Greco-Roman 60 kg
Peyton Walsh (Marines), Greco-Roman 67 kg
University of the Cumberlands (3)
Bridgette Duty (Patriot WC), women's freestyle, 57 kg
Lauren Louive (NYAC), women's freestyle, 57 kg
Maya Nelson (Sunkist Kids), Women's freestyle 62 kg
Indiana (2)
Nate Jackson (NYAC/NJRTC), men's freestyle 86 kg
Lucas Sheridan (Army WCAP), Greco-Roman 97 kg
Iowa Central CC (2)
Joe Colon (Titan Mercury WC/Cyclone WC), Men's freestyle 57
Pat Downey (Titan Mercury WC/NJRTC), Men's freestyle 86 kg
Life University (2)
Jordan Nelson (Life), women's freestyle 76 kg
Peyton Prussin (Life) women's freestyle 53 kg
Lindenwood – St. Charles (2)
Victoria Francis (Titan Mercury WC), Women's freestyle 68 kg
Shauna Kemp (Titan Mercury WC), Women's freestyle 57 kg
Missouri (2)
Dom Bradley (Sunkist Kids), Men's freestyle 125 kg
J'den Cox (Titan Mercury WC/USOPTC), Men's freestyle 97 kg
Missouri Valley (2)
Randi Beltz (Army WCAP), Women's freestyle 76 kg
Jacarra Winchester (Titan Mercury WC/USOPTC), Women's freestyle 53 kg
North Central College (2)
Yelena Makoyed (Cardinal WC), Women's freestyle 76 kg
Amanda Martinez (Cardinal WC), women's freestyle 57 kg
Presbyterian College (2)
Jaslyn Gallegos (Presbyterian), Women's freestyle 53 kg
Morgan Norris (Presbyterian), Women's freestyle 68 kg
Rutgers (2)
Anthony Ashnault (NYAC/NJRTC), Men's freestyle 65 kg
Nick Suriano (Sunkist Kids), Men's freestyle 57 kg
SIU-Edwardsville (2)
Christian Dulaney (Minnesota Storm), 87 kg Greco-Roman
Thomas Helton (Southern Illinois RTC), Greco-Roman 130 kg
Southern Oregon (2)
Sienna Ramirez (Southern Oregon), women's freestyle 68 kg
Desiree Zavala (Wayland Baptist), women's freestyle 62 kg
Stanford (2)
Ryan Mango (U.S. Army WCAP), Greco-Roman 67 kg*
Joey McKenna (Titan Mercury WC/Pennsylvania RTC), Men's freestyle 65 kg
Wisconsin (2)
Seth Gross (Sunkist Kids/Wisconsin RTC), Men's freestyle 57 kg
Evan Wick (Titan Mercury WC/Wisconsin RTC), Men's freestyle 74 kg
Adrian College (1)
Zoe Nowicki (Adrian), Women's freestyle 62 kg
Army-West Point (1)
Jonathan Anderson (Army WCAP/West Point WC), Greco-Roman 87 kg
Binghamton (1)
Nick Gwiazdowski (Titan Mercury WC/Wolfpack WC), Men's freestyle 125 kg
Boise State (1)
Toby Erickson (Army WCAP), Greco-Roman 130 kg
California Baptist (1)
Jacob Mitchell (U.S. Army WCAP), Greco-Roman 130 kg
Concordia (1)
Travis Farmer (NYAC), Greco-Roman 130 kg
UT-Chattanooga (1)
Michael Hooker (U.S. Army), Greco-Roman 77 kg
Colorado Mesa (1)
Marissa Gallegos (Colorado Mesa), women's freestyle 53 kg
Columbia (1)
Garrett Ryan (Sunkist Kids), Men's freestyle 125 kg
CSU-Pueblo (1)
Jacob Mitchell (U.S. Army WCAP), Greco-Roman 130 kg
Daymar (1)
G'Angelo Hancock (Sunkist Kids), Greco-Roman 97 kg
DeVry (1)
Adeline Gray (New York AC), Women's freestyle 76 kg
Edinboro (1)
Sean Russell (Gopher WC RTC), Men's freestyle 57 kg
Ellsworth CC (1)
RaVaughn Perkins (New York AC), Greco-Roman 77 kg*
Elmhurst College (1)
Joe Rau (Titan Mercury WC), Greco-Roman 87 kg
Harper College (1)
Raymond Bunker (U.S. Marines), Greco-Roman 67 kg
Illinois (1)
Zane Richards (Illinois RTC), men's freestyle 57 kg
Jamestown (1)
Amy Fearnside (Titan Mercury WC), Women's freestyle 50 kg
Lock Haven (1)
Chance Marsteller (TMWC), men's freestyle 74 kg
Lyon College (1)
Jasmine Hernandez (Lyon), women's freestyle 53 kg

Michigan State (1)
Peyton Omania (Michigan State/CYC), Greco-Roman 67 kg
Midland (1)
Waipuilani Estrella-Beauchamp (Midland), women's freestyle, 62 kg
Nebraska-Kearney (1)
Patrick Martinez (New York AC), Greco-Roman 87 kg
North Carolina (1)
Evan Henderson (Spartan Combat RTC/TMWC), men's freestyle 65 kg
North Dakota State (1)
Hayden Zillmer (Gopher WC-RTC), Men's freestyle 97 kg
Northern Illinois (1)
Nolan Baker (New York AC), Greco-Roman 67 kg
Northern Iowa (1)
Joe Colon (Titan Mercury WC/Cyclone WC), Men's freestyle 57 kg
Olympic College in Uzbekistan (1)
Ildar Hafizov (U.S. Army WCAP), Greco-Roman 60 kg
Oregon State (1)
Joey Palmer (Cyclone RTC), Greco-Roman 60 kg
Princeton (1)
Lenny Merkin (NYAC), Greco-Roman 67 kg
South Dakota State (1)
Seth Gross (Sunkist Kids/Badger RTC), Men's freestyle 57 kg
UNC-Greensboro (1)
Jamel Johnson (Marines), Greco-Roman 67 kg
UNC-Pembroke (1)
Terrence Zaleski (U.S. Marines), Greco-Roman 87 kg
Umpqua CC (1)
Esthela Trevino (Unpqua), Women's freestyle 50 kg
U.S. Air Force Academy (1)
Brandon Mueller (505 WC), Greco-Roman 77 kg
Utah Valley (1)
Taylor LaMont (Sunkist Kids), Greco-Roman 60 kg
UW-Lacrosse (1)
Eric Twohey (Minnesota Storm), Greco-Roman 97 kg
Virginia Tech (1)
Ty Walz (Titan Mercury WC/SERTC), Men's freestyle 97 kg
Wyoming (1)
Patrick Martinez (New York AC), Greco-Roman 87 kg