News
USA Wrestling
High School & Youth
Women
USAW
Moore, Estrada win 16U Girls Folkstyle titles, their second golds of weekend; All youth divisions results here
by Gary Abbott, USA Wrestling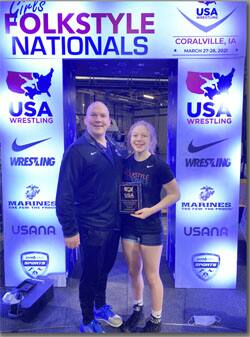 Shelby Moore of Washington with her Outstanding Wrestler award from the 16U division.
CORALVILLE, Iowa – The first session of the 2021 USA Wrestling Girls Folkstyle Nationals has been completed, with action in the youth age divisions (8U, 10U, 12U, 14U and 16U). Champions and All-Americans were crowned in all of these divisions.
In the 16U division, which featured a number of nationally ranked high school girls, two of the stars were champions Shelby Moore of Washington (122) and Zao Estrada of South Carolina (112). Both were champions in freestyle on Saturday night at the High School National Recruiting Showcase, and followed up on Sunday morning with titles in the 16U division at Folkstyle Nationals.
Moore, who is ranked No. 7 nationally in high school coming into the weekend, pinned Celeste Detoles of Utah in the finals in 1:32. Moore had three pins and a decision in her bouts, and was named Outstanding Wrestler in the 16U division.
Estrada, ranked No. 24 nationally in high school before these tournaments, pinned another ranked high school wrestler, No. 18 Emma Albanese of Nevada in the finals in 2:25.
Other 16U girls with national high school rankings who won titles this morning were Chloe Dearwester of Ohio (106), Carissa Qureshi of California (117), Taydem Khamjoi of California (127), Ella Pagel of Minnesota (164) and Sabrina Nauss of Michigan (180).
Their national rankings coming in were Dearwester (No. 6), Qureshi (No. 13), Khamjoi (No. 20), Pagel (No. 11) and Nauss (No. 1).
Pagel beat another nationally ranked high school star, No. 14 Rachel Schauer of Wisconsin, in the finals, with a 36 second pin.
Also beating a nationally ranked high school girl in the finals was Sydney Perry of Illinois at 132, knocking off No. 25 Lilly Luft of Iowa with a pin in 5:14. In the semifinals, Perry beat another nationally ranked high school star, No. 18 Cassia Zammit of Ohio, 11-6.
Other individual champion in the 16U division were Erica Pastoriza of Arizona (94), Ava Ward of Missouri (100), Evangeline Turner of California (138), Amarisa Manuel of Alaska (144) and Samantha Spielbauer of Iowa (152).
Outstanding Wrestlers in the other age divisions were:
• Kona Hughes (Big Game Wrestling Club) at 50 pounds (8U)
• Isla Silva (Pennsylvania) at 70 pounds (10U)
• Angelica Serratos (Reign Wrestling Club) at 70 pounds (12U)
• Kira Cole (Dayton Eagles Wrestling CLub) at 119 pounds (14U)
The medal round results of the other youth divisions are listed below.
USA WRESTLING GIRLS FOLKSTYLE NATIONALS
At Coralville, Iowa, March 28

16U results
94
1st - Erica Pastoriza (Arizona Girls Wrestling) DEC Gigi Bragg (Michigan Revolution), 6-3
3rd - Angelina Cassioppi (Hononegah Wrestling Club) DEC Isabella Bocanegra(Arizona Girls Wrestling), 4-3 UTB
5th - Alicia Serratos (Reign Wrestling Club) DEC Jillian Worthen (Immortal Athletics WC), 9-2
7th - Katey Valdez CO (Betterman Elite Wrestling) MD Eyvori Jacquez CO (Betterman Elite Wrestling), 16-6
100
1st - Ava Ward (BullTrained Wrestling) DEC Juliana Alejandro (Centennial High School Wrestling), 8-1
3rd - Makenize Smith (Indiana Girls Wrestling IGNITES) F Clare Booe (Palm Harbor University High School Wrestling), 3:57
5th - Aspen Blasko (Minnesota Storm) TF Kaylin Taylor (Montana Girls), 16-0 3:46
7th - June Welch (ET Wrestling) F Mikayla Garcia (North Coast Grapplers), 4:32
106
1st - Chloe Dearwester (Ohio) F Ana Malovich (Team Pennsylvania), 1:47
3rd - Heather Crull (Indiana Girls Wrestling IGNITES) F Sarah Delacerda (Cool Sunshine Wrestling), 0:22
5th - Briseis Serrano (Swamp Monsters) DEC Ella-lina Gonzalez (Tennessee), 5-4
7th - Natalie Klavetter MN (Minnesota) F Tiara Revan OK (Oklahoma), 2:27
112
1st - Zao Estrada (ET Wrestling) F Emma Albanese (Legends of Gold Las Vegas), 2:25
3rd - Bayley Trang (All American Wrestling Club) DEC Sydney Delois (Indiana Girls Wrestling IGNITES), 7-0
5th - Josiah Ortiz KS (Kansas) F Mia Sanchez CA (California Grapplers), 2:30
7th - Destiney Lofton MN (New Prague) DEC Zoey Haney MO (GTH Wrestling), 3-1
117
1st - Carissa Qureshi (California) F Madison Canales TX (Gracie Barra Westchase), 5:29
3rd - Anna Dicugno (Takedown Express Wrestling Club) DEC Adacelli Salaiz-noriega (Arizona Girls Wrestling), 4-2
5th - Reagan Riddick (North Carolina) FOR Valerie Hamilton (Sot-c),
7th - Alexis Segura CO (Black Fox Wrestling Academy) F Khylie Wainwright IL (Agoge Wrestling Club), 0:46
122
1st - Shelby Moore (Takedown Express Wrestling Club) F Celeste Detoles (Westlake Wrestling Club), 1:32
3rd - Gianna Dibenedetto (Swamp Monsters) DEC Aireaana Gavere (Minnesota), 4-1
5th - Alyssa Ruiz TX (All American Wrestling Club) F Shayla Gallegos CO (Chatfield Wrestling Club), 2:18
7th - Brooke Schuenemann (Wisconsin) F Leilani Lazaro (California Grapplers), 4:05
127
1st - Taydem Khamjoi (Swamp Monsters) TF Victoria Morosini (Legends of Gold Las Vegas), 15-0 5:55
3rd - Mia Furman (Suples Wrestling Club) F Annabelle Petsinger (Minnesota Storm), 0:30
5th - Gabriella Ocasio (Simon Kenton Youth (SKY) Wrestling, Inc.) DEC Brooke Zak (North Carolina), 6-3
7th - Nora Quitt MA (Massachusetts) DEC Bridgette Sotomayor AZ (Arizona Girls Wrestling), 7-6 TB2
132
1st - Sydney Perry (Illinois) F Lilly Luft (Female Elite Wrestling), 5:14
3rd - Cassia Zammit (Ohio) DEC Taylor Miess (Chatfield Wrestling Club), 8-1
5th - Kristen Schellenberg (Nebraska) F Kayleigh Kirkwood (Indiana Girls Wrestling IGNITES), 3:43
7th - Taylor Mcmanus-Sanchez (Arizona Girls Wrestling) FOR Mattie Papenthien (Wisconsin), 0-0
138
1st - Avangeline Turner (Central Catholic Wrestling Club) MD Raven Cook (Georgia), 11-3
3rd - Maria Slaughter (Wentzville Indian Wrestling) F Maryann Reyes (Victory Wrestling-Central WA), 3:27
5th - Caroline Gilstrap(South Carolina) F Taylor Martin (Westlake Wrestling Club), 0:56
7th - Breanna Clanton UT (Utah) FOR Terryn Banner OK (Arizona Girls Wrestling), 0-0
144
1st - Amarisa Manuel (Alaska) F Isabella Deeds (Iowa), 5:35
3rd - Kaylie Petersen (Indiana Girls Wrestling IGNITES) F Kareli Cadena(Caprock High School Wrestling), 0:59
5th - Lizzie Shunn (Westlake Wrestling Club) M FOR Eva Keefauver (Strong & Courageous)
152
1st - Samantha Spielbauer (Iowa)
2nd - Maggie Graham (Bluff City Wrestling Club)
3rd - Stella Steigler (Hornet Wrestling Club)
4th - Megan Allred (Westlake Wrestling Club)
Maggie Graham (Bluff City Wrestling Club) F Megan Allred (Westlake Wrestling Club), 1:53
Samantha Spielbauer (Iowa) F Stella Steigler (Hornet Wrestling Club), 1:11
Samantha Spielbauer (Iowa) F Maggie Graham (Bluff City Wrestling Club), 0:43
Stella Steigler (Hornet Wrestling Club) F Megan Allred (Westlake Wrestling Club), 3:39
Maggie Graham (Bluff City Wrestling Club) DEC Stella Steigler (Hornet Wrestling Club), 7-0
Samantha Spielbauer (Iowa) F Megan Allred(Westlake Wrestling Club), 0:46
164
1st - Ella Pagel (Twin Cities Regional Training Center) F Rachel Schauer (Fennimore High School Wrestling), 0:36
3rd - Maggie Smith (Top Of The Rock Wrestling Club) F Brynn Green (Michigan Revolution), 4:17
5th - Abbie Miles (Pennsylvania) MD Anya Hatch (Utah), 11-3 SV
7th - Symphony Veloz (Elgin Grapplers) F Kyra Richards (Columbia High School Wrestling), 3:50
200
1st - Sabrina Nauss (Michigan Revolution) F Ella Murphey (Tennessee), 0:39
3rd - Kiara Ganey IL (Illinois) MD Jazzmine Moore (RPA Wrestling), 9-0
5th - Cheyenne Cruce FL (RPA Wrestling) F Matty Tolbert MO (BullTrained Wrestling), 1:34
14U
GOLD-MEDAL FINALS
79Morgan Turner IL (Harvey Twisters) MD Khyla Lipumano AZ (Arizona Girls Wrestling), 14-2
85Sandy Breeden MO (Victory Wrestling) MD Maggie Cornish CA (Reign Wrestling Club), 9-0
92Caley Graber MN (Summit Wrestling Academy) DEC Alexandra Sebek IL (Oak Forest Warriors), 6-0
97Jayden Keller MO (Missouri) DEC Lisa Pastoriza AZ (Arizona Girls Wrestling), 4-2
101Reanah Utterback IA (Sebolt Wrestling Academy) F Charli Raymond MN (Simley Wrestling Club), 1:26
105Julianna Ocampo IN (Penn Wrestling Club) F Cassandra Gonzales MN (Summit Wrestling Academy), 2:22
110Carley Ceshker WI (Ringers Wrestling Club) F Terrilan Banner OK (Arizona Girls Wrestling), 1:43
119Kira Cole OH (Dayton Eagles Wrestling CLub) DEC Aleksandra Bastaic IN (Highland Wrestling Club), 1-0
127Isabella marie Gonzales CA (Team Fearless Youth Wrestling) F Lacie Knick OH (Dayton Eagles Wrestling CLub), 2:30
136Skylar Slade IA (Female Elite Wrestling) F Ryleigh Lefkowitz OK (Standfast), 0:55
145Greta Garbuzovas GA (706 Wrestling) DEC Jahlia Miguel HI (Legends of Gold Las Vegas), 6-0
185Maddie Hayden MI (Michigan) DEC Taylor Waddy VA (Virginia), 2-0
3RD PLACE
79Lilly Breeden MO (Victory Wrestling) DEC Kendall Moe IN (Indiana Girls Wrestling IGNITES), 6-0
85Angelina Gochis IL (St. Charles WC) DEC Aislin Kellner NY (New York), 4-2 SV
92Ysabelle Ocampo IN (Penn Wrestling Club) F Ava Peters WI (Wisconsin), 1:57
97Stevie joyce Martin CA (NorCal Queens Wrestling Club) DEC Gable Hemann IA (Iowa), 2-0
101Belicia Manuel AK (Alaska) F Emjay Neumann WI (X-Factor Elite Wrestling), 1:24
105Liz Donovan NH (New Hampshire) DEC Kamdyn Saulter MN (Summit Wrestling Academy), 3-0
110Corynne Mcnulty MA (Massachusetts) MD Kyla Johnson IN (Indiana Girls Wrestling IGNITES), 8-0
119Sophia Smith AZ (Arizona Girls Wrestling) DEC Maddie Marsh IN (Indiana Girls Wrestling IGNITES), 2-0
127Daniesha Watson IA (Female Elite Wrestling) DEC Ella Gahl IN (Spartans Wrestling Club), 4-2 SV
136Addeline Graser NE (Nebraska) F Isis France AZ (Arizona Girls Wrestling), 1:54
145Elly Janovsky IN (Indiana Girls Wrestling IGNITES) F Janessa Santiago NY (Mat Creatures Wrestling Club), 1:58
185Millie Azlin OK (Team Tulsa Wrestling Club) F Clarion Fager WY (Evanston Elite Wrestling), 2:47
5TH PLACE
79Abigail Gindele MN (Minnesota Storm) F Lauren Scott CO (Chatfield Wrestling Club), 1:46
85Athea Valenzuela AZ (Arizona Girls Wrestling) DEC June Treser-pyles OH (Dayton Eagles Wrestling CLub), 4-1
92Alexis Lazar MI (Michigan Revolution) DEC Sydney Cannon IL (RWC), 2-0
97Caydence Watters WY (Windy City Wrestlers) F Savana Hansen WI (Fox Valley Elite), 2:27
101Hanah Schuster MN (Minnesota Storm) F Daniella Apodaca CO (Betterman Elite Wrestling), 1:33
105Devlynn Albrecht WI (Ringers Wrestling Club) F Ella France (Apache WC), 0:42
110Delialah Betances GA (The Storm Wrestling Center) DEC Tai Mcbride WY (Jackson Bronc Wrestling Club), 5-2
119Alexis Dunwiddie MO (BullTrained Wrestling) DEC Amaya Hinojosa CO (Betterman Elite Wrestling), 5-0
127Emma Chacon AZ (Arizona Girls Wrestling) DEC Makenzee Neal MT (Montana Girls), 4-2 SV
136Sumaya Lazaro CA (California Grapplers) F Myleigh Hammarbeck TX (Randall Youth Wrestling Club), 2:15
145Zella Weiland GA (Roundtree Wrestling Academy) F Macy Barber NE (Nebraska), 2:49
185Savannah Hamilton IL (Sot-c) DEC Brooklynn Newton OH (Dayton Eagles Wrestling CLub), 4-3
7TH PLACE
85Riley Hanrahan WI (LaCrosse Area Wrestlers) DEC Lauren Elsmore MN (Minnesota Storm), 2-0
92Chloe Obuhanych HI (O2 Rhino Wrestling Club) MD Artemis Eaton GA (706 Wrestling), 10-2
110Paisley Denault MI (Center Line WC) MD Zoey Barber NE (Nebraska Wrestling Academy), 10-2
119Lilliana Banks WI (Aviators Wrestling) DEC Morgan Layman VA (Front Royal Raptors), 2-0
121 Kylie Gerber (RPA Wrestling)
127Aubrey Brown OK (Oklahoma) F Ahmia Betances GA (The Storm Wrestling Center), 1:45
136 Nora Garbuzovas (706 Wrestling)
145Annebella Austin CA (Central Catholic Wrestling Club) F Lizzy Wolf IA (Hard Drive Wrestling Club), 2:59
185Ella Brown IA (Hard Drive Wrestling Club) F Jayla Harrison FL (RPA Wrestling), 0:14
12U
FINALS
65Alexa Thomas WI (Ringers Wrestling Club) DEC Nayeli Ortiz TX (NXT Level Wrestling Academy), 3-0
70Angelica Serratos CA (Reign Wrestling Club) F Peggy susan Dean NJ (Chicks Wrestling), 3:41
75Hailey Delgado TX (NXT Level Wrestling Academy) F Mia Anderson NE (Nebraska Wrestling Academy), 3:17
110Taina Fernandez MD (Southern Maryland Wrestling Club WolfPack) F Sabrena Cutler MI (Michigan), 0:37
3RD PLACE
65Madyn Overman NE (Nebraska Wrestling Academy) TF Kambree Westendorf IA (Immortal Athletics WC), 16-1 2:20
70Cassidy O'connell WI (CrassTrained: Weigh In Club) F Calliope Willman OH (Cornhusker Wrestling Club), 2:00
75Gabbi Vonberge MN (No Nonsense Wrestling) F Erica Irvine IA (Iowa), 0:36
100Kaili Manuel AK (Alaska) DEC Harlow Skenandore WI (Wisconsin), 5-2
110Aubry Spadoni VA (Virginia Wrestling Academy) DEC Julia Stough IA (Female Elite Wrestling), 6-4
5TH PLACE
65Katherine Cook WI (Wisconsin) F Leanza Martin CA (NorCal Queens Wrestling Club), 2:25
70Annibelle Juarez IL (Illinois) F Maquelle Pace UT (Champions Wrestling Club), 1:00
75Dilynn Albrecht WI (Ringers Wrestling Club) TF Katy Simpson WI (Victory School of Wrestling), 15-0 3:00
100Samantha Gregory AZ (Arizona Girls Wrestling) DEC Amalia Djoumessi IA (Female Elite Wrestling), 6-3
7TH PLACE
70Cora Stewart WI (Askren Wrestling Academy) F Payton Bennett WA (Silvertip Maulers Wrestling Club), 2:00
ROUND ROBIN WEIGHT CLASSES
80
1st- Taya Johnson (Fox Valley Elite)
2nd - Daynah Gomez (Arizona Girls Wrestling)
3rd - Lilli Cooper (Female Elite Wrestling)
4th - Faye Schachtner (Wisconsin)
Taya Johnson WI (Fox Valley Elite) MD Faye Schachtner WI (Wisconsin), 9-0
Daynah Gomez AZ (Arizona Girls Wrestling) MD Lilli Cooper IA (Female Elite Wrestling), 9-0
Daynah Gomez AZ (Arizona Girls Wrestling) F Faye Schachtner WI (Wisconsin), 1:35
Taya Johnson WI (Fox Valley Elite) DEC Lilli Cooper IA (Female Elite Wrestling), 5-0
Lilli Cooper IA (Female Elite Wrestling) F Faye Schachtner WI (Wisconsin), 2:00
Taya Johnson WI (Fox Valley Elite) DEC Daynah Gomez AZ (Arizona Girls Wrestling), 5-0
85
1st - Chloe Ross (Mayo Quanchi Wrestling Club)
2nd - Ruby Roof (Iowa)
3rd - Trinity Yates (Hastings Wrestling Clu
Chloe Ross RI (Mayo Quanchi Wrestling Club) MD Trinity Yates MN (Hastings Wrestling Club), 13-1
Chloe Ross RI (Mayo Quanchi Wrestling Club) DEC Ruby Roof IA (Iowa), 2-0
Ruby Roof IA (Iowa) F Trinity Yates MN (Hastings Wrestling Club), 0:24
90
1st - Mara Vanderpool (Nebraska Wrestling Academy)
2nd - Aubrey Troutner (Chatfield Wrestling Club)
3rd - Kasia Wong (Oklahoma)
4th - Isla Schemmel (Iowa)
5th - Maya Alvarado (Panda Wrestling Alliance)
Isla Schemmel IA (Iowa) DEC Maya Alvarado FL (Panda Wrestling Alliance), 8-1
Mara Vanderpool NE (Nebraska Wrestling Academy) DEC Kasia Wong OK (Oklahoma), 6-3
Aubrey Troutner CO (Chatfield Wrestling Club) F Maya Alvarado FL (Panda Wrestling Alliance), 1:25
Mara Vanderpool NE (Nebraska Wrestling Academy) F Isla Schemmel IA (Iowa), 0:25
Kasia Wong OK (Oklahoma) DEC Maya Alvarado FL (Panda Wrestling Alliance), 12-5
Aubrey Troutner CO (Chatfield Wrestling Club) F Isla Schemmel IA (Iowa), 0:51
Mara Vanderpool NE (Nebraska Wrestling Academy) F Maya Alvarado FL (Panda Wrestling Alliance), 1:21
Aubrey Troutner CO (Chatfield Wrestling Club) F Kasia Wong OK (Oklahoma), 2:25
Kasia Wong OK (Oklahoma) F Isla Schemmel IA (Iowa), 3:48
Mara Vanderpool NE (Nebraska Wrestling Academy) DEC Aubrey Troutner CO (Chatfield Wrestling Club), 4-0
120
1st - Rylee Dearwester (Ohio)
2nd - Avaya Weismore (Mat Creatures Wrestling Club)
3rd - Madilyn Grabau (PI Panthers Wrestling)
Rylee Dearwester OH (Ohio) F Madilyn Grabau MN (PI Panthers Wrestling Club), 0:33
Avaya Weismore NY (Mat Creatures Wrestling Club) F Madilyn Grabau MN (PI Panthers Wrestling Club), 2:56
Rylee Dearwester OH (Ohio) F Avaya Weismore NY (Mat Creatures Wrestling Club), 1:35
145
1st - Annebella Austin (Central Catholic Wrestling Club)
2nd - Makayla Harrison (RPA Wrestling)
Annebella Austin CA (Central Catholic Wrestling Club) F Makayla Harrison FL (RPA Wrestling), 2:03
10U
50
1st - Sophia Valdez (Betterman Elite Wrestling)
2nd - Annabel Choo (Gracie Barra Westchase)
3rd - Jessica Dean (Chicks Wrestling)
4th - Gwen Gross (Milton Monsters Wrestling Club)
5th - Olivia Schug (Mat Creatures Wrestling Club)
Sophia Valdez CO (Betterman Elite Wrestling) F Annabel Choo (Gracie Barra Westchase), 1:51
Gwen Gross WI (Milton Monsters Wrestling Club) F Olivia Schug NY (Mat Creatures Wrestling Club), 0:50
Sophia Valdez CO (Betterman Elite Wrestling) F Olivia Schug NY (Mat Creatures Wrestling Club), 0:18
Jessica Dean NJ (Chicks Wrestling) MD Gwen Gross WI (Milton Monsters Wrestling Club), 12-2
Sophia Valdez CO (Betterman Elite Wrestling) F Jessica Dean NJ (Chicks Wrestling), 2:34
Annabel Choo (Gracie Barra Westchase) F Olivia Schug NY (Mat Creatures Wrestling Club), 0:17
Sophia Valdez CO (Betterman Elite Wrestling) F Gwen Gross WI (Milton Monsters Wrestling Club), 1:56
Annabel Choo (Gracie Barra Westchase) F Jessica Dean NJ (Chicks Wrestling), 0:41
Annabel Choo (Gracie Barra Westchase) F Gwen Gross WI (Milton Monsters Wrestling Club), 5:27
Jessica Dean NJ (Chicks Wrestling) F Olivia Schug NY (Mat Creatures Wrestling Club), 0:26
55
1st - Jaelyn Anderson (Nebraska Wrestling Academy)
2nd - Suri Yoffee (Legends of Gold Las Vegas)
3rd - Piper Fry (Michigan Revolution)
4th - Mackenzie Moe (Indiana Girls Wrestling IGNITES)
5th - Freyda Nelson (Minnesota Storm)
Mackenzie Moe IN (Indiana Girls Wrestling IGNITES) DEC Freyda Nelson MN (Minnesota Storm), 10-4
Jaelyn Anderson NE (Nebraska Wrestling Academy) F Piper Fry MI (Michigan Revolution), 2:57
Piper Fry MI (Michigan Revolution) F Mackenzie Moe IN (Indiana Girls Wrestling IGNITES), 0:53
Jaelyn Anderson NE (Nebraska Wrestling Academy) MD Suri Yoffee NV (Legends of Gold Las Vegas), 11-0
Suri Yoffee NV (Legends of Gold Las Vegas) F Mackenzie Moe IN (Indiana Girls Wrestling IGNITES), 1:47
Piper Fry MI (Michigan Revolution) MD Freyda Nelson MN (Minnesota Storm), 11-0
Jaelyn Anderson NE (Nebraska Wrestling Academy) F Mackenzie Moe IN (Indiana Girls Wrestling IGNITES), 2:23
Suri Yoffee NV (Legends of Gold Las Vegas) MD Freyda Nelson MN (Minnesota Storm), 9-1
Jaelyn Anderson NE (Nebraska Wrestling Academy) F Freyda Nelson MN (Minnesota Storm), 0:23
Suri Yoffee NV (Legends of Gold Las Vegas) DEC Piper Fry MI (Michigan Revolution), 4-2
60
1st - Abigail Peterson (Female Elite Wrestling)
2nd - Vanessa Torres (Victory Wrestling-Central WA)
3rd - Daphney Gomez (Arizona Girls Wrestling)
4th - Jordyn Showers (Front Royal Raptors)
Daphney Gomez AZ (Arizona Girls Wrestling) F Jordyn Showers VA (Front Royal Raptors), 0:45
Abigail Peterson IA (Female Elite Wrestling) DEC Vanessa Torres WA (Victory Wrestling-Central WA), 4-0
Abigail Peterson IA (Female Elite Wrestling) F Jordyn Showers VA (Front Royal Raptors), 0:29
Vanessa Torres WA (Victory Wrestling-Central WA) DEC Daphney Gomez AZ (Arizona Girls Wrestling), 9-6
Vanessa Torres WA (Victory Wrestling-Central WA) F Jordyn Showers VA (Front Royal Raptors), 1:49
Abigail Peterson IA (Female Elite Wrestling) F Daphney Gomez AZ (Arizona Girls Wrestling), 2:51
65
1st - Gloria Cloud (Indiana Girls Wrestling IGNITES)
2nd - Charleigh Little (RWC)
3rd - Rhilynn Tolzman (Summit Wrestling Academy)
4th - Hailey Eaton (Missouri)
5th - Danica Chowning (Indiana Girls Wrestling IGNITES)
Gloria Cloud IN (Indiana Girls Wrestling IGNITES) F Hailey Eaton MO (Missouri), 0:33
Charleigh Little IL (RWC) F Danica Chowning IN (Indiana Girls Wrestling IGNITES), 1:38
Charleigh Little IL (RWC) F Hailey Eaton MO (Missouri), 2:48
Rhilynn Tolzman MN (Summit Wrestling Academy) F Danica Chowning IN (Indiana Girls Wrestling IGNITES), 0:42
Rhilynn Tolzman MN (Summit Wrestling Academy) F Hailey Eaton MO (Missouri), 1:32
Gloria Cloud IN (Indiana Girls Wrestling IGNITES) F Charleigh Little IL (RWC), 2:50
Hailey Eaton MO (Missouri) DEC Danica Chowning IN (Indiana Girls Wrestling IGNITES), 6-4
Gloria Cloud IN (Indiana Girls Wrestling IGNITES) F Rhilynn Tolzman MN (Summit Wrestling Academy), 0:21
Gloria Cloud IN (Indiana Girls Wrestling IGNITES) F Danica Chowning IN (Indiana Girls Wrestling IGNITES), 0:11
Charleigh Little IL (RWC) F Rhilynn Tolzman MN (Summit Wrestling Academy), 1:33
70
1st - Isla Silva PA (Pennsylvania) DEC Kara-lynn Dover GA (Georgia Girls Wrestling Club), 4-1
3rd - Lilianna Vanhorn MI (Michigan) DEC Arianna Antillon CO (Black Fox Wrestling Academy), 4-0
5th - Marina Wince CO (Black Fox Wrestling Academy) DEC Makyia Djoumessi IA (Female Elite Wrestling), 2-0 SV
7th - Rozlyn Mosher (Illinois)
75
1st - Rain Scott (Springs Elite)
2nd - Nayeli Duron (Michigan)
3rd - Ella Schachtner (Wisconsin)
Rain Scott IL (Springs Elite) TF Ella Schachtner WI (Wisconsin), 19-2 2:20
Nayeli Duron MI (Michigan) F Ella Schachtner WI (Wisconsin), 1:30
Rain Scott IL (Springs Elite) DEC Nayeli Duron MI (Michigan), 2-1
90
1st - Camilla Hathaway PA (South Hills Wrestling Academy) DEC Kimorah Cathey OK (Team Tulsa Wrestling Club), 3-1
3rd - Ember Zupanc WI (Wisconsin) F Nova Estrada SC (ET Wrestling), 0:32
5th - Kara Mckeel FL (RPA Wrestling) DEC Hailey Goth MN (Minnesota Storm), 6-4
100
1st - Hazel Jacobs (Ohio)
8U
50
1st - Kona Hughes (Big Game Wrestling Club)
2nd - Kyleigh Williams (Minnesota)
3rd - Ellie Schmadeke (Female Elite Wrestling)
4th - Audio Estrada (ET Wrestling)
Ellie Schmadeke IA (Female Elite Wrestling) F Audio Estrada SC (ET Wrestling), 1:32
Kona Hughes IA (Big Game Wrestling Club) DEC Kyleigh Williams MN (Minnesota), 4-0
Kyleigh Williams MN (Minnesota) F Audio Estrada SC (ET Wrestling), 0:39
Kona Hughes IA (Big Game Wrestling Club) F Ellie Schmadeke IA (Female Elite Wrestling), 0:29
Kona Hughes IA (Big Game Wrestling Club) F Audio Estrada SC (ET Wrestling), 0:20
Kyleigh Williams MN (Minnesota) F Ellie Schmadeke IA (Female Elite Wrestling), 1:58
70
1st - Rebekah Smith (Minnesota)
2nd - Jaylee Keller (Missouri)
3rd - Kaelyn Leos (California Grapplers)
4th - Erynn Pike (Minnesota)
Rebekah Smith MN (Minnesota) F Kaelyn Leos CA (California Grapplers), 0:30
Jaylee Keller MO (Missouri) F Erynn Pike MN (Minnesota), 0:21
Jaylee Keller MO (Missouri) F Kaelyn Leos CA (California Grapplers), 0:51
Rebekah Smith MN (Minnesota) F Erynn Pike MN (Minnesota), 0:18
Kaelyn Leos CA (California Grapplers) F Erynn Pike MN (Minnesota), 0:32
Rebekah Smith MN (Minnesota) DEC Jaylee Keller MO (Missouri), 2-0
85
1st - Isabella Smith (Indiana Girls Wrestling IGNITES)