News
USA Wrestling
High School & Youth
Women
USAW
Loaded girls field at High School National Recruiting Showcase features over 110 nationally-ranked athletes
by Gary Abbott, USA Wrestling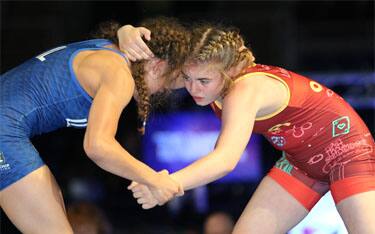 Reese Larramendy of Nevada (right) at the 2019 16U Nationals. Photo by John Sachs, Tech-Fall.com
The field will be spectacular in the girls freestyle division for the first USA Wrestling High School National Recruiting Showcase, which kicks off on Saturday.
For a first-year event, there has been an amazing show of talent in the girls division, with 111 nationally ranked athletes in the draw, as well as 112 state champions. Not all of the ranked wrestlers have been a state champion. Not all of the state champions are in the national rankings. This will truly be a chance for our nation's best wrestlers to display their talents, by beating other talented stars.
The High School National Recruiting Showcase is being held in freestyle, which is the style these girls will compete when they advance to the college level. What makes this even a better chance to make a name for themselves is the fact that the USA Wrestling Girls Folkstyle Nationals will be held on the next day in the same arena. Girls in the National Showcase who choose to enter both tournaments will be able to bring home national titles and All-American honors in both styles on the same weekend.
Where do you start? How about loaded weight classes? They are all loaded. Every weight has at least five ranked athletes, and most of the weights have as many as 10.
There are three weight classes in which stand out based upon the number of ranked athletes and state champions, and the overall depth:
The 132-pound class is a monster division, with 17 ranked wrestlers and 11 state champions. Athletes have congregated here from three different weights from the last national ranking: 127, 132 and 138. The athlete with the highest ranking is London Houston of Washington at No. 3 at 132. Other top 10-ranked wrestlers are Elleni Johnson of Utah (No. 6 at 132), SaVannah Cosme of Colorado (No. 7 at 127), Athena Willden of California (No. 8 at 132) and Isabella Amaro of Oregon (No. 8 at 127.). There are five two-time state champions in the draw, Houston, plus Alina Antillon of Colorado, Hanna Errthum of Wisconsin, Madyson Gray of Kansas and Sydney Park of Iowa. Try getting just eight All-Americans out of this group.
Jump up to 180 pounds, and there are 12 ranked wrestlers and nine state champions. This weight has athletes who are ranked at either 180 or 200 pounds. What makes this one so strong are the nine different entries who hold a current ranking in the top 10 nationally. Sitting at No. 3 at 200 pounds is Alyvia White of Washington. There are two No. 4 ranked wrestlers, Jaylen Hyman of Maryland at 180 and Riley Dempewolf of Indiana at 200. Katja Osteen of California is ranked No. 5 at 180. Add in two No. 7 ranked wrestlers, two No. 8 ranked wrestlers and a No. 10 ranked wrestler and this weight is deep at the top. Dempewolf is a three-time state champion. Two-time state champions include Ki'esha Cathey of Oklahoma, Sara Huse of Indiana and Kayle Upson of Wisconsin.
Another deep weight is 117 pounds, with 12 ranked wrestlers and 10 state champions. Katie Gomez of California, ranked No. 2 at 122, has dropped down to this weight. There is a pair of No. 5-ranked athletes who ended up here, Hannah Hall of Florida from 112 and Lexy Beadles of California from 117. The top five athletes are all ranked nationally in the top 10. Hall is a three-time state champion, and Juliana Diaz of Florida is a two-time state champion. Four of the ranked athletes in this weight class come from California, perhaps the strongest women's wrestling state in the nation.
There is a huge battle between No. 1 ranked stars at 106 pounds. The current No. 1 ranked wrestler at 106 is Nyla Valencia of California. Moving up from 100 pounds is No. 1 ranked Sterling Dias of Nevada. Don't just expect that we will automatically see these two in the finals, because No. 4 ranked Faith Cole of Missouri, No. 6 Chloe Dearwester of Ohio and No. 8 Rianne Murphy of Indiana are looking to make the finals themselves.
The No. 1 team in the nation in the 2020 year-end selection was Wyoming Seminary, the national prep school team champion based in Pennsylvania. SEM focuses entirely on freestyle, so this tournament will be a great chance to show off their team. There are 11 different Wyoming Seminary girls who have national rankings entered in this tournament.
The pre-seeds for this great event were released on Thursday night, and SEM had two of the No. 1 pre-seeds, Reese Larramendy of Nevada at 144 and Lillian Freitas of California at 152. Larramendy was a 16U Nationals freestyle champion in 2019. Freitas, a two-time California state champion before transferring to Wyoming Seminary, was a 2019 Cadet World Team member.
Joining Freitas as past age-group World Team members were:
• Sterling Dias of Nevada at 106 (2018 and 2018 Cadet World bronze medalist)
• Alex Szkotnicki of Maryland at 100 (2019 Cadet World Team, 2019 U15World champion)
• Reese Larramendy of Nevada at 144 (2019 U15 World silver medalist)
The pre-seeds were announced on Thursday night, and those grabbing No. 1 were Szkotnicki at 100, Valencia at 106, Gomez at 117, Houston at 132, Larramendy at 144, Freitas at 152 and Hyman at 180, all mentioned earlier in the story.
Other No. 1 pre-seeded wrestlers are Salyna Shotwell of Washington (112), Shelby Moore of Washington (122), Janida Garcia of California (127), Jada Llamido of Florida (138), Rose Cassioppi of Illinois (164), Andrea Smith of Florida (200) and Julia Richey of California (225).
Check out the High School National Recuriting Showcase Pre-Seeds
https://www.teamusa.org/USA-Wrestling/Features/2021/March/25/Preseeds-for-High-School-National-Recruiting-Showcase
The event is broadcast live on TrackWrestling. The first session on Saturday is set for 9:00 a.m. The medal match finals (held alongside the boys division) is set for 3:00 p.m. on Saturday night.
Expect this event, as well as Sunday's USA Wrestling Girls Folkstyle Nationals, to truly scramble up the National Girls High School Rankings.
HIGH SCHOOL NATIONAL RECRUITING SHOWCASE
GIRLS WEIGHT CLASS SUMMARIES
State champion list as of March 23

100
National Rankings
No. 2 at 100 - Alex Szkotnicki, sophomore, Riva, Md. Calvert High School
No. 4 at 100 - Brianna Gonzalez, junior, Baldwin Park, Calif., Arroyo High School
No. 5 at 100 - Virginia Foard, sophomore, Reva, Va., Wyoming Seminary (PA)
No. 16 at 100 - Kayla McKinley-Johnson, junior, Des Moines, Wash., Federal Way High School
No. 18 at 100. Emma Baertlein, senior, Oregon City, Ore., Oregon City High School
No. 24 at 100 - Riley Banyas, sophomore, Amherst, Ohio, Elyria High School
State Champions
Emma Baerthein – 2020 Oregon champion – 100
Aspen Blasko – 2020 Minnesota champion – 95
Claire Booe – 2021 Florida champion – 100
Virginia Foard – 2020 Virginia champion – 106
Kayla McKinely-Johnson – 2020 Washington champion – 100
Kaylin Taylor – 2021 Montana champion – 103
Karina Torres – 2021 Wisconsin champion – 96
June Welch – 2021 South Carolina champion – 104
106
National Rankings
No. 1 at 106 - Nyla Valencia, junior, Morgan Hill, Calif., Ann Sobrato High School
No. 1 at 100 - Sterling Dias, junior, Las Vegas, Nev., SLAM Academy
No. 4 at 106 - Faith Cole, junior, Pacific, Mo., Wildwood High School
No. 6 at 106 - Chloe Dearwester, freshman, Cincinnati, Ohio, Harrison High School
No. 8 at 106 - Rianne Murphy, freshman, Valparaiso, Ind., Wyoming Seminary (PA)
No. 13 at 106 - Juliana Moccia, senior, Bel Air, Md., The John Carroll
No. 20 at 112 - Eva Diaz, junior, Waverly, Iowa, Waverly-Shell Rock High School
State champions
Jamie Barton – 2021 Utah 6A champion - 108
Faith Cole – 3x – 2021 Missouri champion – 107, 2020 Missouri champion -110, 2019 Missouri champion 103
Chloe Dearwester – 2020 Ohio champion – 106
Eva Diaz – 2021 Iowa champion – 113
Ella-Lina Gonzalez – 2021 Tennessee champion – 103
Juliana Moccia (MD) – 2020 Prep National champion - 105
Bopasoreya Quintana – 2021 Wisconsin champion – 106
Nyla Valencia – 2020 California champion – 106
112
National Rankings
No. 2 at 117 - Salyna Shotwell, senior, Puyallup, Wash., Rogers High School
No. 3 at 117 - Ava Bayless, junior, Greenville, Pa. Wyoming Seminary (PA)
No. 7 at 106 - Cadence Diduch, freshman, Freeport, Ill., Dakota Wrestling Club
No. 8 at 112 - Abbygale Duke, junior, Patterson, N.Y., Wyoming Seminary (PA)
No. 14 at 112 - Shea Reisel, junior, Somonauk, Ill. Somonauk High School
No. 12 at 112 - Rose Ann Marshall, senior, Stoughton, Wis., Stoughton High School
No. 21 at 112 - Peyton Hand, sophomore, Newalla, Okla., Choctaw High School
No. 24 at 112 - Zao Estrada, freshman, Hilton Head, S.C., Hilton Head High School
No. 25 at 112- Ava Purifoy, senior, Alexandria, Va., Mount Vernon High School
State champions
Jenavi Alejandro – 2x – 2020 Nevada champion – 106, 2019 Nevada champion – 106
Ava Bayless – 2020 Prep National champion – 121
Zao Estrada – 2021 South Carolina champion - 112
Peyton Hand – 2x – 2021 Oklahoma champion – 112, 2020 Oklahoma champion – 100
Avery Kibelbek – 2x – 2019 Tennessee – 103, 2020 Tennessee 103
Rose Ann Marshall – 2x - 2020 Wisconsin champion – 113, 2021 Wisconsin champion – 113
Ava Purifoy – 2x - 2021 Virginia champion – 112, 2020 Virginia champion - 106
Shea Reisel – 2019 Illinois champion – 112
Salyna Shotwell – 2019 Washington champion – 110
117
National Rankings
No. 2 at 122 - Katie Gomez, junior, Van Nuys, Calif., Birmingham High School
No. 5 at 117 - Lexy Beadles, junior, Riverbank, Calif., Calaveras High School
No. 5 at 112 - Hannah Hall, senior, Palm Harbor Fla., Palm Harbor University High School
No. 6 at 117 - Leah Gaitan, junior, Yucaipa, Calif., Yucaipa High School
No. 9 at 117 - Taylin Long, senior, Batavia, Ill., Batavia High School
No. 13 at 112 - Carissa Qureshi, sophomore, Irvine, Calif., Portola High School
No, 18 at 117 - Chloe Herrick, sophomore, Harrisonville, Mo., Harrisonville High School
No. 19 at 117 - Alyssa Mahan, sophomore, Wilmington, Del., Delaware Military Academy
No. 22 at 117 - Juliana Diaz, junior, Orlando, Fla., Dr. Phillips High School
No. 22 at 122 - Anna DiCugno, sophomore, Lake Tapps, Wash. White River High School
No. 23 at 112 - Israel Resendez junior, Aurora, Colo., Denver East High School
No. 24 at 117 - Maya Davis, junior, Chatham, Ill., Chatham Glenwood High School
State Champions
Juliana Diaz – 2x – 2021 Florida champion – 117, 2020 Florida champion – 117
Leah Gaitan – 2019 California champion – 106
Hannah Hall – 3x – 2019 Florida champion – 117, 2020 Florida champion – 112, 2021 Florida champion – 112
Chloe Herrick – 2021 Missouri champion - 117
Taylin Long – 2019 Illinois champion – 122
Ayana Medina – 2019 Oregon champion – 105
Brooklyn Pace – 2021 Utah 6A champion - 115
Israel Resendez – 2021 Colorado champion - 111
Reagan Riddick – 2020 North Carolina champion – 120
Adaceli Salaiz Noriega – 2020 Arizona champion – 118
122
National Rankings
No. 7 at 122 - Shelby Moore, sophomore, Buckley, Wash., White River High School
No. 12 at 122 - Kailey Rees, junior, Orlando, Fla., Freedom High School
No. 15 at 127 - Jordyn Knecht, senior, Paola, Kansas, Paola High School
No. 15 at 122 - Cailin Campbell, junior, Crawfordsville, Ind., North Montgomery High School
No. 21 at 122 - Gianna DiBenedetto, freshman, Rancho Cordova, Calif., Folsom High School
No. 25 at 122 - Sophia Redwine, junior, Newberg, Ore., Newberg High School
State Champions
Carolyna Bellon – 2020 Florida champion – 128
Calin Campbell – 2021 Indiana champion – 120
Jordyn Knecht – 2x - 2021 Kansas Div. II – 126, 2020 Kansas - 123
Kailey Rees – 2021 Florida champion – 122
Regan Rosseter -2021 Nebraska champion – 124
Brooke Schuenemann – 2021 Wisconsin champion – 120
Katie Ward – 2020 Nevada champion – 121
127
National Rankings
No. 2 at 132 - Janida Garcia, sophomore, Modesto, Calif., Central Catholic High School
No. 3 at 127 - Claire Dicugno, senior, Lake Tapps, Wash.,White River High School
No. 5 at 127 - Alexis Janiak, junior, Plainfield, Ill., Plainfield South High School
No. 9 at 132 - Sarah Savidge, junior, Colorado Springs, Colo., Doherty High School
No. 13 at 132 - Skylar Little Soldier, freshman, Welch, Minn., Hastings High School
No. 18 at 127 - Catie Campbell, junior, Crawfordsville, Ind., North Montgomery High School
No. 19 at 127 - Madisyn Blackburn, junior, Greencove, Fla. Clay High School
No. 20 at 127 - Taydem Khamjoi, sophomore, Stockton, Calif., Chavez High School
No. 22 at 127 -Mia Furman, sophomore, Meridian, Idaho , Rocky Mountain High School
No. 24 at 122 - Charlene Hamilton, Gridley, Ill. Gridley High School
No. 25 at 127 - April Kelly, junior, Taylors, S.C., Woodmont High School
State Champions
Madisyn Blackburn – 2021 Florida champion – 128
Catherine Campbell – 2x – 2021 Indiana champion – 126, 2019 Indiana champion – 126
Arianna Carrasquillo – 2020 Virginia champion – 127
Claire DiCugno – 2020 Washington champion – 125
Mia Furman – 2021 Idaho champion – 129
Lexi Janiak – 2019 Illinois champion - 106
April Kelly – 2021 South Carolina champion – 125
Skylar Little Soldier – 2020 Minnesota champion – 113
132
National Rankings
No. 3 at 132 - London Houston, senior, Federal Way, Wash., Federal Way High School
No. 6 at 132 - Elleni Johnson, junior, West Jordan, Utah, Wyoming Seminary (PA)
No. 7 at 127 - Savannah Cosme, junior, Denver, Colo., Chatfield High School
No. 8 at 132 - Athena Willden, senior, Hesperia, Calif., Oak Hills High School
No 8 at 127 - Isabella Amaro, junior, Scappoose, Ore. Scappoose High School
No. 11 at 132 - Sofia Brynman-Metcalf, junior, Sullivan, Wis., Jefferson High School
No. 11 at 127 - Hanna Errthum, sophomore, Mount Horeb, Wis. Mt. Horeb High School
No. 12 at 132 - Samantha Barragan, senior, Hemet, Calif., Hemet High School
No. 13 at 138 - Alina Antillon, junior, Denver, Colo., Mullen High School
No. 14 at 132 - Madyson Gray, junior, KS, Lawrence Free State High School
No. 16 at 132 - Abigail Varady, senior, Duvall, Wash. Cedarcrest High School
No. 17 at 138 - Alicia Pieper, senior, Waterford, Mich. Waterford Ketterning High School,
No. 18 at 132 - Cassia Zammit, sophomore, Miamisburg, Ohio Miamisburg High School
No. 20 at 132 - Reagan Gallaway, sophomore, Kearney, Neb., Amherst High School
No. 21 at 138 - Lillian Gough, senior, Eucha, Okla., Jay High School
No. 24 at 127 - Lilly Luft, sophomore, Charles City, Iowa, Charles City High School
No. 25 at 132 - Rontaysia Payne, senior, Dickson, Tenn., Dickson County High School
State champions
Alina Antillon – 2x – 2020 Colorado champion – 136, 2019 Colorado champion – 136
Skylar Connelly – 2021 Montana champion – 132
SaVannah Cosme – 2021 Colorado champion – 127
Hanna Errthum – 2x – 2021 Wisconsin champion – 132, 2021 Wisconsin champion – 126
Madyson Gray –2x – 2021 Kansas Div. I champion - 132, 2020 Kansas champion – 130
London Houston – 2x – 2020 Washington champion – 130, 2019 Washington champion – 125
Jo-Ellen Hutto – 2019 South Carolina – 126
Elleni Johnson –2019 Utah champion – 135
Lilly Luft – 2021 Iowa champion – 126
Sydney Park – 2x – 2020 Iowa champion– 126, 2019 Iowa champion – 126
Cassia Zammit – 2021 Ohio champion – 131
138
National Rankings
No. 5 at 138 - Jada Llamido, sophomore, Oviedo, Fla., Hagerty High School
No. 9 at 138 - Grace Stem, junior, Snow Shoe, Pa., Bald Eagle Area High School
No. 9 at 144 - Tyler Richardson, junior, Vale, Ore., Vale High School
No. 10 at 138 - Savannah Gomez, sophomore, Upland, Calif., Brawley Union High School
No. 12 at 138 - Sara Schmoker, senior, Sun City, Ariz., Liberty High School
No. 22 at 138 - Marisa Roth, junior, Brookfield, Wis., Brookfield Central High School
No. 23 at 138 - Sara Lake, senior, Kansas City, Kansas, Kansas City-Piper High School
No. 24 at 138 - Mariah Wahl, junior, Cutbank, Mont., Cutbank High School
No. 25 at 138 - Piper Staniford, senior, Dallas, Pa., Wyoming Seminary (PA)
State Champions
Celina Cooke – 2x – 2019 Nevada champion – 131, 2020 Nevada champion – 137
Aulani Davis – 2x - 2021 Indiana champion – 145, 2020 Indiana champion – 132
Sarah Lake – 2x – 2021 Kansas Div. I champion – 138, 2020 Kansas champion – 136
Jada Llamido – 2021 Florida champion – 134
Gabrielle Miller – 2019 New Jersey champion – 147
Tyler Richardson – 2x – 2020 Oregon champion – 140, 2019 Oregon champion – 140
Marisa Roth – 2021 Wisconsin champion – 138
Piper Staniford – 2020 Prep National champion – 185
Grace Stem – 2021 Pennsylvania champion -140
Sara Sunday, 2020 Maryland champion – 132
Neida Valle – 2021 Utah 6A champion - 128
Mariah Wahl – 2021 Montana champion - 138
Paige Wehrmeister – 2021 Missouri champion – 137
144
National Rankings
No. 2 at 144 - Reese Larramendy, junior, Reno, Nev., Wyoming Seminary (PA)
No. 3 at 144 - Maddie Kubicki, sophomore, Kansas City, Mo., Park Hill South High School
No. 12 at 152 - Kaiulani Garcia, Stockton, Calif., Venture Academy
No. 18 at 152 - Madison Diaz, senior, Waverly, Iowa, Waverly-Shell Rock High School
No. 19 at 138 - Kaylie Petersen, freshman, Evansville, Ind., Central High School
No. 19 at 144 - Cloe Charlesworth, sophomore, Burke, Va., Wyoming Seminary (PA)
No. 23 at 144 - Esther Han, junior, Wentzville, Mo., Holt Wentzville High School
State Champions
Chloe Charlesworth – 2021 Virginia champion – 136
Madison Diaz – 2x – 2021 Iowa champion – 152, 2020 Florida champion – 147
Esther Han – 2x – 2020 Missouri champion – 142, 2019 Missouri champion - 136
Maddie Kubicki – 2x – 2021 Missouri champion – 143, 2020 Missouri champion – 135
Kaylie Peterson – 2021 Indiana champion – 138
Lizzie Shunn – 2021 Utah 6A champion - 140
Naomi Simon – 2021 Iowa champion – 145
Z. Asymina Zwart – 2021 Wisconsin – 145
152
National Rankings
No. 3 at 152 - Lillian Freitas, junior, Modesto, Calif., Wyoming Seminary (PA)
No. 6 at 152 - Dakota-Marie Dinielli, junior, Plainville, Conn., Plainville High School
No. 6 at 144 - Ella Nichols, junior, Bristol, Conn., Bristol Eastern High School
No.9 at 152 - Haley Ward, sophomore, Independence, Mo., Ft. Osage High School
No 10 at 152 - Faith Bartoszek, freshman, Wrightstown, Wis., Wyoming Seminary (PA)
No. 12 at 164 - Maggie Graham, sophomore, Bartlett, Tenn., Bartlett High School
No, 13 at 144 - Avery Beckman, freshman, Friendsville, Texas, Friendswood High School
State Champions
Lilian Freitas – 2x – 2019 California champion – 143, 2020 California champion – 150
Maggie Graham – 2x – 2021 Tennessee champion – 150, 2020 Tennessee champion – 160
Alexandra Hofrichter – 2021 Wisconsin champion – 152
Anna McDougal – 2020 Oregon champion – 155
Ella Nichols – 2020 Connecticut champion – 145
Ashley Reed – 2020 Connecticut champion – 160
Samantha Spielbauer – 2021 Iowa champion – 160
Stella Steigler – 2020 Virginia champion – 156
Haley Ward – 2x- 2021 Missouri champion – 151, 2020 Missouri champion – 130
164
National Rankings
No. 5 at 152 - Rose Cassioppi, sophomore, Hononegah, Ill., Hononegah High School
No. 7 at 164 - Kaitlyn Pegarella, junior, Nanticoke, Pa., Nanticoke High School
No. 13 at 164 - Shelby Zacharias, senior, Charlotte, Tenn., Creek Wood High School
State champions
Anya Hatch – 2021 Utah 6A champion
Katelyn Lewis – 2020 Wisconsin champion 152
Mackenzie Konanz – 2020 Indiana champion – 160
Kaitlyn Pegarella – 2020 Pennsylvania champion - 163
Kyra Richards – 2021 Idaho champion – 164
Shianne Whited – 2021 Virginia champion - 164
Shelby Zacharias – 2x – 2021 Tennessee champion – 170, 2020 Tennessee champion – 170
180
National Rankings
No. 3 at 200 - Alivia White, sophomore, Lake Stevens, Wash., Marysville-Pilchuk High School
No. 4 at 180 - Jaylen Hyman, senior, Windsor Mill, Md., Randallstown High School
No, 4 at 200 - Riley Dempewolf, junior, Lafayette, Ind., McCutcheon High School
No. 5 at 180 - Katja Osteen, senior, Simi Valley, Calif., Royal High School
No. 7 at 180 - Ki'eisha Cathey, junior, Broken Arrow, Okla., Broken Arrow High School
No. 7 at 200 - Jaeleen Robledo, senior, Ontario, Calif., Montclair High School
No. 8 at 180 - Fiona McConnell, senior, Milwaukie, Ore., Milwaukie High School
No. 8 at 200 - Kailyn Garrett, junior, South Lyon, Mich., South Lyon High School
No. 10 at 180 - Lily El-Masri, junior, Novato, Calif., Wyoming Seminary (PA)
No. 18 at 180 - Kiera Ganey, sophomore, Belleville, Ill., Belleville East High School
No. 19 at 180 - Kaylie Upson, junior, Philips, Wis., Phillips High School
No. 25 at 180 - Sam Calkins, junior, Brentwood, Calif., Liberty High School
State Champions
Kiesha Cathey – 2x – 2021 Oklahoma champion – 185, 2020 Oklahoma champion – 185
Riley Dempewolf – 3x – 2021 Indiana champion – 195, 2020 Indiana champion -- 195, 2019 Indiana champion – 195
Kailyn Garrett – 2020 Michigan champion – 184
Sara Huse – 2x – 2020 Indiana champion – 170, 2020 Indiana champion – 170
Jaylen Hyman – 2020 Maryland champion - 164
Fiona McConnell – 2020 Oregon champion – 190
Katja Osteen – 2018 California champion – 160
Kaylie Upson – 2x - 2021 Wisconsin champion – 182, 2020 Wisconsin champion – 145
Alyvia White – 2020 Washington champion – 190
200
National Rankings
No. 6 at 225- Andrea Smith, junior, Middleburg, Fla., Orange Park High School
State champions
Andrea Smith – 2021 Florida champion – HWT
225
National Rankings
No. 2 at 225 - Julia Richey, senior, Newbury Park, Calif., Newbury Park High School
No. 3 at 225 - Eliana Bommarito, junior, Brighton Mich. Hartland High School
No. 8 at 225 - Annika Miles, junior, Sacramento, Calif., Elk Grove High School (6 at 225)
No. 9 at 225 - Tatiana Herrera, senior, San Leandro, Calif., James Logan High School
No. 19 at 225 - Valerie Smith, junior, Nashville, Tenn., McGavock High School
State champions
Eliana Bommarito – 2x – 2020 Michigan champion 270, 2010 Michigan champion – 235
Karla Padilla Zepeda – 2021 Utah 6A - 245
Julia Richey – 2020 California champion – 235
Valerie Smith – 2x – 2020 Tennessee champion – 215, 2019 Tennessee champion - 215