News
USA Wrestling
College
Women
USAW
Campbellsville wins NAIA Women's National Invitational with Life second; 10 wrestlers punch ticket to Olympic Trials
by Gary Abbott, USA Wrestling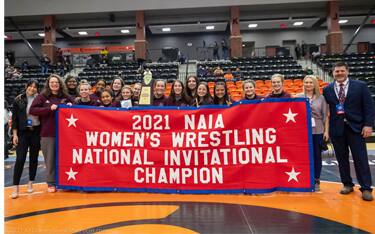 Campbellsville women's wrestling team poses with its NAIA Champion banner at the 2021 NAIA Women's National Invitational. Photo by Jim Thrall, MatFocus.com
JAMESTOWN, N.D. – Led by five finalists and 10 All-Americans, top-ranked Campbellsville claimed the team title at the NAIA Women's National Invitational on Saturday at Jamestown University.
Campbellsville had 185 points, ahead of second place Life with 134.5 points. Wayland Baptist placed third with 100 points, Oklahoma City was fourth with 96.5 points and Southern Oregon was fifth with 94.5 points.
Campbellsville finished with one individual champion, McKayla Campbell (109) and four runners-up. Campbell won a crazy final, where it went to the final seconds before she beat 2019 NAIA national champion Asia Ray of Wayland Baptist, 16-14. Ray, a past Junior World medalist, was attempting to become the first two-time NAIA individual national champion. Campbell competed on two U.S. Junior World Teams.
Runners-up for Campbellsville were Charlotte Fowler (116), Angela Vitiritti (130) , Randi Robison (136) and Alexandra Castillo (170).
Wayland Baptist and Life were the only teams to have two individual champions. The finals showed the balance of individual talent across the NAIA, as eight different teams brought home a gold medalist.
Wayland Baptist's two champions, Nina Pham (101) and Desiree Zavala (136), both who came in as No. 1 seeds. Pham pinned Ivy Navarro of Providence in 2:19 in the finals, and Zavala scored a 10-0 technical fall over Randi Robison of Campbell in just 51 seconds in the finals. Pham was a 2019 NAIA national runner-up.
Life's champions were top seed Peyton Prussin (116) and Jordan Nelson (170). Prussin dominated her opponents both days, closing it out with a 10-0 technical fall in 3:45 over Campbellsville's Fowler. Nelson defeated top seed Castillo of Campbellsville, 5-1.
Other individual champions were Jasmine Hernandez of Lyon (123), Bridgette Duty of the Cumberlands (130), Waipuilani Estrella-Beauchamp of Midland (143) , Sienna Ramirez of Southern Oregon (155)
and Nkechinyere Nwankwo of Oklahoma City (191).
Hernandez, a junior, earned her first All-American honors with a championship, pinning No. 1 seed and
2019 WCWA national champion Julia Vidallon of Life in 4:35 in the finals.
Duty came is as the No. 1 seed, and put away Campbellsville's Vittiritti in a 12-2 technical fall in 3:33 in the finals.
Estrella-Beauchamp is a freshman, and won her title with a 4-3 victory over Erin Redford of Eastern Oregon.
Ramirez had three All-American honors prior to this weekend, as a two-time WCWA All-American and a 2019 NAIA All-American.
Nwankwo, the top seed, pinned Elisa Robinson of Baker in the finals in 1:48.
This is the third NAIA Women's National Invitational. The 2019 event was held in Jamestown, but the t2020 event, also scheduled for Jamestown, was cancelled at the last minute due to the COVID-19 pandemic.
As such, Life, Lyon, the Cumberlands, Midland, Southern Oregon and Oklahoma City had their first NAIA Women's National Invitational champions in history.
This event was a qualifier for the U.S. Olympic Team Trials – Wrestling, set for Fort Worth, Texas, April 2-3. The top placewinner at each weight class who had not already qualified earn the berth at the Olympic Trials. All 10 of the champions became Olympic Trials qualifiers.
Two of the finalists, Julia Vidallon of Life and Alexandra Castillo of Campbellsville, had already qualified for the Olympic Trials with titles at the 2019 WCWA Nationals. Both were defeated in the finals.
NAIA WOMEN'S NATIONAL INVITATIONAL
At Jamestown, N.D., March 12-13
101
1st - Nina Pham (Wayland Baptist) pin Ivy Navarro (Providence), 2:19
3rd - Esthella Trevino (Southern Oregon) pin Madison Brown (Texas Wesleyan), 0:36
5th -Ira Navarro (Providence) tech. fall Devyn Gomez (Life), 12-2 5:00
7th -Alaura Couch (Grand View) pin Angelina Casteneda (Cumberlands), 1:24
109
1st - McKayla Campbell (Campbellsville) dec. Asia Ray (Wayland Baptist), 16-14
3rd - Macie Stewart (Southern Oregon) pin Tehani Soares (Indiana Tech), 0:42
5th - Emma Cochran (Grand View) dec. Katalina Bartelt (Life), 9-2
7th - Rayana Sahagun (Jamestown) dec. Kory Phillips (Life), 5-5
116
1st - Peyton Prussin (Life) tech. fall Charlotte Fowler (Campbellsville), 10-0, 3:45
3rd - Stefana Jelacic (Lourdes) dec. Camille Fournier (Texas Wesleyan), 10-8
5th - Arianna Marrufo (Jamestown) dec. Josie Bartishofski (Jamestown), 8-5
7th - Serenity Durham goree (Midland) dec. Carolina Johnson (Southern Oregon), 7-0
123
1st - Jasmine Hernandez (Lyon) pin Julia Vidallon (Life), 4:35
3rd - Katlyn Pizzo (Campbellsville) pin Jacqueline Ghent (Campbellsville), 0:49
5th - Theresa Rankin (Lourdes) forfeit Nichole Moore (Baker)
7th - Glory Konecny (Southern Oregon) dec. Jasmin Davis (Wayland Baptist), 2-1
130
1st - Bridgette Duty (Cumberlands) tech. fall Angela Vitiritti (Campbellsville), 12-2, 3:33
3rd - Mea Mohler (Texas Wesleyan) pin De'anna Prince (Wayland Baptist), 3:42
5th - Alexandra Baudhuin (Jamestown) forfeit Diana Dzasezeva (Waldorf)
7th - Briana Kellin (Life) dec. Sophia Smith (Oklahoma City), 10-2
136
1st - Desiree Zavala (Wayland Baptist) tech. fall Randi Robison (Campbellsville), 10-0, 0:51
3rd - Andrea Schlabach (Grand View) pin Savanna Mccutchen (Missouri Valley), 2:00
5th - Destiny Lyng (Oklahoma City) pin Brigid Shannon (Corban), 2:02
7th - Angelina Prado (Life) tech. fall Luisita Jara (Jamestown), 10-0 5:51
143
1st - Waipuilani Estrella-Beauchamp (Midland) dec. Erin Redford (Eastern Oregon), 4-3
3rd - Emma Walker (Campbellsville) dec. Samantha Snow (Indiana Tech), 11-8
5th - Jordan Suarez (Wayland Baptist) dec. Sydney Freund (Oklahoma City), 11-3
7th - Ashley Ikner (Cumberlands) tech. fall Nancy Becerra (Missouri Valley), 10-0 1:06
155
1st - Sienna Ramirez (Southern Oregon) tech. fall Morgan Mayginnes (Baker), 10-0, 3:27
3rd - Kendra Thompson (Campbellsville) pin Kamalamaokapomahealani Lewis (Midland), 4:51
5th - Cierra Foster (Oklahoma City) pin Destinee Rivera (Life ), 0:35
7th - Tiyahna Askew (Missouri Baptist) pin Dempsi Talkington (Eastern Oregon), 5:43
170
1st - Jordan Nelson (Life) dec. Alexandra Castillo (Campbellsville), 5-1
3rd - Sierra Talmadge (Jamestown) dec. Hunter Robinson (Grand View), 3-3
5th - Chamira Cooper (Cumberlands) pin Jennifer Curry (Baker), 2:38
7th - Shania Gowan (Missouri Baptist) caution Danielle Saldivar (Missouri Valley), 4-0
191
1st - Nkechinyere Nwankwo (Oklahoma City) pin Elisa Robinson (Baker), 1:48
3rd - Kelani Corbett (Lyon) pin Brianna Staebler (Campbellsville), 2:38
5th - Maquoia Bernabe (Cumberlands) dec. Victoria Hinojo (Oklahoma City), 4-2
7th - Catherine Palmieri (Life) pin Kelly Lacost (Jamestown), 1:34
Team Standings
1 Campbellsville 185
2 Life 134.5
3 Wayland Baptist 100
4 Oklahoma City 96.5
5 Southern Oregon 94.5
6 Cumberlands 89
7 Jamestown 77
8 Grand View 76.5
9 Baker 72
10 Midland 70
11 Missouri Valley 69
12 Lyon 66
13 Texas Wesleyan 59
14 Indiana Tech 54.5
15 Providence 44
16 Corban 36.5
17 Eastern Oregon 35.5
18 Lourdes 34.5
19 Missouri Baptist 29.5
20 Waldorf 25