News
USA Wrestling
College
USAW
Updated: Nebraska-Kearney holds slight lead over St. Cloud State after day one of NCAA Div. II Nationals
by Jackie Paquette, Special to TheMat.com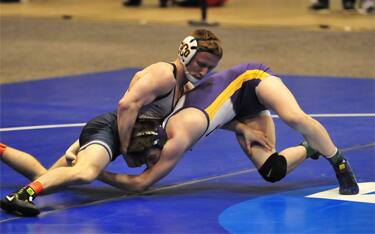 Photo courtesy of Jackie Paquette.
ST. LOUIS- In a day one full of upsets, top-ranked Nebraska-Kearney leads the team race at the 2021 NCAA Division II Wrestling Championships.
The Lopers have nine of 10 qualifiers still alive heading to day two, with two of those in the semifinals of their respective brackets. UNK has 58 total points, with reigning National Champion St. Cloud State currently in second with 51.5 points. Lindenwood (43.5), McKendree (42.5) and Central Oklahoma (42) round out the top five heading into day two.
Nine of the 10 weight classes featured some sort of upset in the quarterfinals on a day of shake ups at the event. Four unseeded wrestlers earned spots in the semifinals, starting with Christian Mejia of McKendree at 125.
The Bearcat pulled off a 3-1 SV-1 upset of top-ranked Isaiah De La Cerda of Adams State in the quarters, and will face UNC-Pembroke's Nick Daggett in the semifinals. Daggett, the five-seed in the bracket, bested four-seed and returning national finalist Josh Portillo (UNK) by major decision in the quarters.
A five also overtook a four at 133, with Central Oklahoma's Tanner Cole taking a major decision over Lindenwood's Tanner Hitchcock to earn his semis berth. It was a seven over a two at 149, with St. Cloud's Garrett Aldrich overtaking Northern Sun Intercollegiate Conference (NSIC) foe Kyle Rathman of Minnesota State to take his place in the semis.
Lindenwood's Ronnie Gentile made it to the semis as the six-seed at 157, taking down both three-seed Jacob Wasser (UNK) and four-seed Chase Luensman (Upper Iowa) en route to his semifinal tilt with fellow Great Lakes Valley Conference wrestler Dawson Combest of Indianapolis.
The eight seed topped the one seed at 165, as St. Cloud's Devin FitzPatrick fell to McKendree redshirt freshman Cory Peterson in the quarters, while Indianapolis' Andrew Sams, the six at 174, upset three-seed Brock Biddle of Pitt.-Johnstown to take a spot in the semifinal of that bracket.
Unseeded wrestlers in Bailey Kelly (184) and Jackson Ryan (197) are both in the semifinals at their weights, with Kelly (Maryville) taking out three-seed Aiden Pasiuk and six-seed Billy Ptizner (SCSU) on the way to making the semis. Ryan took out two-seed Nick Mason (Tiffin) and seven-seed Joel Leise (Gannon) to earn his spot in the semis.
The heavyweight semis also feature an unseeded wrestler in Steven Hajas of Augustana, who defeated both the three-seed in Tristen Weirich of Ashland and the six-seed in Nebraska-Kearney's Lee Herrington. His opponent, seven-seeded Weston Hunt of Colorado Mines, pinned the two-seed, Jared Rennick to earn his semis spot.
The semifinals are first up tomorrow when wrestling resumes from the America's Center. First whistle of day two will be at 12:00 p.m. CST.
A live video stream of all the action will be available at
NCAA.com
. Brackets are on
Trackwrestling
.
NCAA DIV. II NATIONALS
At St. Louis, Mo.

Semifinal pairings (with seeds)
125
Unseeded Christian Mejia (McKendree) vs. No. 5 Nick Daggett (UNC Pembroke)
No. 3 Paxton Rosen (Central Okla.) vs. No. 2 Cole Laya (West Liberty)
133
No. 1 Garrett Vos (St. Cloud St.) vs. No. 5 Tanner Cole (Central Okla.)
No. 3 Wesley Dawkins (Neb.-Kearney) vs. No. 2 Tyler Warner (West Liberty)
141
No. 1 Colby Smith (Lindenwood (MO)) vs. No. 4 Isiah Royal (Newberry)
No. 3 Joey Bianchini (St. Cloud St.) vs. No. 2 Kelan McKenna (Notre Dame (OH))
149
No.1 Gavin Londoff (Lindenwood (MO)) vs. No. 5 Lukas Martin (Fairmont St.)
No. 3 Noah Hermosillo (Adams St.) vs. No. 7 Garrett Aldrich (St. Cloud St.)
157
No. 1 James Wimer (Findlay) vs. No. 5 Ty Lucas (Central Okla.)
No. 6 Ronald Gentile (Lindenwood (MO)) vs. No. 2 Dawson Combest (Indianapolis)
165
No. 8 Cory Peterson (McKendree) vs. No. 5 Alex Farenchak (Gannon)
No. 3 Matt Malcom (Neb.-Kearney) vs. No. 2 Fred Green (Colorado Mesa)
174
No. 1 Abner Romero (Lindenwood (MO)) vs. No. 5 Daniel Beemer (Ashland)
No. 6 Andrew Sams (Indianapolis) vs. No. 2 Trevor Turriff (Minnesota St.)
184
No. 1 Heath Gray (Central Okla.) vs. No. 4 Dan Fillipek (McKendree)
Unseeded Bailey Kelly (Maryville (MO)) vs. No. 2 Connor Craig (West Liberty)
197
No. 1 Ryan Vasbinder (McKendree) vs. No. 5 Zach Ryg (Upper Iowa)
No. 3 Dalton Abney (Central Okla.) vs. Unseeded Jackson Ryan (Southwest Minn. St.)
285
No. 1 Kameron Teacher (St. Cloud St.) vs. No. 5 AJ Cooper (Fort Hays St.)
Unseeded Steven Hajas (Augustana (SD)) vs. No. 7 Weston Hunt (Colo. Sch. Of Mines)
Team Standings
1 Neb.-Kearney 58.0
2 St. Cloud St. 51.5
3 Lindenwood (MO) 43.5
4 McKendree 42.5
5 Central Okla. 42.0
6 West Liberty 35.0
7 Ashland 25.5
8 Gannon 19.5
9 Minnesota St. 17.0
10 Colo. Sch. Of Mines 16.0
10 Indianapolis 16.0
12 Colorado Mesa 15.5
13 Maryville (MO) 14.5
13 Upper Iowa 14.5
15 Newberry 14.0
15 Southwest Minn. St. 14.0
17 Adams St. 12.5
17 Findlay 12.5
19 Notre Dame (OH) 10.0
19 UNC Pembroke 10.0
Quarterfinal results
125
Christian Mejia (McKendree) 10-1 won in sudden victory - 1 over Isaiah De La Cerda (Adams St.) 8-2 (SV-1 3-1)
Nick Daggett (UNC Pembroke) 12-2 won by major decision over Josh Portillo (Neb.-Kearney) 11-5 (MD 9-0)
Paxton Rosen (Central Okla.) 9-0 won by decision over Charlie Lenox (Gannon) 7-4 (Dec 7-4)
Cole Laya (West Liberty) 16-1 won by decision over Trenton McManus (Minnesota St.) 10-2 (Dec 3-1)
133
Garrett Vos (St. Cloud St.) 10-0 won by decision over Patrick Allis (Western Colo.) 8-4 (Dec 4-0)
Tanner Cole (Central Okla.) 6-1 won by major decision over Tanner Hitchcock (Lindenwood (MO)) 11-2 (MD 12-3)
Wesley Dawkins (Neb.-Kearney) 13-2 won by decision over Jacob Dunlop (Gannon) 6-1 (Dec 5-1)
Tyler Warner (West Liberty) 9-0 won by decision over Tyler Kreith (Maryville (MO)) 7-3 (Dec 2-0)
141
Colby Smith (Lindenwood (MO)) 10-1 won by fall over Austin Hertel (Gannon) 5-3 (Fall 6:57)
Isiah Royal (Newberry) 11-1 won by decision over Branson Proudlock (Findlay) 8-3 (Dec 5-3)
Joey Bianchini (St. Cloud St.) 11-0 won by decision over Devin Schwartzkopf (McKendree) 6-4 (Dec 8-7)
Kelan McKenna (Notre Dame (OH)) 10-0 won by fall over Nick James (Neb.-Kearney) 14-2 (Fall 2:48)
149
Gavin Londoff (Lindenwood (MO)) 10-0 won by decision over Jacob Ealy (Pitt-Johnstown) 5-2 (Dec 5-1)
Lukas Martin (Fairmont St.) 12-0 won by decision over Sam Turner (Neb.-Kearney) 10-4 (Dec 6-5)
Noah Hermosillo (Adams St.) 9-1 won by decision over Carson Speelman (Ashland) 9-2 (Dec 4-3)
Garrett Aldrich (St. Cloud St.) 7-2 won by decision over Kyle Rathman (Minnesota St.) 11-1 (Dec 6-4)
157
James Wimer (Findlay) 12-0 won by decision over Nick Young (Gannon) 5-2 (Dec 11-4)
Ty Lucas (Central Okla.) 10-1 won by decision over Chase Luensman (Upper Iowa) 9-3 (Dec 7-3)
Ronald Gentile (Lindenwood (MO)) 11-2 won by decision over Jacob Wasser (Neb.-Kearney) 9-2 (Dec 4-1)
Dawson Combest (Indianapolis) 11-2 won by decision over Caden Moore (Northern St.) 6-4 (Dec 6-1)
165
Cory Peterson (McKendree) 8-2 won by decision over Devin Fitzpatrick (St. Cloud St.) 10-2 (Dec 3-2)
Alex Farenchak (Gannon) 8-1 won by decision over Baltazar Gonzalez (American Int`l) 5-1 (Dec 2-1)
Matt Malcom (Neb.-Kearney) 14-1 won by decision over Shane Gantz (Wis.-Parkside) 8-3 (Dec 5-3)
Fred Green (Colorado Mesa) 8-1 won by decision over John Dean (Belmont Abbey) 12-1 (Dec 8-5)
174
Abner Romero (Lindenwood (MO)) 10-0 won by major decision over Caleb Spears (Newberry) 8-2 (MD 16-2)
Daniel Beemer (Ashland) 9-1 won in sudden victory - 1 over Josh Jones (McKendree) 6-4 (SV-1 3-1)
Andrew Sams (Indianapolis) 11-1 won by decision over Brock Biddle (Pitt-Johnstown) 2-1 (Dec 2-1)
Trevor Turriff (Minnesota St.) 10-0 won by decision over Max Bruss (Mary) 7-4 (Dec 5-4)
184
Heath Gray (Central Okla.) 11-0 won by decision over Austin Eldredge (Neb.-Kearney) 13-2 (Dec 7-3)
Dan Fillipek (McKendree) 9-1 won by fall over Kyle Wojtaszek (Davis & Elkins) 13-4 (Fall 6:43)
Bailey Kelly (Maryville (MO)) 8-1 won by decision over William Pitzner (St. Cloud St.) 10-2 (Dec 9-7)
Connor Craig (West Liberty) 13-0 won by fall over ZeBrandon Gant (Newberry) 4-1 (Fall 1:40)
197
Ryan Vasbinder (McKendree) 10-0 won by decision over Joseph Reimers (Neb.-Kearney) 13-3 (Dec 8-4)
Zach Ryg (Upper Iowa) 10-0 won by decision over Bryce Walker (UNC Pembroke) 11-5 (Dec 6-3)
Dalton Abney (Central Okla.) 9-1 won by decision over Donald Negus (Colorado Mesa) 9-2 (Dec 2-1)
Jackson Ryan (Southwest Minn. St.) 10-1 won by decision over Joel Leise (Gannon) 4-3 (Dec 10-6)
285
Kameron Teacher (St. Cloud St.) 11-0 won by fall over Francesco Borsellino (West Liberty) 13-2 (Fall 4:07)
AJ Cooper (Fort Hays St.) 15-2 won by decision over Freddie Nixon (Gannon) 4-2 (Dec 6-1)
Steven Hajas (Augustana (SD)) 9-3 won in tie breaker - 1 over Lee Herrington (Neb.-Kearney) 9-6 (TB-1 2-1)
Weston Hunt (Colo. Sch. Of Mines) 7-1 won by fall over Jared Rennick (Drury) 8-1 (Fall 4:02)