News
USA Wrestling
College
USAW
Wartburg has strong day one as semifinals set at NWCA Div. III Coaches Association Nationals
by Jon Gremmels, Special to TheMat.com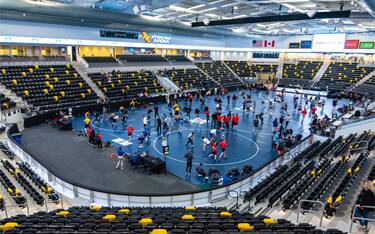 Xtream Arena in Coralville, Iowa, as wrestlers warm up for the NWCA Div. III Coaches Association Nationals. Photo by Sam Janicki.
CORALVILLE, Iowa – If teams scores only mattered.
Coach Eric Keller could not have been much happier with his Wartburg wrestling team's start Friday on the first day of the NWCA Division III Coaches Association National Championships at Xtream Arena.
But Coe and Loras kept pace with their American Rivers Conference rival actually edged the Knights in the All-America count, 9-8.
Wartburg had nothing less than a major decision in its first 17 matches, including a pair of pins in a combined 26 seconds from top seed Kyle Briggs at 174 pounds. The Knights also advanced seven wrestlers into today's semifinals.
But there is no team scoring this weekend in the mat that was put together after the NCAA canceled all Division III winter postseason events. The emphasis is on the individuals.
And individuals from 25 of the 34 teams in the field will have All-Americans named by the National Wrestling Coaches Association for a top-10 finish.
Wartburg's strong start featured 10 matches that ended early and seven major decisions before it suffered its first loss.
"That is exactly what we talk about every day," Keller said. "We talk about wrestling to your highest potential, whether that is by decision or beating a guy by 10 or pinning him. When you go out and wrestle to your highest potential, these are the results you get. That is where success comes."
Moving into the semifinals for Wartburg were Brady Kyner (125 pounds), top seed Kristian Rumph (141), Brady Fritz (149), second seed David Hollingsworth (157), third seed Zane Mulder (165), Briggs (174) and Jordan Brandon (285). Joe Pins, who lost in the semifinals to top seed Robbie Precin of North Central stayed alive with a win in the consolation round.
Loras advanced six into the semifinals: Zach Thompson (133), Zeke Smith (149), Gabe Fiser (165), Jacob Krakow (174), Shane Liegel (184) and Wyatt Wriedt (heavyweight). Duhawks alive in the consolations are Jared Hensley (125), Jalen Schropp (141) and Daniel Ruiz (157).
Coe pushed five into the semifinals – Alex Friddle (125), Brock Henderson (133), Riley Wright (141), Josh Gerke (149), Brady Henderson (157) – and four in the wrestlebacks: Ryker Kurimski (165), Tristin Westphal (174), Ryan Schott (184) and Kaleb Reeves (heavyweight).
Augsburg also put five in the semifinals but had nobody in the wrestlebacks. Auggies advancing were Tyler Shilson at 157, Solomon Nielsen at 174, Nick Rogge at 184, Bentley Schwanebeck at 197 and Tyler Kim at heavyweight.
Coast Guard, which had the longest trip to get to the tournament, will head back to Connecticut with six All-Americans. A.J. Pagliarulo (141), Philip Rogers (165) and tops seeds Paul Detweiler (184) and Jonathan Wagner (197). Detweiler led the way with two pins and a 10-4 victory.
In addition, Noah Caskey (149) and Anthony Ulaszek (157) stayed alive in the wrestlebacks.
"It's awesome to see smiles on their faces, parents crying, giving their kids a hug," Coach Kevin Bratland said. "Even the guys who didn't place.
"All 10 of our guys fought their tails off today."
Bratland said the fact that this is not the sanctioned national tournament and has about half the normal number of teams, an All-American is an All-American.
"Regardless of what people say about this tournament, the experience is not going to be forgotten," he said. "It doesn't take away from that. I think everybody is grateful for having this tournament."
North Central, where Bratland coached before heading to Coast Guard, had a rougher road to All-America status – Precin and Cody Baldridge (197) are the lone semifinalists – but five other wrestlers will finish in the top eight: Bradley Rosen (125), Cole Cervantes (157), Rafael Roman (165), Brock Montford (184) and Ben Bergen (heavyweight).
But whether teams came away with that many All-Americans or just one, there was great pride in the accomplishment.
Perhaps the best story of the day was Cornell's Killian Perrigon at 157 pounds. The junior from Oceanside, California, entered the season with a 21-30 record. But that didn't stop him from recording the biggest upset of the day.
He scored early and late to beat top seed Tristan Birt of Millikin 9-6 in the second round, then advanced to Saturday's semifinals with an 8-6 win against Jack O'Donnell of Concordia of Wisconsin.
"He just comes in and wrestles hard.," Cornell Coach Brent Hamm said. "The kid he beat from Luther (Ryan Cripe 11-4 in the first round) he had lost to. He was solid fundamentally. This was huge for him."
It was big for the rest of the team, too.
"It's the things we talk about," Hamm said. "It doesn't matter if you're seeded or not. Other guys see that (and feed off it)."
Tristan Birt was one of two top seeds who didn't reach the semifinals. The other was Southern Virginia heavyweight Nico Ramirez, who lost 10-5 to Augsburg's Kim in the quarterfinals.
Birt's brother Bradan, the top seed at 165, was more fortunate. He was dominant, too, scoring two technical falls before recording a pin in the quarterfinals.
Also advancing were top seeds Samuel Braswell of Averett at 125 and Brett Kaliner of Stevens Institute of Technology at 149. He matched Bradan Birt with two technical fall wins and a pin.
NWCA DIV. III COACHES ASSOCIATION NATIONALS
At Coralville, Iowa, March 12, 2021

Semifinal pairings
125
Samuel Braswell (Averett) v. Brady Kyner (Wartburg)
Alex Friddle (Coe College) vs. Cristian Chavez (Luther)
133
Robbie Precin (North Central) vs. Zach Thompson (Loras)
Joshua Wilson (Greensboro) vs. Brock Henderson (Coe College)
141
Kristian Rumph (Wartburg) vs. Riley Wright (Coe College)
A.J. Pagliarulo (Coast Guard) vs. Jimmy Mcauliffe (Elmhurst)
149
Brett Kaliner (Stevens Institute of Technology) vs. Josh Gerke (Coe College)
Zeke Smith (Loras) vs. Brady Fritz (Wartburg)
157
Killian Perrigon (Cornell College) vs. Brady Henderson (Coe College)
Tyler Shilson (Augsburg) vs. David Hollingsworth (Wartburg)
165
Bradan Birt (Millikin) vs. Gabe Fiser (Loras)
Zane Mulder (Wartburg) vs. Philip Rogers (Coast Guard)
174
Kyle Briggs (Wartburg) vs. Brian Shermeyer (Messiah)
Jacob Krakow (Loras) vs. Solomon Nielsen (Augsburg)
184
Paul Detwiler (Coast Guard) vs. Nick Rogge (Augsburg)
Ira Kuehn (Luther) vs. Shane Liegel (Loras)
197
Jonathan Wagner (Coast Guard) vs. Cody Baldridge (North Central)
Gabriel Zierden (Concordia-MN) vs. Bentley Schwanebeck-ostermann (Augsburg)
285
Tyler Kim (Augsburg) vs. Jordon Brandon (Wartburg)
Wyatt Wriedt (Loras) vs. Dominick Wilson (Olivet College)

Note:
No team scores are kept
Quarterfinal results
125
Samuel Braswell (Averett) DEC Jared Hensley (Loras), 9-6
Brady Kyner (Wartburg) MD Bradley Rosen (North Central), 18-6
Alex Friddle (Coe College) MD Justin Stauffacher (Augsburg), 10-2
Cristian Chavez (Luther) DEC Chase Poston (Central College), 10-8
133
Robbie Precin (North Central) DEC Joe Pins (Wartburg), 9-5
Zach Thompson (Loras) DEC Charlie Pickell (Augsburg), 6-4 SV
Joshua Wilson (Greensboro) DEC Austin Vincent (Concordia-WI), 4-2
Brock Henderson (Coe College) TF Austin Wieczorek (Alma), 16-0 3:21
141
Kristian Rumph (Wartburg) DEC Brady Gross (Augsburg), 7-3
Riley Wright (Coe College) DEC Luis Ramos (Central College), 9-2
A.J. Pagliarulo (Coast Guard) DEC Tyler Difiore (Luther), 5-3
Jimmy Mcauliffe (Elmhurst) DEC Mario Vasquez (Ferrum), 6-1
149
Brett Kaliner (Stevens Institute of Technology) TF Noah Caskey (Coast Guard), 24-9 6:20
Josh Gerke (Coe College) DEC Robert Areyano (Central College), 8-2
Zeke Smith (Loras) F Noah Nieman (Adrian), 4:31
Brady Fritz (Wartburg) DEC Hunter Murphy (Olivet College), 13-11
157
Killian Perrigon (Cornell College) DEC Jack O`donnell (Concordia-WI), 8-6
Brady Henderson (Coe College) DEC Daniel Ruiz (Loras), 3-1
Tyler Shilson (Augsburg) DEC Sean Sax (Westminster), 12-6
David Hollingsworth (Wartburg) DEC Nick Barnhart (Messiah), 8-6
165
Bradan Birt (Millikin) TF Ryker Kurimski (Coe College), 16-0 2:24
Gabe Fiser (Loras) DEC Zarik Anderson (Dubuque), 6-4
Zane Mulder (Wartburg) DEC Alex Turley (Averett), 11-4
Philip Rogers (Coast Guard) F Matt Pangle (Messiah), 4:17
174
Kyle Briggs (Wartburg) F John Marsh (Cornell College), 2:12
Brian Shermeyer (Messiah) DEC George Moseley (Averett), 7-2
Jacob Krakow (Loras) MD Alexander Skaare (Concordia-MN), 12-2
Solomon Nielsen (Augsburg) F David Mccullough (Coast Guard), 5:51
184
Paul Detwiler (Coast Guard) DEC Helton Vandenbush (Milwaukee School of Engineering), 10-4
Nick Rogge (Augsburg) F Ryan Schott (Coe College), 2:08
Ira Kuehn (Luther) DEC David Stevens (Messiah), 3-2
Shane Liegel (Loras) DEC Brock Montford (North Central), 11-5
197
Jonathan Wagner (Coast Guard) DEC Donald Moses iii (Adrian), 3-2
Cody Baldridge (North Central) DEC Braden Homsey (Ferrum), 3-2
Gabriel Zierden (Concordia-MN) F Kobe Woods (Wartburg), 2:13
Bentley Schwanebeck-ostermann (Augsburg) MD Don Phillips ii (Buena Vista), 11-2
285
Tyler Kim (Augsburg) DEC Nico Ramirez (Southern Virginia), 10-5
Jordon Brandon (Wartburg) DEC Isaiah Espinoza (Adrian), 4-3 SV
Wyatt Wriedt (Loras) DEC Kaleb Reeves (Coe College), 9-6
Dominick Wilson (Olivet College) DEC Ben Bergen (North Central), 4-1