News
USA Wrestling
College
USAW
NWCA Div. III Preview – 33 teams travel to Iowa for season-ending nationals, after NCAA cancelled their tournament again
by Jon Gremmels, Special to TheMat.com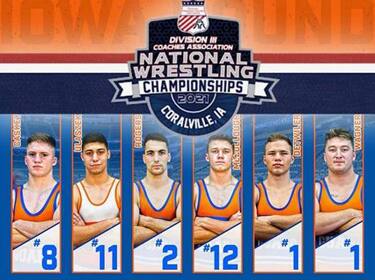 Graphic of Coast Guard's seeds courtesy of U.S. Coast Guard Academy Athletics.
When the members of the United States Coast Guard Academy wrestling team head out on their five-year commitments, they certainly will have an idea about about rough seas, at least figuratively, after navigating their way through college wrestling the past 12 months.
The Bears had six national qualifiers a year in Cedar Rapids when the NCAA Division III Championships – as well as all other NCAA winter sports – were canceled because of the COVID-19 pandemic less than 24 hours before wrestling was set to begin.
After the NCAA announced that this year's national tournament also would be scrapped, Coach Kevin Bratland was hesitant to tell his wrestlers that there still was hope of ending the season with some kind of national event.
But the National Wrestling Coaches Association stepped up, and the Bears and other 33 teams are making the trip to Iowa this week to participate in a season-ending tournament.
"With this tournament, I did not really want to say anything to my wrestlers at first about it until we knew that it was a definite because we had already gone through so many different schedules," Bratland explained. "They were basically training for the unknown, and maybe for nothing.
"For our seniors, they never knew when their first match would be, and they never knew when their last match was going to be."
Now they know it will end either Friday or Saturday.
There was no qualifying for the NWCA event, so each team could bring a wrestler at each weight, and each weight will have a 32-man bracket. The field will be narrowed to eight wrestlers after Friday's competition at the new Xtream Arena in Coralville, Iowa, a suburb of Iowa City. Those eight "All-Americans" will battle for top honors Saturday.
"Our administration was definitely onboard from the very beginning," Bratland said, "but with COVID there are a lot of moving parts. So it took a little bit of time until those moving parts aligned for them to give us the 100%, but from the very beginning they were like, 'Yes, we want to do this; we just need to make sure that this happens.
"To travel 1,100 miles with 13 people, obviously they're taking on an expense," Bratland said. "It provided and opportunity for our guys, and I think that's what our administration saw."
Coast Guard's entries include a pair of No. 1 seeds – junior Paul Detweiler at 184 pounds and senior Jonathan Wagner at 197, along with second-seeded junior Phil Rogers at 165 pounds. All three qualified for last year's national tournament, as did sophomore 149-pounder Noah Caskey.
"(Spectators) can look forward to seeing wrestlers that are going to wrestle hard for seven minutes, they're going to fight hard and I think that will fit in well with the Iowa style," Bratland said of his trio of high seeds.
Detweiler and Wagner both won their only matches of the season, and Detweiler, a Florida state champion in high school, hasn't lost since his freshman season.
Wagner qualified for the national tournament during his first three seasons, but he has a couple of other multi-time national qualifiers in his weight class. Michael Dooley (3-1), a junior for Stevens Institute of Technology, the third seed, and North Central junior Cody Baldridge, the No. 5 seed, both qualified during their freshman and sophomore seasons. Second-seeded Logan Hagerbaumer (9-0) and fourth seed Gabe Zierden (2-0) of Concordia-Moorhead qualified for the NCAA meet last year.
At 184, Loras' second-seeded sophomore Shane Liegel, who won three high school state titles in Wisconsin, and third-seeded senior David Stevens of Messiah are the only other wrestlers with national tournament experience, but fourth seed Nick Rogge of Augsburg is 7-0.
As one of the few East Coast teams that competed this season, Coast Guard comes in with wrestlers few outside of the East have seen the past two years.
"We have some guys that are nationally ranked and have been nationally ranked for numerous years, so there is film out on those guys – they're not secrets, really," Bratland said. "Anybody that's younger and maybe coming into their own right now, they would not have any film on those guys; that could be problematic. But it can go the other way around."
Few have had a chance to see the Bears this season. They wound up with just two dual meets.
"It was very difficult," Bratland said. "My assistant, Coach Dylan Foley, and myself probably went through 12 iterations of a schedule, just trying to navigate testing protocols, what schools were wrestling. It was very overwhelming; it was very difficult."
While almost half of the field represents Division III's Lower Midwest Regional, which includes all of the Iowa schools, each of the six regionals will have at least one representative. Coast Guard, located in New London, Connecticut, has the longest trip by more than 100 miles. (New Jersey schools Stevens Institute of Technology and New Jersey City are both right around the 1,000-mile distance.)
For Bratland, it's a return to his home state. He was a national runner-up on the 2003 Wartburg team that placed all 10 wrestlers in the top six and holds the Division III tournament scoring record, and his parents still live in Humboldt, in north-central Iowa.
For all the competitors, it's a chance to wrestle about 20 miles south down Interstate 380 from Cedar Rapids, where last year's national tournament was canceled the day before it was set to begin.
But the reminder of the pandemic remains present.
"We're just getting ready to do our second COVID test of the week," Wartburg Coach Eric Keller said Wednesday morning. "We've got to do two more tomorrow and one on Friday, so what crazy times."
Tournament Director Dick Simmons said on a recent podcast that not only will there be testing done, but 12 wrestlers were seeded at each weight so wrestlers could easily be moved up in the pecking order if someone tested positive.
Keller said the pandemic had affected the members of his team, as well as those throughout Division III and wrestling in general.
"For our guys, I think there's a couple of things that come to mind," he said. "Their attitude this year, just being gracious for every opportunity we have to compete, and it obviously was a year of roller-coaster emotions because we went from thinking we were going to have a national tournament – obviously, we knew in the back of our heads there was the potential the NCAA could cancel, but we just never allowed ourselves to go down that path mentally. … It came as a shock to us when it did happen.
"But one of things I've been most impressed with our guys is through it all their resiliency and their mindset of 'I'm going to continue to strive to be the best I can be.' "
A year ago, Augsburg was the defending champion, had a lineup that included four returning national champions, and the Auggies sought to pull even with Wartburg at 14 national championships. That chance never came.
"Last year, not just us, but everybody in our division, felt the same disappointment of not being able to compete," Augsburg Coach Jim Moulsoff said.
Loras, which weeks earlier had ended Wartburg's three-decade reign atop the American Rivers Conference (formerly the Iowa Conference) standings, was set to challenge the Auggies with hopes of ending "The Burgs' " 25-year stranglehold at the top of Division III.
Both Augsburg and Loras suffered major graduation losses, but both feature strong lineups again this season.
"They're talented (and) only young in sense of year at school," Moulsoff said of this year's lineup that brings three freshmen and four sophomores to Iowa. "They know the capability of each other – what they can do – and I think they're really just excited for the opportunity this weekend to show what they're capable of doing."
Although the Auggies have had more mat time than Coast Guard this season, they also experienced a schedule that never seemed completely set.
"This season has challenged us with COVID protocol and things of that nature," Moulsoff said. "It has been a roller-coaster ride, not just for us but everybody. But they have done a great job of knowing what the goal is and only focusing on today and not tomorrow. Once they realized that they were fortunate to have the opportunity to train – a lot of schools didn't even have a season or weren't practicing – looking at how fortunate they are to have that, to have today to get better and get prepared, not focusing on what they don't have – once we got that message across, accepting that, it's easier for them to handle the ups and downs.
"It made them a tighter group of guys."
One of the lower points was when the team learned their would be no NCAA Championships again.
"Being realistic, going into the season knowing that there's that potential in the back of your mind that probably that the decision the NCAA made was coming. After they made the decision, there was a little self-pity, naturally that anyone would take.
"When the NWCA stepped up to provide the opportunity for a national tournament the kids focused again on something to work toward at the end. There was going to be an event they could train for, and that gave them a purpose for their training.
"It's not the NCAA, but at the same time it is a national tournament, and we're thankful the NWCA stepped up like they did, and being grateful for the opportunity, changed a lot of people's attitudes because there was something at the end to train for. I think that's what's the exciting part."
Including those wrestlers who qualified last year when the tournament was canceled, 45 enter this year's meet as returning national qualifiers, and nine of those have earned All-America honors in past Division III tournaments.
Leading that contingent are top seeds Brett Kaliner of Stevens at 149 pounds and Millikin's Bradan Birt at 157. Each is a two-time All-American.
Kaliner, the 2018 runner-up at 141 who took third at 149 in 2019, is unbeaten in four matches this season.
Wartburg's Brady Fritz (7-2), who placed sixth at 141 in 2019, is the second seed, followed in the seedings by conference rivals Zeke Smith of Loras at No. 3, Josh Gerke (7-1) of Coe, who pinned Fritz in a dual, at No. 4 and returning national qualifier Rob Areyano (5-3) of Central at No. 5. Another 2020 national qualifier, Greensboro's Hai Siu, is the sixth seed.
Birt finished sixth at 157 in 2019 after taking seventh at 149 the year before.
Birt's older brother Tristan is the top seed at 165, and they hope to do what their father – Millikin Coach Ryan Birt – did in 1999 and win a Division III championship.
Second-seeded David Hollingsworth of Wartburg and third-seeded Tyler Shilson are among those hoping to deny Bradan Birt at 157. Hollingsworth was a two-time junior college All-American at Iowa Lakes, and Shilson is 5-0 for Augsburg after transferring in from Division I Tennessee-Chattanooga after and earlier stop at the University of Wisconsin.
Coast Guard's Rogers (2-0) and Wartburg's Zane Mulder (10-0), a transfer from Iowa State, bring unblemished records to Coralville and are seeded second and third, respectively, behind Tristan Birt at 165.
Wartburg joins Millikin and Coast Guard with two top seeds.
"I feel we're in a great place," Keller said of where the Knights are entering the end-of-the-year tournament when compared with other years despite the shorter season. "We're prepared, they're still fresh. … Maybe shy a little bit of multiple-day competition … but otherwise I think it's been great."
With one exception – a dual that was made up later in the season – Wartburg's schedule came off without a hitch, starting in early January with a dual at Division I Iowa State and ending with a late-season schedule addition of a dual with North Central. The Knights finished 9-1 in duals, 8-0 in the American Rivers Conference and regained the league title.
Wartburg's top seeds are unbeaten Kyle Briggs (9-0), a two-time national qualifier who placed third at 174 in 2019, and Kristian Rumph (9-1) at 141, also a two-time qualifier and the top seed at 133 a year ago.
Briggs must navigate through a field that includes two-time qualifiers Solomon Nielsen (5-0) of Augsburg, Jacob Krakow of Loras and Brian Shermeyer of Messiah. They are seeded second, third and fourth, respectively, and Krakow, who began his career at Wartburg, placed eighth at 174 in 2019.
Besides Rumph, the field at 141 is one of the deepest in the meet and includes three-time qualifier and second seed Jimmy McAuliffe (seventh at 141 in 2018) of Elmhurst; third seed Jalen Schropp of Loras, an undefeated Iowa high school state champion a year ago; fourth seed Riley Wright, who won the Lower Midwest Regional title last year; fifth seed Kyle Slendorn (3-1) of Stevens, the Southeast Regional champion at 133 last year; sixth seed Brandon Woody (13-1) of Averett, a national qualifier in 2019; and seventh seed Mario Vasquez of Ferrum, who placed eighth in 2019.
Woody's teammate Samuel Braswell (12-0), a qualifier each of the past two seasons, is the top seed at 125. Both he and Woody surpassed the 100-win mark for their Averett careers this season. Two other wrestlers at 125 have national tournament experience: second seed Cole Kubesh (1-0) of Concordia-Moorhead was the Upper Midwest Regional runner-up a year ago, and fourth seed Brady Kyner (5-1) of Wartburg qualified in 2019. Seeded between them is Coe's Alex Friddle (8-0), who placed fourth in the Lower Midwest Regional last year.
By contrast, the next weight, 133, includes two former All-Americans who are seeded third (Eron Haynes of Nebraska Wesleyan) and seventh (Levi Englman of Ferrum). Haynes placed eighth at 125 in 2018, while Englman was seventh at 133 in 2019 and a national qualifier at the weight last year.
The top seed at 133 is North Central's Robbie Precin, the Lower Midwest champion as a freshman last year. Second seed Brock Henderson (7-1) of Coe was a national qualifier last year at 133, fourth-seeded freshman Charlie Pickell (5-0) was a five-time Class AA finalist and three-time state champion in Minnesota and fifth seed Josiah Gehr of Messiah was a 2019 national qualifier at 125.
Nico Ramirez of Southern Virginia is the top seed at heavyweight. He was a national qualifier last year and in 2018, while an injury shortened his 2019 season. Olivet's Dominick Wilson is seeded second with Kaleb Reeves (7-1) of Coe third, followed by three 2020 national qualifiers in Wartburg's Jordan Brandon (fourth), Adrian's Isaiah Espinoza (fifth) and Loras' Wyatt Wriedt (sixth).
One thing this year's tournament won't have is team scoring. So for the second year in a row neither Wartburg nor Augsburg – the schools that have won every NCAA title since 1995 – won't get that chance again.
"I'm not going to lie; it is a little disappointing they're not keeping a team score," Keller said. "I haven't heard anyone's rationale why they're not keeping a team score.
"I don't know this, but I'm guessing every team that's competing at this would have liked to have had a team score kept.
"But it's not something we're dwelling on."
Moulsoff said it might be a good idea because COVID has made the season so uneven.
"To a degree there is that aspect of it, but it's something we can't control," Moulsoff said of no team scoring. "And the fact is that with the season the way it was, it's probably a good thing with the inconsistency of the training. It's still an opportunity for these guys to achieve their individual goals."
And team scores or not, people will know which teams come out on top.
"You know someone is going to be keeping score," Moulsoff said. "It might not be official, but I'm hard-pressed to believe that someone's not going to have some data on the outcome at the end of Saturday."
EVENT DETAILS
Date:
March 12-13
Starting Times:
Friday – 11 am | Saturday – 12 pm
Location:
Coralville, IA
Venue:
Xtream Arena
Tickets:
$41 All Sessions | $24 Single Day
How to Watch
: FloWrestling –
Link
Brackets:
TrackWrestling -
Link