NAIA Women's Preview: Campbellsville is No. 1 going into nationals, March 12-13; 10 Olympic Trials spots up for grabs
by Gary Abbott, USA Wrestling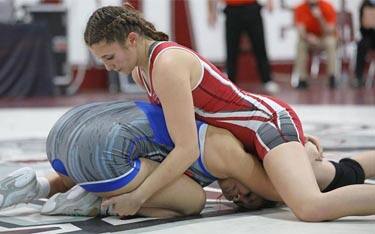 Photo of McKayla Campbell of Campbellsville, courtesy of Campbellsville Athletics.
Everyone involved in NAIA women's wrestling has their fingers crossed right about now.
It was huge news in 2019, when the NAIA named women's wrestling as a national invitational sport. The first NAIA National Invitational was set for Jamestown University. As the teams headed to Jamestown, a huge snowstorm snarled travel. The NAIA switched it from a two-day event to a one-day event, and history was made with the first 10 NAIA Invitational national champion athletes, with Menlo winning the first team title.
In 2020, Jamestown was named to host the event again. As teams were travelling to Jamestown, the NAIA cancelled the event due to the expanding COVID-19 pandemic.
The third NAIA Women's Wrestling National Invitational is scheduled to start tomorrow and complete on Saturday, and so far, everything seems like it is ready to go off exactly as planned. According to the Jamestown press release, the temperatures are expected to be in the low 50's on Saturday.
The NAIA women's wrestling post-season included four conference meets. The Cascade Collegiate Conference decided not to hold a conference meet for both men's and women's wrestling. This did not matter, because the conference meets are not qualifiers and any NAIA women's team could enter the NAIA National Invitational.
No. 1 Campbellsville is fresh off a strong performance at the Mid-South Conference meet, claiming first place with five individual conference champions. The Lady Tigers were led by McKayla Campbell (109), Randi Robison (136), Emma Walker (143), Kendra Thompson (155), and Alexandra Castillo (170).
Campbellsville will bring a full 12-athlete team to Jamestown, and will have a pair of No. 1 seeds: McKayla Campbell (109) and Alexandra Castillo (170). Other Tigers who are seeded in the top four are Randi Robison (No. 2 at 136), Angela Vitirriti (No. 2 at 130), Katlyn Pizzo (No. 3 at 123), Emma Walker (No. 3 at 143) and MaQuoia Bernabe (No. 3 at 191).
Life University was No. 1 going into the post-season, and placed second in the Mid-South Conference behind Campbellsville. They were just one point behind Campbellsville in the final NAIA team poll. The Eagles had two Mid-South champions, Peyton Prussin of Life (116) and Julia Vidallon of Life (123), both who are seeded No. 1 at the nationals.
Wayland Baptist comes into the National Invitational at No. 3 in the coaches poll. They won the Sooner Athletic Conference title with four champions: Nina Pham (101), Asia Ray (109), Desiree Zavala (136) and Olivia Ricci (170). Pham and Zavala are seeded No. 1 at the nationals in their weights. Wayland Baptist brings a full 12 athlete team this year. Ray is a past Junior World bronze medalist and is the only 2019 NAIA champion who is entered in the field this year. She won her national title at 101, beating Pham in the finals. When the NAIA season started, Wayland Baptist was ranked No. 1.
Grand View, a second year program, is ranked No. 4 coming into the meet. Grand View won the Heart of America Conference title, led by five champions: Alaura Couch (101), Emma Cochran (109), Isabella Gonzalez (130), Andrea Schlabach (136), and Hunter Robinson (170). Although the Vikings don't have any No. 1 seeds at nationals, their team depth is expected to keep them right in the hunt at the team race.
Rounding out the top 10 teams in the final poll are No. 5 University of the Cumberlands, No. 6 (tie) Southern Oregon and Univ. of Jamestown, No. 8 Baker, No. 9 Oklahoma City and No. 10 Missouri Valley.
Joining Campbellsville, Life and Wayland Baptist with two No. 1 seeds is Oklahoma City, with Cierra Foster Oklahoma City (155) and Nkechinyere Nwankwo (191). The other two top seeds are Bridgette Duty of the University of the Cumberlands (130) and Waipuliani Estrella Beauchamp of Midland (143).
The host team, No. 6 Jamestown won its third straight KCAC conference title, led by seven individual champions: Rayana Sahagun (109), Josie Bartishofski (116), Arianna Marrufo (123), Alexandra Baudhuin (130), Luisita Jara (136), Sierra Talmadge (170) and Kelly Lacost (191).
In addition to being the annual national championship for NCAA programs, this was also a qualifier for the U.S. Olympic Team Trials – Wrestling in Fort Worth, Texas, April 2-3. According to the procedures, "the highest placed NAIA U.S. athlete per weight category who has yet to qualify will qualify to enter the 2020 U.S. Olympic Team Trials – Wrestling at the weight category she chooses." There will be 10 athletes who will punch their ticket to Fort Worth this weekend at the NAIA event.
There are two student-athletes in the tournament who have already qualified for the U.S. Olympic Team Trials: Julia Vidallon of Life (123) and Alexandra Castillo of Campbellsville (170). Both qualified by winning the 2020 WCWA Nationals, one of the Olympic Trials qualifiers.
You may notice that 2019 NAIA champion Menlo College from California is not entered this year. Menlo did not participate during the NAIA women's wrestling season.
With the growth of NAIA women's wrestling, as well as the expanded depth in many of the programs, the competition will be at a high level.
The event will be broadcast live by FloWrestling.
Click for Visitors Guide
NAIA WOMEN'S WRESTLING NATIONAL INVITATIONAL

At Jamestown, N.D.
Friday, March 11 – First two rounds of championship and consolation competition
• Session I – 9 a.m. (101 lbs. – 130lbs.)
• Session II – 12:30 p.m. (136 lbs. – 191lbs.)
• Session III – 5 p.m. (101lbs. – 130lbs.)
• Session IV – 7 p.m. (136lbs. – 191lbs.)
Saturday, March 12 - Championship Semifinals; Consolation Quarterfinals and Semifinals,3rd, 5th and 7th place matches
• Session V – 10 a.m. (All weight classes)
• Session VI – 7 p.m. (Finals)