News
USA Wrestling
College
USAW
Div. II Preview: With 10 qualifiers, Nebraska-Kearney is No. 1 going into NCAA Div. II Nationals in St. Louis, March 12-13
by Johnny Johnson, Special to TheMat.com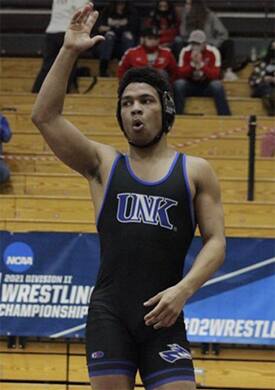 Action image courtesy of UNK wrestling and Colorado Mesa Athletics.
This year's NCAA Championships are slated for March 12-13 at the America's Center Convention Complex in St. Louis, Mo.
The Lopers of Nebraska-Kearney have 92 points in the latest D-2 polls, 14 points ahead of Lindenwood, Mo. with 78 points. Defending national champion and former No. 1 St. Cloud State comes in with 73, Gannon, Pa. has 65, and McKendree, Ill. has 64, to round out the top 5.
For the Lopers, senior Matt Malcom from Iowa moved up a spot to number one at 165 lbs. with fellow Iowa native Josh Portillo, now second at 125 lbs. Next, senior Wesley Dawkins from Nebraska (3rd/133 lbs.), redshirt freshman Nick James of Nebraska (11th/141 lbs.), and senior Sam Turner from Colorado (5th/149 lbs.) maintained their ranking. Finally, senior Jacob Wasser from Pennsylvania (5th/157 lbs.), junior Terrell Garraway of Kansas (6th/174 lbs.), redshirt junior Austin Eldredge of Kansas (10th/184 lbs.), and Sredshirt freshman Joseph Reimers of Nebraska (6th/197 lbs.) each moved up a spot or two in their respective class.
UNK showed why they are to top team in D-2 as the Lopers advanced its entire starting lineup into the finals at the 2021 NCAA Super Region VI Championships Sunday night in Grand Junction, Colo. Nebraska-Kearney scored 121.50 points to win this meet for a third straight year. This also marks UNK's 17th region title since 2000.
To reach that Kearney went a combined 24-5 on the day, winning its first 15 matches. UNK went 5-5 in the finals and capped the long day with a win in a "true" second place match. Atop the regional awards stand this year is Dawkins (133 lbs.), Wasser (157 lbs.), Garraway (174 lbs.), Lee Herrington of Nebraska (285 lbs.), and James (141 lbs.). Dawkins and Wasser repeated as regional champs. Coming in second in their respective class were Malcom (165 lbs.), Portillo (125 lbs.), Turner (149 lbs.), Eldredge (184 lbs.) and Reimers (184 lbs.).
The Lindenwood wrestling team has moved up one spot to No. 2 in the NWCA Poll, which was released on Friday. The Lions are just 14 points behind former MIAA-foe, Nebraska-Kearney for the top position in the country. Lindenwood moves ahead of previously No. 1 St. Cloud State, which sits at No. 3. The Lions have five weight classes represented in the rankings, as two hold the top spot in their respective divisions: Gavin Londoff (149) and Abner Romero (174)
remain the top ranked wrestlers. Londoff capped off a perfect record of 6-0 in the regular season during the Lindenwood victory over UIndy to claim the 2021 GLVC Championship. Romero was 5-0 on the year, including a win over previously No. 6 Josh Jones of McKendree. The Fresno, Calif. native recently recorded a victory over a NCAA Division I wrestler from Iowa State at the end of January.
For the Lions, Colby Smith stays at No. 2 in the 141-pound weight class, as his 5-1 record has been impressive as of late. Smith suffered a tough 2-0 loss to the No. 5 ranked wrestler in NCAA Division I, but has since recorded a pin and a major decision. Ronnie Gentile is quickly working his way to the top, as the 157-pounder powered his way to No. 3 in his weight class. Gentile recently registered a pin, keeping his Division II record without a blemish.
Lindenwood wrestlers Tanner Hitchcock, Colby Smith, Gavin Londoff and Abner Romero each won Super Regional IV Championships Sunday evening in Edmond, Okla. Lindenwood qualified five wrestlers for the 2021 NCAA Division II Wrestling National Championships, as all four winners plus Ronnie Gentile earned automatic invitations to the championships.
Previously top ranked and 2019 NCAA defending Champions St. Cloud won the Super Region V title for the fifth consecutive year, as eight Huskies qualified for nationals. Seven of St. Cloud State's earned automatic bids to the NCAA Championships after finishing first or second at the regional championship Saturday. Garrett Vos (133), Joseph Bianchini (141), Garrett Aldirch (149), Devin FitzPatrick (165), Billy Pitzner (184) Noah Ryan (197) and Kameron Teacher (285) all earned automatic bids to the championship while Colby Njos (157) earned an at-large bid Monday afternoon. The Huskies eight qualifiers are the most of any team in the Northern Sun Intercollegiate Conference (NSIC) by a wide margin, as the next closest is four wrestlers from Upper Iowa.
Top wrestlers at each weight in D2 include
:
125 Mason Turner, Fort Hays State
133-- Garrett Vos, St. Cloud State
141 - Isiah Royal ,Newberry
149 - Gavin Londoff, Lindenwood
157 - James Wimer of Findlay
165 - Matt Malcom, Nebraska-Kearney
174 - Abner Romero, Lindenwood
184 - Heath Gray, Central Oklahoma
197 - Ryan Vasbinder, McKendree
285 i- Kameron Teacher, St. Cloud State.
The brackets (PDF)
have been released for the 2021 NCAA Division II Wrestling Championships with top-ranked Nebraska-Kearney receiving nine seeds.
For this year, due to the pandemic, the field has been cut from 180 to 132 wrestlers and the schedule has changed as well. There'll be one session Friday (noon- 5p.m.), another on Saturday (noon-5 p.m.) and then finals (7 p.m.-9:30 pm.).
The brackets and top eight seeds in each weight class have been set by a panel of head coaches.UNK is the only school to qualify its starting lineup.
Live results and a live video stream of all the action will be available at
www.ncaa.com
.
| | | |
| --- | --- | --- |
| RANK | SCHOOL | POINTS |
| 1 | Nebraska-Kearney | 92 |
| 2 | Lindenwood | 78 |
| 3 | St. Cloud State | 73 |
| 4 | Gannon | 65 |
| 5 | McKendree | 64 |
| 6 | Central Oklahoma | 54 |
| 7 | Ashland | 47 |
| 8 | West Liberty | 44 |
| 9 | Adams State | 43 |
| 9 | Mercyhurst | 43 |
| 11 | Minnesota State | 38 |
| 12 | Indianapolis | 37 |
| 13 | Findlay | 27 |
| 13 | UW-Parkside | 27 |
| 15 | Fort Hays State | 26 |
| 16 | Colorado School of Mines | 24 |
| 17 | Drury | 23 |
| 18 | Colorado Mesa | 22 |
| 18 | Tiffin | 22 |
| 20 | Newberry | 21 |
| 21 | Upper Iowa | 19 |
| 22 | Maryville | 18 |
| 23 | Newman | 16 |
| 24 | UNC Pembroke | 14 |
| 25 | Notre Dame | 13 |