News
USA Wrestling
College
USAW
UPDATE: Grand View rallies in consolations for slim 2.5-point lead over Life after day one of NAIA Nationals
by Gary Abbott, USA Wrestling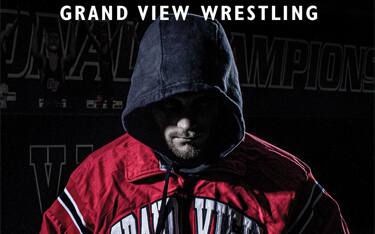 Graphic courtesy of Grand View Wrestling Twitter
After the Friday night quarterfinals of the NAIA National Wrestling Championships in Wichita, Kansas, the team standings was clearly a bit of a shocker.
No. 3 ranked Life University was in the lead with 83 points, while nine-time consecutive NAIA national champions and No. 1 Grand View was in second with 75 points.
However, the NAIA ran the tournament all the way through the blood rounds this year, going through the consolations until it determined all the All-Americans for the year. After a rally in the consolations, Grand View reclaimed a slim 2.5 point lead over Life, 98 points to 95.5 points.
Grand View is attempting to become the first college team ever to win 10 straight national titles, regardless of level. They are currently tied at nine-straight with NCAA Div. I power Iowa, coached at the time by the legendary Dan Gable.
Grand View sends four to Saturday's semifinals, after bringing a full 12-person team to Wichita, with every athlete seeded in the top four of their weight class. Grand View's semifinalists are No. 1 Justin Portillo (125), No. 2 Carson Taylor (133) , No. 3 Giovanni Bonilla (157) and No. 2 Greg Hagan (285).
Grand View led in the morning session, but four of Grand View's high seeds were knocked off in the quarterfinals. At 141, No. 2 seed Kendon Lee of Grand View was beaten in sudden victory by No. 7 Ryan Moore of Thomas More. Then at 149, No 4 seed Marty Margolis of Grand View fell to No. 5 Denver Stonecheck of Life, 10-7. After the 149 semifinals were concluded, Life led Grand View by six team points.
Two more high Grand View seeds fell in the upper weights. No. 1 seed Kyle Caldwell was defeated by No. 8 seed Frederick Padilla of Vanguard, 7-0 at 165. Then No. 2 seed Casey Randles was upset by Life's No. 10 seed Asher Eichert, 8-2 at 174 pounds.
After the consolation rounds had ended, Grand View had earned 10 All-Americans, with six wrestlers eligible to wrestle back to third place. The only two Grand View wrestlers knocked out with two losses were No. 2 seed Kendon Lee (141) and No. 2 Dalton Jensen (165). Grand View's path to their 10th straight title clearly includes more success on the back side of the bracket.
Life's chance to win could happen on the winner's side of the bracket. The seven Life wrestlers in the semifinals are No. 4 seed Brandon Orum (125), No. 3 Randy McCray (125), No. 3 seed Tyree Johnson (141), No. 5 seed Denver Stonecheck (149), No. 4 seed Sid Ohl (165) , No. 10 seed Asher Eichert (174) and No. 4 seed Zane Lanham (197).
Life brought a maximum 12-athlete team to the NAIA Tournament, and has also secured 10 All-Americans, with three still on the consolation side of the bracket. A strong semifinal performance on Saturday morning could make a huge difference in the team race for Life.
Rounding out the top five after day one are Lindsey Wilson in third with 64.5 points, Reinhardt in fourth with 50 points and Indiana Tech in fifth with 43 points.
Returning champions who are in the semifinals and have a chance to repeat include two-time national champion Brandon Reed of Lindsey Wilson (285), plus Baterdene Boldmaa of Doane (141) and Brennan Swafford of Graceland (174).
NAIA NATIONAL CHAMPIONSHIPS
At Wichita, Kansas, March 5, 2021

Semifinal pairings
125
1 Justin Portillo (Grand View) vs. 4 Brandon Orum (Life)
2 Lucas Nelson (Brewton-Parker) vs. 3 Randy McCray (Life)
133
1 Matt Gimson (Indiana Tech) vs. 5 Esco Walker (Cumberland)
2 Carson Taylor (Grand View) vs. 3 Conner Gimson (Indiana Tech)
141
1 Baterdene Boldmaa (Doane) vs. 4 Blake Mulkey (Marian)
3 Tyree Johnson (Life) vs. 7 Ryan Moore (Thomas More)
149
Jack Latimer (Arizona Christian) vs. 5 Denver Stonecheck (Life)
6 John Fox (York) vs. Andreus Bond (Southeastern)
157
1 Nolan Saxton (Reinhardt) vs. 5 Wilder Wichman (Thomas More)
2 Derrick Smallwood (Lindsey Wilson) vs. 3 Giovanni Bonilla (Grand View)
165
8 Frederick Padilla (Vanguard) vs. 4 Sid Ohl (Life)
3 Elias Vaoifi (Missouri Valley vs. Kyle Kirkham (Southeastern)
174
1 Brennan Swafford (Graceland) vs. 5 Isaiah Luellen (Baker)
3 Armon Fayyazi (Vanguard) vs. 10 Asher Eichert (Life)
184
9 Tyson Beauperthy (Midland) vs. 4 Tyler Hall (Lindsey Wilson)
6 Drew Sams (Graceland) vs. 2 Eric Vermillion (Indiana Tech)
197
1 Isaac Bartel (Montana State - Northern) vs. 4 Zane Lanham (Life)
2 Trevor Lawson (Lindsey Wilson) vs. 3 Antonio Stewart (Reinhardt)
285
1 Brandon Reed (Lindsey Wilson) vs. 4 Patrick Depiazza (Cumberland)
2 Greg Hagan (Grand View) vs. 3 Aaron Johnson (Cumberlands)
Quarterfinal results
125
1 Justin Portillo (Grand View) won by major decision over 8 Carter Cox (Cumberland) Maj 8-0
4 Brandon Orum (Life) won by major decision over Gage Hudson (Cumberlands) Maj 15-5
3 Randy McCray (Life) won by decision over 6 Isaac Crowell (Southeastern) Dec 6-3
2 Lucas Nelson (Brewton-Parker) won by decision over 7 Daniel Vargas (Doane) Dec 6-4
133
1 Matt Gimson (Indiana Tech) won by fall over 8 Dominick Arellano (Baker) Fall 1:56
5 Esco Walker (Cumberland) won by decision over 4 Nick Kunz (Montana State - Northern) Dec 6-4
3 Conner Gimson (Indiana Tech) won in tie breaker - 1 over 6 Mario Ybarra (Concordia) TB-1 2-1
2 Carson Taylor (Grand View) won by fall over 10 Taylor Vasquez (Morningside) Fall 1:32
141
1 Baterdene Boldmaa (Doane) won by decision over 9 Austin Wallace-Lister (Warner Pacific) Dec 8-3
4 Blake Mulkey (Marian) won by major decision over 12 Bryce Nickel (Cumberlands) Maj 10-2
3 Tyree Johnson (Life) won by decision over 6 Nick Henneman (Lourdes) Dec 6-5
7 Ryan Moore (Thomas More) won in sudden victory - 1 over 2 Kendon Lee (Grand View) SV-1 7-5
149
Jack Latimer (Arizona Christian) won by decision over 9 John Deiner (Morningside) Dec 7-3
5 Denver Stonecheck (Life) won by decision over 4 Marty Margolis (Grand View) Dec 10-7
6 John Fox (York) won by fall over Brock Rodriguez (Providence) Fall 6:12
Andreus Bond (Southeastern) won by decision over 10 Nate Wheeler (Indiana Tech) Dec 6-2
157
1 Nolan Saxton (Reinhardt) won by decision over 8 Brice Coleman (Indiana Tech) Dec 5-3
5 Wilder Wichman (Thomas More) won in sudden victory - 1 over 4 Tanner Abbas (Grand View) SV-1 3-1
3 Giovanni Bonilla (Grand View) won by fall over 6 Jack Bass (Life) Fall 6:51
2 Derrick Smallwood (Lindsey Wilson) won by decision over 7 Israel Casarez (Graceland) Dec 8-2
165
8 Frederick Padilla (Vanguard) won by decision over 1 Kyle Caldwell (Grand View) Dec 7-0
4 Sid Ohl (Life) won by decision over 5 Cole Smith (Cumberland) Dec 10-4
3 Elias Vaoifi (Missouri Valley) won by decision over Elliott Rodgers (Marian) Dec 9-8
Kyle Kirkham (Southeastern) won by decision over David Rubio (Corban) Dec 7-3
174
1 Brennan Swafford (Graceland) won by major decision over 9 Jonah Egli (Morningside) Maj 13-0
5 Isaiah Luellen (Baker) won by decision over 4 Jarod Swank (Cumberlands) Dec 10-7
3 Armon Fayyazi (Vanguard) won in sudden victory - 1 over 6 Mahlic Sallah (Campbellsville) SV-1 3-1
10 Asher Eichert (Life) won by decision over 2 Casey Randles (Grand View) Dec 8-2
184
9 Tyson Beauperthy (Midland) won by decision over Baker Hadwan (Life) Dec 4-3
4 Tyler Hall (Lindsey Wilson) won in tie breaker - 1 over 12 David Richardson (Campbellsville) TB-1 4-3
6 Drew Sams (Graceland) won by decision over Trajan Hurd (Lindsey Wilson) Dec 7-1
2 Eric Vermillion (Indiana Tech) won in sudden victory - 1 over 10 Sam Osho (Marian) SV-1 4-2
197
1 Isaac Bartel (Montana State - Northern) won by tech fall over 8 Carson Savage (Ottawa) TF 18-2
4 Zane Lanham (Life) won by decision over 5 Diallo Matsimella (Life) Dec 2-1
3 Antonio Stewart (Reinhardt) won by fall over 6 Easton Rendleman (Oklahoma City) Fall 6:44
2 Trevor Lawson (Lindsey Wilson) won by decision over 10 Jack Servies (Marian) Dec 6-1
285
1 Brandon Reed (Lindsey Wilson) won by fall over Joel Faglier (Brewton-Parker) Fall 1:49
4 Patrick Depiazza (Cumberland) won by decision over 5 Maleek Caton (Williams Baptist) Dec 3-2
3 Aaron Johnson (Cumberlands) won by decision over 6 Noel Orozco (Eastern Oregon) Dec 6-0
2 Greg Hagan (Grand View) won by fall over 7 Joshua Isaac (Missouri Valley) Fall 2:43
Team Standings after day one
1 Grand View, 98.0
2 Life, 95.5
3 Lindsey Wilson, 64.5
4 Reinhardt, 50.0
5 Indiana Tech, 43.0
6 Cumberland, 38.5
7 Cumberlands, 36.5
8 Southeastern, 35.0
9 Thomas More, 32.5
10 Graceland, 31.0
11 Baker, 29.0
12 Missouri Valley, 27.0
13 Montana State – Northern, 27.0
14 Doane, 23.0
15 Lourdes, 23.0
16 Vanguard, 22.5
17 Marian, 21.0
18 Eastern Oregon, 18.5
19 Williams Baptist, 18.0
20 Morningside, 17.5