News
USA Wrestling
College
USAW
NAIA Nationals underway in Kansas; verified brackets have some changes
by Johnny Johnson, Special to TheMat.com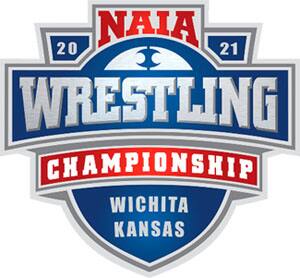 The NAIA National championships have kicked off in Wichita, Kansas, at the Hartman Arena. The 64th annual event consists of four sessions, concluding Saturday with the championship finals at 7 p.m. CT. All matches at the national championships will be stream live via Trackcast. To access that stream,
click here.
Additionally, the championship session on Saturday will also be distributed on ESPN3 (
www.watchespn.com
).
Fifty-two schools are represented at this year's national championships. Nine-time defending National Champion, Grand View (Iowa), is one of four teams with a full 12-man roster. Life (Ga.), Missouri Valley, Reinhardt (Ga.) also bring a full roster to Wichita. Individually, Two-time national champion, Brandon Reed (285) of Lindsey Wilson returns looking to earn his third individual title. There are three other individuals also returning to defend their national titles including Nick Kunz of Montana State-Northern, Baterdene Boldmaa of Doane (Neb.) and Brennan Swafford of Graceland (Iowa).
The top ranked wrestlers to watch at the NAIA tournament include 125 – Justin Portillo, Grand View (Iowa); 133 – Matt Gimson (Indiana Tech).); 141 – Baterdene Boldmaa, Doane (Neb.); 149 – Trent Johnson (Lindsey Wilson),157 – Nolan Saxton, Reinhardt (Ga.); 165 – Kyle Caldwell, Grand View; 174 – Brennan Swafford, Graceland (Iowa); 184 – Riley Jaramillo, Saint Mary (Kan.); 197 – Issac Bartel, Montana State-Northern; and 285 – Brandon Reed, Lindsey Wilson (Ky.).
Looking for ten, the Vikings are only the second program in collegiate wrestling history (NAIA, NJCAA, NCAA) to garner nine straight titles. The other program to do so are NCAA Division I Iowa (six-straight (1995-2000) and nine-straight (1978-1986). Grand View "over-took" NCAA Division I Oklahoma State (seven-straight (1937-1949)) and NCAA Division II Cal Poly (seven-straight (1968-1974)) with their eight titled last March (2019), and has the second most consecutive title for any program regardless of division. In March 2021, Grand View wrestling WILL become the MOST dominant wrestling program in the nation regardless of their classification when they win their ten title in Wichita! There is no Iowa State lurking in the weeds that would derail the Viking Train, the race in NAIA will be for second place
Official brackets for the 2021 NAIA Men's Wrestling National Championships have been released, and the brackets were verified and approved by the NAIA-Wrestling Coaches Association Bracketing Committee Thursday afternoon but are subject to change due to Covid-19. For more information on NAIA wrestling,
click here
.