News
USA Wrestling
College
USAW
Brooks goes to No. 1 at 184, Arizona State moves up to No. 7 in TrackWrestling Div. I rankings
by Andy Hamilton, TrackWrestling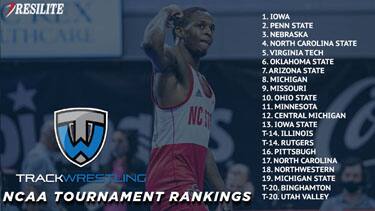 The first weekend of conference tournament action led to sweeping changes in the latest edition of the Trackwrestling Division I Rankings presented by Reslite.
There's a new No. 1 at 184 pounds, a shakeup inside the top 10 in the team standings and movement throughout all 10 weight classes.
Penn State sophomore Aaron Brooks moved to the top of the 184-pound chart this week after North Carolina State's Trent Hidlay toppled previous No. 1 Hunter Bolen of Virginia Tech in the ACC finals. Hidlay's win win also helped the Wolfpack move past the Hokies and into the No. 4 spot in the team standings.
Iowa continues to hold a firm grip on the No. 1 spot with 142 projected NCAA placement and advancement points, followed by Penn State (71.5), Nebraska (67), North Carolina State (57), Virginia Tech (56) and Oklahoma State (55).
Arizona State (51) moved up a notch after winning the Pac-12 title. Michigan (48.5), Missouri (41) and Ohio State (40.5) round out the top 10.
The rankings, which are linked below, do not include wrestlers from conferences and schools that have stated plans not to compete during the 2021 season due to the COVID-19 pandemic.
The Trackwrestling team rankings are based strictly on the number of advancement and placement points each squad would accumulate if its wrestlers finished in those ranking slots at the NCAA Championships. Top-ranked wrestlers earn 20 points, followed by 16 for second, 13.5 for third, 12.5 for fourth, 10 for fifth, 9 for sixth, 6.5 for seventh, 5.5 for eighth, 2 for spots 9-12, 1.5 for spots 13-16 and 1 for 17-25. Team dual outcomes are not factored into the team rankings.
The Trackwrestling rankings include 33 wrestlers at each weight class, representing the number of wrestlers who qualify for the NCAA Championships.
Do you have questions or comments on the Trackwrestling rankings? Email us with feedback at rankings@trackwrestling.com.
| Rank | School | Points |
| --- | --- | --- |
| 1 | Iowa | 142 |
| 2 | Penn State | 71.5 |
| 3 | Nebraska | 67 |
| 4 | North Carolina State | 57 |
| 5 | Virginia Tech | 56 |
| 6 | Oklahoma State | 55 |
| 7 | Arizona State | 51 |
| 8 | Michigan | 48.5 |
| 9 | Missouri | 41 |
| 10 | Ohio State | 40.5 |
| 11 | Minnesota | 37 |
| 12 | Central Michigan | 34 |
| 13 | Iowa State | 33.5 |
| T-14 | Illinois | 30.5 |
| T-14 | Rutgers | 30.5 |
| 16 | Pittsburgh | 29 |
| 17 | North Carolina | 27.5 |
| 18 | Northwestern | 26 |
| 19 | Michigan State | 20 |
| T-20 | Binghamton | 16 |
| T-20 | Utah Valley | 16 |
| 22 | Rider | 15.5 |
| T-23 | Oklahoma | 15 |
| T-23 | Stanford | 15 |
| T-23 | Wyoming | 15 |
| 26 | Northern Iowa | 14 |
| 27 | Purdue | 13 |
| T-28 | Indiana | 12.5 |
| T-28 | South Dakota State | 12.5 |
| T-30 | Northern Colorado | 12 |
| T-30 | West Virginia | 12 |
| T-32 | Northern Illinois | 11 |
| T-32 | Virginia | 11 |
| T-34 | Campbell | 6 |
| T-34 | Lehigh | 6 |
| T-36 | Appalachian State | 5.5 |
| T-36 | Army West Point | 5.5 |
| T-36 | Navy | 5.5 |
| 39 | Oregon State | 4.5 |
| T-40 | Air Force | 3 |
| T-40 | Cal Poly | 3 |
| T-40 | Chattanooga | 3 |
| T-40 | Edinboro | 3 |
| T-40 | North Dakota State | 3 |