News
USA Wrestling
International
Women
USAW
Anthony wins bronze at Outstanding Ukrainian Memorial; McFadden goes 1-1 but does not reach repechage
by Gary Abbott, USA Wrestling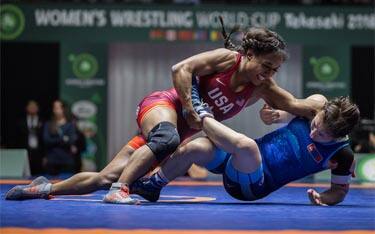 Victoria Anthony hits an ankle pick at the Women's World Cup. Photo by Max Rose Fyne, United World Wrestling.

KIEV, Ukraine – Two-time Senior World Team member and two-time Junior World champion Victoria Anthony (Phoenix, Ariz./Sunkist Kids) won a bronze medal at 50 kg on the second day of the Outstanding Ukrainian Wrestlers and Coaches Memorial International on Saturday.
Anthony opened Saturday in repechage, where she dominated Veronika Moskolova of Ukraine in a 10-0 technical fall to qualify for the bronze-medal match.
Anthony earned the bronze medal with a pin in 5:24 over Lilia Malanchuk of Ukraine, who was seventh in the 2019 Junior World Championship
On Friday, Anthony opened with an injury default win over 2019 World silver medalist Alina Vuc of Romania. In the quarterfinals, she was defeated by 2018 World bronze medalist Oksana Livach of Ukraine, in an 11-0 technical fall. Livach made the finals, pulling Anthony into Saturday's repechage. Livach eventually went on to win the gold medal.
2020 U23 Nationals champion David McFadden (Philadelphia, Pa./Pennsylvania RTC/Titan Mercury WC), went 1-1 at 79 kg on Saturday. He opened with a impressive 12-2 technical fall over 2019 U23 World champion Tariel Gaphrindashvili of Georgia, displaying some great offensive skill. He then dropped a tight 6-4 decision to Vasyl Mykhailov of host Ukraine.
Mykhailov reached the semifinals, where he was beaten by 2018 U23 World champion Nika Kentchadze of Georgia, 3-0. This meant that McFadden was not eligible for the repechage.
On Friday, Junior and U23 World medalist Joey McKenna (Philadelphia, Pa./Titan Mercury WC/Pennsylvania RTC) went 2-1 at 65 kg, but did not qualify for the repechage.
OUTSTANDING UKRAINIAN MEMORIAL INTENRATIONAL

At Kiev, Ukraine, Feb. 26


U.S. women's freestyle results
50 kg: Victoria Anthony, Phoenix, Ariz. (Sunkist Kids), bronze medal
WIN Emilia Vuc (Romania), inj. dft.
LOSS Oksana Livach (Ukraine), tech. fall 11-0
WIN Veronika Moskalova (Ukraine), tech. fall 10-0 2:12
WIN Lilia Malanchuk (Ukraine), pin 5:24
Saturday's U.S. men's freestyle results
79 kg - David McFadden (Philadelphia, Pa./Pennsylvania RTC/Titan Mercury WC)
WIN Tariel Gaphrindashvili (Georgia), tech. fall 12-2, 4:46
LOSS Vasyl Mykhailov (Ukraine), 6-4
Friday's U.S. men's freestyle results
65 kg - Joseph McKenna, Philadelphia, Pa. (Titan Mercury WC/Pennsylvania RTC)
WIN Amar Laissaoui (Algeria), tech. fall 12-2, 1:03
WIN Niurgun Skriabin (Belarus), 10-3
LOSS Turan Bayramov (Azerbaijan), 5-1