News
USA Wrestling
International
College
High School & Youth
USAW
Celebration of Life for Mark Halvorson on February 25, and other memorial information
by Provided by California USA Wrestling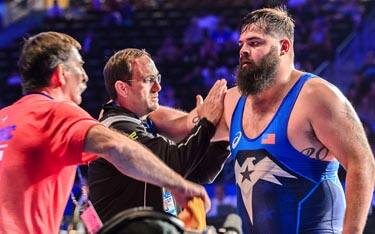 Mark Halvorson coaches Robby Smith at the 2015 World Championships. Photo courtesy of Tony Rotundo, Wrestlers Are WarriorsCoach Mark Halvorson's Celebration of Life

Thursday, February 25th

10:30 AM PT
A Vigil will be held on Saturday February 28th at the CYC.
Live Video:
https://www.higginsmortuary.com/tributes/Mark-Halvorson
Tribute
Mark passed away on February 15, 2021. Mark was the son of James Halvorson and Ellen Pillisi Halvorson, and brother of Randall Halvorson. He is survived by his father James, stepmother Sharon, stepsister Kelley, nephew Gavin Hummel, girlfriend Linda Nguyen and beloved Lola. He was preceded by his mother Ellen and brother Randall.
Mark was a 2016 Olympic Greco-Roman coach and long-time coach and leader within USA Wrestling and California USA Wrestling. Mark was the head wrestling coach for the Community Youth Center of Concord (CYC) and varsity head wrestling coach at De La Salle High School in Concord.
---
Due to COVID-19, the memorial service and burial are private and invitation only.
On Thursday, February 25 at 10:30 - 11:30am (PST), a private memorial service will be held at Higgins Chapel.
For those who would like to join virtually in honoring Mark, a Live broadcast will be available. Click on the link and enter the PIN number.
Link:
https://www.viewlogies.net/higgins/_epWHjTO0
PIN: 125-794
The Live broadcast will be recorded as a keepsake. Please come back anytime to re-watch. For technical support, please call (415) 763-8439 or email support@viewlogies.com.
A private burial will be held at Brentwood Union District Cemetery.
~
In lieu of flowers and gifts, we ask that you consider a tax-deductible contribution to West Coast Greco Regional Training Center.
Mark had the vision to create a wrestling non-profit of his own. This vision came to life in 2020 when he created the West Coast Greco Regional Training Center. The public and charitable purposes of the corporation are to promote and advance the sport of wrestling throughout the Bay Area, state of California, as well as the West Coast of the United States, for amateur wrestling at the National and International levels. The mission of the WCGRTC is for individuals to meet their full human potential in athletics, academics, and life by promoting quality opportunities in a positive environment for youth and Olympic hopefuls in the sport of wrestling.
Checks can be made out to West Coast Greco Regional Training Center
Please mail your gift to:

WCGRTC

PO Box 5665

Concord, CA 94524
Contact: westcoastgreco@gmail.com or speak with Dan Pease (925) 759-3888
WCGRTC is a 501(c)(3) nonprofit organization registered with the IRS. Tax ID Number 85-1277388. Contributions are tax-deductible to the extent provided by law.
You may also consider making donations directly to Community Youth Center - Wrestling or De La Salle High School Wrestling Programs.
To plant a tree in memory of Mark Allen Halvorson,
please click here.