News
USA Wrestling
International
Women
USAW
Snyder wins three bouts, Dake and Arujau take two wins each in the loaded Nittany Lion WC 5 card
by Gary Abbott, USA Wrestling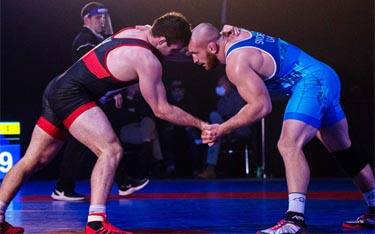 Gabe Dean and Kyle Snyder lock up in their featured bout. Snyder won three matches during the night. Photo by Carie Dernlan.
STATE COLLEGE, Pa. - Preparation for the U.S. Olympic Team Trials – Wrestling was business No. 1, as a number of the nation's best Olympic-style wrestlers got in some important matches during the Nittany Lion WC 5 card on Tuesday evening at C3 Sports.
There were 17 Senior-level bouts on the main card, featuring both men's and women's freestyle wrestling. What made this card so interesting was the fact that a number of the wrestlers agreed to compete in more than one match as a way to get valuable match experience only a few weeks prior to the Trials in Fort Worth, Texas.
2016 Olympic champion and two-time World champion Kyle Snyder won all three of his matches on the card
Snyder opened his night with the first match on the card, defeating 2020 Senior Nationals runner-up Nate Jackson, 6-1. Snyder scored two takedowns and two step outs, while allowing one step out while taking a shot.
In his second bout, Snyder secured an 11-0 first-period technical fall over Scottie Boykin, including a four-point takedown with three seconds left in the period. Snyder added two other takedowns and a stepout.
His third match was against 2020 Senior Nationals champion and two-time NCAA champion Gabe Dean. Snyder finished his day with a powerful 13-2 technical fall. Snyder had five takedowns, a gut wrench and a step out point, while Dean was able to secure a second-period takedown.
Although 11 athletes agreed to wrestle more than once, only three of them were able to finish the night undefeated.
Two-time World champion Kyle Dake won two matches against past stars from Penn State. In his first bout, Dake took on two-time NCAA champion Vincenzo Joseph, securing a 10-0 victory. Dake led 7-0 at the break, then closed it out with a step out and a takedown in the second period.
In the final bout of the evening, Dake defeated three-time NCAA champion Jason Nolf, 5-0. In the first period, Dake scored an impressive four-point chest lock throw and got another step out point. There were no points scored in an active second period.
2020 Senior Nationals champion Vito Arujau also won twice. He opened with a 14-3 technical fall over Sean Russell. Arujay fell behind 3-1 in the first period, but opened up his offense, closing it out with four ankle lace turns. In his second bout, Arujau shut out Zach Sanders, 6-0, scoring a first-period takedown and adding two more in the second period.
A big upset came in just the second bout of the night. 2017 World silver medalist Thomas Gilman was leading Zach Sanders 4-0 on two takedowns, but tried a gut wrench, which Sanders stepped over on and secured a stunning fall in just 1:47. Gilman came back with a dominant 11-0 first period technical fall over Sean Russell, scoring three takedowns, an ankle lace turn and a step out point.
Two-time World Team member Zain Retherford was in control throughout the bout, to secure a 6-2 win over 2020 Senior Nationals runner-up Evan Henderson. Retherford had two takedowns and a tilt in the first period to secure an insurmountable lead.
In one of the most anticipated women's bouts, 2018 World bronze medalist Mallory Velte looked strong on her feet in a 6-1 victory over 2020 Senior Nationals champion Jen Page. Velte scored three takedowns, one in the first period and two in the second period.
In another big-time matchup, Gabe Dean defeated 2019 U23 World champion Bo Nickal, a three-time NCAA champion at Penn State, in an intense 3-2 battle. The match was tied at 2-2 in the first period, with each wrestler scoring a takedown. In the second period, after an extended amazing scramble in which both athletes showed great skills, Nickal stepped out giving Dean the winning point.
Two women stars from Mexico who train with the Nittany Lion WC won matches. Jane Valencia, who has already qualified for the Tokyo Olympics for Mexico, secured a 12-2 technical fall over past Cadet World champion Ronna Heaton in a bout with great scrambles. Valencia led 8-0 at the break, and finished it off during a second period scramble.
Earlier on the card, veteran Ale Bonilla of Mexico defeated high school junior wrestler Kendall Bostelman of Wyoming Seminary, 8-0, securing four takedowns in the bout.
Jason Nolf won his first match with a dominant 10-0 technical fall over Jevon Balfour of Canada. Nolf nailed a four-point takedown, two other takedowns and two step outs.
Vincenzo Joseph was able to secure a win in his second match of the night, stopping Canadian Jevon Belfour, 8-2, with three takedowns and two points on stepouts.
Nate Jackson, who was initially scheduled for one match, agreed to a second when 2018 World champion David Taylor was unable to compete. He took on Max Dean midway through the card. Dean jumped to a 4-1 lead with a takedown and turn. After each scored on stepouts, Jackson scored a second-period takedown to tie it at 5-5. Dean won on criteria, holding off a late Jackson attempt as time ran out.
The Junior undercard had some great battles, with talented competitors from across the nation. The final match featured a 15-4 technical fall by New Jersey star Shayne Van Ness, a Penn State recruit, over Missouri's Josh Saunders, who is going to Cornell. One of the big women's high school matches featured a headlock pin by Utah's Sage Mortimer against Indiana and Wyoming Seminary star Rianne Murphy.
NITTANY LION WC 5

February 23 at 6:00 p.m. ET


Main Card
Kyle Snyder dec. Nate Jackson, 6-1
Zach Sanders pin Thomas Gilman, 1:47
Vito Arujau tech. fall Sean Russell, 14-3
Jason Nolf tech. fall Jevon Balfour (Canada), 10-0
Kyle Dake tech. fall Vincenzo Joseph, 10-0
Mallory Velte dec. Jen Page, 6-1
Ale Bonilla (Mexico/NLWC) dec. Kendall Bostelman, 8-0
Max Dean dec. Nate Jackson, 5-5
Kyle Snyder tech. fall Scottie Boykin, 11-0
Gabe Dean dec. Bo Nickal, 3-2
Vito Arujau dec. Zach Sanders, 6-0
Thomas Gilman tech. fall Sean Russell, 11-0
Jane Valencia (Mexico/NLWC) tech, fall Ronna Heaton, 12-2
Vincenzo Joseph dec. Jevon Balfour (Canada), 8-2
Zain Retherford dec. Evan Henderson, 6-2
Kyle Snyder tech. fall Gabe Dean, 13-2
Kyle Dake dec. Jason Nolf, 5-0
Junior Bouts
Jim Mullen (NJ) pin Chase Horne (GA), 2:08
Sage Mortimer (UT) pin Rianne Murphy (IN/SEM), 3:37
Cole Rees (PA/SEM) vs TJ Stewart (MD), 12-7
Tyler Lillard (OH) vs. Erik Gibson (PA), 12-9
Grace Stem (PA) dec. Elleni Johnson (UT/SEM), 7-4
Dalton Perry (PA) tech. fall Kai Owen (FL), 13-0
Gabe Arnold (GA/SEM) vs Aaron Ayzerov (NJ), 12-4
Nic Bouzakis (FL/SEM) tech. fall Nico Nardone (NJ), 10-0
Shayne Van Ness (NJ/Blair) tech. fall Josh Saunders (MO/Spartan Combat RTC), 15-4