News
USA Wrestling
College
Women
USAW
No. 1 McKendree women sweep all 10 golds at NCWWC Southwest Regional, qualifying all 15 team members
by Gary Abbott, USA Wrestling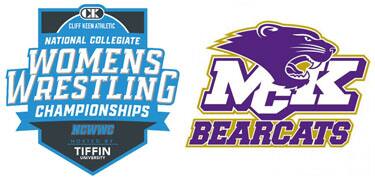 LEBANON, Ill – McKendree, the No. 1 ranked NCAA team in women's college wrestling, dominated the NCWWC Southwest Regional on Sunday, winning all 10 weight classes and qualifying their full team of 15 athletes for the national tournament.
The top four wrestlers in each weight class have advanced to the National Collegiate Women's Wrestling Championships at Tiffin on March 6. This is the annual women's college national tournament for NCAA wrestling teams.
McKendree's individual champions were Lizette Rodriguez (101), Natalie Reyna (109), Felicity Taylor (116), Payton Stroud (123), Cameron Guerin (130), Brenda Reyna (136), Emma Bruntil (143), Alara Boyd (155), Joye Levendusky (170) and Sydnee Kimber (191).
Sam Schmitz McKendree team scored 189.5 points, followed by Colorado Mesa with 129.5, Lindenwood with 81, Schreiner with 44, Fontebonne with 18 and Westminster with 12.5.
Colorado Mesa secured 12 qualifiers, led by six runners-up. Schreiner secured two qualifiers with a runner-up. Both Westminster and Fontebonne each had one qualifier.
NCWWC SOUTHWEST REGIONALS
at Lebanon, Ill.
101
1st Place Match - Lizette Rodriguez (McKendree University ) won by decision over Pauline Granados (McKendree University ) (Dec 4-3)
3rd Place - Jennesis Martinez (Colorado Mesa University )
109
1st Place Match
Natalie Reyna (McKendree University ) won by tech fall over Valeriia Mamleeva (Lindenwood University ) (TF 12-1)
3rd Place - Carly Valleroy (McKendree University )
116
1st Place Match - Felicity Taylor (McKendree University ) won by tech fall over Alina Kinsey (Schreiner University) (TF 12-1)
3rd Place Match - Anja Tschohl (Colorado Mesa University ) won by tech fall over Katherine Sumner (McKendree University ) (TF 14-4)
123
1st Place Match - Payton Stroud (McKendree University ) won by injury default over Marissa Gallegos (Colorado Mesa University ) (Inj. 0:00)
3rd Place Match - Elizabeth Miller (Colorado Mesa University ) won by tech fall over Emalie Olson (Lindenwood University ) (TF 12-2)
5th Place Match - Alexis Altamira (Lindenwood University ) won by fall over Jazelyn Ruelas (Schreiner University ) (Fall 1:28)
130
1st Place Match - Cameron Guerin (McKendree University ) won by tech fall over Nanen Aguilar (Colorado Mesa University ) (TF 10-0)
3rd Place Match - Jasmine Ward (Lindenwood University ) won by decision over Ja`Mae Barnes (Colorado Mesa University ) (Dec 10-2)
5th Place Match - Karina De La Torre (Schreiner University ) won by fall over Sydney Ward (Lindenwood University ) (Fall 0:31)
4th Place Match - Ja`Mae Barnes (Colorado Mesa University ) won by fall over Karina De La Torre (Schreiner University ) (Fall 5:17)
136
1st Place Match - Brenda Reyna (McKendree University ) won by tech fall over Dalia Garibay (Colorado Mesa University ) (TF 11-0)
3rd Place Match - Michelle Camacho (McKendree University ) won by fall over Natalie Cregger (Lindenwood University ) (Fall 0:23)
143
1st Place Match - Emma Bruntil (McKendree University ) won by fall over Kaylee Lacy (Colorado Mesa University ) (Fall 1:22)
3rd Place Match - Jordan Johnston (Schreiner University ) won by tech fall over Taylor Reed (Westminster University ) (TF 14-3)
5th Place - Madeline Frick (Colorado Mesa University )
155
1st Place Match - Alara Boyd (McKendree University ) won by fall over Zoe Gress (Colorado Mesa University ) (Fall 1:42)
3rd Place Match - Julianna Moreno (Lindenwood University ) won by decision over Mia Dow (Lindenwood University ) (Dec 6-4)
5th Place Match - Kayla Munoz (Colorado Mesa University ) won by fall over Hailey Shuman (Fontbonne University ) (Fall 4:32)
170
1st Place Match - Joye Levendusky (McKendree University ) won by decision over Tristan Kelly (Colorado Mesa University ) (Dec 2-1)
3rd Place Match - Caylee Collins (Colorado Mesa University ) won by tech fall over Valerie Gaytan (Lindenwood University ) (TF 10-0)
191
1st Place Match - Sydnee Kimber (McKendree University ) won by decision over Grace Kristoff (McKendree University ) (Dec 8-0)
3rd Place Match - Isabeau Shalack (Colorado Mesa University ) won by fall over Kai Poux (Fontbonne University ) (Fall 1:47)
5th Place Match - Kaycee Fitero (Lindenwood University ) won by fall over Melena Jones (Lindenwood University ) (Fall 2:32)
Team Standings
1. McKendree University, 189.5
2. Colorado Mesa University, 129.5
3. Lindenwood University, 81.0
4. Schreiner University, 44.0
5. Fontbonne University, 18.5
6. Westminster University, 12.5
NCWWC Nationals qualifiers (by team)
McKendree (15)
Lizette Rodriguez (1st at 101, SW qualifier)
Pauline Granados (2nd at 101, SW qualifier)
Natalie Reyna (1st at 109, SW qualifier)
Carly Valleroy (3rd at 109, SW qualifier)
Felicity Taylor (1st at 116, SW qualifier)
Katherine Sumner (4th at 116, SW qualifier)
Payton Stroud (1st at 123, SW qualifier)
Cameron Guerin (1st at 130, SW qualifier)
Brenda Reyna (1st at 136, SW qualifier)
Michelle Camacho (3rd at 136, SW qualifier)
Emma Bruntil (1st at 143, SW qualifier)
Alara Boyd (1st at 155, SW qualifier)
Joye Levendusky (1st at 170, SW qualifier)
Sydnee Kimber (1st at 191, SW qualifier)
Grace Kristoff (2nd at 191, SW qualifier)
Colorado Mesa (12)
Jennesis Martinez (3rd at 101, SW qualifier)
Anja Tschohl (3rd at 116, SW qualifier)
Marissa Gallegos (2nd at 123, SW qualifier)
Elizabeth Miller (3rd at 123, SW qualifier)
Nanen Aguilar (2nd at 130, SW qualifier)
Ja`Mae Barnes (4th at 130, SW qualifier)
Dalia Garibay (2nd at 136, SW qualifier)
Kaylee Lacy (2nd at 143, SW qualifier)
Zoe Gress (2nd at 155, SW qualifier)
Tristan Kelly (2nd at 150, SW qualifier)
Caylee Collins (3rd at 170, SW qualifier)
Isabeau Shalack (3rd at 191, SW qualifier)
Lindenwood (7)
Valeriia Mamleeva (2nd at 109, SW qualifier)
Emalie Olson (4th at 123, SW qualifier)
Jasmine Ward (3rd at 130, SW qualifier)
Natalie Cregger (4th at 136, SW qualifier)
Julianna Moreno (3rd at 155, SW qualifier)
Mia Dow (4th at 155, SW qualifier)
Valerie Gaytan (4th at 170, SW qualifier)
Schreiner (2)
Alina Kinsey (2nd at 116, SW qualifier)
Jordan Johnston (3rd at 143, SW qualifier)
Westminster (1)
Taylor Reed (4th at 143, SW qualifier)
Fontebonne (1)
Kai Poux (4th at 191, SW qualifier)