News
USA Wrestling
High School & Youth
Women
College
USAW
45 State or Prep National boys and girls champions from 22 states now entered in High School National Recruiting Showcase
by Gary Abbott, USA Wrestling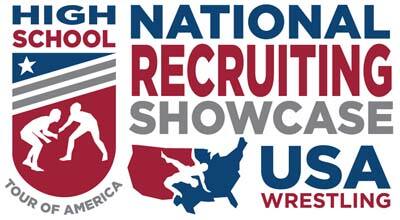 Response has been strong among high school state champions or National Prep champions for the USA Wrestling High School National Recruiting Showcase, set for the Xtream Arena & GreenState Family Fieldhouse in Coralville, Iowa, March 25-27.
Current and past state champions and National Prep champions (any year) in grades 9-12 automatically qualify for the High School National Recruiting Showcase, but they must pre-register by March 1.
So far, 45 athletes from 22 different states registered since online registration became available. That includes 27 girls and 18 boys. The state that has the most registered champions so far is Oregon, with eight confirmed champions signed up.
State champions are defined as state association sanctioned state champions for boys, and both state association sanctioned champions and recognized unofficial state champions for girls in folkstyle.
It will be a busy week for 2021 state tournaments, with Iowa (boys), Nebraska (boys), Utah (boys and girls), Alabama (boys), North Dakota (boys), Virginia (boys), Indiana (boys), Montana (girls), Florida (girls), Ohio (girls), North Dakota (girls) and Wisconsin (girls).
State and Prep National champions register for High School National Recruiting Showcase
Numerous high school girls will have an amazing opportunity to compete in two national events during the weekend. Girls who qualify for the National Recruiting Showcase (which is contested in freestyle) will have the opportunity to also compete on the next day in the USA Wrestling Girls Folkstyle Nationals, which has no pre-qualification.
In addition to the state and National prep champions, the rest of the field will include the top five athletes at each weight classes from eight qualifiers held earlier in March. States hosting qualifiers are Pennsylvania, Arizona, Utah, Florida, Wisconsin, Virginia, Indiana and Kansas.
For information on all of the High School National Recruiting Showcase events and the entire national schedule, please visit the USA Wrestling Events website at:
https://usawrestlingevents.com/
Girls State champions registered (27)
106 pounds
Nyla Valencia – 2020 California champion – 106
112 pounds
Salyna Shotwell – 2019 Washington champion – 110
Rose Ann Marshall – 2020 Wisconsin champion - 113
122 pounds
Katie Ward – 2020 Nevada champion – 121
Carolyna Bellon – 2020 Florida champion – 128
Avery Kibelbek – 2x – 2019 Tennessee – 103, 2020 Tennessee 103
Ava Bayless – 2020 Prep National champion – 121
127 pounds
Claire DiCugno – 2021 Washington champion - 125
132 pounds
Lilly Luft – 2021 Iowa champion – 126
Elleni Johnson –2019 Utah champion – 135
London Houston – 2x – 2020 Washington champion – 130, 2019 Washington champion - 125
138 pounds
Celina Cooke – 2x – 2019 Nevada champion – 131, 2020 Nevada champion – 137
Gabrielle Miller – 2019 New Jersey champion – 147
Kaylie Peterson – 2021 Indiana champion – 138
Tyler Richardson – 2x – 2020 Oregon champion – 140, 2019 Oregon champion – 140
Piper Staniford – 2020 Prep National champion – 185
Sara Sunday, 2020 Maryland champion - 132
144 pounds
Naomi Simon – 2021 Iowa champion – 145
Haley Ward – 2020 Missouri champion – 130
Maddie Kubicki – 2020 Missouri champion - 135
152 pounds
Anna McDougal – 2020 Oregon champion – 155
Ashley Reed – 2020 Connecticut champion – 160
Lilian Freitas – 2x – 2019 California champion – 143, 2020 California champion – 150
Maggie Graham – 2020 Tennessee champion – 160
Stella Steigler – 2020 Virginia champion - 156
164 pounds
Kyra Richards – 2021 Idaho champion – 164
Mackenzie Konanz – 2020 Indiana champion - 160
Boys state champions registered (18)

120 pounds
Michael Pizzuto – 2020 Maryland 2A/1A – 106
DJ Gillett – 2020 Oregon 5A - 106
Brayden Sonnentag – 2020 Wisconsin D3 - 106
126 pounds
Nash Singleton – 2020 Oregon 6A – 120
Benjamin Miller – 2020 Nevada 4A – 106
Gage Owen – 2020 Maryland 1A/2A – 120
Chase Milligan – 2019 Nevada 3A - 106
132 pounds
Evan Potter – 2020 Oregon 4A – 120
Antonio Rodrigues – 2020 Maryland 2A/1A – 126
Otto Cate-Cribari – 2020 Nevada 4A - 120
138 pounds
Ethen Doty – 2019 Illinois 1A – 126
Carson DesRosier – 2019 Montana AA - 120
145 pounds
Avery Allen – 2020 Montana AA - 132
152 pounds
Austin Dalton – 2020 Oregon 5A – 145
Kaleb Oliver – 2020 Oregon 2A/1A - 132
160 pounds
Alexander Holguin – 2x – 2018 New Mexico 4A -138, 2019 New Mexico 3A – 152
170 pounds
Porter Faulk – 2021 Georgia Independent Schools champ - 182
182 pounds
Jared Simma – 2020 Kansas 5A – 160
APPROVED ENTRIES BY STATE
California (2)
Entered at 106G - Nyla Valencia – 2020 California champion – 106
Entered at 152 G - Lilian Freitas – 2x – 2019 California champion – 143, 2020 California champion – 150
Connecticut (1)
Entered at 152G - Ashley Reed – 2020 Connecticut champion – 160
Florida (1)
Entered at 122G - Carolyna Bellon – 2020 Florida champion – 128
Georgia (1)
Entered at 170B - Porter Faulk – 2021 Georgia Independent Schools champ - 182
Idaho (1)
Entered at 164G - Kyra Richards – 2021 Idaho champion - 164

Illinois (1)
Entered at 138B - Ethen Doty – 2019 Illinois 1A – 126
Indiana (2)
Entered at 138G - Kaylie Peterson – 2021 Indiana champion – 138
Entered at 164G - Mackenzie Konanz – 2020 Indiana champion - 160
Iowa (2)
Entered at 132G - Lilly Luft – 2021 Iowa champion – 126
Entered at 144G - Naomi Simon – 2021 Iowa champion – 145
Kansas (1)
Entered at 182B - Jared Simma – 2020 Kansas 5A – 160
Maryland (4)
Entered at 120B - Michael Pizzuto – 2020 Maryland 2A/1A – 106
Entered at 126B - Gage Owen – 2020 Maryland 1A/2A – 120
Entered at 132B - Antonio Rodrigues – 2020 Maryland 2A/1A – 126
Entered at 138G - Sara Sunday - 2020 Maryland champion - 132
Missouri (2)
Entered at 144G - Haley Ward – 2020 Missouri champion – 130
Entered at 144G - Maddie Kubicki – 2020 Missouri champion - 135
Montana (2)
Entered at 145B - Avery Allen – 2020 Montana AA – 132
Entered at 138B - Carson DesRosier – 2019 Montana AA - 120
Nevada (5)
Entered at 122G - Katie Ward – 2020 Nevada champion – 121
Entered at 138G - Celina Cooke – 2x – 2019 Nevada champion – 131, 2020 Nevada champion – 137
Entered at 126B - Benjamin Miller – 2020 Nevada 4A – 106
Entered at 132B - Otto Cate-Cribari – 2020 Nevada 4A – 120
Entered at 126B - Chase Milligan – 2019 Nevada 3A - 106
New Mexico (1)
Entered at 160B - Alexander Holguin – 2x – 2018 New Mexico 4A -138, 2019 New Mexico 3A – 152
New Jersey (1)
Entered at 138G - Gabrielle Miller – 2019 New Jersey champion – 147
Oregon (8)
Entered at 138G - Tyler Richardson – 2x – 2020 Oregon champion – 140, 2019 Oregon champion – 140
Entered at 138G - Piper Staniford (OR) – 2020 Prep National champion – 185
Entered at 152G - Anna McDougal – 2020 Oregon champion – 155
Entered at 120B - DJ Gillett – 2020 Oregon 5A – 106
Entered at 126B - Nash Singleton – 2020 Oregon 6A – 120
Entered at 132B - Evan Potter – 2020 Oregon 4A – 120
Entered at 152B - Austin Dalton – 2020 Oregon 5A – 145
Entered at 152B - Kaleb Oliver – 2020 Oregon 2A/1A - 132
Pennsylvania (1)
Entered at 122G - Ava Bayless (PA) – 2020 Prep National champion – 121
Tennessee (2)
Entered at 122G - Avery Kibelbek – 2x – 2019 Tennessee – 103, 2020 Tennessee 103
Entered at 152G - Maggie Graham – 2020 Tennessee champion – 160
Utah (1)
Entered at 132G - Elleni Johnson –2019 Utah champion – 135
Virginia (1)
Entered at 152G - Stella Steigler – 2020 Virginia champion - 156
Washington (3)
Entered at 113G - Salyna Shotwell – 2019 Washington champion – 110
Entered at 132G - London Houston – 2x – 2020 Washington champion – 130, 2019 Washington champion – 125
Entered at 127G - Claire DiCugno – 2021 Washington champion - 125
Wisconsin (2)
Entered at 120B - Brayden Sonnentag – 2020 Wisconsin D3 – 106
Entered at 112G - Rose Ann Marshall – 2020 Wisconsin champion – 113