News
USA Wrestling
College
USAW
Starocci downs Massa, as No. 3 Penn State beats No. 2 Michigan 18-13 in Ann Arbor
by Pat Donghia, Penn State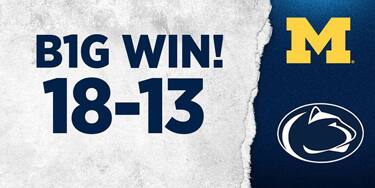 No. 3 Penn State Wins at No. 2 Michigan in Another B1G Road Dual

Starocci downs Massa to help Cael Sanderson secure his 200th career coaching victory
UNIVERSITY PARK, Pa.; February 14, 2021 – The Penn State Nittany Lions (4-0, 4-0 B1G), ranked No. 3 in the latest InterMat Tournament Power Index, took down No. 2 Michigan (4-1, 4-1 B1G) for another Big Ten road win. The Nittany Lions won 18-13 in a dual meet rescheduled from Feb. 7. All team and individual rankings listed are InterMat (2/9/21).
By virtue of the dual meet win, Penn State head coach Cael Sanderson grabbed his 200th dual meet victory as a collegiate head coach. Sanderson is now 200-26-2 overall in this, his 15th season as head coach, including a 44-10 mark in three years at Iowa State. He is 156-16-2 in this, his 12th season at Penn State. Sanderson is also 86-11-1 in Big Ten dual meets. Freshman Carter Starocci (Erie, Pa.) notched a key win at 174 in the tightly contested dual meet and true freshman Robert Howard (Cranford, N.J.) made his collegiate debut, winning at 125.
Howard made his Penn State debut at 125 picked up an impressive win in his first bout. Howard used takedowns in the first and second periods to post a 6-5 win over Michigan's Jack Medley in the dual's opening bout. Junior Roman Bravo-Young (Tucson, Ariz.), ranked No. 3 at 133, dominated Dylan Ragusin, who was ranked No. 8 at 125. Bravo-Young used three takedowns and 2:15 in riding time to roll to a 9-2 win and put Penn State up 6-0.
Senior Nick Lee (Evansville, Ind.), ranked No. 2 at 141, controlled No. 20 Drew Mattin from start to finish in a marquee bout at 141. Lee controlled the entirety of the bout, posting two first period takedowns and a third period takedown to post a 10-4 victory with 2:25 in riding time. . Redshirt freshman Terrell Barraclough (Kaysville, Utah) took to the mat a 149 and nearly posted an upset victory over No. 6 Kanen Storr. Barraclough battled back from an early deficit but lost a tough 4-3 decision to the ranked Wolverine. Junior Brady Berge (Mantorville, Minn.), ranked No. 9 at 157, took on No. 8 Will Lewan next and used a strong takedown in the third period to post an important 3-1 victory. Berge's win gave Penn State a 12-3 lead at the dual's midpoint.
Freshman Joe Lee (Evansville, Ind.), ranked No. 6 at 165, suffered a 4-1 upset loss to No. 16 Cameron Amine in the second half's opening bout. Amine used a third period reversal to grab the win. Freshman Starocci, ranked No. 8 at 174, had the statement win of the dual, taking down No. 2 Logan Massa in a marquee match at 174. The freshman battled the veteran evenly taking the bout to sudden victory tied 1-1. After a scoreless extra stanza, Massa chose down in his tie-breaker period and Starocci turned the Wolverine for four back points and posted the thrilling 7-1 (tb) win.
Sophomore Aaron Brooks (Hagerstown, Md.), ranked No. 3 at 184, kept Penn State rolling and essentially clinched the dual with a strong 10-5 victory over Michigan's Jaden Bullock. Brooks' win put Penn State up 18-6. Freshman Michael Beard (Pottstown, Pa.), ranked No. 14 at 197, battled No. 1 (at 184) Myles Amine tough throughout his bout with the veteran Wolverine but lost a tough 8-5 decision. . Sophomore Seth Nevills (Clovis, Calif.), ranked No. 7 at 285, took on No. 2 Mason Parris in the dual's final bout and dropped a tough 12-2 major to the ranked Wolverine. Michigan closed out the dual with two victories but Penn State rolled to the 18-13 win to remain unbeaten on the year.
Penn State was able to work its way to a slim 12-11 edge in takedowns. The Lions won six of ten bouts and Michigan picked up the dual's lone bonus point on Parris' major at 285.
Five extra matches were conducted during the dual meet on a separate mat. This year, with condensed schedules, these extra matches, while not counting towards dual meet scores, are official varsity bouts and count towards NCAA competition minimums.
Freshman Donovon Ball (New Cumberland, Pa.) picked up a win at 184 in Penn State's first extra bout, posting a 12-4 major over Bobby Striggow. True freshman Beau Bartlett moved up to 149 for extras and rolled over Cole Mattin in an 8-4 win for the Lion rookie. Senior Luke Gardner (Pottsville, Pa.) moved up to 157 and lost a close 6-4 (sv) decision to Nick Lombard. Nittany Lion sophomore Konner Kraeszig (Louisville, Ky.) fell 5-2 to UM's Reece Hughes in a bout at 165 and Creighton Edsell (Wyalusing, Pa.) posted a 4-3 win at 174 over Max Maylor in the final extra bout of the day.
Penn State is now 4-0 on the year, 4-0 in Big Ten action. Michigan falls to 4-1, 4-1 B1G. The Nittany Lions return to action next Friday, Feb. 19, with a road dual at Ohio State. The Lions and Buckeyes tangle in a dual that will air live on the Big Ten Network at a time to be announced.
Penn State Fans are encouraged to follow Penn State wrestling via twitter at @pennstateWREST, on Penn State Wrestling's Facebook page at www.facebook.com/pennstatewrestling and on Instagram at www.instagram.com/pennstatewrest. This is PENN STATE. WRESTLING lives here.
#3 Penn State 18, #2 Michigan 13

February 14, 2021 – Ann Arbor, Mich.
125: Robert Howard PSU dec. Jack Medley MICH, 6-5
133: #3 Roman Bravo-Young PSU dec. #8/125 Dylan Ragusin MICH, 9-2
141: #2 Nick Lee PSU dec. #20 Drew Mattin MICH, 10-4
149: #6 Kanen Storr MICH dec. Terrell Barraclough PSU, 4-3
157: #9 Brady Berge PSU dec. #8 Will Lewan MICH, 3-1
165: #16 Cameron Amine MICH dec. #6 Joe Lee PSU, 4-1
174: #8 Carter Starocci PSU dec. #2 Logan Massa MICH, 7-1 (TB)
184: #3 Aaron Brooks PSU dec. Jaden Bullock MICH, 10-5
197: #1/184 Myles Amine MICH dec. #14 Michael Beard PSU, 8-5
285: #2 Mason Parris MICH maj. dec. #7 Seth Nevills PSU, 12-2
Records
: Penn State (4-0, 4-0 B1G; Michigan (4-1, 4-1 B1G)
Up Next for Penn State: at Ohio State, Friday, Feb. 19, time TBA (B1G Network)


Extra Matches:
184: Donovon Ball PSU maj. dec. Bobby Striggow MICH, 12-4
149: Beau Bartlett PSU dec. Cole Mattin MICH, 8-4
157: Nick Lombard MICH dec. Luke Gardner PSU, 6-4 (sv)
165: Reece Hughes MICH dec. Konner Kraeszig PSU, 5-2
174: Creighton Edsell PSU dec. Max Maylor MICH, 4-3