News
USA Wrestling
College
USAW
Coe is No. 1 in NWCA Div. III Dual Rankings, while Wartburg is No. 1 in NWCA Div. III Tournament Poll
Manheim, PA - The National Wrestling Coaches Association (NWCA) released their third set set of individual and tournament team rankings as well as their first set of dual team rankings in advance of next week's NWCA/USMC National Multi-Division Dual Championships in Louisville, KY.
Wartburg sits atop the Tournament Poll with 55 points while Coe, with a 4-0 record, takes the top spot in the Dual Poll.
INDIVIDUAL NATIONAL RANKINGS
INDIVIDUAL REGIONAL RANKINGS
The next round of rankings will surely be impacted over the next few weeks as many of the top Division III teams will be in action at the Citrus Invitational and the NWCA National Duals.
The NWCA Division III ranking committee consists of:
UMW Tony Valek (Augsburg) and Dave Malecek (UW-La Crosse)
LMW Brandon Bradley (Nebraska Wesleyan) and Jon McGovern (Dubuque)
SE Jon Laudenslager (Wilkes) and Anthony Bonaventura (Stevens)
ME Justin Signorelli (Alfred State) Jason Mclean (Muhlenberg)
NE Mike Sugermeyer (Western New England) and Corey Luce (NYU)
CENT Bill Schindel (Adrian) & Josh Malave (CWRU)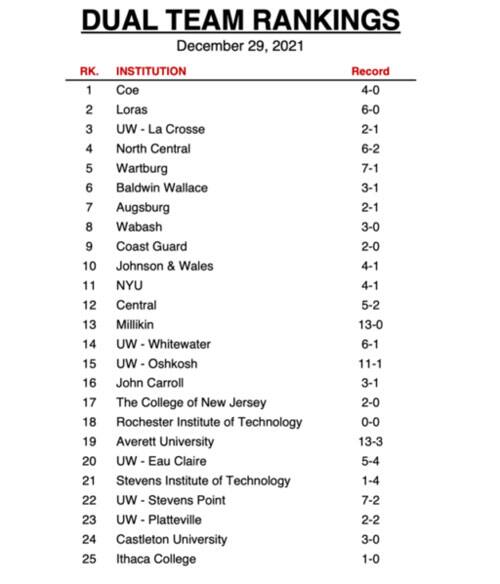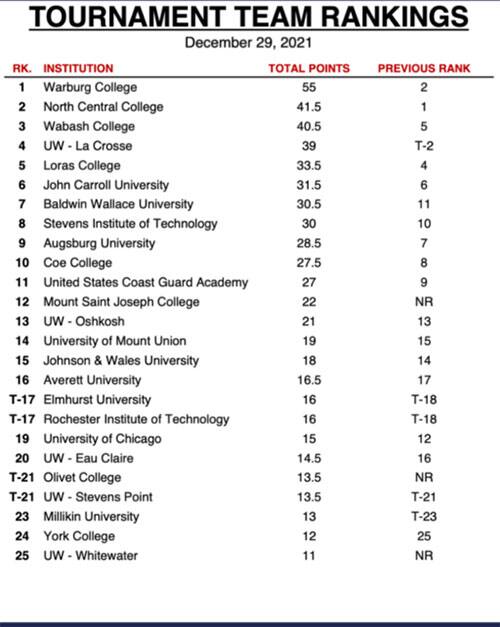 TOURNAMENT POLL METHODOLOGY: THIS IS A TOURNAMENT POWER INDEX RANKING; THE POLL IS NOT BASED ON A TEAM'S DUAL STRENGTH. TPI POINT TOTALS ARE BROKEN DOWN BY INDIVIDUAL RANKINGS: [1St – 16pts], [2ND – 12pts], [3RD – 10pts, [4TH – 9pts], [5TH -7pts], [6TH – 6pts], [7TH -4pts], [8TH – 3pts], [9TH – 2pts], [10TH – 1pt], [11TH-15TH – 1/2pt]. THE TPI POINT TOTALS WILL BE LOWER THAN THE FINAL ACTUAL NCAA TOURNAMENT POINTS BECAUSE IT DOES NOT INCLUDE BONUS POINTS.
NATIONAL DUALS DETAILSDates:
January 6-7
Location:
Louisville, KY
Venue:
Kentucky International Convention Center
Ticket Sales:
Online Link
Brackets (Trackwrestling):
Men's
–
Women's
Watch Live (Flowrestling):
Online Link
Additional Info:
Event Page