News
USA Wrestling
International
High School & Youth
USAW
Amos to wrestle for Greco-Roman bronze at 2021 Junior Worlds
by Taylor Miller, USA Wrestling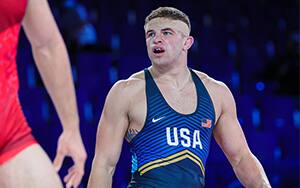 Photo of Braxton Amos by Kadir Caliskan, United World Wrestling.
UFA, Russia – One athlete seeks a medal in Greco-Roman at the 2021 Junior World Championships as Braxton Amos will compete for bronze on Sunday night in Ufa, Russia.
MEDAL MATCHES SET FOR SUNDAY AT 9 AM ET
Braxton Amos entered the day, seeking his second World gold of the week just days after winning the Junior World men's freestyle title at 97 kg. In his first bout of the day, Amos dominated Yerzat Yerlanov of Kazakhstan, opening the match with a four-point headlock. He added a passivity point, takedown and a pair of step outs for an 8-0 technical fall. Amos then took on Mustafa of Turkey. The match was tightly contested halfway through the second period, until Amos took the lead with a step out. Moments after, he added a takedown near the edge and followed it up with a four-point, feet-to-back takedown, which he used to secure the fall in 5:58.
In the semifinals, Amos faced 2018 Cadet World silver medalist Aleksei Mileshin from Russia. Mileshin outlasted Amos with an early takedown, a passivity point, two gut wrenches and a final takedown for a 9-0 win. Amos will compete for bronze on Sunday, taking on either Antti Haanpaeae of Finland or Arkyt Orozbekov of Kyrgyzstan, who was fifth at the 2018 Cadet Asian Championships. His opponent will be decided in tomorrow' repechage match.
The other four athletes that began competition today were eventually knocked out of the tournament.
Wrestling at 60 kg, Nic Bouzakis wrestled his way to the quarterfinals, defeating Miguel Loureiro Dos Santos of Portugal in his opening round. Despite giving up the first takedown, Bouzakis rallied quickly with a reversal and three gut wrenches for a substantial lead. Shortly after, The American wrapped up the match with a takedown and exposure for an 11-2 tech fall. In the quarterfinals, Bouzakis lost to Arslanbek Salimov from Poland in a wild 12-5 match.
Unfortunately, Salimov lost his semifinal bout to Saeid Esmaeili Leivesi of Iran, ending Bouzakis' Junior World Championships.
Three other U.S. athletes were eliminated in their first session of action, including Dominic Damon, Justus Scott and Jonathan Fagen.
Representing the U.S. at 67 kg, Dominic Damon lost his first bout, 8-0, to 2018 Cadet World champion Muslim Imadaev of Russia. Imadaev lost in the quarterfinals to 2021 U23 European bronze medalist Hasrat Jafarov of Azerbaijan, to end Damon's tournament.
In his international debut, Justus Scott lost a tough bout to Omer Dogan from Turkey, 9-0, in the round of 32 at 72 kg. Dogan made his way to the quarters but lost to 2019 Cadet World bronze medalist Attila Toesmagi of Hungary, eliminating Scott from the bracket.
At 82 kg, Jonathan Fagen scored two points against Mikhail Khachaturau from Belarus, but it wasn't enough as the Belarussian took the win, 7-2. Khachaturau later fell in the next round to 2019 Cadet World champion Mykyta Alieksieiev from Ukraine, to complete Fagen's Junior World run.
Competing in repechage action, Kodiak Stephens lost his bout at 87 kg to 2019 Cadet World bronze medalist Maksat Sailau of Kazakhstan, eliminating him from the tournament.
The 2021 Junior World Championships wrap up on Sunday with medal matches beginning at 6 p.m. local time (9 a.m. ET). Fans can watch live on FloWrestling or follow along on USA Wrestling's twitter @USAWrestling.
2021 JUNIOR WORLD CHAMPIONSHIPS

Aug. 16-22 | Ufa, Russia
U.S. Greco-Roman results
60 kg: Nic Bouzakis (Shavertown, Pa./XCalibur Athletics) – eliminated

WIN Miguel LOUREIRO DOS SANTOS (Portugal), 11-2

LOSS Arslanbek SALIMOV (Poland), 12-5
67 kg: Dominic Damon (Seattle, Wash./NMU RTC) – eliminated

LOSS Muslim IMADAEV (Russia), 8-0
72 kg: Justus Scott (Henderson, Nev./Legends of Gold Las Vegas) – eliminated

LOSS Omer DOGAN (Turkey), 9-0
82 kg: Jon Fagen (Fruitland, Idaho/Spartan Combat RTC) – eliminated

LOSS Mikhail KHACHATURAU (Belarus), 7-2
97 kg: Braxton Amos (Mineral Well, W.V./Wisconsin RTC) – bronze match

WIN Yerzat YERLANOV (Kazakhstan), 8-0

WIN Mustafa OLGUN (Turkey), fall 5:58

vs. Aleksei MILESHIN (Russia)
REPECHAGE SESSION

87 kg: Kodiak Stephens (Arnold, Calif./Ebbetts Pass WC) – eliminated

LOSS Tyrone STERKENBURG (Netherlands), 8-0

LOSS Maksat SAILAU (Kazakhstan), 10-0