News
USA Wrestling
International
High School & Youth
USAW
Kennedy Blades wins gold, USA claims women's freestyle team title at Junior Worlds
by Taylor Miller, USA Wrestling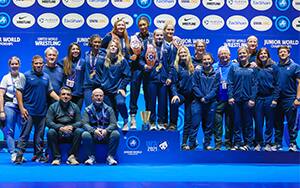 Photo by Kadir Caliskan, United World Wrestling.
UFA, Russia – The USA finished off a historic women's freestyle performance at the 2021 Junior World Championships in Ufa, Russia, with four Junior World golds, one bronze and the team title.
The United States scored 143 points in a tight race that came down to the final two matches of the night. Russia took second with 134 points and two champions, while India finished third with 134 points but no champions.
US Women's Freestyle Development Coach Jessica Medina interview
On the heels of gold-medal performances from Emily Shilson, Amit Elor and Kylie Welker on Thursday night, Kennedy Blades put an exclamation point on the USA's tournament, winning the 72 kg title in dominating fashion.
Kennedy, who collected three tech falls in the first day of competition, faced Lilly Schneider of Germany in the finals. The American needed only 17 seconds for a pin, which she tallied thanks to a huge double-leg takedown in the opening moments of the match. .
Her sister also picked up a medal tonight, which was crucial in helping the United States win the team title.
Wrestling in her second World Championships of the summer, Korina Blades secured a bronze medal on Friday night at 62 kg. After a tough semifinals loss to 2019 Cadet World bronze medalist Alina Kasabieva of Russia, Korina bounced back impressively in her medal match, cruising past 2021 Junior European bronze medalist Viktoria Oeverby from Norway with three takedowns en route to an 11-1 victory.
Korina, a 2019 U25 World champion, adds to her seventh-place finish from the 2021 Cadet World Championships in July.
World Team alternate Jaslynn Gallegos took fifth at her first World Championships, representing the USA at 53 kg. Advancing to the semifinals, Gallegos lost to eventual Junior World champion Emma Malmgren of Sweden, sending the American to the third-place bout. In her bronze-medal match, Gallegos faced Choigan Tumat of Russia. It was back-and-forth action with Gallegos trailing just 4-3 at the break. In the second period, Tumat scored her second four-pointer of the match, from which Gallegos rolled through, looking for the pin, but in her efforts, Tumat rolled through and was the one to secure the fall in 4:09.
Two-time Cadet World medalist Alara Boyd fell short of the bronze at 65 kg. She won her repechage match this morning to put her in medal contention. For bronze, she went up against 2021 Junior European bronze medalist Viktoria Vesso of Estonia, who Boyd led 5-4 at the break. In the second period, Boyd, in on a single, went for the finish, but Vesso hit a headlock and recorded the pin in 3:55 to give Boyd a fifth-place finish.
2021 JUNIOR WORLD CHAMPIONSHIPS

Aug. 16-22 | Ufa, Russia
U.S. women's freestyle results
50 kg: Emily Shilson (Maple Grove, Minn./Titan Mercury WC) – GOLD

WIN Natallia VARAKINA (Belarus), 6-3

WIN Viktoriia ALEKSANDROVA (Russia), 10-7

WIN Simran SIMRAN (India), 10-0

WIN Enkhzul BATBAATAR (Mongolia), 10-0
53 kg: Jaslynn Gallegos (Brighton, Colo./Blue Chip WC) – FIFTH

WIN Chamodya MADURAVALAGE DON (Sri Lanka), 13-3

LOSS Emma MALMGREN (Sweden), 12-1

LOSS Choigan TUMAT (Russia), fall 4:09
55 kg: Payton Stroud (Buckley, Wash./McKendree Bearcat WC) – EIGHTH

WIN Antonia VALDEZ ARRIAGADA (Chile), 5-2

LOSS Kalmira BILIMBEK KYZY (Kyrgyzstan), 10-0

LOSS Munkhgerel MUNKHBAT (Mongolia), 10-0
57 kg: Claire DiCugno (Lake Taps, Wash./Takedown Express WC) – 12th

LOSS Mansi MANSI (India), 16-4
59 kg: Mia Macaluso (Otisville, N.Y./Team New York) – 10th

LOSS Ebru DAGBASI (Turkey), fall 1:25
62 kg: Korina Blades (Broadview, Ill./Izzy Style WC) – BRONZE

WIN Nadzeya BULANAYA (Belarus), 8-2

WIN Yagmur CAKMAK (Turkey), fall 5:08

LOSS Alina KASABIEVA (Russia), 10-0

WIN Viktoria OEVERBY (Norway), 11-1
65 kg: Alara Boyd (Muncie, Ind./McKendree Bearcat WC) – FIFTH

LOSS Irina RINGACI (Moldova), 9-2

WIN Yana TRETSIAK (Belarus), 12-1

LOSS Viktoria VESSO (Estonia), fall 3:55
68 kg: Amit Elor (Walnut Creek, Calif./Titan Mercury WC) – GOLD

WIN Arju ARJU (India), 10-0

WIN Zsuzsanna MOLNAR (Slovakia), 11-0

WIN Elizaveta PETLIAKOVA (Russia), 10-0
72 kg: Kennedy Blades (Broadview, Ill./Izzy Style WC) – GOLD

WIN Mariam GUSEINOVA (Russia), 10-0

WIN Nurzat NURTAEVA (Kyrgyzstan), 10-0

WIN Saneh Saneh (India), 11-0

WIN Lilly Schneider (Germany), fall 0:17
76 kg: Kylie Welker (Franksville, Wisc./Titan Mercury WC) – GOLD

WIN Laura KUEHN (Germany), 10-0

WIN Mariia SILINA (Russia), 11-0

WIN Kseniya DZIBUK (Belarus), pin 1:05

WIN Bipasha BIPASHA (India), 10-0