News
USA Wrestling
International
Women
College
High School & Youth
USAW
Young stars Welker, Blades, Kilty, Heaton reach women's freestyle finals at U.S. Olympic Team Trials
by Andy Elder, Special to TheMat.com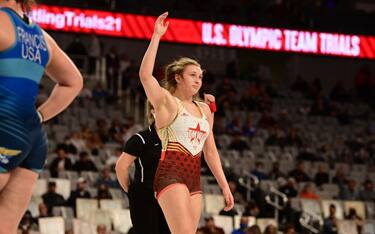 Kylie Welker waves to the crowd after earning a spot in the final series at the U.S. Olympic Team Trials. Photo by Tony Rotundo, Wrestlers Are Warriors.
FORT WORTH, Texas — It was an evening of electricity, elation and elevated status Friday night in the second session of the 2020 U.S. Olympic Team Trials – Wrestling at Dickies Arena.
In the final analysis, youth ruled the night.
A pair of 17-year-old high school junior women freestylers will wrestle Saturday night for the right to represent the United States in the Tokyo Olympics. Both Kylie Welker, from Burlington High School in Wisconsin, and Kennedy Blades, who wrestles at Wyoming Seminary in Kingston, Pennsylvania and hails from Broadview, Illinois, won the challenge tournaments at their respective weights.
Two other young women — 20-year-old Macey Kilty (SKWC), the No. 2 seed at 62 kg, and 22-year-old Ronna Heaton (SKWC), the No. 5 seed at 53 kg — won their challenge finals, as well.
Welker (Titan Mercury Wrestling Club), a high school junior who won last week's Last Chance Tournament at 68 kg and then moved up to 76 kilos for the Trials, continued her improbable climb to the top of the weight class.
The No. 14 seed, out of 14 women at her weight, took out No. 1 seed Dymond Guilford (Titan Mercury Wrestling Club/USOPTC), 8-0 in the semifinals. Then, in the challenge finals, Welker countered a late takedown attempt by No. 2 seed and multiple-time World Team member Victoria Francis (TMWC), for a 6-3 win.
"I definitely feel like I'm going to stay at this weight class. I get to eat, and I don't have to cut weight. I feel great," Welker said. "This has been my goal since I was seven. I didn't think I was even going to be able to compete this year, just because of my age, but COVID pushed things back and I was able to give a shot at it this round, so it's exciting."
Welker faces the daunting task of taking on Adeline Gray, a five-time world champion, three-time world bronze medal winner, two-time Junior World champion and a 2016 Olympian.
"She was my idol at one point," Welker said of Gray. "I worked until my idols became my competition. So, I'm ready for it. I'm excited."
Blades survived a tight 4-3 decision over Alexandria Glaude (TMWC/Bearcat Wrestling Club) in the semifinals. In the 68 kg challenge final, she dominated No. 1 seed Forrest Molinari (Sunkist Kids Wrestling Club), a two-time World Team member, two-time U23 World Team member and a 2015 Junior World Team member. Blades cruised, 11-1.
"I haven't really taken it in yet [that I'm in the finals]. I've known since I was 7 that this is my goal. In 2020, I couldn't compete at Trials because I didn't make the age cutoff by three months, and I was pretty upset because I wanted to compete," Blades said. "Covid hitting was sort of a blessing in disguise for me. Now I only have two more matches and I can make an Olympic Team."
The precocious Blades, much like her 17-year-old counterpart Welker, earned a huge challenge. She will be taking on 2019 World Champion, 2018 World bronze medal winner and three-time World Team member Tamyra Mensah-Stock in the 68 kg final.
Kilty edged Mallory Velte (TMWC), 4-2, in the semifinals, and then blanked Maya Nelson (SKWC), 5-0.
"I always go into my matches wanting to go in offensive-minded, defensive-ready. But in my first two matches, I got taken down right away, so I needed to be aware of my right leg. This match, I was just getting to my ties, staying patient and then my attacks opened up," Kilty said.
Kilty lined up a shot at Kayla Miracle, a 2019 World Teamer, a 2019 U23 World silver medalist; a three-time U23 World Teamer, a two-time Junior World Bronze medalist and 2014 Cadet World Silver medalist.
"Going into this tournament, the plan was to get to day two and win that best-of-three. Me and Kayla wrestled back in January in France, so I'm pretty aware of what her tendencies are. But, when it all comes down to it, it's about me getting to my attacks, staying in position and staying patient," Kilty said.
Heaton pinned No. 1 seed Dominique Parrish (SKWC) in the semifinals and then duplicated the feat in the final. He pinned No. 3 seed Katherine Shai (TMWC/NCWC) in 2:59 in the final. For all of that, Heaton has the privilege of facing Jacarra Winchester in the final.
Victoria Anthony (Arizona State Regional Training Center/SKWC) won the challenge tournament at women's 50 kg. She edged No. 2 seed Alyssa Lampe, 7-6, in the semfinals before blanking No. 4 seed Amy Fearnside (TMWC/USOPTC), 11-0, in the finals.
Up next for Anthony is Sarah Hildebrandt, a 2018 World Silver medalist and three-time World Team member.
Jenna Burkert (Army WCAP) showed the emotions of losing her mother in the last week after she pinned Alli Ragan in 2:11 in the 57 kg women's freestyle final. Burkert will face 2016 Olympic Gold Medalist Helen Maroulis in the final.
U.S. OLYMPIC TEAM TRIALS - WRESTLING

at Fort Worth, Texas, April 2


Final X Championship Series pairings
50 kg - Sarah Hildebrandt (New York AC) vs. Victoria Anthony (ASU RTC/Sunkist Kids Wrestling Club)
53 kg - Jacarra Winchester (Titan Mercury WC) vs. Ronna Heaton (Sunkist Kids Wrestling Club)
57 kg - Helen Maroulis (Sunkist Kids) vs. Jenna Burkert (ARMY WCAP)
62 kg - Kayla Miracle (Sunkist Kids) vs. Macey Kilty (Sunkist Kids Wrestling Club)
68 kg - Tamyra Mensah-Stock (Titan Mercury WC) vs. Kennedy Blades (Sunkist Kids Wrestling Club)
76 kg - Adeline Gray (New York AC) vs. Kylie Welker (Titan Mercury WC)


Championship Tournament finals (all six weights)
50 kg - Victoria Anthony (ASU RTC/Sunkist Kids Wrestling Club) tech. fall Amy Fearnside (TMWC/ USOPTC), 11-0
53 kg - Ronna Heaton (Sunkist Kids Wrestling Club) pin Katherine Shai (TMWC/ NCWC) ,2:59
57 kg- Jenna Burkert (ARMY WCAP) pin Alli Ragan (Sunkist Kids Wrestling Club), 2:12
62 kg - Macey Kilty (Sunkist Kids Wrestling Club) dec. Maya Nelson (Sunkist Kids Wrestling Club), 5-0
68 kg - Kennedy Blades (Sunkist Kids Wrestling Club) tech. fall Forrest Molinari (Sunkist Kids Wrestling Club), 11-1
76 kg - Kylie Welker (TMWC) dec. Victoria Francis (TMWC), 6-3
Challenge Tournament semifinals (all six weights)
50 KG
Amy Fearnside (TMWC/ USOPTC) pin Whitney Conder (ARMY WCAP), 5:25
Victoria Anthony (ASU RTC/Sunkist Kids Wrestling Club) dec. Alyssa Lampe (Beaver Dam RTC/Sunkist), 7-6
53 KG
Ronna Heaton (Sunkist Kids Wrestling Club) pin Dominique Parrish (Sunkist Kids Wrestling Club), 5:58
Katherine Shai (TMWC/ NCWC) dec. Areana Villaescusa (ARMY WCAP), 2-1
57 KG
Jenna Burkert (ARMY WCAP) tech. fall Cameron Guerin (TMWC/ BEARCAT WC) 11-0
Alli Ragan (Sunkist Kids Wrestling Club) dec. Xochitl Mota-Pettis (RISE RTC), 9-2
62 KG
Maya Nelson (Sunkist Kids Wrestling Club) dec. Jennifer Page (TMWC/ NLWC), 6-1
Macey Kilty (Sunkist Kids Wrestling Club) dec. Mallory Velte (TMWC), 4-2
68 KG
Forrest Molinari (Sunkist Kids Wrestling Club) dec. Alara Boyd (McKendree Bearcat Wrestling Club) 4-3
Kennedy Blades (Sunkist Kids Wrestling Club) dec. Alexandria Glaude (TMWC/ BEARCAT WC) 5-0
76 KG
Kylie Welker (TMWC) dec. Dymond Guilford (TMWC/ USOPTC), 8-0
Victoria Francis (TMWC) dec. Jackie Cataline (TMWC) Dec 9-3