News
USA Wrestling
International
High School & Youth
USAW
Women's freestyle team receives draws for 2021 Junior World Championships in Russia
by Taylor Miller, USA Wrestling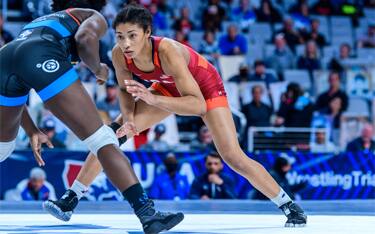 Photo of Kennedy Blades by Tony Rotundo, WrestlersAreWarriors.com.
All 10 wrestlers on the U.S. women's freestyle team received draws for the 2021 Junior World Championships, which starts Wednesday in Ufa, Russia.
Beginning their tournaments on Wednesday are Emily Shilson (50 kg), Payton Stroud (55 kg), Mia Macaluso (59 kg), Amit Elor (68 kg) and Kylie Welker (76 kg).
The other five athletes—Jaslynn Gallegos (53 kg), Claire DiCugno (57 kg), Korina Blades (62 kg), Alara Boyd (65 kg) and Kennedy Blades (72 kg)—will take the mats on Thursday.
Full schedule with ET for Team USA
See the draws for each athlete below.
Fans can watch all the action live on FloWrestling or follow along on social media @USAWrestling.
2021 JUNIOR WORLD CHAMPIONSHIPS

Aug. 16-22 | Ufa, Russia
U.S. women's freestyle draws
50 kg: Emily Shilson (Maple Grove, Minn./Titan Mercury WC)

vs. Natallia VARAKINA (Belarus), gold at 2018 Youth Olympic Games
53 kg: Jaslynn Gallegos (Brighton, Colo./Blue Chip WC)

vs. Chamodya MADURAVALAGE DON (Sri Lanka), no international credentials
55 kg: Payton Stroud (Buckley, Wash./McKendree Bearcat WC)

vs. Antonia VALDEZ ARRIAGADA (Chile), silver 2019 Cadet Pan American Championships
57 kg: Claire DiCugno (Lake Taps, Wash./Takedown Express WC)

vs. Mansi MANSI (India), bronze at 2018 Junior World Championships, silver at 2016 Cadet World Championships
59 kg: Mia Macaluso (Otisville, N.Y./Team New York)

vs. Ebru DAGBASI (Turkey), fifth at 2019 European Youth Olympic Festival
62 kg: Korina Blades (Broadview, Ill./Izzy Style WC)

vs. Nadzeya BULANAYA (Belarus), silver at 2019 Alexander Medved International
65 kg: Alara Boyd (Muncie, Ind./McKendree Bearcat WC)

vs. Irina RINGACI (Moldova), bronze at 2019 U23 World Championships, gold at 2021 U23 European Championships
68 kg: Amit Elor (Walnut Creek, Calif./Titan Mercury WC)

vs. Arju ARJU (India), no international credentials
72 kg: Kennedy Blades (Broadview, Ill./Izzy Style WC)

vs. Mariam GUSEINOVA (Russia), bronze at 2021 Junior European Championships
76 kg: Kylie Welker (Franksville, Wisc./Titan Mercury WC)

vs. Laura KUEHN (Germany), ninth at 2021 Junior European Championships