Two-time Olympian Provisor, past World Team members Nowry, Roberts reach Senior National Greco-Roman finals
by Gary Abbott, USA Wrestling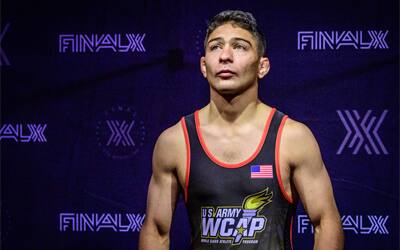 Portrait of Max Nowry, who has reached the Senior National finals.
CORALVILLE, Iowa – The finals have been set at the Senior National Greco-Roman Championships, held at Xtreme Arena on Friday.
Among the finalists is two-time Olympian Ben Provisor of the New York AC, who reached 82 kg finals, where he will battle U.S. Olympic Team Trials finalist Peyton Walsh of the U.S. Marine Corps for the title. Both Provisor and Walsh won their semifinals by technical fall.
Among the other finalists are past Senior World Team members Max Nowry of Army WCAP at 55 kg and Dalton Roberts of Army WCAP at 60 kg. They will each wrestle one of the Koontz brothers of the Titan Mercury WC/Ohio RTC.
Nowry, fifth at the 2019 World Championships, faces Brady Koontz in a rematch of 2019 Final X, won by Nowry. Roberts will battle twin brother Dylan Koontz in his finals match. Dylan Koontz beat 2020 Senior Nationals champion Alex Thomsen of Nebraska WTC in the semifinals by technical fall.
Returning Senior Nationals champion Nick Boykin of the Sunkist Kids will wrestle in the 97 kg finals, battling James Souza of Army WCAP for the title.
There is an all-Marine Corps finals at 72 kg, where Xavier Johnson and Jamel Johnson will battle for the title. Both are past National Team members.
2019 Junior World bronze medalist Alston Nutter of the Sunkist Kids battles veteran star Hayden Tuma of the Suples WC in the 67 kg finals.
The championship finals begin at 7:00 p.m. live on FloWrestling
SENIOR NATIONALS
At Coralville, Iowa

Greco-Roman Finals pairings
55 kg - Max Nowry (Army (WCAP)) vs. Brady Koontz (TMWC/ Ohio Regional Training Center)
60 kg - Dalton Roberts (Army (WCAP)) vs. Dylan Koontz (TMWC/ Ohio Regional Training Center)
63 kg - Randon Miranda (Rise RTC) vs. David Stepanian (New York Athletic Club)
67 kg - Hayden Tuma (Suples Wrestling Club) vs. Alston Nutter (Sunkist Kids Wrestling Club)
72 kg - Xavier Johnson (Marines) vs. Jamel Johnson (Marines)
77 kg - Alec Ortiz (Minnesota Storm) vs. Ryan Epps (Gopher Wrestling Club - RTC)
82 kg - Peyton Walsh (Marines) vs. Ben Provisor (New York Athletic Club)
87 kg - Spencer Woods (Army (WCAP)) vs. Tommy Brackett (Tennessee)
97 kg - James Souza (Army (WCAP)) vs. Nicholas Boykin (Sunkist Kids Wrestling Club)
130 kg - Daniel Miller (Marines) vs. Malcolm Allen (South Dakota)

Greco-Roman Semifinal results
55 kg
Max Nowry (Army (WCAP)) tech. fall Jacob Cochran (Florida), 9-0 2:05
Brady Koontz (TMWC/ Ohio Regional Training Center) tech. fall Dalton Duffield (Army (WCAP)), 10-6 5:09
60 kg
Dalton Roberts (Army (WCAP)) tech. fall King Sandoval (Bandits Wrestling Club), 11-2 2:44
Dylan Koontz (TMWC/ Ohio Regional Training Center) tech. fall Alex Thomsen (Nebraska Wrestling Training Center), 8-0 4:20
63 kg
Randon Miranda (Rise RTC) tech. fall Lillashawn Coleman (Army (WCAP)), 9-0 2:02
David Stepanian (New York Athletic Club) dec. Corbin Nirschl (MWC Wrestling Academy), 8-4
67 kg
Hayden Tuma (Suples Wrestling Club) tech. fall Nolan Baker (New York Athletic Club), 10-2 1:04
Alston Nutter (Sunkist Kids Wrestling Club) tech. fall Jessy Williams (New York Athletic Club), 9-0 0:56
72 kg
Xavier Johnson (Marines) dec. Griffin Parriott (Minnesota), 8-5
Jamel Johnson (Marines) dec. Michael Hooker (Army (WCAP)), 5-0
77 kg
Alec Ortiz (Minnesota Storm) dec. Fritz Schierl (Titan Mercury Wrestling Club (TMWC)), 6-3
Ryan Epps (Gopher Wrestling Club - RTC) dec. Chance Marsteller (Titan Mercury Wrestling Club (TMWC)), 4-2
82 kg
Peyton Walsh (Marines) tech fall John Kent (Louisiana), 8-0 0:51
Ben Provisor (New York Athletic Club) tech fall George Sikes (New York Athletic Club), 10-0 2:47
87 kg
Spencer Woods (Army (WCAP)) tech. fall Joel Nivar (Marines), 8-0 3:33
Tommy Brackett (Tennessee) dec. Terrence Zaleski (Marines), 3-2
97 kg
James Souza (Army (WCAP)) dec. Chad Porter AZ (Sunkist Kids Wrestling Club), 3-1
Nicholas Boykin (Sunkist Kids Wrestling Club) pin Vaughn Monreal-Berner (Marines), 2-0 0:39
130 kg
Daniel Miller (Marines) tech. fall Courtney Freeman (Marines), 13-4 5:02
Malcolm Allen (South Dakota) dec. Thomas Helton (Southern Illinois Training Center), 6-1
Quarterfinal results
55
Max Nowry CO (Army (WCAP)) VSU Elijah Varona FL (Viking Wrestling Club (IA)), 9-0 1:38
Jacob Cochran FL (Florida) VSU Cole Smith CO (Army (WCAP)), 8-0 1:13
Dalton Duffield OK (Army (WCAP)) VSU Dane Durlacher IL (Illinois Regional Training Center/Illini WC), 11-0 3:37
Brady Koontz WI (TMWC/ Ohio Regional Training Center) VSU Gabriel Gray TX (Texas Panhandle Wrestling Club), 8-0 1:43
60 kg
Dalton Roberts MI (Army (WCAP)) VSU1 Thomas Hicks TN (Tennessee), 12-1 1:58
King Sandoval (Bandits) bye
Dylan Koontz WI (TMWC/ Ohio Regional Training Center) VFA Nelson Baker IL (Northern Illinois RTC), 4-0 1:11
Alex Thomsen IA (Nebraska Wrestling Training Center) VSU Kevon Powell LA (Louisiana), 9-0 2:16
63 kg
Randon Miranda CA (Rise RTC) VSU Raffaele Masi NY (Curby 3 Style Wrestling Club), 8-0 0:45
Lillashawn Coleman CO (Army (WCAP)) VFA Mason Lewis (Pennsylvania), 4-0 1:35
Corbin Nirschl NE (MWC Wrestling Academy) VSU Matthew Floresca WA (Wrestling Rhinos), 9-0 2:14
David Stepanian MI (New York Athletic Club) VFA We Rachal IL (Illinois Regional Training Center/Illini WC), 6-2 5:35
67 kg
Nolan Baker IL (New York Athletic Club) VFA Ty Lydic PA (Westmoreland County Wrestling Club), 4-0 0:32
Hayden Tuma ID (Suples Wrestling Club) VSU Morgan Flaharty CO (New York Athletic Club), 9-0 2:15
Jessy Williams NY (New York Athletic Club) VSU Timothy Nevarez CA (California), 9-0 1:14
Alston Nutter WI (Sunkist Kids Wrestling Club) VSU Zachary Revier MN (Minnesota), 8-0 0:21
72 kg
Xavier Johnson NC (Marines) VSU1 Justin Koethe IA (Ubasa Wrestling Academy), 12-3 2:27
Griffin Parriott MN (Minnesota) VSU Micah Arakawa HI (Grapplers HI), 8-0 0:28
Michael Hooker CO (Army (WCAP)) VSU Ryan Ojeda CA (California), 8-0 1:30
Jamel Johnson NC (Marines) VFA Reese Dalton GA (NMU-National Training Center), 8-0 1:02
77 kg
Alec Ortiz MN (Minnesota Storm) VSU Zachary Grimes CO (Colorado), 9-0 1:36
Fritz Schierl WI (Titan Mercury Wrestling Club (TMWC)) VFA Eddie Smith IA (Dubuque Wrestling Club), 6-1 4:25
Ryan Epps MN (Gopher Wrestling Club - RTC) VSU Tony Raupp ND (Minot MatWrats Wrestling Club), 8-0 2:03
Chance Marsteller PA (Titan Mercury Wrestling Club (TMWC)) VFA Britton Holmes CO (Colorado), 3-1 1:43
82 kg
Peyton Walsh NC (Marines) VSU Kyle Briggs IA (Iowa), 8-0 1:18
John Kent LA (Louisiana) VSU Austin Dohl-pantaleo PA (Team Tornado Wrestling Club), 9-0 1:42
George Sikes FL (New York Athletic Club) VPO1 Jordan Lara NM (Texas Panhandle Wrestling Club), 7-2
Ben Provisor PA (New York Athletic Club) VSU John Hagey NM (505 Wrestling Club), 8-0 4:55
87 kg
Spencer Woods AK (Army (WCAP)) VSU1 Job Ayala WI (Wisconsin), 10-1 2:02
Joel Nivar NC (Marines) VPO1 Dan Olsen WI (Combat W.C. School of Wrestling), 5-1
Tommy Brackett TN (Tennessee) VSU Nick Reenan NC (TMWC/ Wolfpack Wrestling Club), 9-0 3:51
Terrence Zaleski NC (Marines) VSU Chase Mccleish IA (Iowa), 9-0 0:34
97 kg
Nicholas Boykin TN (Sunkist Kids Wrestling Club) VSU Diante Cooper CO (Air Force Regional Training Center), 8-0 2:19
Vaughn Monreal-berner NC (Marines) VFA Christian Rouleau MN (Minnesota Storm), 8-0 2:21
Chad Porter AZ (Sunkist Kids Wrestling Club) VSU Ben Hughes OR (Southern Oregon Regional Training Center), 8-0 1:47
James Souza WA (Army (WCAP)) VSU Chris Droege OH (Compound Wrestling- Great Lakes Regional Training Center), 8-0 0:39
130 kg
Thomas Helton IL (Southern Illinois Training Center) VPO1 Brandon Metz ND (Bison Wrestling Club), 4-1
Malcolm Allen SD (South Dakota) VSU Lee Herrington NE (Nebraska Golden Eagles Wrestling Club), 10-0 2:05
Courtney Freeman GA (Marines) VFA Kaleb Reeves IA (Iowa), 7-5 2:55
Daniel Miller NC (Marines) VPO Tom Foote MA (South Side Wrestling Club), 7-0