News
USA Wrestling
International
College
High School & Youth
USAW
Doubling Up: Marsteller, Reenan, Amos among big number of Seniors & UWW Juniors going both styles in Coralville
by Gary Abbott, USA Wrestling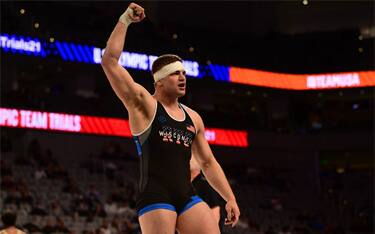 U.S. Olympic Team Trials Greco-Roman finalist Braxton Amos is entered in both styles at the UWW Junior Nationals this weekend.
There has been a tendency for people to believe that the older a wrestler gets, the more likely the athlete will compete in only one international style.
While that may be the case for many, the registrations for the upcoming Senior Nationals and UWW Junior Nationals this weekend in Coralville, Iowa indicate that a growing number of athletes are choosing to compete in both men's freestyle and Greco-Roman.
Of the 374 entries in the Senior Nationals, there are 29 wrestlers who have registered in both styles. And of the 586 entries in the UWW Junior Nationals (which is the World Team Trials this year), there are 76 who are going both Greco-Roman and freestyle. This is a big increase from recent years.
We have pulled together a list of those "doubling-up" in Coralville this weekend.
The most prominent of those doubling up in Coralville is Braxton Amos of the Wisconsin RTC, who was second in the U.S. Olympic Team Trials in Greco-Roman and also qualified and competed in the Olympic Trials in freestyle. Amos is choosing to compete in the UWW Juniors Nationals at 97 kg in both styles, attempting to make the Junior World Team in both disciplines and seek World medals in both.
The most prominent of the athletes going both styles at the Senior Nationals are Chance Marsteller of the Titan Mercury WC and Nick Reenan of the Wolfpack WC.
Marsteller is already considered a top Senior-level freestyle wrestler, having competed at the U.S. Olympic Team Trials in that style this year. However, he has added Greco-Roman to his entry for the Senior Nationals, something he excelled in when he was a high school phenom in Pennsylvania in addition to his freestyle prowess.
Reenan has already shown national and international-level skills in both styles. Reenan reached Final X in 2018 in men's freestyle, earning the No. 2 on the Senior National Team that year. Reenan made Cadet and Junior World Teams in Greco-Roman, and was second in the 2018 Junior World Trials in freestyle.
Athletes who are going both styles come from a wide variety of RTCs and clubs, and come from numerous parts of the nation. These athletes are putting it on the line twice this weekend. A big question (which we will monitor) will be how many of these athletes are able to earn All-American status in both styles?
"We appreciate that the coaches and athletes are demonstrating their skill sets in both styles. We know that using these skill sets that transfer over to both styles, it will maximize and allow them to get greater scoring opportunities in both styles. There is a direct correlation there. When they do dual pathways, they have more opportunities for training and for advancement. Hats off to them," said Manager of Greco-Roman Programs Gary Mayabb.
SENIORS (29)
Kash Anderson (Idaho), 92kgFS,97kgGR
Micah Arakawa (Grapplers HI), 70kgFS, 72kgGR
Job Ayala (Wisconsin), 87kgFS, 87kgGR
Donovan Corn (Arizona), 92kgFS, 97kgGR
Mauro Correnti (PRTC/NYAC), 125kgFS, 130kgGR
Chris Droege (Compound WC-Great Lakes), 92kgFS, 97kgGR
Dane Durlacher (Illinois RTC), 57kgFS, 55kgGR
Ryan Epps (Gopher WC), 79kgFS, 77kgGR
Easton Graff (Kentucky), 74kgFS, 72kgGR
Gabriel Gray (Texas Panhandle WC), 57kgFS, 55kgGR
Lee Herrington (Nebraska Golden Eagles WC), 125kgFS, 130kgGR
Jack Huffman (MWC Wrestling Academy), 65kgFS, 63kgGR
Ben Hughes (Southern Oregon RTC), 97kgFS, 97kgGR
Nate Lloyd (Wisconsin), 125kgFS, 130kgGR
Ty Lydic (Westmoreland County WC), 65kgFS, 67kgGR
Chance Marsteller (Titan Mercury WC), 79kgFS, 77kgGR
Sean McCabe (SWAT), 70kgFS, 72kgGR
Chase McCleish (Iowa), 86kgFS, 87kgGR
Brandon Metz (Bison WC), 125kgFS, 130kgGR
Carlos Monteon, Jr. (Arizona), 70kgFS, 74kgGR
Timothy Nevarez (California), 79kgFS, 67kgGR
Ryan Ojeda (California), 70kgFS, 72kgGR
We Rachal (Illinois RTC), 61kgFS, 60kgGR
Tony Raupp (Minot MatWrats) 74kgFS, 77kgGR
Nick Reenan (Wolfpack WC), 86kgFS, 87kgGR
Michael Rogers (Nittany Lion WC), 125kgFS, 97kgGR
Dalton Swayze (Washington), 86kgFS, 87kgGR
Jose Valdez (Charlotte Hammerheads) 92kgFS, 97kgGR
Joseph Williams (Shenandoah RTC), 86kgFS, 87kgGR
JUNIORS (76)
Braxton Amos (Wisconsin RTC), 97kgFS, 97kgGR
Brendan Barnes (Montana), 70kgFS, 72kgGR
Connor Bourne (Nevada), 86kgFS, 87kgFS
Nic Bouzakis (Pennsylvania), 61kgFS, 60kgFS
Joey Braunagel (Illinois RTC), 92kgFS, 97kgGR
Jakason Burks (Cowboy RTC), 61kgFS, 69kgGR
Zackery Burroughs (Ohio), 92kgFS, 97kgGR
Roman Bushek (Champion WC), 86kgFS, 87kgGR
Talmage Carman (Sanderson Wrestling Academy), 86kgFS, 82kgGR
Christian Carroll (Midwest RTC), 92kgFS, 97kgGR
Andrew Chambral (Michigan), 61kgFS, 60kgGR
Anthony Ching (Poway HS Wrestling), 65kgFS, 67kgGR
Peter Christiansen (Wisconsin RTC), 125kgFS, 120kgGR
Joseph Couch (Maryland), 57kgFS, 55kgGR
Jack Darrah (Xtreme Training), 92kgFS, 87kgGR
Matthew Doyle (Burg TC), 79kgFS, 77kgGR
Jonathon Fagen (Spartan Combat RTC), 86kgFS, 82kgGR
Richard Fedalen (Warhawks Wrestling), 61kgFS, 63kgGR
Adam Gandara (Poway Wrestling), 70kgFS, 72kgFS
Tyler Goebel (Mukwonago HS Wrestling), 70kgFS, 67kgGR
Nicholas Gonzalez (Izzy Style Wrestling), 57kgFS, 55kgGR
Apollo Gothard (Izzy Style Wrestling), 125kgFS, 130kgGR
Caspain Grabowski (Arkansas RTC), 97kgFS, 97kgGR
Easton Graff (Kentucky), 74kgFS, 72kgGR
Jonathan Gurule (505 WC), 57kgFS, 55kgGR
Jordan Hamdan (Michigan), 61kgFS, 63kgGR
Grant Hansen (Illinois), 74kgFS, 72kgGR
Dominic Hargrove (Betterman Elite), 61kgFS, 60kgGR
Hagen Heistand (Sebolt Wrestling Academy), 65kgFS, 67kgGR
Kaden Hine (Idaho Grizz WC), 65kgFS, 67kgGR
Ezekiel Hulet (Illinois RTC), 61kgFS, 60kgGR
Evan Janson (Takedown Express WC), 61kgFS, 65kgGR
Niko Katsuyoshi (New England RTC), 74kgFS, 72kgGR
Dallas Koelzer (Kansas), 70kgFS, 67kgGR
Zak Kozumplik (Burg TC), 79kgFS, 77kgGR
Josh LaBarbera (Pennsylvania RTC), 86kgFS, 87kgGR
Hunter Lewis (Wolfpack RTC), 65kgFS, 67kgGR
Angelo Lozado (Lil Saints Youth Wrestling), 57kgFS, 55kgGR
Luke Luffman (Illinois RTC), 125kgFS, 130kgGR
Denzel Mabry (San Francisco WC), 92kgFS, 97kgGR
Kellen March (Bison WC), 61kgFS, 60kgGR
Johnny Masopust (Colorado), 61kgFS, 60kgGR
Nick Masters (Princeton WC), 61kgFS, 60kgGR
Kase Mauger (Brunson UVRTC), 61 kgFS, 60kgGR
Braxton Mikesell (Washington), 125kgFS, 130kgGR
Keith Miley (Throughbred Wrestling Academy), 125kgFS, 130kgGR
Spencer Mooberry (Caveman Wrestling), 86kgFS, 87kgGR
Anthony Nicolosi (SWAT), 74kgFS, 72kgGR
Joseph Nicolosi (SWAT), 86kgFS, 82kgGR
Gabriel Ojeda (North Dakota), 70kgFS, 67kgGR
Deanthony Parker (Moline WC), 86kgFS, 87kgGR
Carter Proffit (Burg Training Center), 74kgFS, 77kgGR
John Richardson (Texas Pride WC), 74kgFS, 72kgGR
Ethon Rider (Arizona), 57kgFS, 55kgGR
Aydin Rix McElhinney (Betterman Elite), 74kgFS, 72kgGR
Alexander Sandoval (Arizona), 79kgFS, 77kgGR
Justus Scott (Legends of Gold Las Vegas), 74kgFS, 72kgGR
Daniel Segura (Patriot Elite WC), 70kgFS, 72kgGR
Max Shore (Ohio), 57kgFS, 55kgGR
Matthew Singleton (Compound Wrestling), 79kgFS, 77kgGR
Kodiak Stephens (Ebbets Pass Wrestling), 86kgGS, 87kgGR
Jett Strickenberger (Black Fox Wrestling Academy), 57kgFS, 55kgGR
Jared Stricker (Wisconsin), 79kgFS, 77kgGR
Noah Talavera (Southern Oregon RTC), 74kgFS, 72kgGR
Jayden Terronez (Dark Knights WC), 70kgFS, 72kgGR
Travis Thorpe (Southern Oregon RTC), 74kgFS, 72kgGR
Isaac Trumble (Wolfpack WC), 92kgFS, 97kgGR
Tyler Valdez (Betterman Elite), 70kgFS, 72kgGR
Nain Vazquez (Izzy Style Wrestling), 57kgFS, 55kgGR
Fernando Villaescusa (Cyclone WC), 86kgFS, 87kgGR
Wyatt Voelker (Big Game WC), 86kgFS, 87kgGR
Jore Volk (Pinnacle WC), 57kgFS, 55kgGR
Michael Weber (Montana), 74kgFS, 72kgGR
Ryan Wheeler (Washington), 70kgFS, 72kgGR
Cayden White (Washington), 86kgFS, 87kgGR
Zachary Wright (San Francisco WC), 61kgFS, 60kgGR