News
USA Wrestling
College
High School & Youth
International
USAW
Fans can watch USA Wrestling practices between sessions at 2023 NCAA Championships in Tulsa at Cox Convention Center
by Gary Abbott, USA Wrestling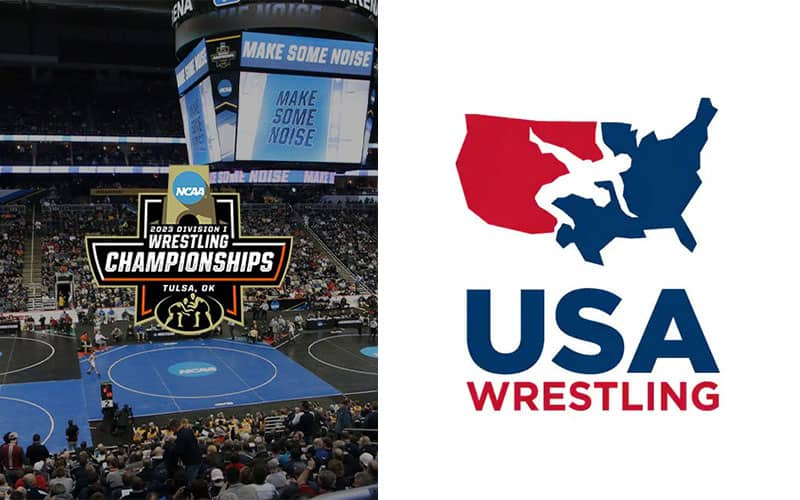 Wrestling fans can see some of the nation's top wrestlers in training between the sessions of the NCAA Div. I Wrestling Championships in Tulsa, Okla., March 16-18.
Each day of the tournament,
USA Wrestling practices will be held on the Fan Festival Stadium mats at the Cox Convention Center.
Included in these workouts will be select Senior-level athletes, as well as some elite age-group wrestlers from USA Wrestling's development system
Each day, the USA Wrestling practice will be at a different time, so please check the schedule below.
Thursday, March 16- 3:30 p.m - 4:45 p.m.
Friday, March 17 - 2:30 p.m.- 3:45 p.m.
Saturday, March 18 - 1:30-2:45 p.m.
There will be a
special USA Wrestling autograph session on Saturday, March 18,
following the practice that day, from 2:55 p.m. – 3:25 p.m. There will be members of the Senior National Freestyle Team who will participate in the autograph signings.
Please note: These are not open practices for those looking for a workout. The participants are only those who have been invited by USA Wrestling to attend the practices.
The USA Wrestling practices and autograph session are part of the NCAA Championships Fan Festival in the Cox Convention Center, which includes activities including the WIN Fan Expo, an NWCA Coaches Clinic, the National Wrestling Hall of Fame Oklahoma Greats Session, the Semifinals Preview Show and more.