News
USA Wrestling
College
USAW
Western Wyoming leads returning champion Clackamas after day one of NJCAA Nationals
by Gary Abbott, USA Wrestling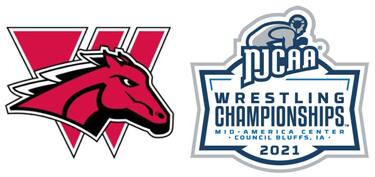 COUNCIL BLUFFS, Iowa – Western Wyoming, ranked No. 3 coming into the tournament, leads the NJCAA National Championships, with an 8.5-point lead over returning champion and No. 1 ranked Clackamas after day one on Wednesday.
Western Wyoming has three semifinalists, and all seven other wrestlers alive in the consolations. The Western Wyoming semifinalists, with their seeds, are No. 2 Anthony Herrera (157), No. 4 Collin Smith (165) and No. 3 Mason Christiansen (174). Western Wyoming has 103.5 team points, followed by Clackamas with 95 points.
The teams with the most semifinalists are returning champion Clackamas, as well as No. 2 ranked Pratt with five. Pratt is currently in third place with 88.5 points.
The five Clackamas semifinalists, with their seeds are No. 2 Cameron Enriquez (125), No. 1 Zeth Brower (133), No. 2 Marckis Branford (141), No. 12 Deville Dentis (149) and No. 1 Tarik Sutkovic (197). Clackamas cane in with eight wrestlers seeded in the top four, so this performance is below seed. Two of Clackamas' wrestlers were eliminated on Wednesday.
The five Pratt semifinalists are No. 1 Michael Spangler (125), No. 3 Jason Henschel (133), No. 1 Jacob Beeson (149), No. 3 Dayton Porsch (157) and No. 11 Devon Dawson (285). Pratt has two wrestlers alive in the consolations.
Only two of the three returning champions have reached the semifinals, Spangler and Beeson of Pratt. The other returning champion, No. 1 seed Blake Gonzalez of Northeastern Oklahoma, los his 141-pound quarterfinal to No. 25 seed Bret Minor of Iowa Central, a 4-3 winner in tiebreaker two.
Eight of the No. 1 seeds reached the semifinals. Along with Gonzalez, the other No. 1 who was defeated on Wednesday was Dan Baker of Northeastern Oklahoma, who was defeated in the round of 16 by No. 17 seed Dillun Miller of Iowa Western, 3-2. Miller was defeated in the quarterfinals.
Rounding out the top five after day one is fourth-place Iowa Central with 83 points and five-place Northeastern Oklahoma with 80 points.
After the morning session, which included two rounds on the championship side, Iowa Central was in the lead, followed by Northeastern Oklahoma, Western Wyoming, Clackamas and Pratt.
The tournament concludes on Thursday, and is broadcast live on TrackWrestling.
NJCAA brackets on FloArena
NJCAA NATIONALS
At Council Bluffs, Iowa,

Semifinal pairings
125
No. 1 Michael Spangler (Pratt) vs. No. 4 Chris Busutil (Indian Hills)
No. 3 Aseel Almudhala (Henry Ford) vs. No. 2 Cameron Enriquez (Clackamas)
133
No. 1 Zeth Brower (Clackamas) vs. No. 4 Caleb Meekins (Indian Hills)
No. 3 Jason Henschel (Pratt) vs. No. 2 Parker Dobrocky (RCTC)
141
No. 25 Bret Minor (Iowa Central) vs. No. 4 Creighton Baughman (Iowa Western)
No. 11 Chinzorig Tsermaa (Northwest Kansas Tech) vs. No. 2 Marckis Branford (Clackamas)
149
No. 1 Jacob Beeson (Pratt) vs. No. 12 Deville Dentis (Clackamas)
No. 11 Malik Johnson (Cowley) vs. No. 12 Sal Silva (North Idaho)
157
No. 1 Isaiah Crosby (Iowa Western) vs. No. 4 Brandon Bollinger (North Idaho)
No. 3 Dayton Porsch (Pratt) vs. No. 2 Anthony Herrera (Western Wyoming)
165
No. 1 Christian Minto (NIACC) vs. No. 4 Collin Smith (Western Wyoming)
No. 11 Keaton Geerts (Iowa Central) vs. No. 2 Seth Brossard (RCTC)
174
No. 1 Jose Rodriquez (Iowa Central) vs. No. 12 Navarro Nanpuya (North Idaho)
No. 3 Mason Christiansen (Western Wyoming) vs. No. 15 Jacobi Deal (Northwest Kansas Tech)
184
No. 1 Deron Pulliam (Indian Hills) vs. No. 5 Jacari Deal (Northwest Kansas Tech)
No. 6 Jaden Roberts (Rowan) vs. No. 6 Gavin Christofferson (RCTC)
197
No. 1 Tarik Sutkovic (Clackamas) vs. No. 12 Jose Valdez (Niacc)
No. 3 Zach Ferris (Cloud) vs. No. 2 Josh Mcfarland (Iowa Western)
285
No. 9 Curtis Ruff (Triton) vs. No. 12 Jorden Pryor (Iowa Central)
No. 11 Devon Dawson (Pratt) vs. No. 2 Mitchell Williamson (Iowa Lakes)
Quarterfinal results
125
Michael Spangler (Pratt) F Nathan Rizek (Iowa Western), 4:09
Chris Busutil (Indian Hills) DEC Garrett Ricks (Western Wyoming), 6-5
Aseel Almudhala (Henry Ford) MD Clarence Lee-green (Niacc), 11-2
Cameron Enriquez (Clackamas) F Kody Evans (Lackawanna), 2:27
133
Zeth Brower (Clackamas) F Jesse Keesal (Camden), 1:08
Caleb Meekins (Indian Hills) F James Davis (Cloud), 1:32
Jason Henschel (Pratt) DEC David Kerr (Southwestern Oregon), 7-0
Parker Dobrocky (Rctc) DEC Lucas Montgomery (Northeastern Oklahoma), 14-7
141
Bret Minor (Iowa Central) DEC Blake Gonzalez (Northeastern Oklahoma), 4-3 TB2
Creighton Baughman (Iowa Western) MD Jacob Mitchell (Pratt), 17-9
Chinzorig Tsermaa (Northwest Kansas Tech) TF Caleb Nathan (Western Wyoming), 21-5 4:37
Marckis Branford (Clackamas) MD Trenton Donahue (Jamestown CC), 13-0
149
Jacob Beeson (Pratt) TF Elijah Kidder (Henry Ford), 16-0 5:25
Deville Dentis (Clackamas) DEC Philip Sims (Triton), 7-5 SV
Malik Johnson (Cowley) MD Phil Smith jr. (Iowa Central), 11-3
Sal Silva (North Idaho) DEC Joel Ostrom (Cloud), 5-1
157
Isaiah Crosby (Iowa Western) MD Josh Parks (Northeastern Oklahoma), 13-2
Brandon Bollinger (North Idaho) DEC Willie Vonruden (Rctc), 16-10
Dayton Porsch (Pratt) DEC Andrew Gamble (Iowa Central), 3-1
Anthony Herrera (Western Wyoming) MD Davson Chavez (Barton), 10-1
165
Christian Minto (Niacc) DEC Cooper Mosier (Cloud), 5-1
Collin Smith (Western Wyoming) DEC Fabian Padilla (Iowa Western), 3-2
Keaton Geerts (Iowa Central) MD Jake Richardson (Clackamas), 12-2
Seth Brossard (Rctc) F Caleb Werner (Umpqua), 1:58
174
Jose Rodriquez (Iowa Central) F Jeremiah Voliva (Labette), 4:37
Navarro Nanpuya (North Idaho) DEC Cayden Atkens (Pratt), 7-1
Mason Christiansen (Western Wyoming) DEC Dayton Fields (Northeastern Oklahoma), 13-9
Jacobi Deal (Northwest Kansas Tech) DEC Ross Abram (Jamestown CC), 6-4
184
Deron Pulliam (Indian Hills) MD Bronson Jewell (Muskegon), 13-5
Jacari Deal (Northwest Kansas Tech) MD Trevor Shook (Cowley), 10-2
Jaden Roberts (Rowan) DEC Michael Gasper (Clackamas), 6-5
Gavin Christofferson (Rctc) DEC Steve Liebler (Niagara), 9-4 TB2
197
Tarik Sutkovic (Clackamas) F Kayleb Venema (Muskegon), 5:46
Jose Valdez (Niacc) DEC Tyler Scheurn (Western Wyoming), 6-4 SV
Zach Ferris (Cloud) DEC Jerrell Belcher (Ellsworth), 6-4
Josh Mcfarland (Iowa Western) DEC Seth Sarasua (Northeastern Oklahoma), 5-3
285
Curtis Ruff (Triton) DEC Dillyn Miller (Iowa Western), 7-4
Jorden Pryor (Iowa Central) MD Noah Broderson (Rctc), 18-5
Devon Dawson (Pratt) DEC Kyle Richards (Clackamas), 7-6
Mitchell Williamson (Iowa Lakes) DEC Ayston Perez (Barton), 5-2
Top 20 team standings after day one
1 Western Wyoming 103.5
2 Clackamas 95
3 Pratt 88.5
4 Iowa Central 83
5 Northeastern Oklahoma 80
6 Indian Hills 65
7 North Idaho 62.5
8 Iowa Western 58
9 Rctc 57
10 Northwest Kansas Tech 49.5
11 Cowley 43
12 Cloud 39.5
13 Niacc 39
14 Labette 35
15 Southwestern Oregon 34.5
16 Jamestown CC 30
17 Triton 29
18 Iowa Lakes 27.5
19 tie. Neosho 26
19 tie. Niagara 26