News
USA Wrestling
International
College
USAW
Schedule change: Senior Nationals men's freestyle to complete in one day, Saturday, May 1, in Coralville, Iowa
by Gary Abbott, USA Wrestling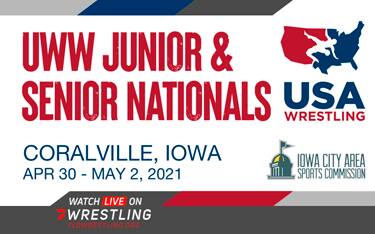 USA Wrestling has announced a change in the schedule for the men's freestyle division at the upcoming Senior Nationals, set for the Xtream Arena in Coralville, Iowa.
The competition portion of the men's freestyle division of the Senior Nationals will be held in one day, Saturday, May 1. Previously, the tournament in men's freestyle was scheduled to be held on both Saturday and Sunday.
This change has been made for a number of reasons. Based upon the preliminary entries, and the expected number of participants after consultation with the major national clubs, the tournament size will be smaller than estimated. With this information now available, the competition will be able to be completed in one day.
During the COVID-19 pandemic, as part of the health and safety protocols, USA Wrestling has worked to make its tournaments as efficient as possible, with a goal of limiting the time of participants in the facility. Shortening the men's freestyle division to one day is consistent with this safety goal.
In addition, the reduction to a one-day tournament will allow a number of national clubs and RTCs to save funds on hotels, food and other costs, which is helpful to those programs in their effort to maximize support to their athletes.
The new schedule for the men's freestyle division will be:
Saturday, May 1st



Medical Check and Weigh-in: Scratch Weight

7:30 AM - 8:00 AM


Senior Men's Freestyle- All weights

Preliminaries, Quarterfinals, Semifinals and consolations

10:00 AM – 3:00 PM


Senior Men's Freestyle- All weights

Consolations, Consolation Semifinals and 3rd, 5th and 7th place

4:30 PM - 7:00 PM
The Senior Nationals is a qualifying event for the 2021 World Team Trials, with the top five place winners in each weight class advancing to the World Team Trials, which will be held at a location and date to be determined.
The Senior Women's Freestyle division, the Senior Greco-Roman division and the UWW Junior Greco-Roman division will all be held in their entirety on Friday, April 30, as previously scheduled.
The UWW Junior division will be still held over two days, Saturday, April 1 and Sunday, April 2. The change in the schedule will allow the UWW Junior men's competition to finish earlier than expected, potentially completing as early as 2:00 p.m. CT.
For more information, visit the official website:
Senior Nationals and UWW Junior Nationals website