News
USA Wrestling
High School & Youth
Women
USAW
National Girls High School Rankings released for April, as spring season begins with major national events
by USA Wrestling, National Wrestling Hall of Fame, FloWrestling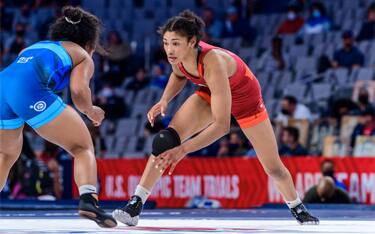 Kennedy Blades competing at the U.S. Olympic Team Trials - Wrestling in Fort Worth, Texas. Photo by Tony Rotundo, Wrestlers Are Warriors.
USA Wrestling, FloWrestling and the National Wrestling Hall of Fame and Museum has published its sixth national rankings for high school girls wrestlers for the 2020-21 season.
This ranking evaluates all girls enrolled in grades 8-12, and athletes from all 50 states are eligible for selection.
It has been a busy time for girls high school wrestlers. Since the last ranking in March, numerous states have completed their official or unofficial girls state championships. These state tournaments play an important role in setting the rankings during this time of the year.
In addition, the major spring and summer national championships have already begun. The two events that had a tremendous impact on the April rankings were USA Wrestling's High School National Recruiting Showcase and the Girls Folkstyle Nationals, both held in Coralville, Iowa.
Two athletes who were No. 1 in March are now ranked No. 1 in different weight classes in April, based upon their amazing runner-up finishes at the U.S. Olympic Team Trials – Wrestling in Fort Worth, Texas: Kennedy Blades of Illinois at 152 pounds and Kylie Welker of Wisconsin at 164 pounds. Blades dropped in weight to 68 kg, where she reached the Olympic Trials finals against World champion Tamyra Mensah-Stock. Welker moved up to 76 kg, where she reached the Olympic Trials finals against five-time World champion Adeline Gray.
There are seven new No. 1 wrestlers in this ranking: Brianna Gonzalez of California (100), Olivia Shore of Ohio (106), Sage Mortimer of Utah (112), Katie Gomez of California (117), London Houston of Washington (132), Maddie Kubicki of Missouri (144) and Eliana Bommarito of Michigan (225).
Coaches, parents and athletes are encouraged to provide information about specific athletes and their achievements throughout the year for the committee to consider. If they have information on specific girls who should be considered for ranking or updates on their achievements, please send it by email to girlsrankings@usawrestling.org. The quality of these rankings continue to improve as people choose to share updated information.
The next major national event that will affect rankings is the USA Wrestling Women's Nationals in Irving, Texas, set for May 7-9. There will be high school stars competing in one or more of the following divisions at that event (UWW Junior, UWW Cadet, U15). The next major high school event is the Texas UIL state championships, set for this weekend. A few high school state associations have placed their wrestling season in the spring period, so additional state meets are expected. Another event that will have impact on the May rankings is the NHSCA Nationals this coming weekend.
To reiterate what the committee has shared in the past, the rankings are selected by a committee, using the following standards in priority order:
1. International competition results
2. USA Wrestling National Championship results in both freestyle and folkstyle (U15, 16U, UWW Cadet, Junior, UWW Junior, Senior), including the National Duals
3. State high school championships results (both official and unofficial)
4. Other major national-level open tournament in the pre-season and post-season
5. Competition during the high school season,
6. USA Wrestling Regional competitions and USA Wrestling state tournaments
7. All other competitions for high school age girls
Evaluation will include specific available data on:
• Head-to-head matches
• Ranked wins (victories over a nationally ranked opponent)
• Most recent competitions
• Body of work
• Common opponents
Note:
Head-to-head wins and ranked wins will carry more weight when achieved during major national events as well as state high school championships.
NATIONAL GIRLS HIGH SCHOOL RANKINGS
Developed by USA Wrestling, Flowrestling and the National Wrestling Hall of Fame
April 20, 2021

100 pounds
1. Brianna Gonzalez, junior, Baldwin Park, Calif., Arroyo High School (4 at 100)
2. Alex Szkotnicki, sophomore, Riva, Md. Calvert High School (2 at 100)
3. Paige Morales, sophomore, Clovis, Calif., Central High School (3 at 100)
4. Morgan Johnson, sophomore, Greeley, Colo., Loveland High School (10 at 100)
5. Ava Ward, eighth grader, Centralia, Mo., Centerline High School (8 at 100)
6. Karlee Brooks, freshman, Phoenix, Ariz., Valiant College Prep High School (NR)
7. Makennah Craft, eighth grade, Minford, Ohio, Jackson Middle School (6 at 100)
8. Anaya Falcon, freshman, Yorba Linda, Calif., Rowland High School (7 at 100)
9. Heaven Fitch, senior, Concord, N.C., Jay M Robinson High School (8 at 100)
10. Emilie Gonzalez, junior, Baldwin Park, Calif., Arroyo High School (NR)
11. Madison Avila, junior, Madera, Calif., Los Banyos High School (NR)
12. Hayley Snyder, freshman, Vincent, Ohio, Warren Local High School (17 at 100)
13. Reanah Utterback, eighth grade, Eddyville, Iowa, Eddyville High School (13 at 100)
14. Riley Banyas, sophomore, Amherst, Ohio, Elyria High School (24 at 100)
15. Clare Booe, freshman, Tarpon Springs, Fla., Palm Harbor University High School (NR)
16. Jalen Bets, junior, Livermore, Calif., Granada High School (NR)
17. Erica Pastoriza, sophomore, Phoenix, Ariz., Raymond Kellis High School (NR)
18. Makayla Young, junior, Bellefontaine, Ohio, Bellefontaine High School (NR)
19. Emaline Hicks, sophomore, Ypsilanti, Mich., Saline High School (24 at 100)
20. Kiely Tabaldo, sophomore, Sunnyvale, Calif., Menlo-Atherton High School (11 at 100)
21. Aspen Blasko, eighth grader, Forest Lake Minn., Forest Lake High School (23 at 100)
22. Emma Baertlein, senior, Oregon City, Ore., Oregon City High School (18 at 100)
23. Olivia DeGeorgio, junior, Conroe, Texas, Woodlands College Park High School (21 at 100)
24. Eliana Martinez, junior, Allen, Texas, Allen High School (NR)
25. Diana Olivarez, sophomore, Clovis, Calif., Buchanan High School (14 at 100)
106 pounds
1. Olivia Shore, senior, St. Paris, Ohio, Miami East High School (2 at 112)
2. Nyla Valencia, junior, Morgan Hill, Calif., Ann Sobrato High School (1 at 106)
3. Faith Cole, junior, Pacific, Mo., Wildwood High School (4 at 106)
4. Sterling Dias, junior, Las Vegas, Nev., SLAM Academy (1 at 100)
5. Virginia Foard, sophomore, Reva, Va., Wyoming Seminary (PA) (5 at 100)
6. Chloe Dearwester, freshman, Cincinnati, Ohio, Harrison High School (6 at 106)
7. Juliana Moccia, senior, Bel Air, Md., The John Carroll (13 at 106)
8. Catherine Bertrand, senior, Johns Creek, Ga., Mount Pisgah Christian High School (2 at 112)
9. Sydney Petzinger, senior, Parsippany, N.J., Parsippany High School (3 at 106)
10. Alexis Miller, senior, Wagoner, Okla., Wagoner High School (5 at 106)
11. Rianne Murphy, freshman, Valparaiso, Ind., Wyoming Seminary (PA), (8 at 106)
12. Persaeus Gomez, freshman, Arvada, Colo., Pomona High School (12 at 100)
13. Janessa George, sophomore, Littleton, Colo., Chatfield High School (NR)
14. Lexia Schechterly, freshman, Hunlock Creek, Pa., Lake Lehman High School (9 at 106)
15. Ella Schmit, junior, LeClare, Iowa, Bettendorf High School (10 at 106)
16. Cecilia Williams, eighth grade, Lansing, Mich., Holt Lutheran School (12 at 106)
17. Bopa Quintana, sophomore, Sun Prairie, Wis., Sun Prairie High School (NR)
18. Isabella Morales, junior, Toppenish, Wash. Toppenish High School (16 at 106)
19. Marisol Rodriguez, sophomore, Fremont, Calif., James Logan High School (NR)
20. Brooklyn Conrad, junior, Ortonville, Minn. Ortonville High School (NR)
21. Ella-Lina Gonzalez, sophomore, xx Tenn., West Creek High School
22. Anna Cullens, sophomore, Wellington, Kansas, Wellington High School (24 at 106)
23. Olivia Messerly, sophomore, Gray, Ky., Ryle High School (17 at 112)
24. Zoey Salmons, sophomore, Branchland, W.Va., Cabell Midland High School (20 at 106)
25. Alazaye Romero, sophomore, Zillah, Wash., Toppenish High School (15 at 106)
112 pounds
1. Sage Mortimer, senior, Mapleton, Utah, American Leadership Academy (4 at 112)
2. Mia Palumbo, senior, Oak Lawn, Ill., Richards High School (3 at 112)
3. Samara Chavez, senior, Arlington, Texas, Arlington Martin High School (1 at 112)
4. Zao Estrada, freshman, Hilton Head, S.C., Hilton Head High School (24 at 112)
5. Jenavi Alejandro, junior, Las Vegas Nev., Centennial High School (17 at 106)
6. Ava Bayless, junior, Greenville, Pa. Wyoming Seminary (PA) (3 at 117)
7. Abbygale Duke, junior, Patterson, N.Y., Wyoming Seminary (PA) (8 at 112)
8. Cadence Diduch, ninth grade, Freeport, Ill., Dakota Wrestling Club (7 at 106)
9. Shea Reisel, junior, Somonauk, Ill. Somonauk High School (14 at 112)
10. Rose Ann Marshall, senior, Stoughton, Wis., Stoughton High School (12 at 112)
11. Cristelle Rodriguez, junior, Fresno, Calif., Buchanan High School (6 at 112)
12. Kendra Ryan, senior, Fenton, Mich., Fenton High School (11 at 106)
13. Amiyah Hart, senior, Jonesboro, Ill., Anna-Jonesboro High School (7 at 112)
14. Dianna Holmes senior, Suwanee, Ga., North Gwinnett High School (10 at 112),
15. Ava Purifoy, senior, Alexandria, Va., Mount Vernon High School (25 at 112)
16. Alyssa Valdivia, senior, Lawrenceville, Ga., Discovery High School (11 at 112)
17. Carleigh Czerneski, senior, Lansing, Mich., Grand Ledge High School (15 at 112)
18. Emma Albanese, eighth grade, Las Vegas, Nev. Homeschooled (18 at 106)
19. Paige Denke, senior, Rapid City, S.D., Stevens High School (16 at 112)
20. Santii Santiago, senior, Atrisco Heritage Academy, N.M. (18 at 112)
21. Torie Buchanan, junior, West Terre Haute, Ind. West Vigo High School (19 at 112)
22. Brielle Bibla, sophomore, St. Augustine, Fla., Nease High School (NR)
23. Isabelle Silva, junior, Reno, Nev., Wooster High School (NR)
24. Peyton Hand, sophomore, Newalla, Okla., Choctaw High School (21 at 112)
25. Eva Diaz, junior, Waverly, Iowa, Waverly-Shell Rock High School (20 at 112)
117 pounds
1. Katie Gomez, junior, Van Nuys, Calif., Birmingham High School (2 at 122)
2. Jaclyn Dehney, sophomore, Pelham, N.H., Central Catholic High School (1 at 117)
3. Salyna Shotwell, senior, Puyallup, Wash., Rogers High School (2 at 117)
4. Leah Gaitan, junior, Yucaipa, Calif., Yucaipa High School (6 at 117)
5. Chloe Ayres, senior, Princeton, N.J., Princeton High School (4 at 117)
6. Valerie Hamilton, freshman, Gridley, Ill., El Paso-Gridley High School (24 at 112)
7. Carissa Qureshi, sophomore, Irvine, Calif., Portola High School (13 at 112)
8. Juliana Diaz, junior, Orlando, Fla., Dr. Phillips High School (22 at 117)
9. Lexy Beadles, junior, Riverbank, Calif., Calaveras High School (5 at 117)
10. Taylin Long, senior, Batavia, Ill., Batavia High School (9 at 117)
11. Hannah Hall, senior, Palm Harbor Fla., Palm Harbor University High School (5 at 112)
12. Ayana Medina, junior, Hillsboro, Ore., Hillsboro High School (NR)
13. Elena Ivaldi, sophomore, New Castle, Calif., Del Oro High School (7 at 117)
14. Allison Hynes, senior, Broken Arrow, Okla , Broken Arrow High School (8 at 117)
15. Bianca Johnson sophomore, Moses Lake, Wash., Moses Lake High School (11 at 117)
16. Madison Wellen, sophomore, East Berlin, Pa., Wyoming Seminary (PA) (13 at 117)
17. Lillian Avalos, sophomore, Delhi, Calif., Pitman High School (14 at 117)
18. Isabella Ngo, junior, Dixon, Calif., Dixon High School (NR)
19. Anna DiCugno, sophomore, Lake Tapps, Wash. White River High School (21 at 122)
20. Isabell Ortiz, junior, Lakin, Kansas, Lakin High School (NR)
21. Israel Resendez junior, Aurora, Colo., Denver East High School (23 at 112)
22. Haley Vann, sophomore, Portland, Ore., Cleveland High School (NR)
23. Cameron Galvin, Orlando, Fla., Freedom High School (NR)
24. Chloe Herrick, sophomore, Harrisonville, Mo., Harrisonville High School (18 at 117)
25. Jenna Beddow, junior, Lake Tapps, Wash., White River High School (15 at 117)
122 pounds
1. Jennifer Soto, junior, Red Bluff, Calif., Orland High School (1 at 122)
2. Shelby Moore, sophomore, Buckley, Wash., White River High School (7 at 122)
3. Amani Jones, senior, McDonough, Ga. Ola High School (4 at 122)
4. Alyssa Randles, sophomore, Couer d'Alene, Idaho, Couer d'Alene High School (6 at 122)
5. Berlin Brodie Kiddoo, junior, Westville, Ill., Westville High School (NR)
6. Larissa Kaz, junior, Jim Falls, Wis., Chippewa Falls High School (NR)
7. Jordyn Knecht, senior, Paola, Kansas, Paola High School (15 at 127)
8. Gianna DiBenedetto, freshman, Rancho Cordova, Calif., Folsom High School (20 at 122)
9. Tatiana Garcia, junior, Amarillo, Texas, Caprock High School (NR)
10. Josie Davis, sophomore, Sidney, Ohio, Sidney High School (5 at 122)
11. Kailey Rees, junior, Orlando, Fla., Freedom High School (12 at 122)
12. Emily Alvis, senior, Albany, Ore. West Albany High School (NR)
13. Emily Sullenger, junior, Cascade Locks, Ore., Hood River High School (NR)
14. Iyazely Barraza, senior, Othello, Wash., Othello High School (8 at 122)
15. Charlotte Kouyamtijian, senior, Porterville, Calif., Monache High School (9 at 122)
16. Adriana Dorado-Marin, senior, Colorado Springs, Colo., Falcon High School (11 at 122)
17. Sydney Harper, senior, Hurst, Texas, Euless Trinity High School (19 at 122)
18. Tabitha Wood, senior, Frisco, Texas, Frisco Independence High School (17 at 122)
19. Juliana Morris, sophomore, Middlebury, Conn., Pomperaug High School (14 at 122)
20. Brooke Zak, freshman, Aydlett, N.C., Currituck High School (NR)
21. Solana Mottola, senior, Temecula, Calif, Corona High School (16 at 127)
22. Alexis Montes, sophomore, El Paso, Texas, Eastwood High School (25 at 122)
23. Nicole Koch, junior, Delta, Colo., Delta High School (NR)
24. Haylie Jaffe, freshman, Toughkenamon, Pa., Kennett High School (12 at 117)
25. Cailin Campbell, junior, Crawfordsville, Ind., North Montgomery High School (13 at 117)
127 pounds
1. Adrienna Turner, senior, Davis, Calif., Davis High School (1 at 127)
2. Montana Delawder, senior, Gettysburg, Pa., Gettysburg High School (2 at 127)
3. Alexis Janiak, junior, Plainfield, Ill., Plainfield South High School (5 at 127)
4. Sarah Savidge, junior, Colorado Springs, Colo., Doherty High School (9 at 132)
5. Claire Dicugno, senior, Lake Tapps, Wash., White River High School (3 at 127)
6. Natasha Markoutsis, junior, Yorkville, Ill., Yorkville High School (4 at 127)
7. Cayden Condit, senior, Littleton, Colo., Jefferson High School (6 at 127)
8. Isabella Amaro, junior, Scappoose, Ore. Scappoose High School (8 at 127)
9. Nonnie Justice, senior, Harrisonville, Mo., Harrisonville High School (13 at 127)
10. Ally Fitzgerald, senior, Lynbrook, N.Y., Long Beach High School (12 at 127)
11. Ngao Shoua Whitethorn, senior, Eyota, Minn., Dover-Eyota High School (9 at 127)
12. Adaugo Nwachukwu, senior, San Jose, Calif., Silver Creek High School (10 at 127)
13. Taydem Khamjoi, sophomore, Stockton, Calif., Chavez High School (20 at 127)
14. Katie Ward, sophomore, Reno, Nev., McQueen High School (NR)
15. April Kelly, junior, Taylors, S.C., Woodmont High School (25 at 127)
16. Carina Giangeruso, freshman, Crosswicks, N.J., Wyoming Seminary (PA) (NR)
17. Sarah Henckel, eighth grade, Southbury, Conn., Rochambeau Middle School (NR)
18. Genevieve An, freshman, Marietta, Ga., Kennesaw Mountain High School (NR)
19. Mia Furman, sophomore, Meridian, Idaho, Rocky Mountain High School (22 at 127)
20. Kearanie Johnson, senior, Claremore, Okla., Claremore High School (14 at 127)
21. Nadine Quijada, sophomore, Clovis, Calif., Clark High School (16 at 127)
22. Emma Grimm, senior, Osage, Iowa, Osage High School (NR)
23. Emma Gruenhagen, sophomore, Boyceville, Wis., Boyceville High School (NR)
24. Destiny Campbell, junior, Moreno Valley, Calif., Valley View High School (NR)
25. Ariana Carrasquillo, senior, Yorktown, Va., Grafton High School (NR)
132 pounds
1. London Houston, senior, Federal Way, Wash., Federal Way High School (3 at 132)
2. Savannah Cosme, junior, Denver, Colo., Chatfield High School (7 at 127)
3. Tiera Jimerson, senior, Moreno Valley, Calif., Northview High School (1 at 132)
4. Janida Garcia, sophomore, Modesto, Calif., Central Catholic High School (2 at 132)
5. Athena Willden, senior, Hesperia, Calif., Oak Hills High School (8 at 132)
6. Hanna Errthum, sophomore, Mount Horeb, Wis. Mt. Horeb High School (11 at 127)
7. Madyson Gray, junior, Lawrence, Kan., Lawrence Free State High School (14 at 132)
8. Samantha Barragan, senior, Hemet, Calif., Hemet High School (12 at 132)
9. Sofia Brynman-Metcalf, junior, Sullivan, Wis., Jefferson High School (11 at 132)
10. Devin Patton, senior, Plano, Texas, Coppell High School (4 at 132)
11. Elleni Johnson, junior, West Jordan, Utah, Wyoming Seminary (PA) (6 at 132)
12. Lily Sherer, senior, Shohola, Pa., Delaware Valley High School (7 at 132)
13. Alina Antillon, junior, Denver, Colo., Mullen High School (13 at 138)
14. Lillian Gough, senior, Eucha, Okla., Jay High School (21 at 138)
15. Sylvia Pierce, senior, LaSalle, Mich., Bedford High School (NR)
16. Ruby Rios, sophomore, Toppenish, Wash., Toppenish High School (10 at 132)
17. Skylar Little Soldier, freshman, Welch, Minn., Hastings High School (13 at 132)
18. Hailey Chapman, junior, Lake Arrowhead, Calif., Rim of the World High School (NR)
19. Yele Aycock, senior, Gallup, N.M., Miyamura High School (5 at 132)
20. Sydney Perry, freshman, Batavia, Ill., Batavia High School (NR)
21. Sabrina King, senior, St. Charles, Mo., St. Charles High School (NR)
22. Alicia Pieper, senior, Waterford, Mich. Waterford Ketterning High School, (17 at 138)
23. Cassia Zammit, sophomore, Miamisburg, Ohio, Miamisburg High School (18 at 132)
24. Abigail Varady, senior, Duvall, Wash. Cedarcrest High School (16 at 132)
25. Elizabeth Duvall, junior, Rockall, Texas, Rockwall High School (NR)
138 pounds
1. Chloe Ogden, senior, Geneva, Fla., Lake Highland Prep High School (1 at 138)
2. Korina Blades, junior, Broadview, Ill., Wyoming Seminary (PA) (2 at 138)
3. Skylar Hattendorf, junior, Hookset, N.H., Bow High School (3 at 138)
4. Amor Tuttle, senior, St. Paul, Minn., Stillwater Area High School (4 at 138)
5. Kendall Bostelman, junior, Napoleon, Ohio, Wyoming Seminary (8 at 138)
6. Savannah Gomez, sophomore, Upland, Calif., Brawley Union High School (10 at 138)
7. Grace Stem, junior, Snow Shoe, Pa., Bald Eagle Area High School (9 at 138)
8. Jada Llamido, sophomore, Oviedo, Fla., Hagerty High School (5 at 138)
9. Madison Sandquist, senior, Humble, Texas, Kingwood Park High School (7 at 138)
10. Marisa Roth, junior, Brookfield, Wis., Brookfield Central High School (22 at 138)
11. Tyler Richardson, junior, Vale, Ore., Vale High School (9 at 144)
12. Sara Schmoker, senior, Sun City, Ariz., Liberty High School (12 at 138)
13. Mariah Wahl, junior, Cutbank, Mont., Cutbank High School (24 at 138)
14. Avangeline Turner, freshman, Davis, Calif., Davis High School (NR)
15. Aubrey Yauger, junior, Burleson, Texas, Centennial High School (15 at 138)
16. Alicen Dillard, freshman, Morrison, Colo., Pomona High School (21 at 132)
17. Bryce White. sophomore, Hermitage, Tenn., Cane Ridge High School (NR)
18. Leah Brown, junior, Rocklin, Calif., Whitney High School (NR)
19. Lauren Walton, freshman, Lexington, Ky., Carr Academy (11 at 138)
20. Paige Wehrmeister, junior, Chesterfield, Mo., Parkway West High School (NR)
21. Marissa Jimenez, junior, Caldwell, Idaho, Caldwell High School (16 at 138)
22. Alyssa Pirro, senior, Cleveland, Ohio Lutheran West High School (20 at 138)
23. Schyler Caringi, junior, Earlton, N.Y., Coxsackie-Athens High School (NR)
24. Sara Lake, senior, Kansas City, Kansas, Kansas City-Piper High School (23 at 138)
25. Emma Matera, junior, Delran, N.J., Delran High School (NR)
144 pounds
1. Maddie Kubicki, sophomore, Kansas City, Mo., Park Hill South High School (3 at 144)
2. Reese Larramendy, junior, Reno, Nev., Wyoming Seminary (PA) (2 at 144)
3. Abby McIntyre, senior, Glenwood, Iowa, Glenwood High School (18 at 138)
4. Kaiulani Garcia, eighth grade, Stockton, Calif., Venture Academy (12 at 152)
5. Esther Han, junior, Wentzville, Mo., Holt Wentzville High School (23 at 138)
6. Faith Bartoszek, freshman, Wrightstown, Wis., Wyoming Seminary (PA) (10 at 152)
7. Katerina Lange, senior, Sherburn, Minn., Martin County West High School (5 at 144)
8. Kaylie Petersen, freshman, Evansville, Ind., Central High School (19 at 138)
9. Jasmine Robinson, freshman, Allen, Texas, Allen High School (12 at 144)
10. Avery Beckman, freshman, Friendsville, Texas, Friendswood High School (13 at 144)
11. Lizzie Shunn, sophomore, Eagle Mountain, Utah, Westlake High School (NR)
12, Aspen Barber, junior, Monument, Colo., Palmer Ridge High School (NR)
13. Logan Ryan, junior, Sandusky, Mich., Sandusky High School (7 at 144)
14. Nina Makem, senior, Shakopee, Minn., Shakopee High School (10 at 144)
15. Aevri Ciha, junior, Cambridge, Wis., Cambridge High School (NR)
16. Lydia Krauss, junior, Boyne City, Mich., Boyne City High School (4 at 144)
17. Charlotte Gilfoil, freshman, Harrisburg, Pa., Central Dauphin High School (14 at 144)
18. Kiersten Myers, junior, Olathe, Colo., Olathe High School (NR)
19. Jayla Hahn, sophomore, Bayville, N.J., Lakewood High School (NR)
20. Madison Westerberg, eighth grade, Waterloo, N.Y., Waterloo High School (NR)
21. Sheccid Aguirre, junior, Thornton, Colo., Skyview High School (NR)
22. Aulani Davis, sophomore, Kokomo, Ind., Kokomo High School (15 at 144)
23. Emma Villa, freshman, Royal City, Wash., Royal High School (16 at 144)
24. Amarisa Manuel, freshman, Washington, Mich, Romeo High School (NR)
25. Chloe Charlesworth, sophomore, Burke, Va., Wyoming Seminary (PA) (19 at 144)
152 pounds
1. Kennedy Blades, junior, Broadview, Ill., Wyoming Seminary (1 at 164)
2. Amit Elor, Concord, Calif., junior, College Park High School, (1 at 152)
3. Cheyenne Bowman, senior, LaHabra, Calif., Rowland High School (2 at 152)
4. Lillian Freitas, junior, Modesto, Calif., Wyoming Seminary (PA) (3 at 152)
5. Destiny Rodriguez, sophomore, West Linn, Ore., West Linn High School (4 at 152)
6. Haley Ward, sophomore, Independence, Mo., Ft. Osage High School (9 at 152)
7. Isabella Mir, junior, Las Vegas, Nev., Centennial High School (17 at 144)
8. Dakota-Marie Dinielli, junior, Plainville, Conn., Plainville High School (6 at 152)
9. Maggie Graham, sophomore, Bartlett, Tenn., Bartlett High School (12 at 164)
10. Sydney Manos, senior, Rockford, Ill, Stillman Valley High School (7 at 152)
11. Shannon Workinger, junior, Quincy, Wash., Quincy High School (13 at 152)
12. Stella Steigler, sophomore, Orange, Va., Orange High School (NR)
13. Leilani Hernandez, senior, Coppel, Texas, Plano West High School (8 at 152)
14. Brooklyn Hays, junior, Lindon, Utah, Pleasant Grove High School (NR)
15. Alexandra Hofrichter, sophomore, Deerbrook, Wis., Antigo High School (NR)
16. Anna McDougal, junior, Veneta, Ore., Elmira High School (NR)
17. Skylah Chakouian, senior, East Providence, R.I., East Providence High School (14 at 152)
18. Kiersten O'Neill, senior, Wabash, Ind., Wabash High School (15 at 152)
19. Trinity Gottler, sophomore, Frankfort, Ky., Anderson County High School (16 at 152)
21. Seda Tsarni, senior, Montgomery County, Md., Watkins Mill High School (17 at 152)
22. Madison Diaz, senior, Waverly, Iowa, Waverly-Shell Rock High School (18 at 152)
23. Samantha Spielbauer, sophomore, Guttenberg, Iowa, Clayton Ridge High School (NR)
25. Hannah Ricioli, senior, Santa Rosa, Calif., El Molino High School (20 at 152)
24. Veronica Whitacre, junior, Jamesburg, N.J., Wyoming Seminary (PA) (23 at 152)
25. Sidney Sullens, junior, Cleveland, Ga., White County High School (24 at 152)
164 pounds
1. Kylie Welker, junior, Waterford, Wis., Springs Studio (CO) (1 at 144)
2. Rose Cassioppi, sophomore, Hononegah, Ill., Hononegah High School (5 at 152)
3. Ella Nichols, junior, Bristol, Conn., Bristol Eastern High School (6 at 144)
4. Tiffani Baublitz, senior, Stewartstown, Pa., Kennard-Dale High School (2 at 164)
5. Taryn Martin, senior, Grove City, Ohio, Oletangy Orange High School (8 at 164)
6. Lily El-Masri, junior, Novato, Calif., Wyoming Seminary (PA) (10 at 180)
7. America Lopez, senior, Valencia, Calif., Valencia High School (3 at 164)
8. Jessi Johnson, senior, Manalapan, N.J. Manalapan High School (4 at 164)
9. Ella Pagel, eighth grade, Nerstrand, Minn., Northfield High School (11 at 152)
10, Rachel Schauer, freshman, Mt. Hope, Wis., Fennimore High School (14 at 164)
11. Damiana Racciatti, senior, Liverpool, N.Y., Liverpool High School (6 at 164)
12. Grace Doering, senior, Huntington Beach, Calif., El Modena High School (NR)
13. Kaitlyn Bryant, senior, Katy, Texas, Katy Tompkins High School (15 at 164)
14. Ana Barnoski, junior, Broken Arrow, Okla., Broken Arrow High School (NR)
15. Anya Hatch, sophomore, West Jordan, Utah, Copper Hills High School (NR)
16. Maggie Smith, sophomore, Rock Springs, Wyo., Rock Springs High School (NR)
17. Shelby Zacharias, senior, Charlotte, Tenn., Creek Wood High School (13 at 164)
18. Alexia Asselin, senior, Kennewick, Wash., Kennewick High School (5 at 164)
19. Emma Burk, senior, Centennial, Colo., Douglas County High School (10 at 164)
20. Kaylie Hall, eighth grade, Romney, W.Va., Romney Middle School (NR)
21. Sarina Bertram, senior, Platte City, Mo., Platte County High School (NR)
22. Kaylee Davis, freshman, Yukon, Okla., Yukon High School (21 at 164)
23. Symphony Veloz, freshman, Elgin, Okla., Elgin High School (NR)
24. Bo Geibe, junior, Constantine, Mich., Constantine High School (20 at 164)
25. Brielle Bissonette, senior, Clarksville, Tenn., Rossview High School (24 at 152
180 pounds
1. Sabrina Nauss, freshman, Brighton, Mich., Brighton High School (1 at 180)
2. Brittyn Corbishley, senior, The Woodlands, Texas, College Park High School (2 at 180)
3. Katja Osteen, senior, Simi Valley, Calif., Royal High School (5 at 180)
4. Kaylie Upson, junior, Philips, Wis., Phillips High School (19 at 180)
5. Jaeleen Robledo, senior, Ontario, Calif., Montclair High School (7 at 200)
6. Alivia White, sophomore, Lake Stevens, Wash., Marysville-Pilchuk High School (3 at 200)
7. Jaylen Hyman, senior, Windsor Mill, Md., Randallstown High School (4 at 180)
8. Dasia Yearby, junior, Wellford, S.C., Christ Church Episcopal School (3 at 180)
9. Jaycee Foeller, senior, De Soto, Mo., De Soto High School (6 at 180)
10. Stefany Valencia, junior, Mesa, Ariz., Mesa Westwood High School (NR)
11. Fiona McConnell, senior, Milwaukie, Ore., Milwaukie High School (8 at 180)
12. Ki'eisha Cathey, junior, Broken Arrow, Okla., Broken Arrow High School (7 at 180)
13. Kiera Ganey, sophomore, Belleville, Ill., Belleville East High School (18 at 180)
14. Sarah Huse, senior, Lebanon, Ind., Lebanon High School (NR)
15. Cheyenne Meade, junior, Troy, Ohio, Troy High School (NR)
16. Amanda Pace, junior, North Bergen, N.J., North Bergen High School (NR)
17. Baoanh Duncan-Perez, junior, Clovis, Calif., Clovis High School (9 at 180)
18. Sierra Chavez, senior, Orlando, Fla. University High School (14 at 180)
19. Hollie Espinoza, senior, Rhonert Park, Calif., Rancho High School (15 at 180)
20. Rosa Saucedo Ramirez, senior, Connell, Wash., Connell High School (12 at 180)
21. Ofa He Lotu Tuifua, senior, Kent, Wash., Kent Meridian High School (13 at 180)
22. Mia Didur, senior, Peoria, Ariz., Centennial High School, (16 at 180)
23. Tristian Martinez, senior, New Laguna, N.M, Grants High School (17 at 180)
24. Dream Santiago, senior, Douglasville, Ga., Alexander High School (20 at 180)
25. Sidney Milligan, sophomore, Owasso, Okla., Owasso High School (21 at 180)
200 pounds
1. Hannah Francis, senior, Coppell, Texas, Coppell High School (1 at 200),
2. Olivia Brown, senior, Tulsa, Okla., Broken Arrow High School (2 at 200),
3. Riley Dempewolf, junior, Lafayette, Ind., McCutcheon High School (4 at 200)
4. Sam Calkins, junior, Brentwood, Calif., Liberty High School (25 at 180)
5. Andrea Smith, junior, Middleburg, Fla., Orange Park High School (6 at 225)
6. Catherine Dutton, sophomore, Springfield, Mo., Central High School (9 at 200)
7. Rachel Eddy, sophomore, Independence, Iowa, Independence High School (5 at 200)
8. Jayleen Sekona, senior, Anchorage, Alaska, South Anchorage High School (6 at 200)
9. Kaylyn Munn, junior, Platte City, Mo., Platte County High School (NR)
10. Ella Beam, junior, Lawndale, N.C., Burns High School (NR)
11. Kailyn Garrett, junior, South Lyon, Mich., South Lyon High School (8 at 200)
12. Savannah Isaac, freshman, Toledo, Ohio, Whitmer High School (10 at 200)
13. Jacinta Fonoti, junior, Mililani, Hawaii, Mililani High School (11 at 200)
14. Ellla Murphey, freshman, Knoxville, Tenn., Harden Valley High School (TN)
15. Caroline McKeown, junior, Manassas, Va., Colgan High School (13 at 200)
16. Dajia Anderson, senior, Topeka, Kansas, Topeka Washburn Rural High School (14 at 200)
17. Ellie Harlow, junior, Bowersville, Ohio, Greeneview High School (15 at 200)
18. Skyy Gowan, senior Orlando, Fla., Dr. Phillips High School (17 at 200)
19. Destiny Edgecomb, senior, Caldwell, Idaho, Columbia High School (18 at 200)
20. Payton Curley, junior, Dover, Ohio, Dover High School (19 at 200)
21. Chukwuedom Odeigah, junior, Collierville, Tenn., Collierville High School (20 at 200)
22. Ariyanna Anderson, junior, Charlotte, Tenn. Creek Wood High School (21 at 200)
23. Tamnah Forbes, senior, Effingham, Kansas, Atchison County High School (22 at 200)
24. Amariah Marenco, sophomore, Carrolton, Ga., Carrollton High School (23 at 200)
25. Aaliyah Robertson, Lewisburg, W.Va., Greenbrier East High School (NR)
225 pounds
1. Eliana Bommarito, junior, Brighton Mich. Hartland High School (3 at 225)
2. Traeh Haynes, senior, Cibolo, Texas, Steele High School (1 at 225)
3. Valerie Smith, junior, Nashville, Tenn., McGavock High School (19 at 225)
4. Julia Richey, senior, Newbury Park, Calif., Newbury Park High School (2 at 225)
5. Tayana Labady senior, Orange Park, Fla., Orange Park High School (4 at 225)
6. Millie Peach, senior, Marengo, Iowa, Iowa Valley High School (5 at 225)
7. Tatiana Herrera, senior, San Leandro, Calif., James Logan High School (9 at 225)
8. Justina Chong Nee, junior, Clarksville, Tenn, Rossview High School (17 at 225)
9. Omastewin Foster, senior, Florence, Montana, Florence-Carlton High School (NR)
10. Annika Miles, junior, Sacramento, Calif., Elk Grove High School (8 at 225)
11. Leah Mindiola, sophomore, Oconomowoc, Wis., Oconomowoc High School (7 at 225)
12. Lexie Cole, senior, Holt, Mo., Kearney High School (11 at 225)
13. Jasmine Guerrero, senior, Loomis, Calif., Del Oro High School (10 at 225)
14. Mia Lazaurs, senior, Hazlet, N.J. Raritan High School (NR)
15. Debranna Bealer, junior, North Pole, Alaska, Eielson High School (12 at 225)
16. Alaina Jackson, sophomore, Minerva, Ohio, Minerva High School (13 at 225)
17. Asia Rave, senior, Black River Falls, Wis., Black River Falls High School (14 at 225)
18. Raina Herzog, senior, Cottage Grove, Ore., Cottage Grove High School (15 at 225)
19. Zeriah George, senior, Winnebago, Neb., Winnebago High School (16 at 225)
20. Karlie Harlow, sophomore, Bowersville, Ohio, Greeneview High School (23 at 225)
21. Trinity Monaghan, junior, Harleysville, Pa., Souderton Area High School (20 at 225)
22. Ciara Monger, freshman, Calhan, Colo., Calhan High School (NR)
23. Makayla Rivera, sophomore, Olathe, Kansas, Olathe High School (18 at 225)
24. Shae Meador, junior, Attica, Ind., Attica High School (21 at 225)
25. Isabella Redlinger, sophomore, Gainesville, Ga., Chestatee High School (22 at 225)