News
USA Wrestling
College
USAW
Two-time Pac-12 Coach of the Year Jason Borrelli named head coach at American University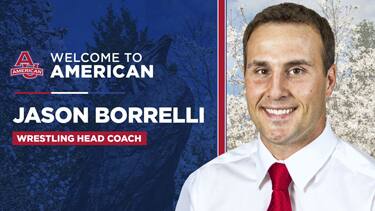 WASHINGTON - Coming off 13 successful seasons as head wrestling coach at Stanford University, Jason Borrelli is switching coasts. American University Director of Athletics & Recreation Dr. Billy Walker has announced Borrelli, the two-time Pac-12 Coach of the Year, as the head coach of AU Wrestling.
"I'm tremendously excited to announce Coach Jason Borrelli as American University's Head Wrestling Coach. He has demonstrated excellence in all facets of running a nationally respected program. He takes great pride in cultivating a family atmosphere in his program, and has a laser-like focus on ensuring his student-athletes succeed on and off the mat. Most importantly, Coach Borrelli has proven he does things the right way—with integrity, respect, and a deep sense of caring for the development of each of his student-athletes. I'm thrilled to welcome Jason, Jenna, Carter, Lincoln and Jackson to the AU Eagles Family!
Dr. Billy Walker, American University Director of Athletics & Recreation.
Borrelli leaves Stanford following a historic season for the program. The Cardinal swept the Pac-12 awards including Borrelli's second Coach of the Year honor, seven of 10 Cardinal starters qualified for the NCAA Championships, and Stanford finished with two All-Americans and its first national champion since 2004 in redshirt sophomore Shane Griffith.
Over Borrelli's 13 seasons, the Cardinal sent 35 different wrestlers to the NCAA Championships a total of 64 times. In 2016-17, Stanford set a program record with nine NCAA qualifiers.
"Jenna and I are thrilled to be joining the American University family and look forward to raising our children in the nation's capital. I would like to thank Dr. Billy Walker and the entire search committee for their confidence in selecting me as AU's next head wrestling coach. It is a tremendous honor to lead this program. I am eager to get started and look forward to developing champions on and off the mats," said Borrelli
American Wrestling has a strong tradition and I will work tirelessly to build upon its past success. In 2007, Josh Glenn proved that you can win an NCAA title at American. Now, it is time to set our sights on finding out which student-athletes will follow in his footsteps and help take the program to even greater heights.
Borrelli's wrestlers garnered a total of 15 All-America honors and 21 individual Pac-12 championships. His 21 conference champions were the most during any 13-year span in program history. Borrelli led the Cardinal to the program's first Pac-12 Championship in 2019 and was named the Pac-12 Coach of the Year.
The Cardinal posted 122 dual meet victories in Borrelli's 13 years, making him the program's all-time winningest coach.
Jason is a tremendous wrestling coach and an even better person. Coach Borrelli cares deeply about each of his team members and works hard to optimize each person's success in the classroom and on the mat. Jason was a young coach when he became the head coach at Stanford, and since that time he has coached champions on the mat, mentored leaders off the mat and guided hundreds of young people to success in life after sports," said Bob Bowlsby, Commissioner of the Big 12 Conference and former Stanford Athletics Director.
In 2011, Borrelli's squad put together the best NCAA Championship run in school history, scoring 44 points and finishing in 11th place while crowning three NCAA All-Americans. The Cardinal followed up its 2011 record-setting year by turning in the program's third-highest NCAA Championships finish in 2012, when it placed 16th at the national tournament.
In 2014, Stanford had a regular season to remember, finishing with a 17-5 dual-meet mark, breaking a 39-year-old record for wins in a season. The squad finished runner-up at the Pac-12 Championships, equaling a program-best. The 2016 team provided another successful campaign, placing 19th at the NCAA Championships with six NCAA qualifiers.
Borrelli's Stanford teams placed in the top 20 at the NCAA Championships four times, with the program achieving the feat just three other times prior to his tenure. The 2020 NCAA Tournament was shaping up to be a record-setting event for the program before the season was cancelled due to the COVID-19 pandemic. The Cardinal qualified five wrestlers for the championships, including four freshmen - the most by any school in the nation.
Highlighting Stanford's individual success during Borrelli's tenure was Nick Amuchastegui - a four-time NCAA qualifier, three-time All-American and the school's only two-time NCAA finalist. Amuchastegui was twice named Capital One/CoSIDA Men's At-Large Academic All-American of the Year and was a four-time NWCA Scholar All-American. The 2012 Pac-12 Wrestler of the Year, he was also the Pac-12 Scholar-Athlete of the Year for wrestling in 2012, and twice earned the NCAA's Elite 89 Award for Division I wrestling (presented to the student-athlete at the championship site with the highest GPA).
"I want to congratulate American University for hiring a terrific wrestling coach! Coach Borrelli is the ultimate transformational coach, and he has a demonstrated history of developing exceptional student-athletes who excel both on and off the wrestling mat," said Mike Moyer, Executive Director of the National Wrestling Coaches Association (NWCA).
Off the mat, Borrelli's teams thrived academically. The Cardinal finished in the top 16 among all Division I programs in the National Wrestling Coaches Association (NWCA) team GPA standings each season finishing third, sixth, 12th, sixth, third, eighth, seventh, 16th, 11th, fifth, fourth and sixth, respectively. Borrelli has mentored 23 NWCA Scholar All-Americans (44 total awards), including four four-time recipients in Amuchastegui, Dan Scherer, Nathan Butler and Paul Fox. At the conference level, Stanford had 50 wrestlers earn 98 Pac-12 All-Academic honors under Borrelli's tutelage, while Kyle Meyer earned a Pac-12 Postgraduate Scholarship following the 2014 season. The Cardinal also had five Pac-12 Scholar-Athletes of the Year during Borrelli's tenure.
Borrelli has proven to be one of the finest recruiters in the nation. In seven of his 12 recruiting seasons, the Cardinal landed nationally ranked recruiting classes in Intermat's top 25, with six of those classes falling in the top 15. The 2018 class was the highest in program history at No. 7, while the 2014 class was tabbed ninth overall by Intermat.
"Jason Borrelli is a bright leader and developer of men. He'll do a fantastic job in his new role at American," said Zeke Jones, three-time Pac-12 Coach of the Year at Arizona State and Olympic Silver Medalist
In addition to his coaching duties, Borrelli served on the NCAA Division I Wrestling Committee for five years. In 2010, Borrelli graduated from the NWCA's inaugural Leadership Academy; a program designed to equip collegiate coaches with the necessary skills to lead a successful program. In the summer of 2015, Borrelli was invited back by the NWCA as a mentor for future participants.
A former Central Michigan standout, Borrelli started at Stanford as an assistant coach in 2008 and quickly helped guide the Cardinal to one of its most successful seasons in school history. As a team, Borrelli and the staff led Stanford to a 19th-place finish nationally, matching then the program's second-highest finish in school history and just its third all-time top-20 finish (at the time). Owning two of the conference's four All-Americans, the Cardinal's 19th-place finish was the best in the Pac-10.
Prior to coming to Stanford, Borrelli served on the Central Michigan coaching staff. In his first year with the Chippewas, the program won its ninth consecutive Mid-American Conference Championship. The squad ended the season ranked fifth in the final dual meet rankings and finished 15th at the NCAA Championships. Borrelli also helped guide three CMU wrestlers to All-America honors during the 2007 season.
A Mt. Pleasant, Michigan native, Borrelli was a two-time Michigan state champion in high school before beginning his career at Central Michigan in 2001. A four-year starter at 125 and 133 pounds, he was part of five consecutive team Mid-American Conference (MAC) championships. As a junior in 2005, he captured the 133-pound MAC title. Borrelli qualified for the NCAA Championships at 133 pounds twice, in 2005 and 2006, and captained the Chippewa team as a senior. A four-year NWCA Scholar All-American, Borrelli graduated from Central Michigan in December 2005 with a degree in business administration.
Borrelli and his wife, Jenna, were married in July 2009. They have three sons, Carter, Lincoln and Jackson.