News
USA Wrestling
High School & Youth
College
Women
International
USAW
North Carolina & South Carolina USA Wrestling partner to host joint state events in Charlotte, N.C., May 1-2
by North Carolina & South Carolina USA Wrestling partner to host joint state events in Charlotte, N.C., May 1-2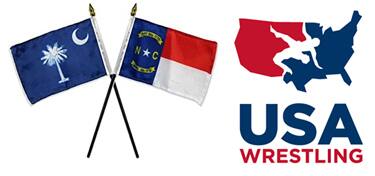 The USA Wrestling state associations from North and South Carolina are coming together this spring to bring wrestling back to the Carolinas. Through the adversity of the COVID-19 pandemic, the two associations have found a path to restart wrestling by working together.
Both states are offering local freestyle, Greco-Roman, and folkstyle events in April, and they will come together May 1-2 to host a first-of-its-kind championship event in Charlotte, NC.
Day one of the event (May 1) will be both state's Freestyle and Greco-Roman State Championships. Age group participants from both states will compete separately, while U23 and Senior/Masters divisions will have one combined division.
Day two of the event (May 2) will be the Carolinas Open Championship, This folkstyle event is open to wrestlers of all ages from anywhere in the United State. It will serve as North Carolina's folkstyle state championships, so the highest finishing North Carolina wrestler in each age/weight division will be recognized as the state champion.
There will be men's and women's divisions for all ages, as well as Triple Crown awards for wrestlers who win all three styles.
For event information or to register visit
North Carolina USA Wrestling website
.