News
USA Wrestling
High School & Youth
USAW
Champions crowned in Junior, 16U, 14U, 8U divisions at USA Wrestling Folkstyle Nationals on Friday
by Gary Abbott, USA Wrestling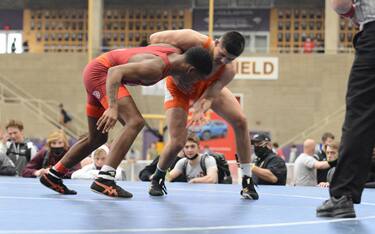 Hunter Garvin of the Big Game WC was named Outstanding Wrestler in the Junior division. Photo by G. Wyatt Schultz.
CEDAR FALLS, Iowa – It was a busy day of excellent wrestling on Friday at the USA Wrestling Folkstyle Nationals at the UNI-Dome on the campus of Northern Iowa University.
Champions were crowned in four age-groups, the Junior (grades 9-12), 16U, 14U and 8U divisions. This is the first leg of USA Wrestling's prestigious Triple Crown. If a wrestler wins USA Wrestling folkstyle, freestyle and Greco-Roman national titles in the same year, they earn the Triple Crown.
In the Junior division, the Outstanding Wrestler was 2021 Iowa state high school champion Hunter Garvin of the Big Game WC, who won the 145-pound title with a 14-9 victory over 2019 16U Freestyle national champion Jordan Williams of Threestyle Wrestling of Oklahoma.
It was a good day for the Askren Wrestling Academy Lake Country in Wisconsin, which had three individual champions in Greyson Clark (132), Jager Eisch (138) and Ben Kueter (195).
Jared Simma of Kansas won his second major USA Wrestling national event in the past few weeks, adding the USA Wrestling Folkstyle National title on the Junior level at 182 pounds, to go with his High School National Recruiting Showcase title in March. Simma scored a 16-4 major decision over Michael Griffith of the Ubasa Wrestling Academy in the Folkstyle National finals.
Other individual champions on Saturday in the Junior division were Raymond Lopez of California (120), Sergio Lemley of Region Wrestling Academy (126), Luke Geyer of Church Boyz WC (152), Adam Thebeau of Greenfield Wrestling Academy (160), Tate Naaktgeboren of Big Game Wrestling Club (170), Ben Kueter of Sebolt Wrestling Academy (195), Jack Darrah of Xtreme Training (220) and Juan Mora of California (285). On Friday, Junior champions crowned were Edwin Sierra of Extreme Heat Wrestling Club (100) and Ray Ray Harris of Greco-Roman Development (106)
The Outstanding Wrestler in the 16U division was Pierson Manville of Pennsylvania, who won the 132 pound title with a pin over Dylan Louwagie of Minnesota in 2:33 in the finals.
Other Outstanding Wrestlers for the day were Aaron Stewart of Toss Em Up at 114 pounds (14U division) and Easton Henderson from Big Game Wrestling Club at 53 pounds (8U division).
The champion team at the 8U division was the Electric City Slammers.
The tournament concludes Saturday with the completion of the 10U and 12U divisions, as well as a College Open division and the Masters competition.
USA WRESTLING FOLKSTYLE NATIONALS
At Cedar Falls, Iowa, April 2

Junior results
113
1st Place Match
Camron Phetxoumphone (Team Valley Wrestling Club) won in sudden victory - 1 over Garret Rinken (Immortal Athletics WC) (SV-1 4-2)
3rd Place Match
Noah Tonsor (Askren Wrestling Academy Lake Country) won by decision over Benjamin Pope (Anchorage Youth Wrestling Academy) (Dec 9-7)
5th Place Match
Alex Turley (Missouri) won by decision over Andrew Martin (Askren Wrestling Academy Lake Country) (Dec 8-4)
7th Place Match
Clemente Delgado (Arizona) won by decision over Parker Heintz (Lodi Wrestling Club) (Dec 7-3)
120
1st Place Match
Raymond Lopez (California) won by decision over Teegan Vasquez (Montana) (Dec 5-1)
3rd Place Match
Shane Corrigan (De Pere High School Wrestling) won in sudden victory - 1 over Dj Gillett (Mat Sense Wrestling) (SV-1 7-5)
5th Place Match
Ryan Lobato (California) won by decision over Michael Torres (California) (Dec 8-6)
7th Place Match
Sefton Douglass (Team Idaho) won by decision over Quintin Wolbert (Askren Wrestling Academy Lake Country) (Dec 10-7)
126
1st Place Match
Sergio Lemley (Region Wrestling Academy) won by decision over Grayson Sonntag (Tonganoxie Wrestling Club) (Dec 8-2)
3rd Place Match
Cory Land (Ironclad Wrestling Club) won by decision over Christopher Martino (Team Idaho) (Dec 4-0)
5th Place Match
Hunter Bidelman (Team Idaho) won by decision over Nolan Reiter (Pinnacle Wrestling Club) (Dec 8-1)
7th Place Match
Blaine Frazier (DC Elite) won by decision over Hector Serratos (Brawlers Wrestling Club) (Dec 7-1)
132
1st Place Match
Greyson Clark (Askren Wrestling Academy Lake Country) won by decision over Jude Camacho (Ironclad Wrestling Club) (Dec 5-2)
3rd Place Match
Kimo Leia (Dethrone Wrestling Club) won by fall over Bryce Parke (Sebolt Wrestling Academy) (Fall 4:23)
5th Place Match
David Pierson (Warren Wrestling Academy) won by fall over Yoshiya Funakoshi (West Torrance High School Wrestling) (Fall 1:53)
7th Place Match
Drew Arnold (Nebraska) won by decision over George Rosas (California) (Dec 3-2)
138
1st Place Match
Jager Eisch (Askren Wrestling Academy Lake Country) won by decision over Kayd Craig (Team Idaho) (Dec 5-2)
3rd Place Match
Koa Ruiz (Church Boyz Wrestling Club) won by decision over Ryan Vigil (Bear Cave) (Dec 6-4)
5th Place Match
Kaden Keiser (South Dakota) won by decision over Ryan Franco (Clovis North High School Wrestling) (Dec 3-2)
7th Place Match
Cody Goebel (Mukwonago High School Wrestling) won by decision over Carson DesRosier (Montana) (Dec 3-1)
145
Hunter Garvin (Big Game Wrestling Club) won by decision over Jordan Williams (Threestyle Wrestling Of Oklahoma) (Dec 14-9)
3rd Place Match
Alek Martin (Brawlers Wrestling Club) won by decision over Sloan Swan (The Club) (Dec 6-0)
5th Place Match
Connor Thorpe (Askren Wrestling Academy Lake Country) won by decision over Cash Stewart (Poynette Panther Youth Wrestling) (Dec 9-3)
7th Place Match
Tommy Curran (Izzy Style Wrestling) won by decision over Jaden New (Ironclad Wrestling Club) (Dec 4-3)
152
1st Place Match
Luke Gayer (Church Boyz Wrestling Club) won by decision over Thor Michaelson (NWWC) (Dec 6-2)
3rd Place Match
Cade Lucio (California) won by decision over Brendon Abdon (Lake Gibson High School Wrestling) (Dec 11-5)
5th Place Match
Tyler Goebel (Mukwonago High School Wrestling) won by medical forfeit over Devyn Che (Church Boyz Wrestling Club) (MFF)
7th Place Match
Cooper Willis (Higher Level Wrestling) won by decision over Graham Gambrall (Big Game Wrestling Club) (Dec 3-2)
160
1st Place Match
Adam Thebeau (Greenfield Wrestling Academy) won by major decision over Aiden Vandenbush (Askren Wrestling Academy Lake Country) (Maj 14-2)
3rd Place Match
George Ruiz (Dethrone Wrestling Club) won by decision over Ethan Riddle (Askren Wrestling Academy North Shore) (Dec 5-2)
5th Place Match
Bryce Dagel (Pinnacle Wrestling Club) won by decision over Kaden Hart (Spartan Wrestling Club) (Dec 3-1)
7th Place Match
Brandt Bombard (North Branch Wrestling) won by decision over Cole Hansen (Askren Wrestling Academy North Shore) (Dec 8-1)
170
1st Place Match
Tate Naaktgeboren (Big Game Wrestling Club) won by decision over Joseph Martin (Dethrone Wrestling Club) (Dec 6-1)
3rd Place Match
Brayden Thompson (Izzy Style Wrestling) won by decision over Jared Stricker (Wisconsin) (Dec 12-6)
5th Place Match
Ceasar Garza (California) won by decision over Adam Sylvester (Pinnacle Wrestling Club) (Dec 3-1)
7th Place Match
Jack Ganos (Askren Wrestling Academy Lake Country) won by decision over Brock Fettig (Gorilla Wrestling Club Inc) (Dec 3-0)
182
1st Place Match
Jared Simma (Kansas) won by major decision over Michael Griffith (Ubasa Wrestling Academy) (Maj 16-4)
3rd Place Match
Wentric Williams (Victory Wrestling) won by decision over Asher Ruchti (Salem Elite Mat Club) (Dec 5-3)
5th Place Match
William White (Xtreme Training) won by decision over Chase Cordia (Eierman Elite Wrestling Club) (Dec 5-1)
7th Place Match
Spencer Steiner (California) won by fall over Lincoln Willett (Askren Wrestling Academy Lake Country) (Fall 2:59)
195
1st Place Match
Ben Kueter (Sebolt Wrestling Academy) won by decision over Wyatt Voelker (Big Game Wrestling Club) (Dec 3-2)
3rd Place Match
Andrew Wenzel (Izzy Style Wrestling) won by decision over Joey Braunagel (Illinois Regional Training Center/Illini WC) (Dec 5-3)
5th Place Match
Connor Barket (Red Cobra Wrestling Academy) won in sudden victory - 1 over Robert Plympton (Oregon) (SV-1 7-5)
7th Place Match
Jack Forbes (Chatfield Wrestling Club) won by decision over Aj Petersen (Iowa) (Dec 7-3)
220
Jack Darrah (Xtreme Training) won in sudden victory - 1 over Bradley Hill (Sebolt Wrestling Academy) (SV-1 3-1)
3rd Place Match
Carter Grewe (CrassTrained: Weigh In Club) won by decision over Mack Hubbel (Blue Valley Southwest High School Wrestling) (Dec 1-0)
5th Place Match
Kalob Runyon (Iron Rams Wrestling Club) won by decision over Kale Hopke (Wisconsin) (Dec 4-0)
7th Place Match
Tristan Middlebrook (Lake Gibson High School Wrestling) won by decision over Cayden Winter (Brawlers Wrestling Club) (Dec 9-2)
285
1st Place Match
Juan Mora (California) won by decision over Keith Miley (Thoroughbred Wrestling Academy (TWA)) (Dec 7-3)
3rd Place Match
Ben Kawczynski (Askren Wrestling Academy Lake Country) won by decision over Apollo Gothard (Izzy Style Wrestling) (Dec 3-2)
5th Place Match
Brandon Vargas (Ukiah High School Wrestling) won by forfeit over Tanner Gaffey (Saint Croix Falls High School Wrestling) (FF)
7th Place Match
Gage Cook (Victory Wrestling-Central WA) won by fall over Makota Misgen (Owatonna Wrestling Association) (Fall 0:50)
Junior Weights completed Friday
100
1st Place - Edwin Sierra of Extreme Heat Wrestling Club
2nd Place - Kolter Burton of Team Idaho
3rd Place - Everest Sutton of All-Phase Wrestling Club
4th Place - Fisher Everin of Middletown Youth Wrestling Club
5th Place - Everett Koltz of Wrightstown High School Wrestling
Edwin Sierra (Extreme Heat Wrestling Club) won by decision over Everest Sutton (All-Phase Wrestling Club) (Dec 10-4)
Kolter Burton (Team Idaho) won by decision over Everett Koltz (Wrightstown High School Wrestling) (Dec 6-3)
Fisher Everin (Middletown Youth Wrestling Club) won by decision over Everett Koltz (Wrightstown High School Wrestling) (Dec 2-0)
Kolter Burton (Team Idaho) won by decision over Everest Sutton (All-Phase Wrestling Club) (Dec 7-5)
Kolter Burton (Team Idaho) won by decision over Fisher Everin (Middletown Youth Wrestling Club) (Dec 9-4)
Edwin Sierra (Extreme Heat Wrestling Club) won by fall over Everett Koltz (Wrightstown High School Wrestling) (Fall 3:31)
Edwin Sierra (Extreme Heat Wrestling Club) won by fall over Fisher Everin (Middletown Youth Wrestling Club) (Fall 0:52)
Everest Sutton (All-Phase Wrestling Club) won by decision over Everett Koltz (Wrightstown High School Wrestling) (Dec 8-1)
Everest Sutton (All-Phase Wrestling Club) won by fall over Fisher Everin (Middletown Youth Wrestling Club) (Fall 3:29)
Edwin Sierra (Extreme Heat Wrestling Club) won by decision over Kolter Burton (Team Idaho) (Dec 5-0)
106
1st Place - Ray Ray Harris of Greco-Roman Development
2nd Place - Koda Holeman of California
3rd Place - Damian Moreno of Somerton Luchadores Wrestling Club
4th Place - Jackson Heaston of Indian Creek Wrestling Club
Koda Holeman (California) won by decision over Damian Moreno (Somerton Luchadores Wrestling Club) (Dec 5-1)
Ray Ray Harris (Greco-Roman Development) won by major decision over Jackson Heaston (Indian Creek Wrestling Club) (Maj 9-1)
Ray Ray Harris (Greco-Roman Development) won by major decision over Damian Moreno (Somerton Luchadores Wrestling Club) (Maj 11-3)
Koda Holeman (California) won by decision over Jackson Heaston (Indian Creek Wrestling Club) (Dec 7-0)
Round 3
Damian Moreno (Somerton Luchadores Wrestling Club) won by decision over Jackson Heaston (Indian Creek Wrestling Club) (Dec 5-1)
Ray Ray Harris (Greco-Roman Development) won in sudden victory - 1 over Koda Holeman (California) (SV-1 2-0)
16U results
88
1st Place Match
Griffin Rial (Black Fox Wrestling Academy) won by major decision over Thomas Lee (Black Fox Wrestling Academy) (Maj 10-0)
3rd Place Match
Samuel Smith (Arizona) won by decision over Clark Box (Ironclad Wrestling Club) (Dec 5-3)
5th Place Match
Jared Hood (Muz Trained Wrestling Club) won by fall over Gavin Willardson (Red Rock Central) (Fall 0:39)
7th Place Match
Jude Heaston (Indian Creek Wrestling Club) won by fall over Gary Moss (Lion`s Den Wrestling Academy) (Fall 2:55)
94
1st Place Match
Mack Mauger (Team Idaho) won by decision over Jaxton Packer (Team Idaho) (Dec 3-2)
3rd Place Match
Chris Huerta (Dethrone Wrestling Club) won by decision over Koy Orr (Team Idaho) (Dec 9-6)
5th Place Match
Declan Strait (Black Fox Wrestling Academy) won by medical forfeit over Cale Tucker (Spartan Fitness Wrestling Club) (MFF)
7th Place Match
Tyson Roach (Bronco Wrestling Club) won by fall over Liam Neitzel (Pinnacle Wrestling Club) (Fall 4:37)
100
1st Place Match
Chase Van Hoven (Legacy Wrestling) won by decision over Edwin Sierra (Extreme Heat Wrestling Club) (Dec 4-0)
3rd Place Match
Treshaun Tecson (Team Tulsa Wrestling Club) won by decision over Parker Lyden (Pinnacle Wrestling Club) (Dec 5-4)
5th Place Match
Dedrick Navarro (Team Idaho) won by decision over Jacob Bond (Georgia) (Dec 3-0)
7th Place Match
Everest Sutton (All-Phase Wrestling Club) won by forfeit over Maxwell McKinley (Waunakee High School Wrestling) (FF)
106
1st Place Match
Matthew Martino (Team Idaho) won by major decision over Anthony Lopez (SJF/HAC) (Maj 12-2)
3rd Place Match
Benjamin DeForest (MATPAC Wrestling Club) won in sudden victory - 1 over Carson Doolittle (Sebolt Wrestling Academy) (SV-1 3-1)
5th Place Match
Peyton Ellis (Mayo Quanchi Wrestling Club) won by fall over Tanner Tishner (Red Cobra Wrestling Academy) (Fall 2:38)
7th Place Match
Travis Moelter (Victory School of Wrestling) won by decision over Alexander Hague (Bear Cave) (Dec 6-1)
113
1st Place Match
Dawson Johnson (CrassTrained: Weigh In Club) won by decision over Jackzen Rairdon (Bear Cave) (Dec 5-0)
3rd Place Match
Reid Spurley (Sebolt Wrestling Academy) won by decision over Nick Treaster (Newton Wrestling Club) (Dec 3-0)
5th Place Match
Angel Serrano (Black Fox Wrestling Academy) won by fall over Matthew Dimen (Middletown Youth Wrestling Club) (Fall 4:15)
7th Place Match
Jesse Thompson (MATPAC Wrestling Club) won by decision over Sergio Vega (Cyclones Wrestling & Fitness) (Dec 5-2)
120
1st Place Match
Collin Guffey (Granite Wrestling Club) won in sudden victory - 1 over Kane Naaktgeboren (Big Game Wrestling Club) (SV-1 2-0)
3rd Place Match
Jacob Joyce (Northwest Wrestling) won by decision over Tanner Frothinger (Team Idaho) (Dec 7-1)
5th Place Match
Cory Velasquez (Team Tulsa Wrestling Club) won by decision over Tucker Stangel (Iowa) (Dec 7-0)
7th Place Match
Kyrel Leavell (Warren Wrestling Academy) won by fall over Cale Seaton (Big Game Wrestling Club) (Fall 0:29)
126
1st Place Match
Jason Mara (Team Idaho) won by decision over Joseph Toscano (California) (Dec 6-2)
3rd Place Match
Cash Raymond (Pinnacle Wrestling Club) won by decision over Michael Trujillo (Arizona) (Dec 6-0)
5th Place Match
Alex Fernandez (Victory Wrestling-Central WA) won by forfeit over Cristian Rivera (Sunnyside Wrestling Academy) (FF)
7th Place Match
Jacob Myers (Mile High Wrestling Club) won by decision over Garrett Luke (Stockton Renegades) (Dec 3-2)
132
1st Place Match
Pierson Manville (Pennsylvania) won by fall over Dylan Louwagie (Minnesota) (Fall 2:33)
3rd Place Match
Leandro (LJ) Araujo (MATPAC Wrestling Club) won by decision over Jacob Bostelman (Colorado) (Dec 9-2)
5th Place Match
Collin Altensey (Illinois) won by decision over Smokey McClure (Washington) (Dec 8-4)
7th Place Match
Claudio Torres (Izzy Style Wrestling) won by fall over Lane Snyder (Victory Wrestling) (Fall 4:32)
138
1st Place Match
Miguel Estrada (Dethrone Wrestling Club) won by decision over Aidan Torres (Region Wrestling Academy) (Dec 9-4)
3rd Place Match
Tyler Eise (Mile High Wrestling Club) won by decision over Hudson Rogers (Team Idaho) (Dec 5-3)
5th Place Match
Brodie Dominique (Ohio) won by decision over Yannis Charles (South Carolina) (Dec 7-1)
7th Place Match
Kyler Wong (Wayzata Youth Wrestling) won by fall over Jais Rose (Camel Kids Wrestling) (Fall 2:11)
145
1st Place Match
Zane Licht (Askren Wrestling Academy Lake Country) won by decision over James Chance (Ohio) (Dec 11-8)
3rd Place Match
Lars Michaelson (NWWC) won by decision over Logan Swaw (Izzy Style Wrestling) (Dec 5-4)
5th Place Match
Jace Anderson (Sebolt Wrestling Academy) won by decision over Ray Gulmatico (Church Boyz Wrestling Club) (Dec 6-2)
7th Place Match
Joel Sullivan (Wisconsin) won by major decision over Rider Searcy (East Central Wrestling Club) (Maj 15-2)
152
1st Place Match
Brett Back (Rapids Wrestling Club) won by decision over Charlie Millard (Wisconsin) (Dec 9-4)
3rd Place Match
Zachary Eliszewski (Mukwonago High School Wrestling) won by fall over Silas Dailey (Askren Wrestling Academy North Shore) (Fall 4:15)
5th Place Match
Gavin Fernandez (California) won by decision over Griffin Ray (Hillsboro Wrestling Club) (Dec 6-0)
7th Place Match
Mike Avelar (Sunnyside Wrestling Club) won by decision over Noah Torgerson (Minnesota) (Dec 5-0)
160
1st Place Match
Aeoden Sinclair (Askren Wrestling Academy Lake Country) won by decision over Peyton Westpfahl (Victory Wrestling) (Dec 5-1)
3rd Place Match
Breylin Goebel (Sarbacker Wrestling Academy) won by decision over Kaleb Valdez-Lemos (Black Fox Wrestling Academy) (Dec 7-4)
5th Place Match
Clay Guenin (Greenfield Wrestling Club) won by decision over Dallin Sweat (Utah) (Dec 7-5)
7th Place Match
Toren Vandenbush (Askren Wrestling Academy Lake Country) won by fall over Tyler Martinez (Illinois) (Fall 4:45)
170
1st Place Match
Brian Burburija (Florida) won by decision over Dominic Thebeau (Greenfield Wrestling Academy) (Dec 4-3)
3rd Place Match
Anthony Cashman (Warren Wrestling Academy) won by fall over Hudson Mann (Ponce Trained Wrestling) (Fall 3:58)
5th Place Match
Darrell Cross (Ohio) won by fall over Jace Allred (Oklahoma) (Fall 1:35)
7th Place Match
Kyle Oliveira (Alabama) won by major decision over Dylan Trevino (Church Boyz Wrestling Club) (Maj 15-7)
182
1st Place Match
Jude Correa (Massachusetts Wrestling Association) won by major decision over Vander Mathiowetz (Red Rock Central) (Maj 8-0)
3rd Place Match
Soren Herzog (Colorado) won by fall over Mark Ayala (St. John Bosco High School Wrestling) (Fall 2:34)
5th Place Match
Noah Blair (MWC Wrestling Academy) won by tech fall over Ian Osbourn (Alabama) (TF 24-9)
7th Place Match
Drew Wendzicki (Kaukauna Wrestling Club) won by fall over Luca Riley (Purler Wrestling Academy) (Fall 3:37)
195
1st Place Match
Noah Wenzel (Izzy Style Wrestling) won by decision over Ian Smith (CrassTrained: Weigh In Club) (Dec 3-2)
3rd Place Match
Diego Costa (Yucaipa Wrestling Club) won in tie breaker - 1 over Hayden VanderVoort (Minnesota) (TB-1 7-6)
5th Place Match
J-Roc Solheim (Pinnacle Wrestling Club) won by fall over Ethan Peterson (Mat Monkey Wrestling Club) (Fall 4:08)
7th Place Match
Jayden Moffett (Missouri) won by decision over Eathan Martinez (Minnesota) (Dec 7-0)
220
1st Place Match
Koy Hopke (Wisconsin) won by fall over Connor Thomas (X-Factor Elite Wrestling) (Fall 1:21)
3rd Place Match
Samuel Murphy (Threestyle Wrestling Of Oklahoma) won by fall over Barrett Muller (Iowa) (Fall 1:47)
5th Place Match
Pierce Cunningham (Kansas Wrestling Center) won by decision over Shilo Jones (Team Idaho) (Dec 3-2)
7th Place Match
Logan Buchanan (Kansas) won by fall over Dirk Morley (Black Fox Wrestling Academy) (Fall 1:41)
285
1st Place Match
Will Sather (Pinnacle Wrestling Club) won by fall over Spencer Lanosga (Champion Wrestling Club) (Fall 0:23)
3rd Place Match
Sebastian Lopez (Garden City Wrestling Club) won by decision over Wyatt Smith (Iowa) (Dec 7-2)
5th Place Match
Cameron Geuther (Iowa) won by fall over Dominic Burgett (Legends of Gold) (Fall 3:45)
7th Place Match
Tyler Jackson (Foxfire Wrestling Club) won by decision over Daniel Suda (Grand Forks Gladiators Wrestling Club) (Dec 1-0)

14U results
71
1st Place Match
Caleb Noble (Toss Em Up Wrestling Academy) won by major decision over Ethan Humphrey (Big Game Wrestling Club) (Maj 13-3)
2nd Place Wrestleback
Camden Rugg (Wisconsin) won by decision over Ethan Humphrey (Big Game Wrestling Club) (Dec 4-1)
3rd Place Match
Camden Rugg (Wisconsin) won in tie breaker - 1 over Isaac Wignall (Sebolt Wrestling Academy) (TB-1 4-2)
5th Place Match
Jackson Esser (Aviators Wrestling) won by decision over Zander Manz (SWIFT) (Dec 4-0)
7th Place Match
Dylan Frothinger (Team Idaho) won by decision over Eric Vielhauer (Bobcat Wrestling Club) (Dec 5-2)
77
1st Place Match
Case Bell (Contenders Wrestling Academy) won by decision over Hayden Schwab (Immortal Athletics WC) (Dec 3-2)
2nd Place Wrestleback
Hayden Schwab (Immortal Athletics WC) won by no contest over Morgan Turner (Harvey Twisters) (NC)
3rd Place Match
Morgan Turner (Harvey Twisters) won by decision over William Du Chemin (Ringers Wrestling Club) (Dec 8-1)
5th Place Match
Allen Woo (Izzy Style Wrestling) won by decision over Alex Allison (Grizzly Way Wrestling) (Dec 3-0)
7th Place Match
Keagan Steen (Red Rock Central) won by medical forfeit over Charlie Boelman (Sebolt Wrestling Academy) (MFF)
83
1st Place Match
Domenic Munaretto (Toss Em Up Wrestling Academy) won by fall over Alex Rozas (Jr. Spartans Wrestling Club) (Fall 3:51)
2nd Place Match
Jeremiah Waldschmidt (Black Fox Wrestling Academy) won by decision over Alex Rozas (Jr. Spartans Wrestling Club) (Dec 6-2)
3rd Place Match
Jeremiah Waldschmidt (Black Fox Wrestling Academy) won by decision over Mac Crosson (Sebolt Wrestling Academy) (Dec 5-2)
5th Place Match
Justin Williamson (Region Wrestling Academy) won by decision over Boden Banta (Team Idaho) (Dec 3-2)
7th Place Match
Lazarus Joyce (New Jersey) won by decision over Carter Wallis (Thoroughbred Wrestling Academy (TWA)) (Dec 4-0)
87
1st Place Match
Bruno Cassioppi (Hononegah Wrestling Club) won by decision over Easton Broxterman (Topeka Blue Thunder Wrestling Club) (Dec 9-3)
2nd Place Match
Easton Broxterman (Topeka Blue Thunder Wrestling Club) won by decision over Wyatt Lees (Team Donahoe) (Dec 4-2)
3rd Place Match
Wyatt Lees (Team Donahoe) won by decision over Zaiyahn Ornelas (Team Zapas) (Dec 5-1)
5th Place Match
Dawson Youngblut (Immortal Athletics WC) won by decision over Nathan Gugelman Ii (Team Idaho) (Dec 5-0)
7th Place Match
Gavin Lewis (Indiana) won in sudden victory - 1 over Maximus Hay (Ringers Wrestling Club) (SV-1 3-1)
92
1st Place Match
Rocco Cassioppi (Hononegah Wrestling Club) won by decision over Gianni Bottone (Black Fox Wrestling Academy) (Dec 3-2)
2nd Place Wrestleback
Gianni Bottone (Black Fox Wrestling Academy) won by major decision over Nickolas Strand (Bemidji Wrestling Club) (Maj 9-0)
3rd Place Match
Nickolas Strand (Bemidji Wrestling Club) won by decision over Gavin Landers (Immortal Athletics WC) (Dec 3-0)
5th Place Match
Cooper Stivers (Wamego Wrestling Club) won by decision over Kael Reaux (Jr. Spartans Wrestling Club) (Dec 10-4)
7th Place Match
Rider Seguine (Team Idaho) won by decision over Tristen Cox (Brawlers Wrestling Club) (Dec 1-0)
97
1st Place Match
Austin Paris (Champions Wrestling Club) won by decision over Wil Oberbroeckling (Sebolt Wrestling Academy) (Dec 3-0)
2nd Place Match
Nikade Zinkin (Dethrone Wrestling Club) won by decision over Wil Oberbroeckling (Sebolt Wrestling Academy) (Dec 5-0)
3rd Place Match
Nikade Zinkin (Dethrone Wrestling Club) won by decision over Kellen Wolbert (Askren Wrestling Academy Lake Country) (Dec 2-1)
5th Place Match
Dane Renick (Threestyle Wrestling Of Oklahoma) won by decision over Noah Johnson (Kansas) (Dec 5-3)
7th Place Match
Elias Koonce (Illinois) won by decision over Nathan Randle (Izzy Style Wrestling) (Dec 3-2)
102
1st Place Match
Kyler Walters (Pinnacle Wrestling Club) won by decision over Kiowa Vines (Alabama) (Dec 3-2)
2nd Place Match
Kiowa Vines (Alabama) won by no contest over Edwyn Schroeder (Aviators Wrestling) (NC)
3rd Place Match
Edwyn Schroeder (Aviators Wrestling) won by fall over Deegan Birkaker (Highway Wrestling) (Fall 2:00)
5th Place Match
Blake Fox (Immortal Athletics WC) won in sudden victory - 1 over Griffin Van Tichelt (Region Wrestling Academy) (SV-1 7-2)
7th Place Match
Stone Phillips (Alabama) won by decision over Ethan Christoffer (Burg Training Center) (Dec 6-0)
106
1st Place Match
Evan Stanley (Region Wrestling Academy) won by decision over Nolan Skebba (Aviators Wrestling) (Dec 6-0)
2nd Place Wrestleback
Nolan Skebba (Aviators Wrestling) won by no contest over Michael Jelinek (Stillwater Area Wrestling) (NC)
3rd Place Match
Michael Jelinek (Stillwater Area Wrestling) won by decision over Aiden Kirk (Hard Drive Wrestling Club) (Dec 2-0)
5th Place Match
Jayden Yauck (Sarbacker Wrestling Academy) won by major decision over Noah Howk-Erwin (Hard Drive Wrestling Club) (Maj 8-0)
7th Place Match
Zytavius Williams (Minnesota) won by decision over Jake Kos (Simley Wrestling Club) (Dec 6-0)
110
1st Place Match
Brody Sendele (Hononegah Wrestling Club) won by decision over Joseph Jeter (StandFast) (Dec 2-1)
2nd Place Wrestleback
Joseph Jeter (StandFast) won by decision over Evan Gosz (Illinois) (Dec 4-1)
3rd Place Match
Evan Gosz (Illinois) won by fall over Maksim Mukhamedaliyev (Illinois) (Fall 0:58)
5th Place Match
Amilio Salas (Pinnacle Wrestling Club) won by fall over Vito Marsh (North Metro Wrestling) (Fall 2:00)
7th Place Match
Sawyer Dailey (Askren Wrestling Academy North Shore) won by decision over Bradley Williams (Warrior Wrestling Club) (Dec 7-5)
114
1st Place Match
Aaron Stewart (Toss Em Up Wrestling Academy) won by tech fall over Lorenzo Gallegos (SJF/HAC) (TF 21-6)
2nd Place Wrestleback
Isaiah Jones (Team Tulsa Wrestling Club) won by decision over Lorenzo Gallegos (SJF/HAC) (Dec 6-3)
3rd Place Match
Isaiah Jones (Team Tulsa Wrestling Club) won by major decision over Presley Johnson (Thoroughbred Wrestling Academy (TWA)) (Maj 12-1)
5th Place Match
Joseph Joyce (Rhode Island) won by major decision over Noah Garcia-Salazar (Top Notch Wrestling Club) (Maj 8-0)
7th Place Match
Chevy Rosales (Combative Sports Athletic Center) won by fall over Braedon Dorshorst (Lodi Wrestling Club) (Fall 0:43)
119
1st Place Match
Jimmy Mastny (Alber Athletics Wrestling Club) won by fall over Briar Naglosky (Wisconsin) (Fall 3:09)
2nd Place Wrestleback
Drake Morrison (Team Idaho) won by fall over Briar Naglosky (Wisconsin) (Fall 0:11)
3rd Place Match
Drake Morrison (Team Idaho) won by tech fall over Spencer Mosier (South Central Punisher Wrestling) (TF 18-3)
5th Place Match
Derrick Baca (Thoroughbred Wrestling Academy (TWA)) won by fall over Matt McCaw (Yuba Sutter Combat) (Fall 0:19)
7th Place Match
Wyatt Hawkins (Iowa) won by decision over Braden Fontenot (Bronco Wrestling Club) (Dec 6-2)
125
1st Place Match
Dean Anderson (East Valley Wrestling Club) won by fall over Peyton Alexander (Camel Kids Wrestling) (Fall 2:55)
2nd Place Wrestleback
Dj Neider (Team Idaho) won by decision over Peyton Alexander (Camel Kids Wrestling) (Dec 4-1)
3rd Place Match
Dj Neider (Team Idaho) won by decision over Hudzon Sebesta-Opelt (CrassTrained: Weigh In Club) (Dec 2-0)
5th Place Match
Santino Tenuta (Team El1te Wrestling) won by decision over Layronz Fraser (UTB Wrestling) (Dec 7-6)
7th Place Match
Eli Leonard (Sarbacker Wrestling Academy) won by decision over Riley Johnson (Iron Hawk Wrestling Academy) (Dec 4-2)
130
1st Place Match
Bradley Rodriguez-Little (Summit Wrestling Academy) won by decision over Brandon Dean (New Jersey) (Dec 2-1)
2nd Place Wrestleback
Brandon Dean (New Jersey) won by no contest over Kyler Knaack (Immortal Athletics WC) (NC)
3rd Place Match
Kyler Knaack (Immortal Athletics WC) won by decision over Bridger Foss (Bison Wrestling Club) (Dec 2-0)
5th Place Match
Christian Arberry (Warren Wrestling Academy) won by decision over Gabriel Metzler (Waunakee Wrestling Club) (Dec 4-3)
7th Place Match
Jaxon Busse (Sarbacker Wrestling Academy) won by fall over Ethan Cox (Camel Kids Wrestling) (Fall 1:49)
136
1st Place Match
Gavin Isaacs (Apple Valley Wrestling Club) won by decision over Treston Eckstein (X-Factor Elite Wrestling) (Dec 3-2)
2nd Place Wrestleback
Treston Eckstein (X-Factor Elite Wrestling) won by no contest over Blake Smith (Young Guns Wrestling Club) (NC)
3rd Place Match
Blake Smith (Young Guns Wrestling Club) won by decision over Carter Vannest (California) (Dec 4-0)
5th Place Match
Jacob Baughcum (Franklin County Youth Wrestling) won by fall over Oliver Ollman (Coon Rapids Mat Bandits Wrestling Club) (Fall 2:15)
7th Place Match
John Faulkner (Fox Valley Elite) won by fall over Matthew Ennen (Minnesota) (Fall 1:51)
149
1st Place Match
Benjamin Vazquez (Toss Em Up Wrestling Academy) won by decision over Broedy Collins (Team Valley Wrestling Club) (Dec 9-5)
2nd Place Wrestleback
Preston Marchesseault (Mayo Quanchi Wrestling Club) won by decision over Broedy Collins (Team Valley Wrestling Club) (Dec 12-5)
3rd Place Match
Preston Marchesseault (Mayo Quanchi Wrestling Club) won by fall over Matthew VanWettering (Icon Wrestling) (Fall 0:44)
5th Place Match
Leven Jones (South Central Punisher Wrestling) won by fall over Ivan Tibbet (Yuba Sutter Combat) (Fall 0:50)
7th Place Match
Zachary Blevens (Indiana) won by decision over Tristan Hargrave (Coon Rapids Mat Bandits Wrestling Club) (Dec 3-0)
165
1st Place Match
William Ward (Bison Wrestling Club) won by fall over Terrell McFarland (Pennsylvania) (Fall 2:48)
2nd Place Wrestleback
Michael Mocco (ATT/Mocco Wrestling Academy) won by decision over Terrell McFarland (Pennsylvania) (Dec 5-3)
3rd Place Match
Michael Mocco (ATT/Mocco Wrestling Academy) won by decision over Kyle Harden (Central Indiana Academy Of Wrestling) (Dec 4-2)
5th Place Match
Dawson Clymer (Hudson Wrestling Club) won by fall over Tyson Martin (LaCrosse Area Wrestlers) (Fall 2:45)
7th Place Match
Miguel Rojas (Indiana) won by major decision over Hayden Smith (Patriots Wrestling Club) (Maj 9-1)
187
1st Place Match
Garett Kawczynski (Ringers Wrestling Club) won by tech fall over Carson Martin (Paola Wrestling Club) (TF 15-0)
2nd Place Wrestleback
Sutton Kenning (Scoring Edge Wrestling Center) won by fall over Carson Martin (Paola Wrestling Club) (Fall 3:05)
3rd Place Match
Sutton Kenning (Scoring Edge Wrestling Center) won by fall over Jack Steinmeyer (Victory School of Wrestling) (Fall 0:16)
5th Place Match
Zakery Wrobel (Wisconsin) won by fall over Roman Janek (Lion`s Den Wrestling Academy) (Fall 0:51)
7th Place Match
Ashton Honnold (Iowa) won by fall over Raymond Morales (Illinois) (Fall 0:34)

8U results
45
1st Place - Zayne Wieneke of Lawrence Elite Wrestling Club
2nd Place - Dane Luif of Team El1te Wrestling
Zayne Wieneke (Lawrence Elite Wrestling Club) won by fall over Dane Luif (Team El1te Wrestling) (Fall 1:52)
Zayne Wieneke (Lawrence Elite Wrestling Club) won by fall over Dane Luif (Team El1te Wrestling) (Fall 0:59)
49
1st Place - Ian Weber of Ringers Wrestling Club
2nd Place - Adam Husk of Cedarburg Mat Dogs
3rd Place - Ty Cox of Brawlers Wrestling Club
4th Place - James Dean of New Jersey
5th Place - Boe Johnson of Red Rock Central
Ian Weber (Ringers Wrestling Club) won by tech fall over Ty Cox (Brawlers Wrestling Club) (TF 16-0)
Adam Husk (Cedarburg Mat Dogs) won by fall over Boe Johnson (Red Rock Central) (Fall 0:24)
James Dean (New Jersey) won by fall over Boe Johnson (Red Rock Central) (Fall 0:36)
Adam Husk (Cedarburg Mat Dogs) won by decision over Ty Cox (Brawlers Wrestling Club) (Dec 5-2)
Adam Husk (Cedarburg Mat Dogs) won by fall over James Dean (New Jersey) (Fall 1:48)
Ian Weber (Ringers Wrestling Club) won by fall over Boe Johnson (Red Rock Central) (Fall 0:35)
Ian Weber (Ringers Wrestling Club) won by major decision over James Dean (New Jersey) (Maj 13-0)
Ty Cox (Brawlers Wrestling Club) won by fall over Boe Johnson (Red Rock Central) (Fall 0:52)
Ty Cox (Brawlers Wrestling Club) won by fall over James Dean (New Jersey) (Fall 0:44)
Ian Weber (Ringers Wrestling Club) won by decision over Adam Husk (Cedarburg Mat Dogs) (Dec 4-2)
53
1st Place Match
Easton Henderson (Big Game Wrestling Club) won by fall over Jaxton Coyer (Michigan) (Fall 2:44)
3rd Place Match
Brady Stewart (Wisconsin) won by fall over Scott Kilmer (Lion`s Den Wrestling Academy) (Fall 0:26)
5th Place Match
Bain Wiegel (Sarbacker Wrestling Academy) won by tech fall over Charlie Novak (New Prague) (TF 18-2)
7th Place Match
Jaxon Burnett (Electric City Slammers Wrestling) won by fall over Jace Caves (Lodi Wrestling Club) (Fall 0:38)
56
1st Place Match
Brooks Blevins (Triumph Wrestling Club) won by fall over Logan Oakes (Sebolt Wrestling Academy) (Fall 2:51)
2nd Place Wrestleback
Logan Oakes (Sebolt Wrestling Academy) won by no contest over Abel Reed (Team Idaho) (NC)
3rd Place Match
Abel Reed (Team Idaho) won by fall over Lucas Parish (Minnesota) (Fall 0:59)
5th Place Match
Ayden Sebesta (Wisconsin) won by injury default over Landon Dorshorst (Lodi Wrestling Club) (Inj. 1:30)
62
1st Place Match
Ben Howenstein (Siouxland Wrestling Academy) won by decision over Jace Evers (Summit Wrestling Academy) (Dec 4-1)
2nd Place Wrestleback
Ethan Harris (Team Bear Wrestling Club) won by fall over Jace Evers (Summit Wrestling Academy) (Fall 0:42)
3rd Place Match
Ethan Harris (Team Bear Wrestling Club) won by fall over Mason Weber (Red Rock Central) (Fall 2:12)
5th Place Match
Jevin Spindler (Wisconsin) won by fall over Weston Rugg (Wisconsin) (Fall 0:51)
7th Place Match
Josiah Bilby (South Central Punisher Wrestling) won by fall over Siley Anderson (Minnesota) (Fall 0:57)
70
1st Place - Rocco Dominguez of California
2nd Place - Luke Burnett of Electric City Slammers Wrestling
3rd Place - Colton Zabinski of Greg Gomez Trained Wrestling
4th Place - Jayce Leclaire of X-Factor Elite Wrestling
5th Place - Luke Bartholomaus of Red Rock Central
Jayce Leclaire (X-Factor Elite Wrestling) won by decision over Luke Burnett (Electric City Slammers Wrestling) (Dec 1-0)
Rocco Dominguez (California) won by major decision over Luke Bartholomaus (Red Rock Central) (Maj 11-0)
Colton Zabinski (Greg Gomez Trained Wrestling) won by decision over Luke Bartholomaus (Red Rock Central) (Dec 7-0)
Rocco Dominguez (California) won by decision over Jayce Leclaire (X-Factor Elite Wrestling) (Dec 8-2)
Rocco Dominguez (California) won by decision over Colton Zabinski (Greg Gomez Trained Wrestling) (Dec 5-4)
Luke Burnett (Electric City Slammers Wrestling) won by fall over Luke Bartholomaus (Red Rock Central) (Fall 1:30)
Luke Burnett (Electric City Slammers Wrestling) won by decision over Colton Zabinski (Greg Gomez Trained Wrestling) (Dec 3-2)
Jayce Leclaire (X-Factor Elite Wrestling) won by decision over Luke Bartholomaus (Red Rock Central) (Dec 5-0)
Colton Zabinski (Greg Gomez Trained Wrestling) won by decision over Jayce Leclaire (X-Factor Elite Wrestling) (Dec 7-0)
Rocco Dominguez (California) won by decision over Luke Burnett (Electric City Slammers Wrestling) (Dec 5-0)
85
1st Place - Carter Evans of Electric City Slammers Wrestling
2nd Place - Stone Helmrichs of Iowa
3rd Place - Hayden Nelson of Minnesota
4th Place - Isabella Smith of Patriots Wrestling Club
Carter Evans (Electric City Slammers Wrestling) won by fall over Isabella Smith (Patriots Wrestling Club) (Fall 0:28)
Stone Helmrichs (Iowa) won by fall over Hayden Nelson (Minnesota) (Fall 0:40)
Stone Helmrichs (Iowa) won by fall over Isabella Smith (Patriots Wrestling Club) (Fall 2:35)
Carter Evans (Electric City Slammers Wrestling) won by fall over Hayden Nelson (Minnesota) (Fall 1:20)
Hayden Nelson (Minnesota) won by decision over Isabella Smith (Patriots Wrestling Club) (Dec 2-1)
Carter Evans (Electric City Slammers Wrestling) won by fall over Stone Helmrichs (Iowa) (Fall 1:34)