Liam Cronin named USA Wrestling Athlete of the Week
by Gary Abbott, USA Wrestling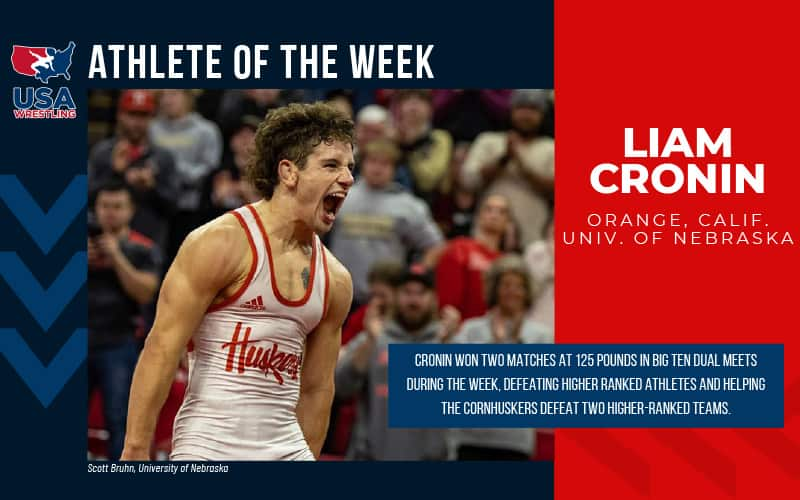 Liam Cronin photo by Scott Bruhn, University of NebraskaLiam Cronin
(Orange, Calif./University of Nebraska) has been selected as USA Wrestling Athlete of the Week on January 17, 2023.
Cronin won two matches at 125 pounds in Big Ten dual meets during the week, defeating higher ranked athletes and helping the Cornhuskers defeat two higher-ranked teams.
Coming into the week, Nebraska was ranked No. 16 in the NWCA poll, and Cronin had a No. 8 individual ranking at 125 pounds by FloWrestling.
In the first match of the January 13 dual meet against No. 12 Minnesota, Cronin was taken down first by No. 3 Patrick McKee, but powered back for an 11-6 decision over McKee. Nebraska went on to beat Minnesota, 21-9.
In the first match of the January 15 dual meet against No. 11 Northwestern, Cronin used a second-period takedown and a four-point turn and went on to secure an 11-1 major decision over No. 4 Michael DeAugustino. Nebraska went on to beat Northwestern, 22-15.
Based upon this, Nebraska has now moved up to No. 11 in the NWCA team rankings, and Cronin has moved up to a No. 3 individual ranking at 125 pounds by FloWrestling.
Cronin is a graduate student and a two-time NCAA qualifier. He was a two-time California state finalist for Servite High School. He started his college career at Illinois, where he wrestled three years and was a 2020 NCAA qualifier. Cronin transferred to Nebraska, and was a 2021 NCAA qualifier. He has been successful in both Greco-Roman and freestyle on the age-group levels. He is a past U23 Nationals champion in Greco-Roman and was second in a U23 Greco-Roman World Team Special Wrestle-off in 2019.
Each week USA Wrestling will select an Athlete of the Week based upon performance within wrestling for that week. The selection committee will consider any level of wrestling from youth programs through the senior level.
To nominate a wrestler for this honor please send the athlete's name, wrestling program, weekly accomplishments and career accolades to USA Wrestling Director of Communications Gary Abbott at gabbott@usawrestling.org.