News
International
Athlete of Week
USAW
Zahid Valencia named USA Wrestling Athlete of the Week
by Gary Abbott, USA Wrestling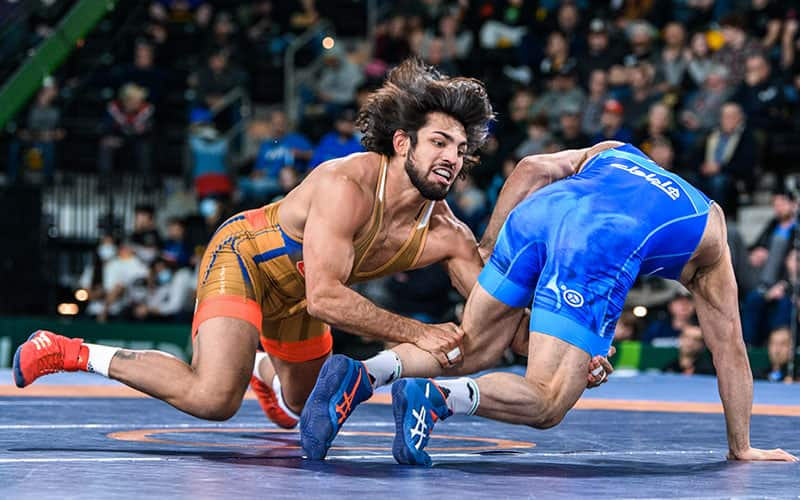 Zahid Valencia (USA) scores a takedown on Alireza Karimimachiani (IRI) at the 2022 World Cup.Zahid Valencia
(Tempe, Ariz./Sunkist Kids) has been selected as USA Wrestling Athlete of the Week on December 13, 2022.
Valencia won all three of his matches in men's freestyle at 86 kg at the UWW World Cup, held in Coralville, Iowa, December 10-11. He helped lead the United States to the team title in men's freestyle at the World Cup, which is the annual World dual meet championships.
Valencia won his first two matches by technical fall in less than one minute. In the Group A dual meet between the USA and Mongolia, Valencia defeated Bat Erdene Bayasgalan, 10-0 in 29 seconds. In the Group A dual meet between the United States and Georgia, Valencia defeated Sandro Aminashvili, 11-0 in 55 seconds.
In the championship dual meet between the United States and Iran, Valencia secured a clutch 5-3 decision over three-time World medalist Alireza Karimimachiani. The United States team defeated Iran, 6-4, to claim the World Cup.
Valencia is currently ranked No. 2 on the Senior National Team at 86 kg after taking second at Final X last June. He was a silver medalist at the 2017 U20 World Championships. He was a two-time NCAA champion for Arizona State.
Each week USA Wrestling will select an Athlete of the Week based upon performance within wrestling for that week. The selection committee will consider any level of wrestling from youth programs through the senior level.
To nominate a wrestler for this honor please send the athlete's name, wrestling program, weekly accomplishments and career accolades to USA Wrestling Director of Communications Gary Abbott at gabbott@usawrestling.org.